This Easy Chicken Caprese Sandwich is filled with fresh veggies and chicken packed with flavor. The balsamic marinade gives the chicken a tangy punch making it great for summer! If you like this, make sure to try my strawberry chicken salad and my chicken stroganoff!
Chicken Caprese Sandwich
The broiled Ciabatta roll makes this Easy Chicken Caprese sandwich taste just like something you ordered at a fancy delicatessen. You'll probably enjoy the price tag on this one a bit more. To make it an even sweeter deal, the whole recipe cooks up in under 15 minutes! You'll have this on your table before you know it and your guests will rave!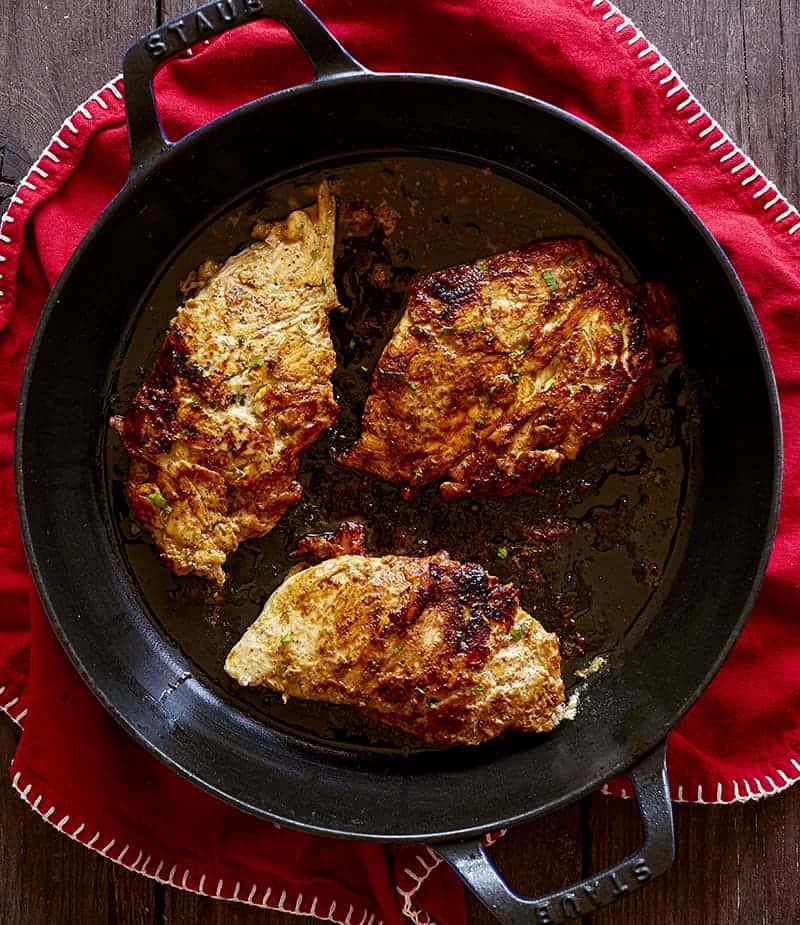 Chicken Caprese Recipe
Fresh veggies like tomatoes, Parsley, basil, and avocado fill out this wholesome, healthy weeknight meal. The trick to this cheesy chicken Caprese sandwich recipe is to let the fresh mozzarella melt on the ciabatta roll for just a few minutes before you layer the rest of the flavors. This will help blend everything together and makes this dish a savory weeknight treat!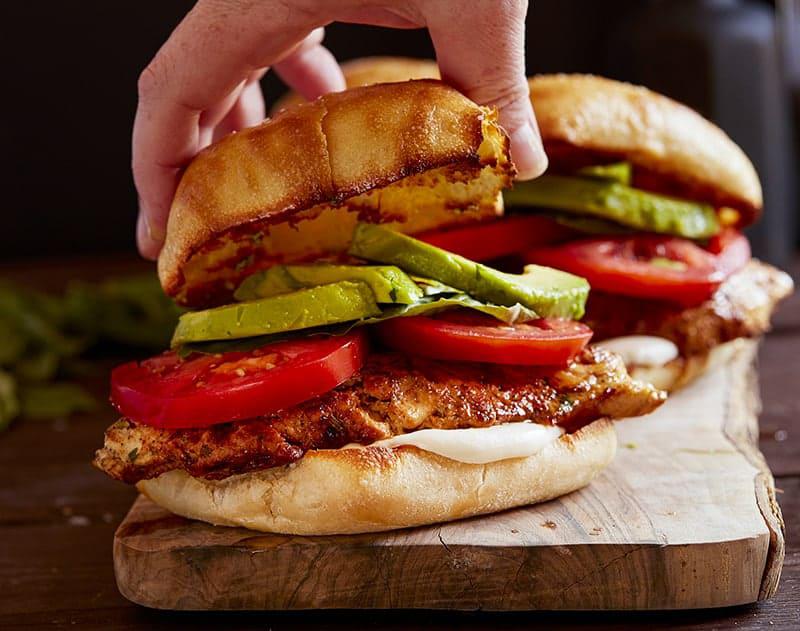 What do you serve with this Easy Chicken Caprese Sandwich?
The is the perfect summer recipe, so when I make it, we usually are having a lighter meal, so we are satisfied with just the sandwich. For those days when we are craving something a little more filling, I love to pair it with my Potato Wedges or Classic Country Potato Salad.
Chicken Caprese Recipe on the Grill
I love anything on a grill. If you are looking for a summer grilling recipe, simply fire up the grill and preheat it to medium heat. The chicken needs to cook all the way through, so you don't want the temperature to get too high or you will risk charring the outside and undercooking the middle. I always use a meat thermometer to check that it is at least 165° Fahrenheit. Otherwise, use the recipe as listed. For the bread, I would recommend starting that when you start the chicken and then crank up the heat once the chicken is done to get that char (remove the chicken first).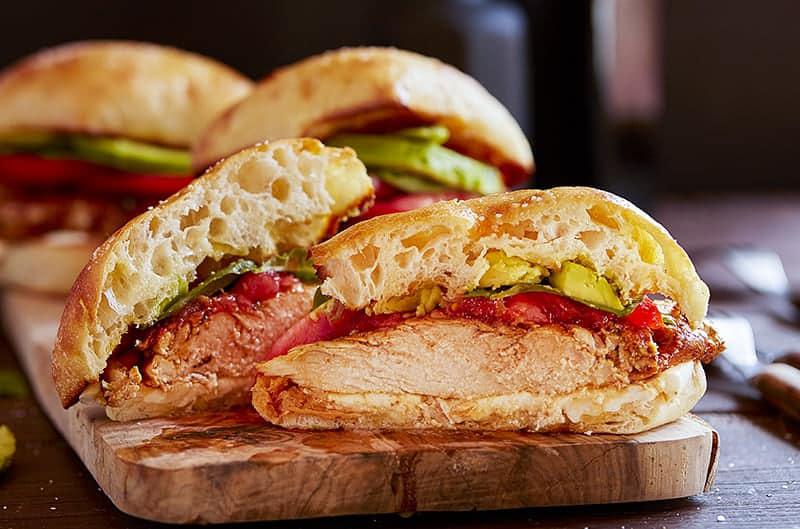 Gluten-Free Chicken Caprese
This meal is just as amazing sans the bread. If you are skipping the gluten, I recommenced layering everything right in the skillet. Once the chicken is cooked through add the tomato, basil, and finally the mozzarella. Place the skillet in the oven until the cheese starts to melt and then you are ready to plate it and serve!
Ingredients
Marinade
6 tablespoons olive oil, divided
1 teaspoon fresh parsley
1/2 lemon, Juiced
1 teaspoon kosher salt
1 teaspoon fresh cracked pepper
1 tablespoon balsamic vinegar
Chicken
4 boneless skinless chicken breasts
4 ciabatta rolls, or you can use a sourdough loaf sliced
Toppings
8 ounces fresh mozzarella cheese, sliced
10 medium tomatoes
1/4 cup fresh basil leaves
1 avocado or more to taste
Instructions
Preheat broiler to 500° Fahrenheit.
Marinade
In a large bowl, mix together 4 Tablespoons olive oil, parsley, lemon juice, and balsamic vinegar.
Place a single chicken breast inside of a ziplock bag (or between two sheets of saran wrap). Using a mallet or rolling pin, pound chicken to 1/4 inch thickness, set aside. Repeat with the other three chicken breasts.
Place the chicken into bowl with the olive oil mixture, let the chicken marinate at room temperature for approximately 10-15 minutes.
Chicken
Set a large skillet to medium high heat. Add the chicken to the pan and cook undisturbed for 3-5 minutes, flip and repeat with opposite side. Make sure the chicken reaches an internal temperature of 165° Fahrenheit.
While chicken is cooking, drizzle the remaining olive oil on each side of the ciabatta roll. Place in broiler for 5 minutes or until crispy and browned.
Assembly
Layer each roll with mozzarella, chicken breast, tomato, basil, and avocado