Broccoli Salad is a quick summer salad chock full of fresh crisp broccoli, dried cranberries, sunflower seeds, and bacon bits. It's all tossed in a creamy homemade dressing.
Since it's best made ahead of time (and everyone raves over this recipe), it is the perfect potluck dish, great for any gathering or bbq.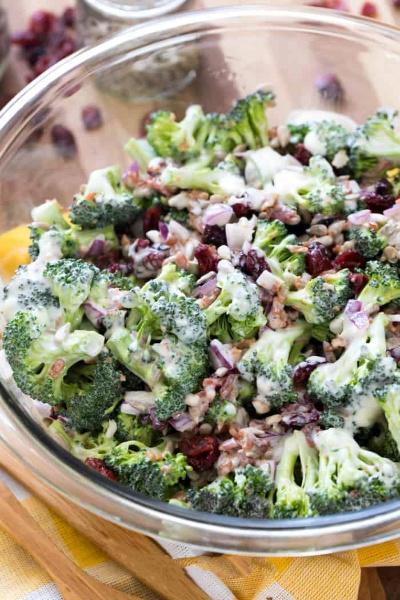 Summertime Favorite
My family absolutely LOVES vegetables so I always serve fresh salads and this Broccoli Salad is one of our favorites!
It's so incredibly easy to make
Since it's best made ahead of time, it's perfect for potlucks and barbecues
It is always a smash hit and I never end up with leftovers!
Broccoli Salad can be made in advance and kept in the fridge (at least an hour but up to 24 hours) until you're ready to serve it, which makes it so much easier to get everything together!
If you have extra veggies you need to use up, you can easily add them to this dish. Zucchini, cauliflower, celery, or peppers can make great additions!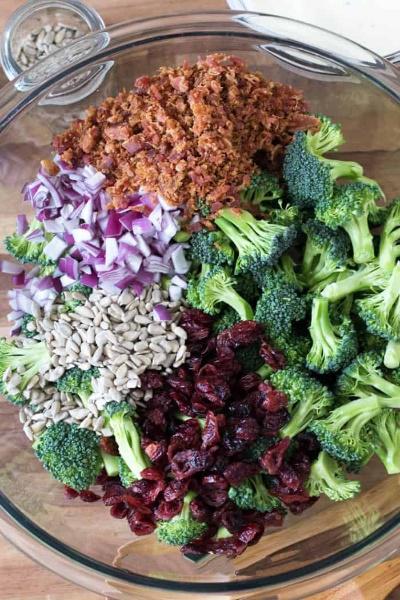 How to Make Broccoli Salad
This is probably one of the easiest summer salads you will throw together, which is why it has become a favorite (plus it tastes great)! I prefer a creamy broccoli salad dressing rather than using a vinaigrette style dressing.
Wash: Wash and cut the broccoli into bite-sized pieces and drain well.
Whisk: Whisk together the dressing ingredients per the recipe below!
Toss: Add all ingredients into a large mixing bowl, and toss with dressing.
Chill: Refrigerate this broccoli salad for about an hour. This gives the broccoli a chance to soak in some of the dressing, resulting in an even more flavorful salad!
For the Best Salad be sure the broccoli is dried well so it doesn't water down the dressing.
Ingredients
8 cups broccoli cut into bite-sized pieces
⅓ cup red onion diced
½ cup dried cranberries
¼ cup sunflower seeds
½ cup bacon bits
3 tablespoons cider vinegar
2 tablespoons sugar
1 cup mayonnaise
salt & pepper
Instructions
Whisk together cider vinegar, sugar, mayonnaise, salt and pepper in a medium bowl. Set aside.
In a large bowl, combine broccoli, onion, cranberries, sunflower seeds, and bacon bits. Pour the prepared dressing over and mix well.
Refrigerate for at least one hour before serving.
Recipe Notes
Dry broccoli very well so moisture doesn't water down the dressing.
Reserve some crisp bacon for garnish if desired and add just before serving.
Store-bought coleslaw dressing can replace the homemade dressing if desired.