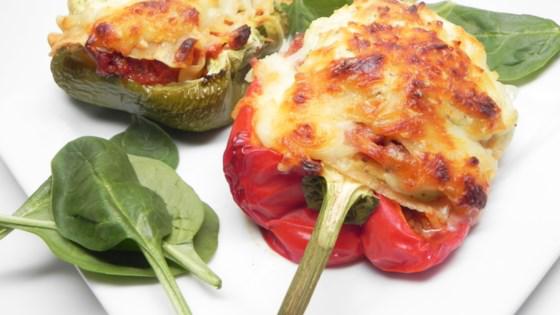 Ingredients :
4 lasagna noodles
4 large green bell peppers, halved and seeds and veins removed
19 ounces mild Italian sausage
1 small onion, chopped
1 (15 ounce) can tomato sauce
1 clove garlic, minced
1/2 teaspoon dried oregano
1/2 cup ricotta cheese
1 egg2 tablespoons grated Parmesan cheese
1 teaspoon dried basil
1 cup shredded mozzarella cheese
Directions :
Bring a large pot of lightly salted water to a boil.
Cook lasagna noodles in the boiling water, stirring occasionally, until tender yet firm to the bite, about 8 minutes.
Cut each noodle into 4 equal pieces.
Preheat the oven to 350 degrees F (175 degrees C
Line a large baking sheet with aluminum foil; place bell pepper halves on top.
Bake in the preheated oven until peppers soften, about 20 minutes.
While peppers bake, heat a large skillet over medium-high heat. Cook sausage and onion until browned, about 8 minutes. Add tomato sauce, garlic, and oregano and bring to a simmer.
Simmer until thickened, about 5 minutes more.
Remove peppers from oven and pour off any excess liquid. Leave oven on.
Whisk ricotta cheese, egg, Parmesan cheese, and basil together in a small mixing bowl.
Layer each bell pepper half with 2 tablespoons sausage mixture, 1 noodle piece, and 1 tablespoon ricotta mixture. Repeat layers and sprinkle mozzarella cheese on top of each pepper.
Place stuffed peppers on the baking sheet.
Bake stuffed peppers in the preheated oven until cheese is browned and bubbly, about 25 minutes
ENJOY!