Meatball Casserole is a casserole that is almost like a meatball lasagna with a mix of cheeses, noodles, meatballs, spaghetti sauce, and more cheese! The best part is that it is all baking in one dish and easy to have on the dinner table in no time!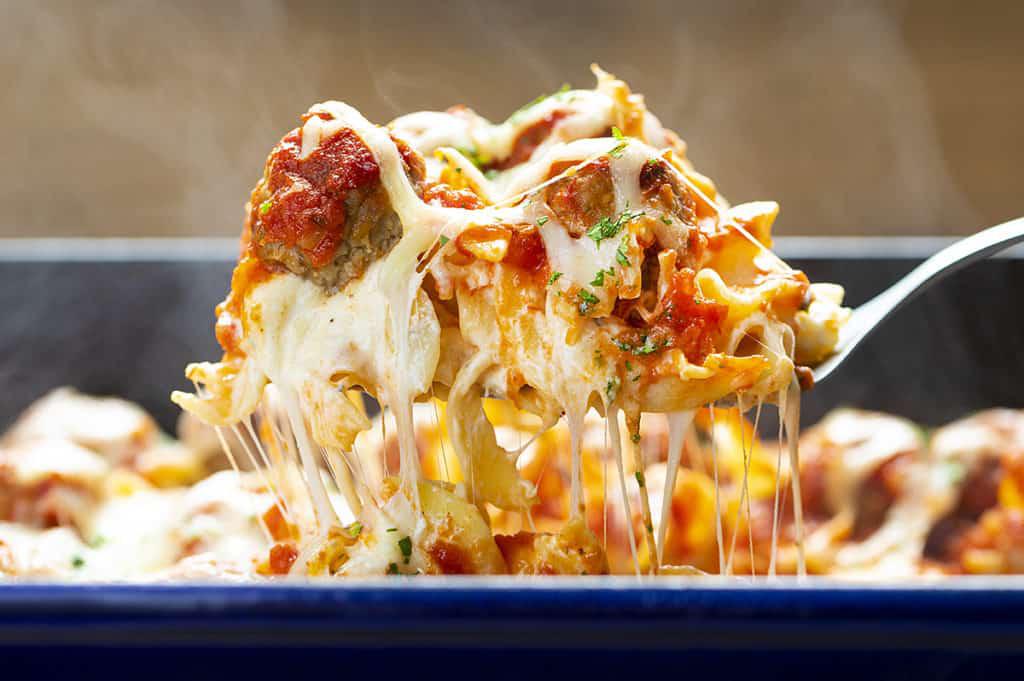 MEATBALL CASSEROLE
Loaded with meatballs and a variety of cheeses, this pasta dish is a hearty and satisfying dish that is easy to put together. You could even make your own meatballs and egg noodles! My meatballs recipe, and even my chicken meatballs (yes, really), would taste great in this dish. And it's easier than you might think to make your own egg noodles.
Just in case you want the easy version, that is the recipe I have listed below. Store-bought basic ingredients and a few minutes of prep and you are good to go!
MEATBALL CASSEROLE RECIPE
There are three main parts to this recipe–the cheese and pasta layer which was inspired by my Million Dollar Spaghetti, the meatballs with spaghetti sauce (oh, did I mention you could also make your own sauce, too?!?), and the cheesy topping.
Cheese Mixture Ingredients (full recipe below)
Cream cheese
Ricotta cheese
Milk
Mozzarella cheese
Parmesan
Basil
Parsley
Salt and pepper, to taste
Meatballs Ingredients
Meatballs–fresh or frozen (but both thawed and precooked)
Spaghetti sauce–You could use the sauce with or without meat.
Toppings Ingredients
Mozzarella cheese
Parsley
CHEESE MIXTURE
The base of this casserole is all the cheeses mixed with the cooked egg noodles. Begin by cooking the egg noodles per package instructions and set them aside while you make the cream cheese mixture.
To make the cheese mixture, get out a medium bowl and combine the cream cheese, ricotta cheese, milk, mozzarella cheese, parmesan, basil, parsley, and a little salt and pepper. Add the warm cooked noodles to the cheese mixture and stir until it is all combined.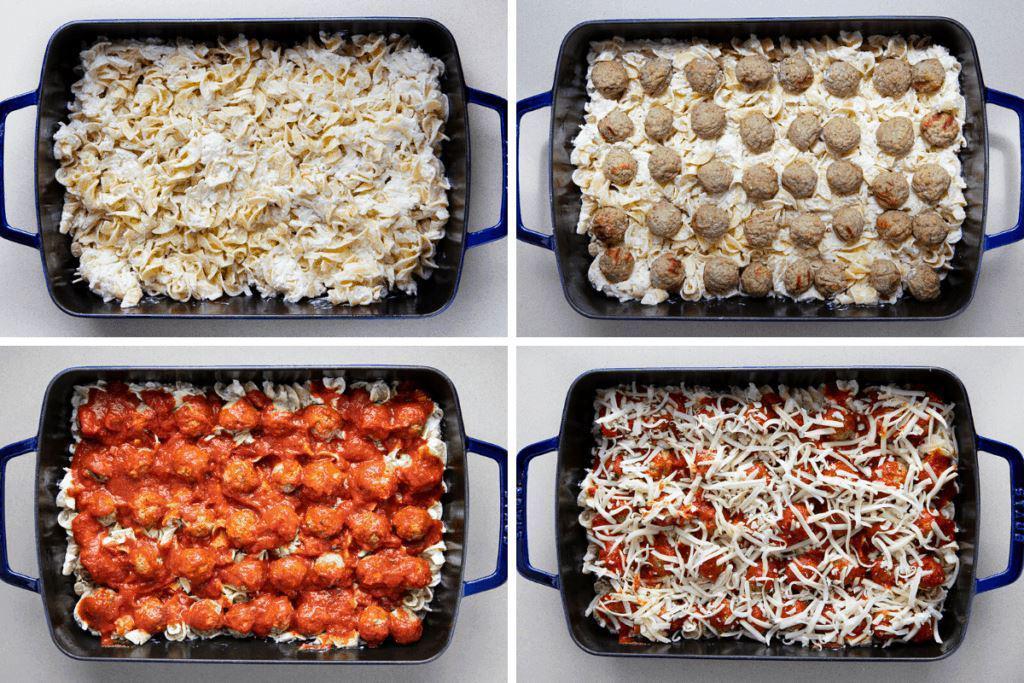 HOW TO MAKE MEATBALL CASSEROLE
With meatballs in the title, you know we have to include lots of those!
After you have mixed together the cheese mixture with the noodles, prepare a 9×13-inch pan by spraying the pan with nonstick spray.
Spread the cheese and noodles mixture over the bottom of the pan.
Next, carefully layer the thawed meatballs over the cheese mixture.
Then, cover the meatballs with the spaghetti sauce.
Finally, top it all off with the shredded mozzarella cheese.
Bake for about 30 minutes, or until it is heated through.
There is no need to check the internal temperature of the meatballs since most frozen meatballs are already cooked and you should not be using raw meatballs for this recipe.
Serve warm, garnished with parsley.
HOW TO SERVE MEATBALL CASSEROLE
We like it hot! My family of 7 can eat almost the whole pan, but just in case you have leftovers here is how we store them: I take out individual pieces and place them in airtight storage containers. Often when reheating leftovers it's one or two people that want some, so having them individually proportioned helps. Be sure to label and date the containers.
CAN I MAKE THIS CASSEROLE AHEAD OF TIME?
Yes! When I am making a pan to freeze I do a few easy things. First I start with a foil casserole pan; these are cheap (and if you happen to be gifting a meal to someone, you won't need the pan back). Next, I follow the recipe up until the point of baking. At the point, I cover it with foil and label and date it. Place in the freezer for up to 3 months. Let it thaw in the refrigerator overnight before baking it the next day.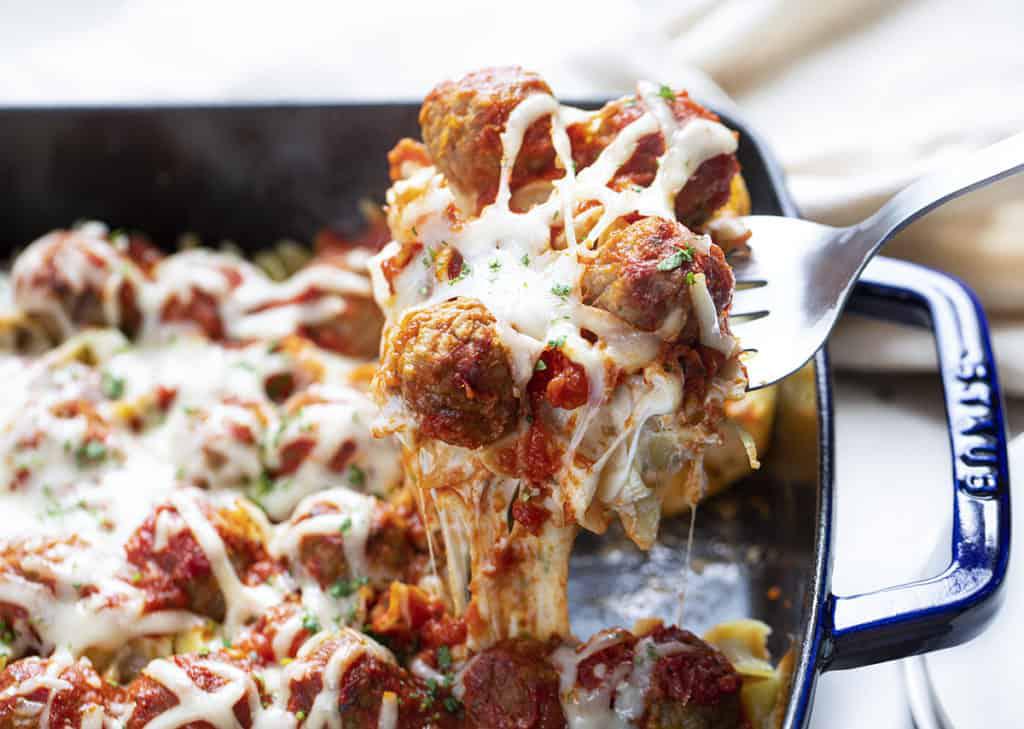 Ingredients
Cheese Mixture
8 ounces cream cheese, softened
½ cup ricotta cheese
3/4 cup milk
2 cups shredded mozzarella cheese
½ cup parmesan, grated (we prefer freshly grated)
1/2 teaspoon dried basil
1/2 teaspoon dried parsley
salt & pepper, to taste
12 ounces egg noodles, cooked al dente
Meatballs
40 meatballs, fresh or frozen (but thawed and precooked)
1 jar (24 ounces) spaghetti sauce
Toppings
1 1/2 cups mozzarella cheese, freshly grated
parsley, for garnish
Instructions
Preheat oven to 350°F.
Cook the egg noodles, al dente, per package instructions. Drain and set aside.
Cheese Mixture
In a medium bowl, mix the cream cheese, ricotta cheese, milk, mozzarella cheese, parmesan cheese, basil, parsley, salt, and pepper.
Add the warm cooked noodles to the cream cheese mixture. Stir to combine.
Assembling
Prepare a 9×13-inch baking dish by spraying it with nonstick spray.
Spread the cheese mixture on the bottom of the prepared baking dish.
Carefully set the meatballs on top of the cheese mixture.
Pour the spaghetti sauce over the top of the meatballs, and top with the mozzarella cheese.
Bake, uncovered until heated through (about 30 minutes).
Serve warm, adding fresh parsley for garnish (optional).