Pancit Canton is a great tasting Filipino Noodle dish. It is often served during birthdays and special occasions to symbolize long life. Aside from the symbolism, it is perfectly delicious.
Pancit Canton is a type of Lo Mein or tossed noodles. These actual noodles are called flour sticks; it is prepared with several ingredients, which makes it look and taste very festive.
This particular Pancit Canton Recipe makes use of sliced pork, sausage, and shrimp. It also has different kinds of vegetables that make it colorful.
Have you tried to cook pancit canton or any kind of pancit before? If you have not; don't worry. This site exist for people like you who want to learn how to properly cook Filipino food and other dishes.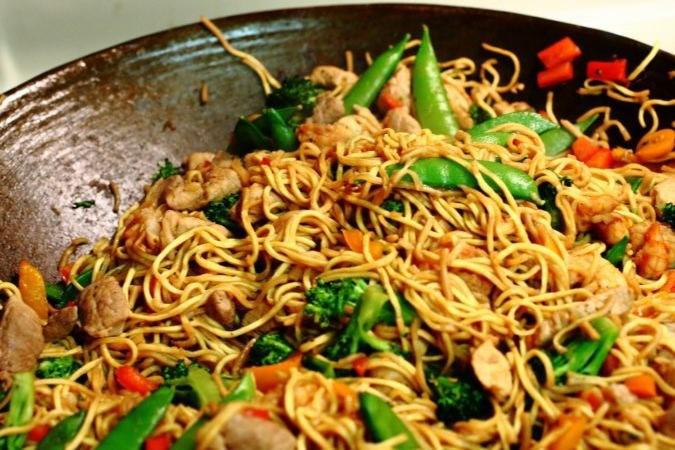 Ingredients
2 tbsp cooking oil 4 cloves garlic, minced
1 onion, chopped
1 cup chicken breast, thinly sliced
1 cup chicken liver
½ cup kikiam
½ cup fish ball
2 tablespoon soy sauce
1 teaspoon ground black pepper
1 chicken broth cube
¼ teaspoon msg
1 cup snow pea
1 medium carrots, julienned
8-10 beans chopped
3 cups water
250 grams of dried canton noodles
½ cup celery, chopped finely
½ cup green and red bell pepper
1 head medium cabbage, chopped
Instructions
In a pan, heat the oil then sauté the garlic and onion
Add the chicken breast, chicken liver, kikiam, and fish ball and cook until the outer part turns light brown
Add the soy sauce, pepper, chicken broth cube, msg, and stir
Put in snow peas, carrots, beans and stir. Add water then bring to boil.
Put in the dried canton noodles, celery, green and red bell pepper, cabbage and cook until the liquid has been absorbed by the noodles