Homemade Spaghetti with Meat Sauce should be hearty and thick and filled with ground beef and veggies and the sweet and savory taste of tomatoes. That is exactly what you are getting with this spaghetti sauce recipe. The stuff in the bottle can stay on the shelf, you won't need it anymore!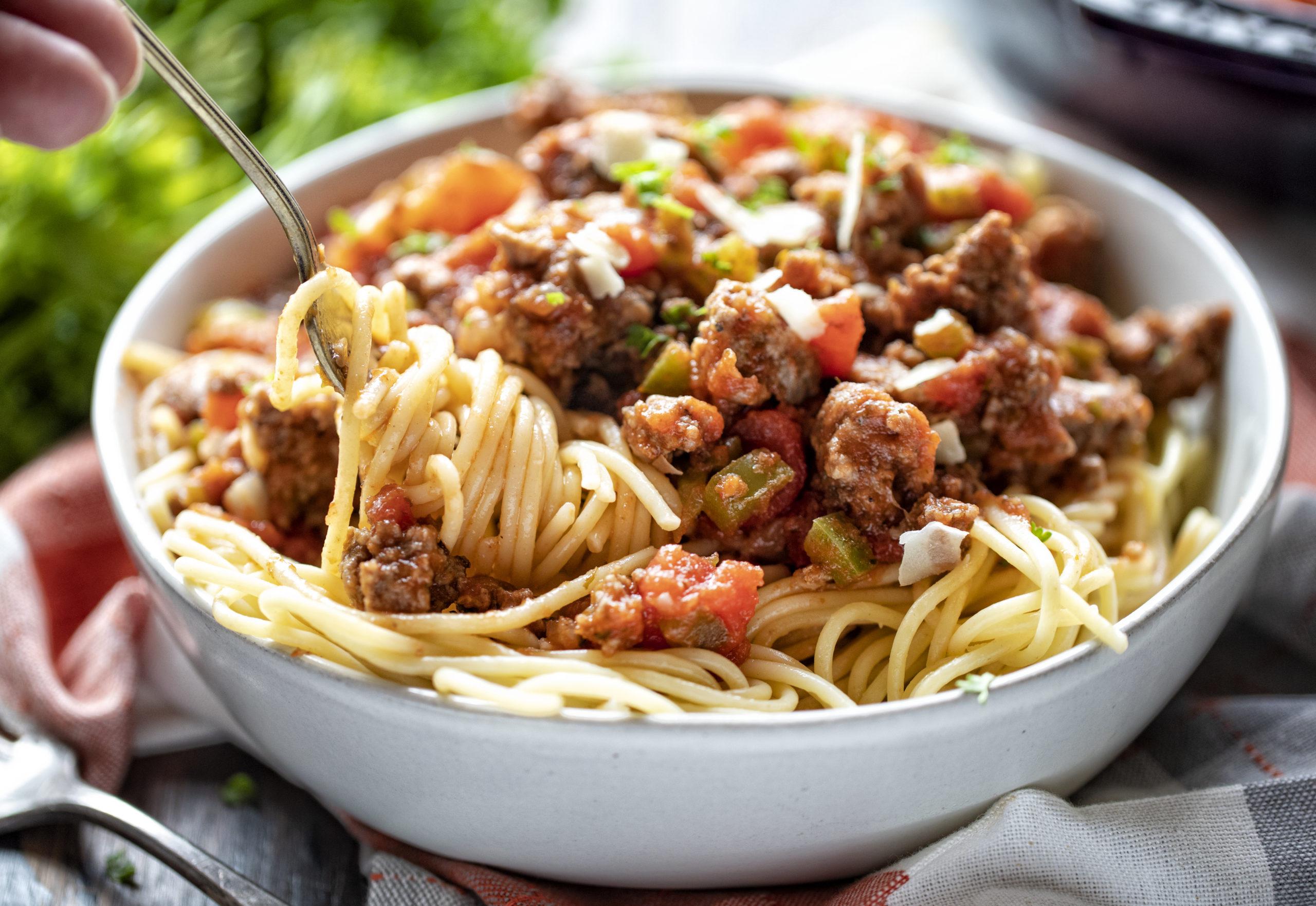 HOMEMADE SPAGHETTI
I absolutely love a good hearty bowl of delicious spaghetti. This recipe is unique in that it's one of those recipes that I never really measured, I just made it from memory. A little bit of this and a little bit of that, and presto, you have an amazing meal that everyone will love. I finally sat down and figured out the exact measurements I used so that everyone can enjoy it!
Making the sauce from scratch is so easy to do and the results are completely worth it! I find that making homemade spaghetti is also a great way to get the kids involved in and excited about cooking. This is where all great cooks get their start.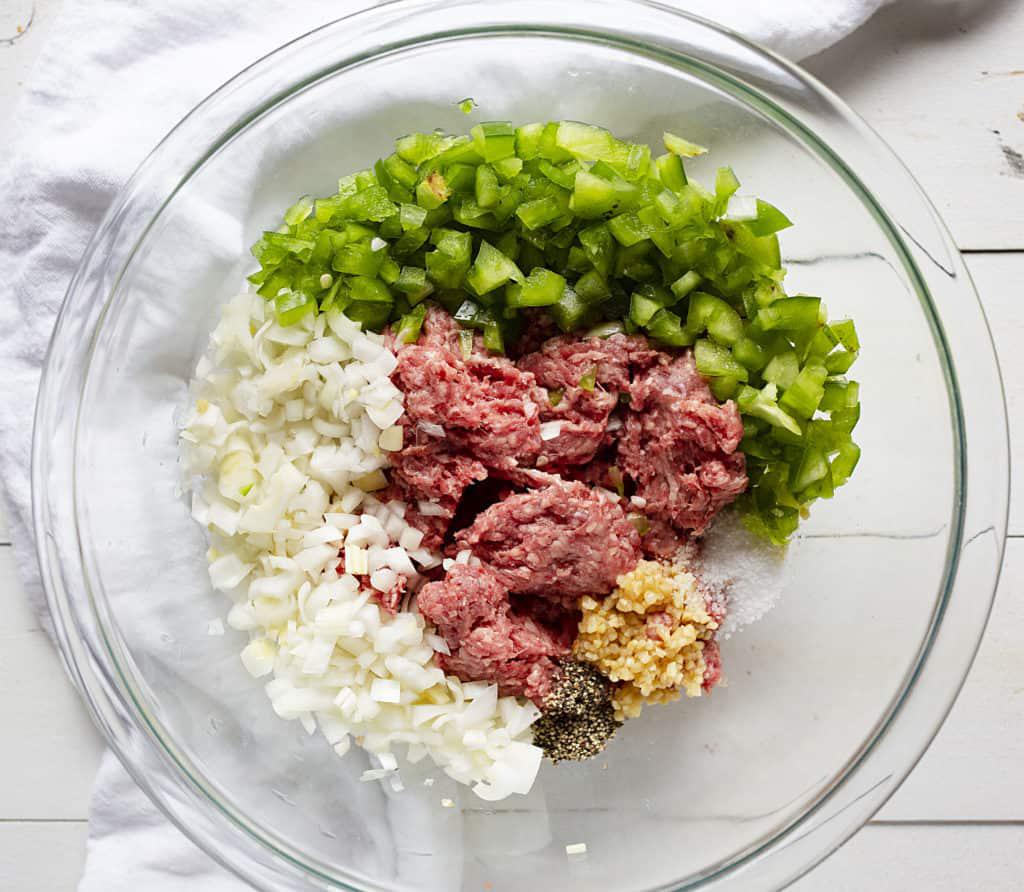 HOW TO MAKE HOMEMADE SPAGHETTI
One of the best things about this simple spaghetti sauce recipe is how basic the ingredients are. Start with a medium sized bowl and combine:
Ground Beef
Yellow Onion
Garlic
Green Bell Pepper
Salt & Pepper
Using a fork, or just using your hands, combine everything. Once combined, you can put the entire mixture into a large skillet over medium heat. Keep in mind that the onions, garlic, and green peppers will need to saute a bit, so take care not to have the pan too hot. You could also add additional veggies like mushrooms or jalapeno peppers at this stage.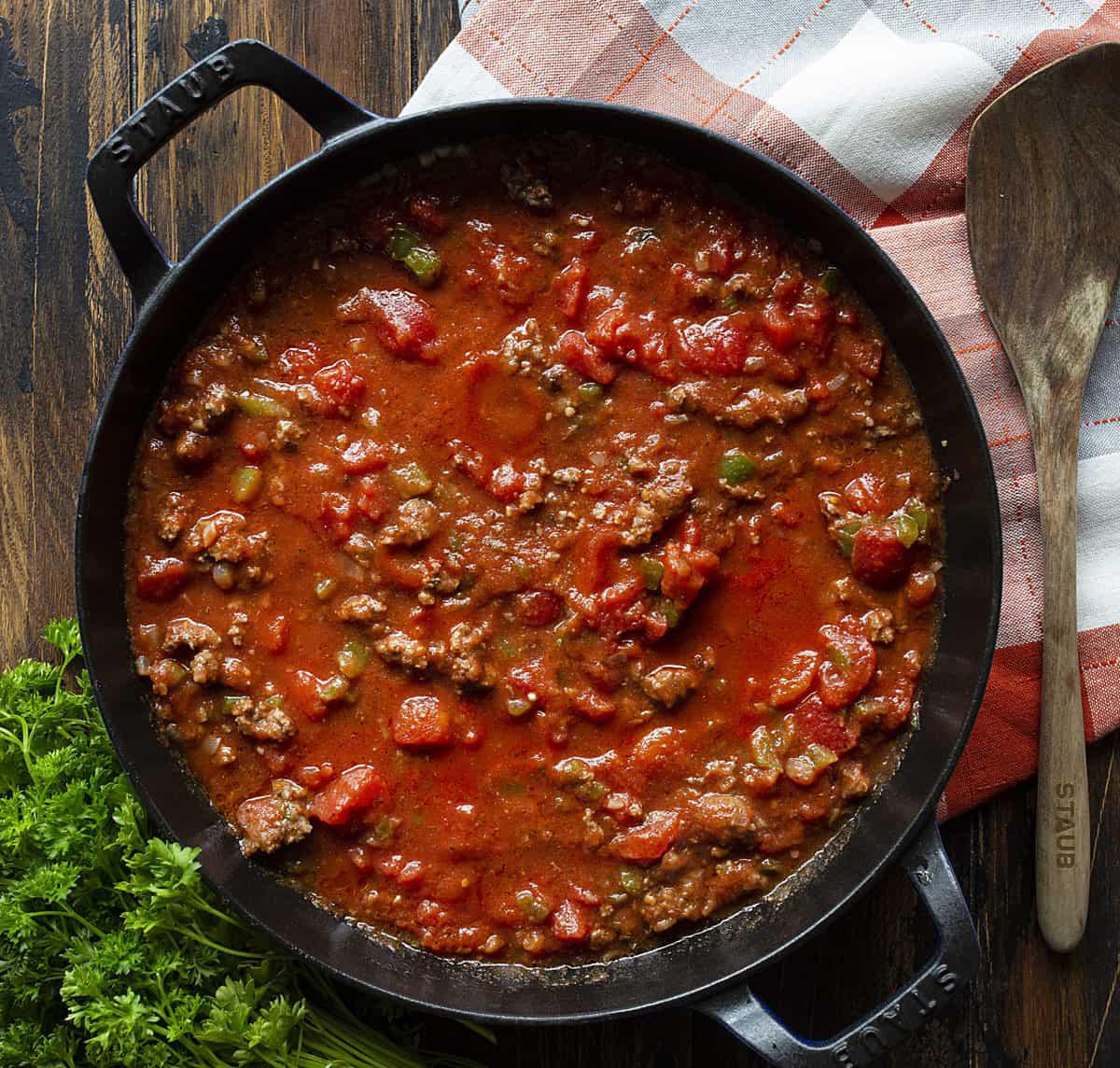 SPAGHETTI RECIPE
The rest of this simple recipe is just a few more basic ingredients. This is really where you can start to get creative and take ownership of the recipe. The very basic ingredients that I add in this stage are:
Canned Tomatoes: I prefer a rougher chopped tomato. We typically can our own tomatoes every year, so we crack open a bottle of our stewed tomatoes and just chop them up. If you are buying canned tomatoes and prefer a smaller tomato, make sure to grab the diced or crushed version. Sometimes you can get these already seasoned with garlic, Italian seasoning, basil, and various other seasonings. Just make sure you read the label and adjust so you don't over season the sauce.
Tomato Sauce and Tomato Paste: These two combined add the hearty tomato flavor and give the dish some much-needed thickness. If you like your spaghetti sauce a little runnier, you can add extra sauce. If you like your spaghetti sauce thicker, you can add some extra paste.
Seasonings: The very basic seasonings you will need are basil and oregano. Add more or less to adjust the flavor. If you are looking to change the game up a bit, add crushed red pepper or cayenne for some additional spice. If you aren't getting enough of the garlic flavor, add in some garlic powder. It may sound strange, but you can also add a little sugar to the sauce. Sugar will enhance the natural sweetness of the tomatoes.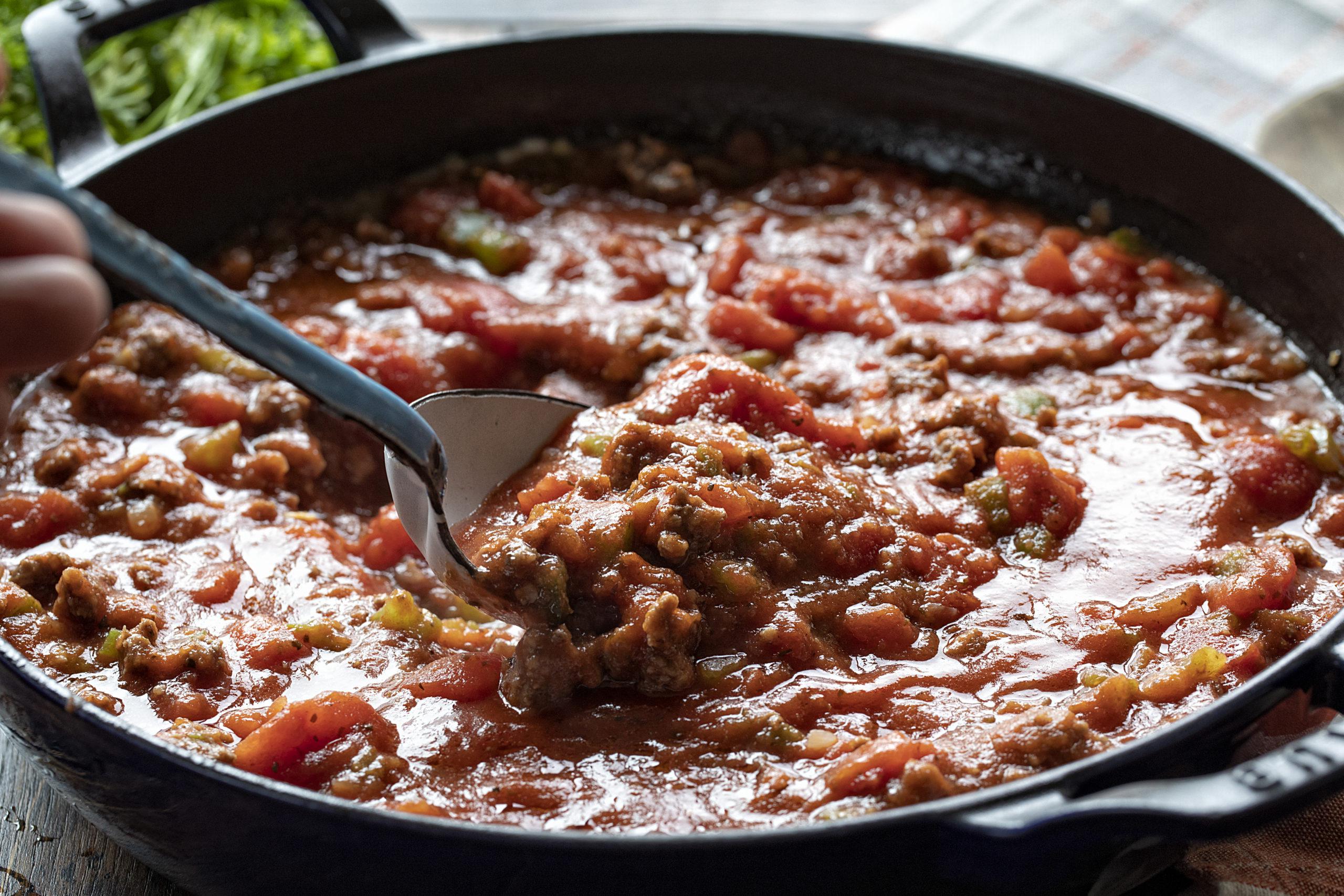 THE KEY TO THE BEST SPAGHETTI SAUCE
If you have enough time and enough kitchen security, let your sauce SIMMER for a while. Even if it's just 20-30 minutes! Allowing the sauce to simmer helps the flavors blend and concentrate and it will thicken the sauce. You can do this for any amount of time, but an hour is the absolute best. (I know some Italian's make their sauce over the course of 2 days!) Plus your house will smell amazing!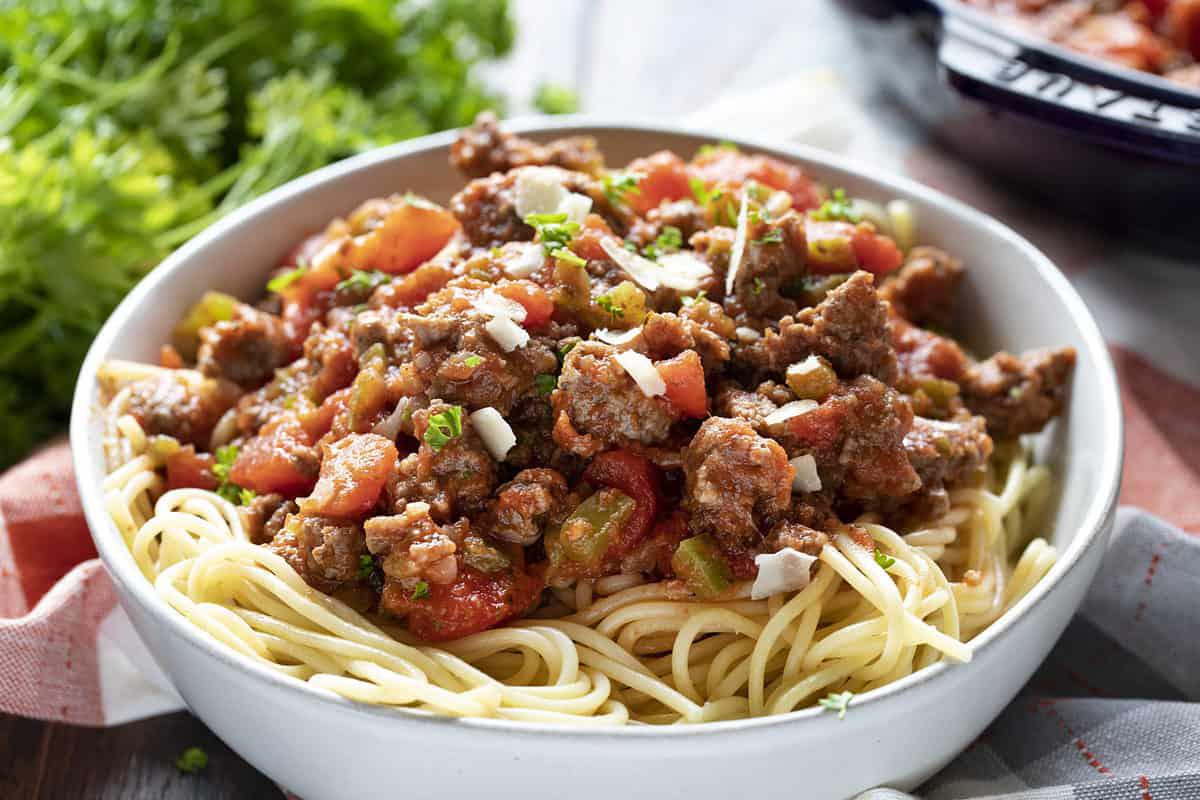 FREEZING SPAGHETTI SAUCE
You can make homemade spaghetti sauce in a large batch and freeze it for later. Made fresh, the sauce can stay in the refrigerator for about 3-4 days. If you are going to freeze it, make sure it cools completely. I put mine in a freezer safe ziplock bag and try as hard as I can to get rid of any air in the bag. Then I set the bag on a flat surface (usually a flat of cardboard). This will make sure it freezes flat and will give you the much-needed freezer space down the road. Make sure to label the bag with a date, the sauce will need to be used in 3-4 months. To use, drop the bag of frozen sauce in a pot of hot water until it is heated through. Remove the bag from the water and drop the contents into a pot to simmer for a few minutes. This will remove any of the excess moisture that accumulated through the freezing process.
Ingredients
1 box (16 ounces) spaghetti noodles
1 pound ground beef
1 teaspoon salt
1/2 teaspoon black pepper
1 small yellow onion, chopped
1 small green bell pepper, diced
3 teaspoons garlic, minced
1 can (28 ounces) diced tomatoes
1 can (16 ounces) tomato sauce
1 can (6 ounces) tomato paste
2 teaspoons dried oregano
2 teaspoons dried basil
1 teaspoon sugar
Instructions
Bring a large pot of salted water to a boil. Add noodles and cook to package instructions.
Combine the ground beef, salt, pepper, onion, and green pepper in a large saucepan. Cook and stir until meat is brown and vegetables are tender. Drain grease.
Add the garlic and cook for one minute, or until fragrant.
Stir the diced tomatoes, tomato sauce, and tomato paste into the pan. Season with oregano, basil, and sugar. Simmer the spaghetti sauce for 20 minutes to 1 hour, stirring occasionally.