The best most tender flavorful fall apart Garlic Butter Beef Tips and Mushroom Gravy. It's a great recipe for a chilly evening. Very comforting and hearty.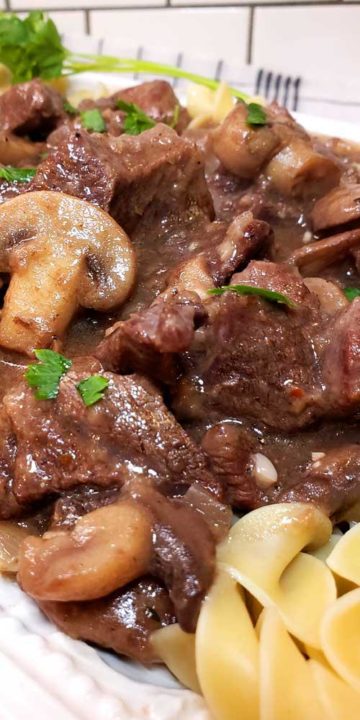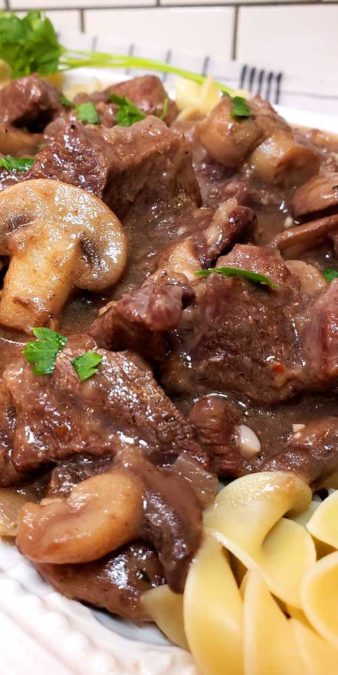 My family absolutely loves this dish. These Garlic Butter Beef Tips and Mushroom Gravy are the exact meal you need after shoveling all this snow we've been getting.
We just had over 10 inches the other day that had traffic jammed for hours, and I couldn't believe how many people just had to pull off the road and slept in their cars overnight.
The news said there were over 800 wrecks and 4000 calls for help, but it came down so fast it took everyone by surprise on Friday during rush hour, all night long, PLUS the next day.
It just kept coming down, like snowing hamsters as the weather man likes to say.
We think it's a little odd that the weather people get so giddy when we get crazy weather like that. Kinda like the Wicked Witch of the West "I'll get you my pretty", with that evil laugh. They love it a little too much. Me not so much, I'd prefer not to ever have to deal with snow. Not a snow bunny by any means.
By Wednesday there was still cars littering the sides of the highway, some people just abandoned their cars. They were saying all week the snow was coming. I don't think they actually knew how fast it was going to accumulate, but still, it's not like we live somewhere that it never snows.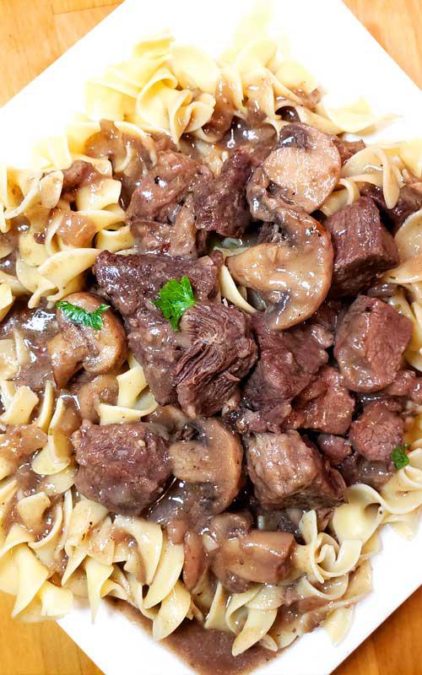 We get our fair share of snow around here. In the St. Louis area, we tend to get everyone's weather depending on which way the wind is blowing and it can change on a dime. We're pretty used to saying, "if you don't like the weather hang around a few minutes". It can change that fast.
I'm counting down the days till spring, but until then, I do like winter food so we can at least enjoy some good stick to your bones comfort food.
This one's a keeper. It's easy, and comes together quick with an Instant Pot or you can also toss it in your slow cooker and let it go low and slow. Either way you go, you can't go wrong.
Some tips:
If you're looking for low carb, simply serve over Cauliflower rice and you have a perfect keto dinner.
Be sure to sear the meat off. This is an important step to seal in the juices. The browning process also adds flavor to the finished dish.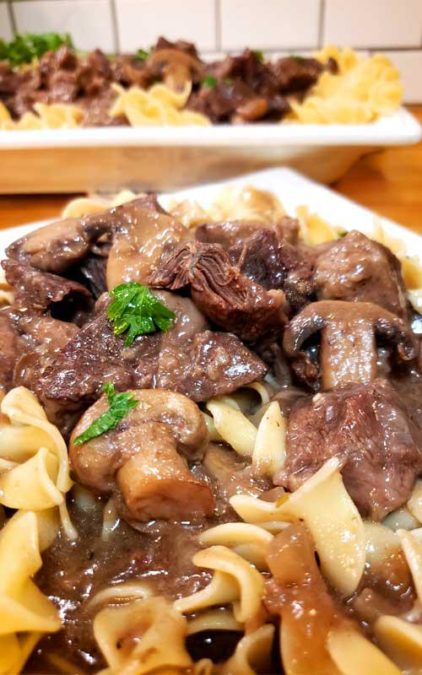 Ingredients
2 pounds beef sirloin tips cut into 1-inch cubes, patted dry
salt and fresh cracked pepper
3 tablespoons olive oil for browning
1 onion diced
8 oz white mushrooms, trimmed and sliced 1/4 inch thick
2 tablespoons butter
2 tablespoons garlic minced
1 tablespoon Italian seasoning
1/2 cup red wine your favorite
2 cups beef broth (divided, reserve 1/4 cup for cornstarch slurry)
1 tablespoon parsley for garnish (optional)
2 tablespoon Worcestershire sauce
2 tablespoons cornstarch
Instructions
Heat olive oil in Instant Pot on saute function. Brown the outside of the beef cubes in batches, turning to seal the juices in (about 3 minutes). Transfer seared beef to a plate and set aside.
Add the butter, onion, Italian seasoning, garlic, and mushrooms to Instant Pot. Sauté for a minute. Add the wine and stir to deglaze and stir up any little brown bits. Let it come to a simmer and cook for a couple minutes, until wine is slightly reduced.
Add beef broth and Worcestershire sauce. Add beef cubes back to pot. Close the lid and make sure the pressure valve is closed. Use the Manual setting on High Pressure for 15 minutes. It will take about 10 or so minutes to come to pressure. Once done let it release naturally for 10 minutes then quick release the rest of the pressure.
Add 2 tablespoons cornstarch to the 1/4 cup reserved beef broth at room temperature to make a slurry and add to the juices in the pot to thicken.
Serve over prepared egg noodles, mashed potatoes, or rice.
Nutrition Information
Yield 6
Serving Size 1
Amount Per Serving
Calories 522
Total Fat 33g
Saturated Fat 12g
Trans Fat 0g
Unsaturated Fat 17g
Cholesterol 149mg
Sodium 569mg
Carbohydrates 9g
Fiber 1g
Sugar 2g
Protein 43g