These Baked Pork Chops are the perfect combination of sweet and savory. The simple but delicious ingredients in the marinade carmelize and seep right into the meat and the onion making every bite tender and juicy. The best part? The entire meal is ready and on your plate in just over 30 minutes. This is one meal you can whip up on the fly!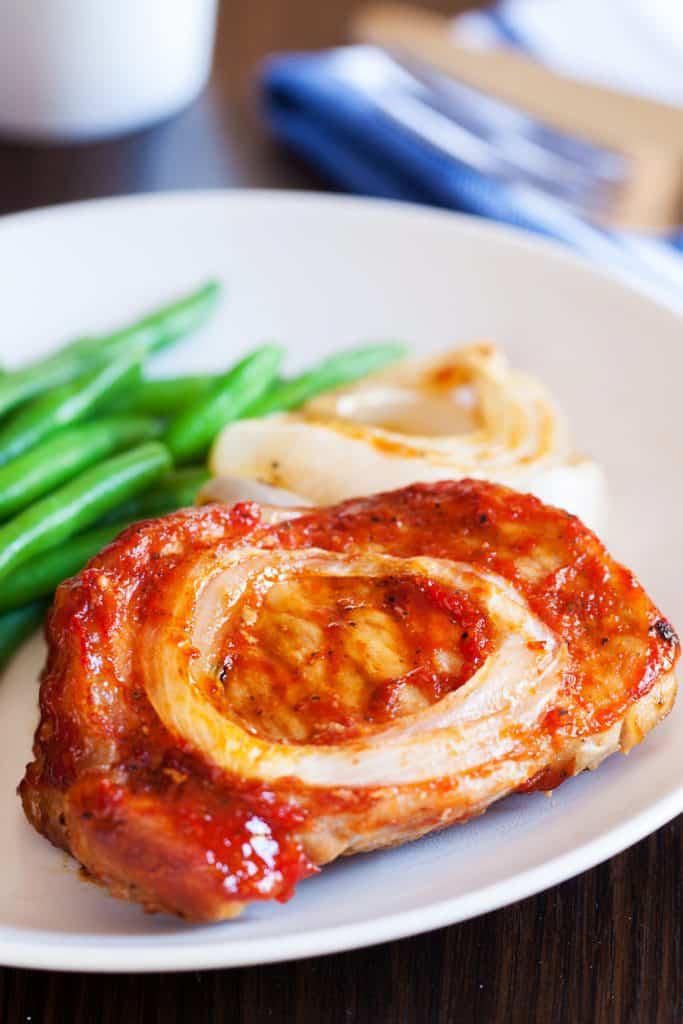 BAKED PORK CHOPS
We love pork chops and are always looking for new ways to serve them up. When I stumbled onto this variation, I knew it was a keeper. The glaze gives it a sort-of barbeque flavor, and barbeque anything goes over really well in my house. We bake it with the onion right on top. Baked onions get amazingly sweet and add a complimentary sweet flavor to the tangy BBQ. The flavor combo is mouth-wateringly good! This recipe is so simple too. You probably have everything you need already in the cupboard. You just need:
Pork Chops
Onions
Ketchup
Brown Sugar
Water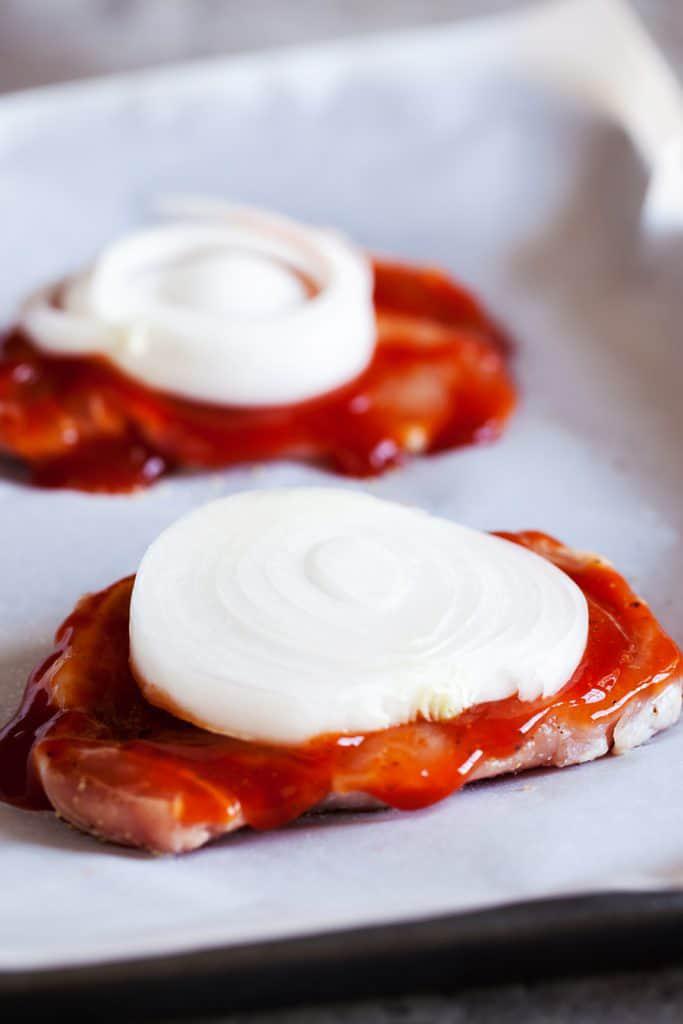 BAKED PORK CHOP RECIPE
Baked pork chops make the perfect simple supper after a long day working on the land. With only a few ingredients and only half an hour in the oven, baked pork chops will become a weeknight favorite. Serve with my brown butter brussels sprouts or my mashed potatoes for a completely satisfying meal.
HOW TO MAKE BAKED PORK CHOPS
Making baked pork chops at home is simple! Start up the process by mixing together the sauce. In a small bowl, mix together ketchup, brown sugar, and water. Place the chops on a prepared baking sheet and then generously coat each pork chop with the sauce. Place a healthy sized slice of white onion on each chop and cover the pan with aluminum foil. Pop them into the oven for 15 minutes. Check back in and baste the pork chops with the juices from the marinade. Cook for another 15 minutes or until the meat is cooked through. These should reach an internal temperature of 145° F at the thickest part of the chop.
There are a few other helpful tips I can give when making baked pork chops at home.
Marinate: Mix up the glaze and marinate the pork chops for a few hours for an even more intense flavor experience.
Onion Rings: Use an onion ring in place of the onion for a fun twist!
Grill it: Try this out on the grill! If you like grilling, this the perfect recipe for it! Modify the cooking times slightly to ensure that your pork chop is properly cooked through. You will also want to have a little extra glaze on hand since it won't be sitting in it. You will want to have some handy, in order to keep the pork chops from drying out.
Bone In: You can certainly cook this meal with a bone in pork chop as well, you may just need to adjust the cooking time a bit.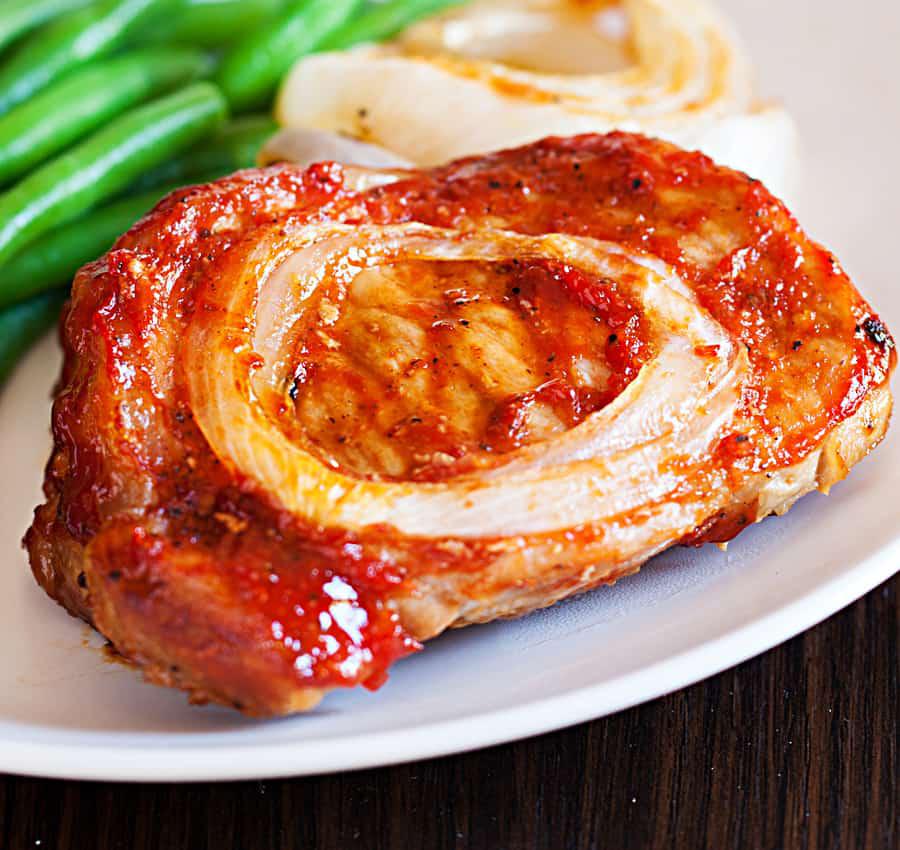 Ingredients
4 boneless pork chops
½ teaspoon salt
½ teaspoon pepper
½ cup ketchup
¼ cup brown sugar
1 tablespoon cold water
4 large onion slices
Instructions
Preheat oven to 375°F and line a rimmed baking sheet with parchment paper or foil.
Pat dry the chops and season with salt and pepper.
In a small bowl, stir together the ketchup, brown sugar, and water. Set aside.
Place the chops on the prepared baking sheet and divide the ketchup mixture among the chops. Evenly spread to cover each chop. Place one onion over each chop.
Cover with foil and bake for 15 minutes. Baste the chops with the juices, rotate the pan, and continue baking, uncovered, for another 15 minutes, or until a meat thermometer registers 145°F at the thickest part of the chop.