Stuffed Buffalo Chicken brings your favorite chicken to life, with a tangy and spicy buffalo sauce, creamy bacon, blue cheese filling, and smothered in zesty ranch dressing. We used our homemade buffalo sauce and our homemade ranch dressing for this recipe!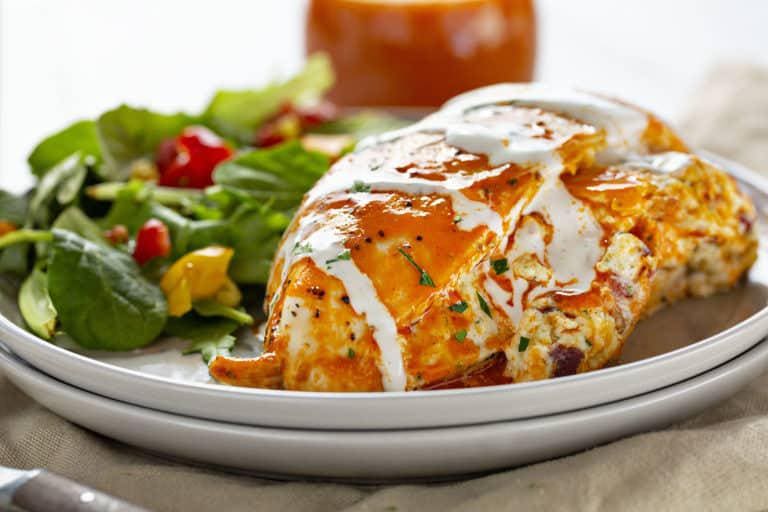 Stuffed Buffalo Chicken
We love a good buffalo wing around here, but sometimes the process for making those just isn't practical. So we decided to switch things up a bit and see what we could come up with by combining some of our favorite dishes. I added my favorite flavors of chicken and buffalo sauce to create a recipe that everyone loves! Once you try this, you will understand just how amazing these flavors work together!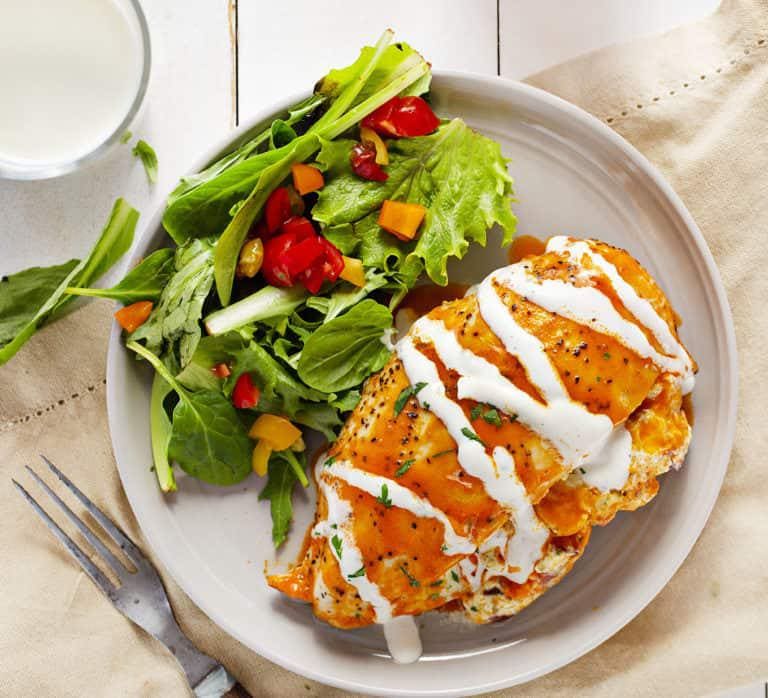 Stuffed Buffalo Chicken Recipe
For this stuffed buffalo chicken recipe you will need:
Chicken Breasts – boneless and skinless, about 4-6 ounces each.
Buffalo Sauce – there is a big difference between hot sauce and buffalo sauce, hot sauce is essentially the base for buffalo sauce with a few extra ingredients added in to tame the heat and give it a little thickness. If you are looking to make your own, check out this buffalo sauce recipe.
Blue Cheese – Crumbles not dressing. You will be incorporating it into a cheese mixture that gets stuffed into the chicken, so the dressing would give it too much liquid.
Cream Cheese – Any kind will do but I find that the full-fat cream cheese holds up so much better with cooking. You will want this to be at room temperature or you will have trouble incorporating the other ingredients into it.
Ranch Dressing – Once again, any kind will do, but I prefer to make it myself with my homemade ranch dressing recipe.
Bacon – Thick cut and precooked. I like to bake my bacon versus fry it. I just find that I get more uniform cooking this way. Bake at 325°F for about 15-20 minutes or until it is good and crispy.
Salt and Pepper – for seasoning.
Celery -this is optional but I highly recommend!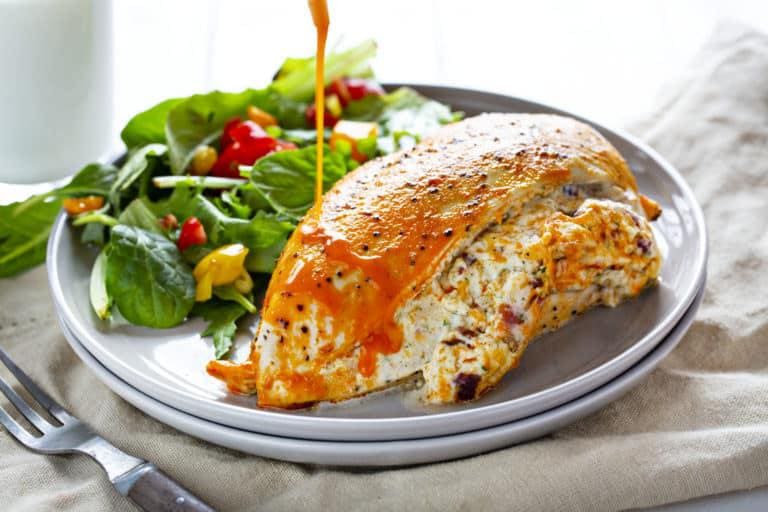 How to Make Stuffed Buffalo Chicken
To prepare the chicken, first season both sides with salt and pepper to your liking. Then, using the palm of your hand, place it on the top of the chicken to hold it in place. With a sharp knife, cut a 2-3 inch pocket into the chicken (depending on how thick the chicken is). When you cut the pocket, be careful not to slice through the chicken. You are essentially creating a well for the cream cheese mixture.
Next, in a medium bowl, mix together the room-temperature cream cheese, blue cheese crumbles, ranch seasoning, and bacon bits. You can use more or less blue cheese, we have a few in the house that don't like it so we tamed it down a bit more than we normally would. The nice thing about blue cheese is that if you really love it, you can add more at the end.
Returning to your chicken, stuff the pocket with the cream cheese mixture. About two-three tablespoons per chicken breast. Use a few toothpicks to secure the pocket shut for the remaining cooking.
Finally, grab a greased baking dish. I like to pour a small amount of buffalo sauce on the bottom of the pan, this makes sure that the entire chicken breast is coated. Place the chicken on top of the buffalo sauce and then smother the remaining sauce over the top. Reserve just a few tablespoons for basting it at the end. Bake for 20-25 minutes. Chicken cooking times really do vary because no cut is the same. Your best bet is to check the temperature with a meat thermometer stuck into the thickest part of the chicken. You are shooting for 165° F.
Once it is cooked through, top with more buffalo sauce, diced celery, and ranch dressing. You can see this in the picture above and below… first, we added the homemade buffalo sauce then the ranch sauce. I like to add some water to my homemade ranch dressing so it is runny and pourable. (You can also add milk)
Ingredients
Chicken
4 boneless skinless chicken breasts
1/4 teaspoon salt
1/4 teaspoon pepper
1 cup buffalo sauce
Blue Cheese Filling
1/4 cup blue cheese, crumbled
8 ounces cream cheese
1 package dry ranch seasoning
3 strips bacon, cooked and crumbled
2 ribs celery, diced (optional)
Instructions
Preheat oven to 350° F.
Season chicken breasts with salt and pepper and cut a 2-inch pocket into each chicken breast.
In a medium mixing bowl, combine blue cheese, cream cheese, ranch seasoning, and crumbled bacon.
Stuff each chicken breast with blue cheese mixture. Close slit using toothpicks.
Place chicken in prepared baking dish, top with buffalo sauce (reserve some for basting at the end)
Cook for 20-25 minutes or until internal temperature reaches 165°F