Reuben Sliders are the perfect finger food for your next game-day celebration or party. They are easy to make, and with the homemade butter topping, your guests will fall in love with this smaller version of the classic Reuben Sandwich.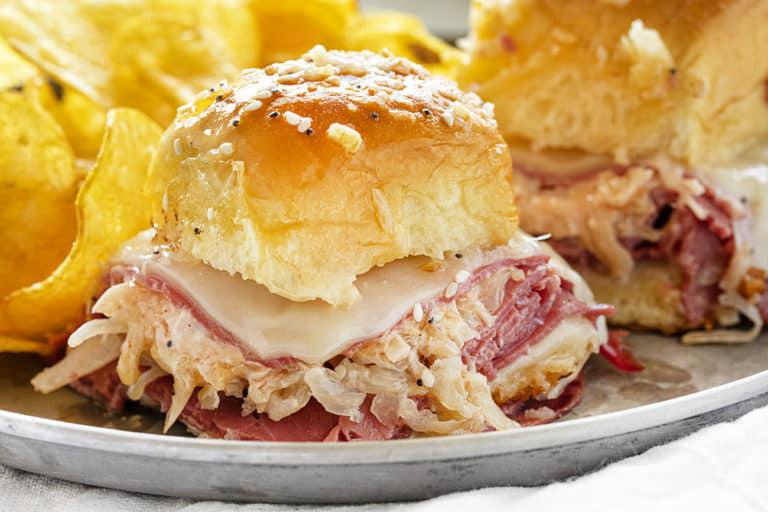 Reuben Sliders
Sliders have come a long way since the 1940s when sailors in the U.S. Navy would eat mini hamburgers. The hamburgers were so greasy, they would 'slide' down the sailors' throats in about 2 bites! When I think of sliders, I immediately think of White Castle. Who hasn't ordered a few (or a case) of sliders after a night out? White Castle became famous because of these cheap and greasy sliders. In fact, it was the first hamburger chain to sell a billion hamburgers, and they are still going strong!
Now, sliders are not just the greasy mini hamburgers you have come to know or taste. There are sliders made with chicken, pork, and any other meat you can think of, including veal. The options are pretty enormous, and even the upscale restaurants have hopped on the slider bandwagon. So, since I have been on a Reuben kick lately (Reuben Sandwich), I figured I would add these Reuben Sliders to my list.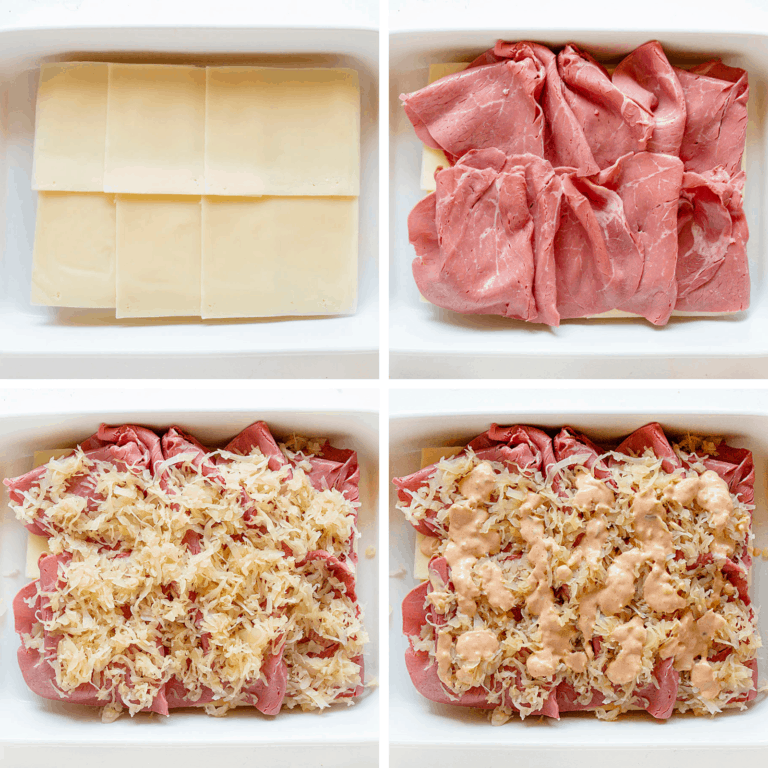 Reuben Slider Ingredients (full recipe in the recipe card at bottom of post)
I used the same ingredients on these Reuben Sliders as I did on the Reuben Sandwich, except for the bread. I bought King's Hawaiian Original rolls to use for each slider. They are the perfect size for a snack or grab a couple for a meal!
As with the sandwich, topping the rolls with the herbed butter really makes these Reuben Sliders stand out.
Herbed Butter:
Butter
Minced onion
Sesame seeds
Poppy seeds
Sea salt
Reuben Sliders:
Corned beef: Deli-style corned beef worked just fine for this sandwich. I had it thinly sliced for the sliders.
King's Hawaiian Rolls: I used the Original Hawaiian Sweet rolls, but King's Hawaiian has a Honey Wheat and Butter roll that you could also try. Or, you could make your own homemade Hawaiian Rolls!
Russian or Thousand Island Dressing: The choice you make here is up to you. I just want to be clear that there IS a difference in the two dressings. I used the Russian dressing on my Reuben Sandwich since it has a spicier flavor, but if sweeter is more your style, go with my Thousand Island dressing.
Sauerkraut: Sauerkraut has some health benefits, being that it is a good source of fiber, and the fermented cabbage produces probiotics that keep our digestive system on track.
Swiss cheese: Swiss cheese is generally used for a Reuben because of its mild flavor. I tend to go for the square, thinner version of the Swiss cheese slices. You may also try mozzarella or provolone cheese, two more mild-tasting kinds of cheese.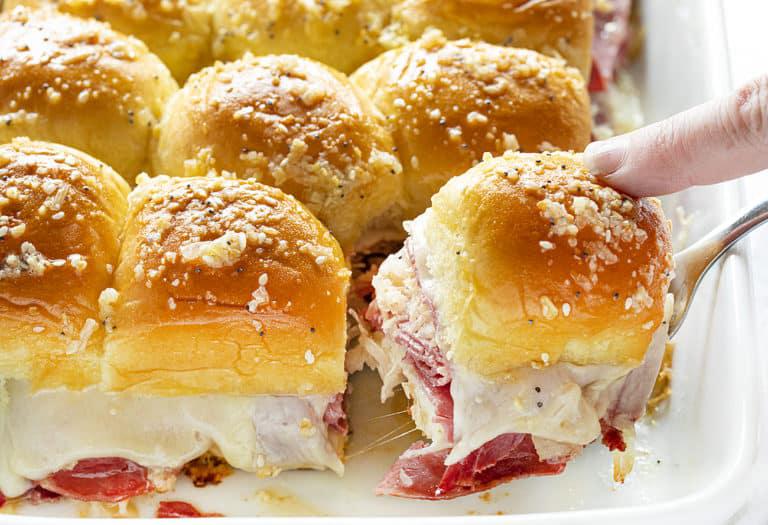 How to Make Reuben Sliders
Preheat the oven to 350°F. For the herbed butter, simply mix all the ingredients together and set off to the side. You will brush the butter on top of the rolls before you bake the Reuben Sliders. You can use regular butter, but I really think this herbed butter takes the flavor of a classic Reuben to the next level.
Next, split the Hawaiian rolls in half and place the bottoms of the rolls in a greased baking dish. Top the buns with 6 slices of Swiss cheese (each slice will cover about two of the rolls), corned beef, sauerkraut, dressing, more corned beef and then a second layer of 6 slices of Swiss cheese. Use the tops of the rolls to cover the layers, and brush on your melted herbed butter. Then, cover the sliders with tin foil and bake for 20 minutes at 350°F, or until you notice the cheese is hot and bubbly. Take off the tin foil after 20 minutes and let bake, uncovered, for another 5 minutes or so. The rolls should be golden brown. Get ready for everybody to grab one (or two or three)!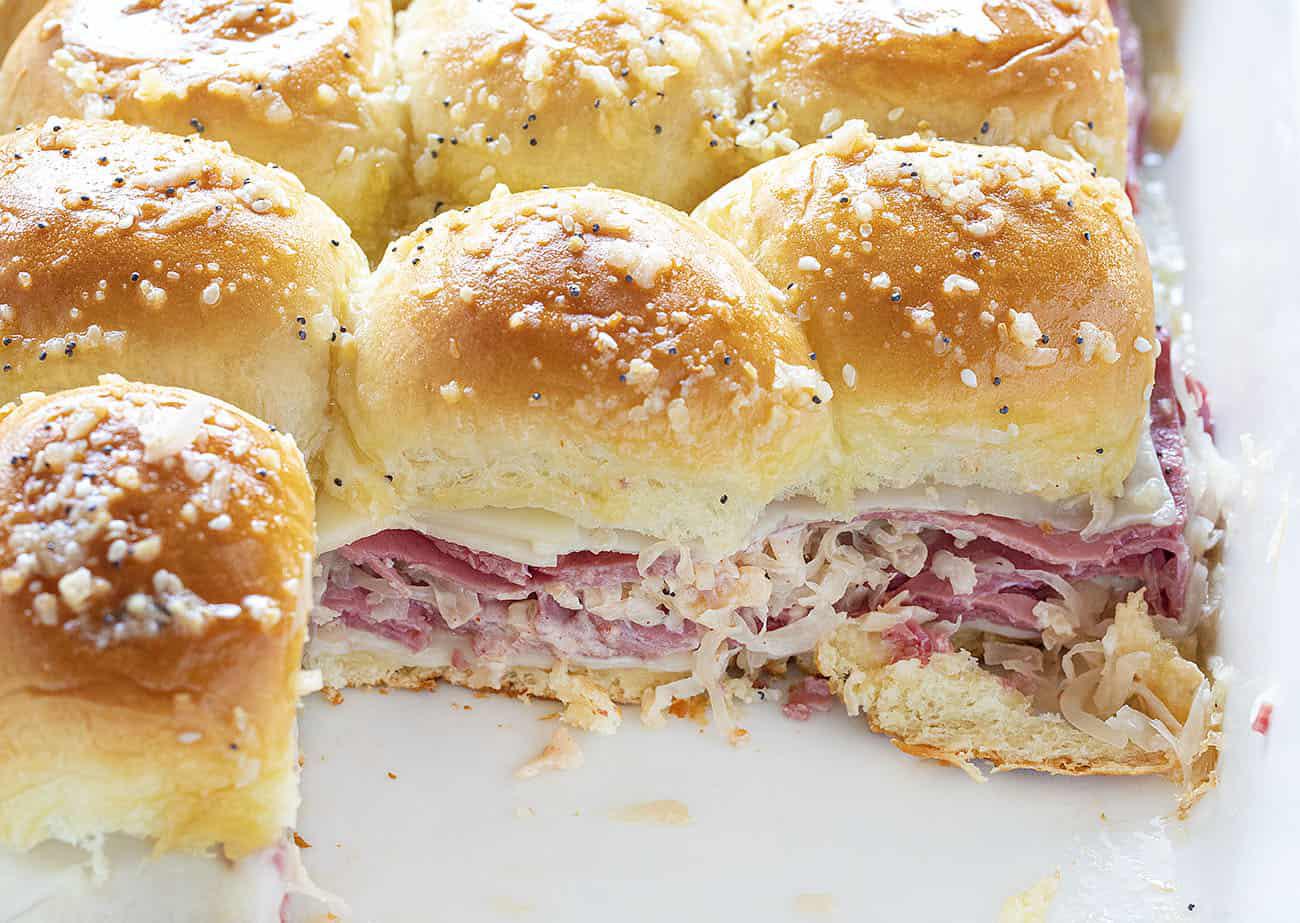 How to Serve Sliders
I like to serve sliders right out of the oven, and these Reuben Sliders are no exception. I typically cut the sliders, using the rolls as a guideline. If I don't want to set a hot dish on the table, I will occasionally stack them on a plate (helps to keep the heat in) and serve like that.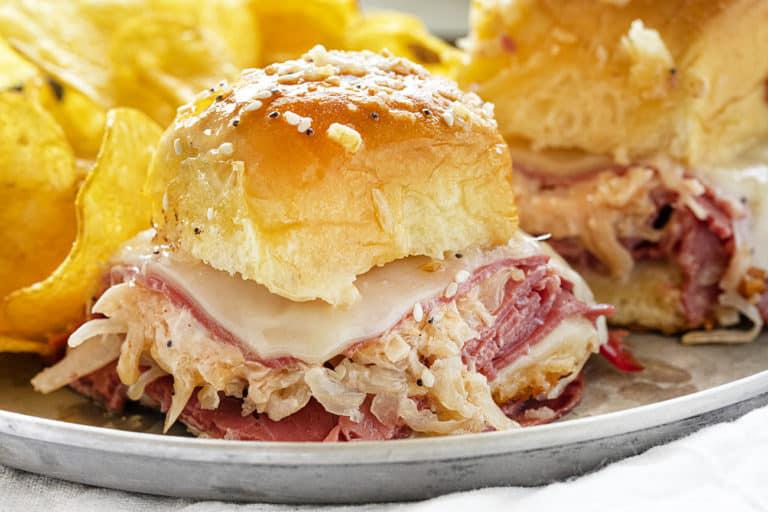 INGREDIENTS
SLIDERS
12 King's Hawaiian rolls
8 ounces corned beef, thinly sliced
8 ounces Swiss cheese
⅓ cup thousand island or Russian dressing
8 ounces sauerkraut, squeezed dry
BUTTER TOPPING
¼ cup butter, melted
½ teaspoon dried minced onion
½ teaspoon sesame seeds
¼ teaspoon poppy seeds
1 teaspoon sea salt
INSTRUCTIONS
Preheat the oven to 350°F and spray a 9×13-inch baking dish with nonstick cooking spray.
Split your rolls in half. Place the bottom halves in the prepared baking dish.
Top the buns with 6 slices of Swiss cheese, follow with corned beef, sauerkraut, dressing, more corned beef and then a second layer of 6 slices of Swiss cheese.
Place the top halves of the buns on top.
In a small bowl, mix together the buttered topping ingredients.
Brush the top of the rolls with the melted butter mixture.
Cover the dish with tinfoil and bake for 20 minutes, or until the cheese is hot and bubbly.
Remove foil, and bake for an additional 5 minutes (or until the tops of the sliders turn a golden brown).
Remove from oven, slice and serve.