Dorito Taco Salad is a delicious salad we've been serving at potlucks for as long as I can remember!
Everyone loves a great taco salad recipe and this version is a definitely a crowd favorite!
Seasoned ground beef, fresh lettuce, pinto beans, veggies and of course Doritos all sauced up with a zingy dressing make this an exciting change to your daily menu!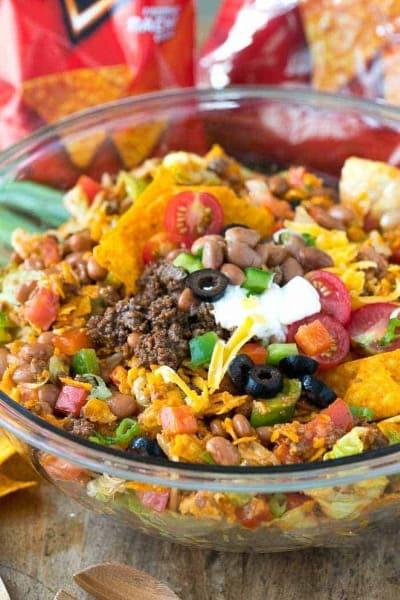 I truly love salads, but sometimes they can become a bit boring. This Dorito Taco Salad definitely spices up the 'same old salad' slump that we tend to get into. Not only is is easy to make, but it is delicious too!
I absolutely love anything that is taco inspired from pasta to casseroles… and especially salads!
Something about that beautiful blend of spices found in taco seasoning (especially my DIY taco seasoning mix) paired with crisp fresh lettuce just tastes SO good! Of all of the taco inspired dishes I make, this one definitely tops the list because everyone always raves about it!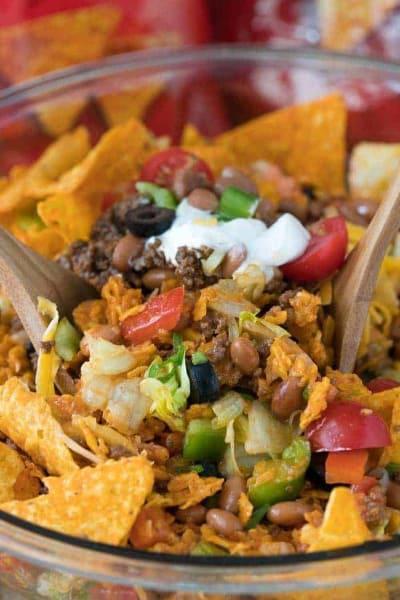 How to Make Taco Salad
If you happen to have leftover taco beef from a prior recipe, it's perfect in this taco salad recipe. In fact, I often make a double batch of taco meat to store in my freezer for extra quick meals on busy weeknights.
The remaining ingredients are simple and easy to keep on hand. Pinto beans and sliced black olives in the canned variety are always staples in my pantry. Lettuce, tomatoes, onions, cheese, peppers and sour cream are items I always have on hand.
And OF COURSE you can't forget the Doritos, we love the Nacho Cheese Flavor in this taco salad but you can use your favorite flavor!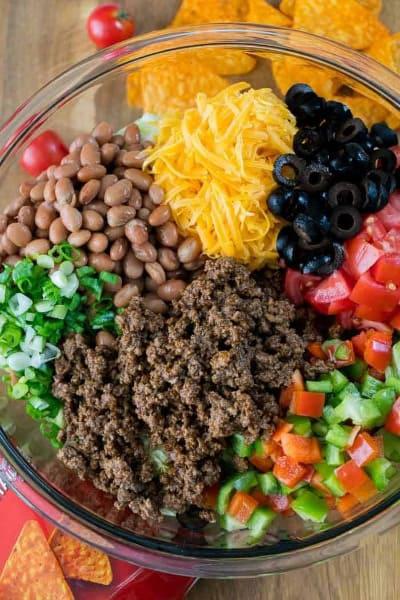 How to Make Taco Salad Ahead of Time
This meal can be prepared ahead of time! The secret is to assemble everything in layers and simply toss before serving. Using the layered method keeps ingredients from becoming soggy.
Your bottom layer will be the cooked and seasoned ground beef topped with the dressing.
Next layer the pinto beans and sliced olives.
Follow this with the peppers and tomatoes.
Next layer is the lettuce and the onion.
Add the cheese on top.
Leave out the Doritos until just before serving.
Using the layering method above, you can assemble this Dorito salad and refrigerate for a quick and easy meal at the end of a busy day or to take along to a backyard BBQ party or potluck. Simply toss to coat everything just before serving and wait for the compliments to pour in!
What Goes In a Taco Salad
You can modify this recipe however you'd like or based on what you have on hand! I have used diced chicken breast in place of ground beef (or ground turkey), I also use different types of peppers and I like to kick up the heat a notch using spicy Doritos!
Use the veggies you love (corn is great in this recipe too) and make it your own masterpiece! It is just so easy to prepare and to top it off it tastes fantastic!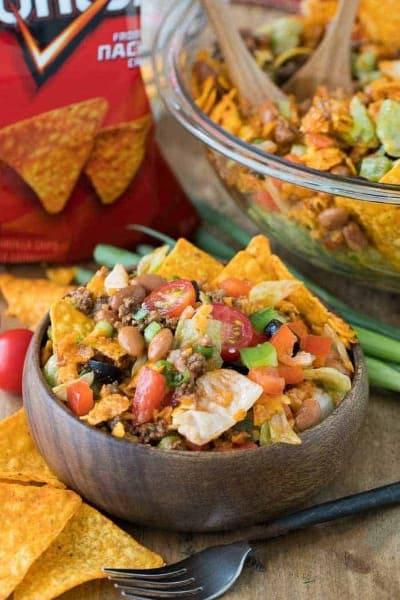 I use a whole 10 oz bag of Doritos in this recipe because I love the flavor they add. You can certainly use as much or as little as you'd like! Don't get stuck making the same old salads this summer. Add Dorito Taco Salad to your menu and delight your family and friends!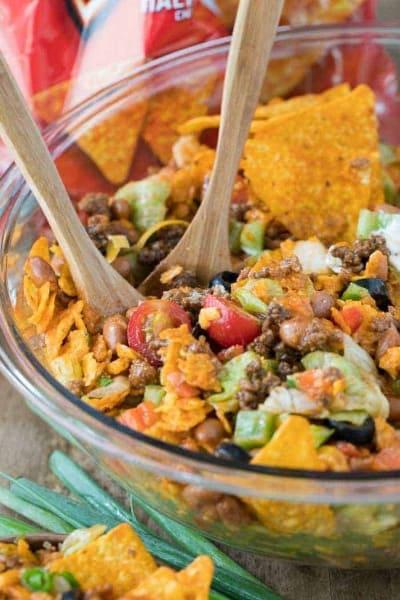 Ingredients
1 pound lean ground beef
1 packet taco seasoning
⅔ cup water
1 head iceberg lettuce chopped into bite sized pieces
1 red or orange pepper chopped
1 green pepper chopped
½ cup sliced black olives
1 can pinto beans rinsed and drained
1 cup tomatoes diced
¼ cup green onions chopped thin, leave a bit for garnish
1 cup cheddar cheese shredded
10 ounces Nacho flavoured Doritos
16 ounces catalina salad dressing
sour cream optional garnish
Instructions
Brown the ground beef until no pink remains. Drain any fat.
Stir in the taco seasoning packet and water. Simmer until thickened, about 5 minutes. Set aside to cool.
In a large bowl, combine the lettuce, peppers, black olives, pinto beans, tomatoes, cheddar and green onions.
Top with the seasoned and cooled ground beef.
Slightly crush the Doritos and sprinkle on top. Drizzle with catalina dressing and toss to coat evenly.
Garnish with sour cream and additional green onions is desired.
Serve immediately.