This Peach Cobbler Cheesecake merges the classic flavors of a creamy New York style cheesecake with the decadence of a Southern peach cobbler filled with caramelized peaches and a buttery crumble!! It is truly the ultimate decadent dessert.
Disclosure: I partnered with Land O' Lakes for this recipe post, but all opinions expressed here are my own. I am grateful for authentic partnerships like this.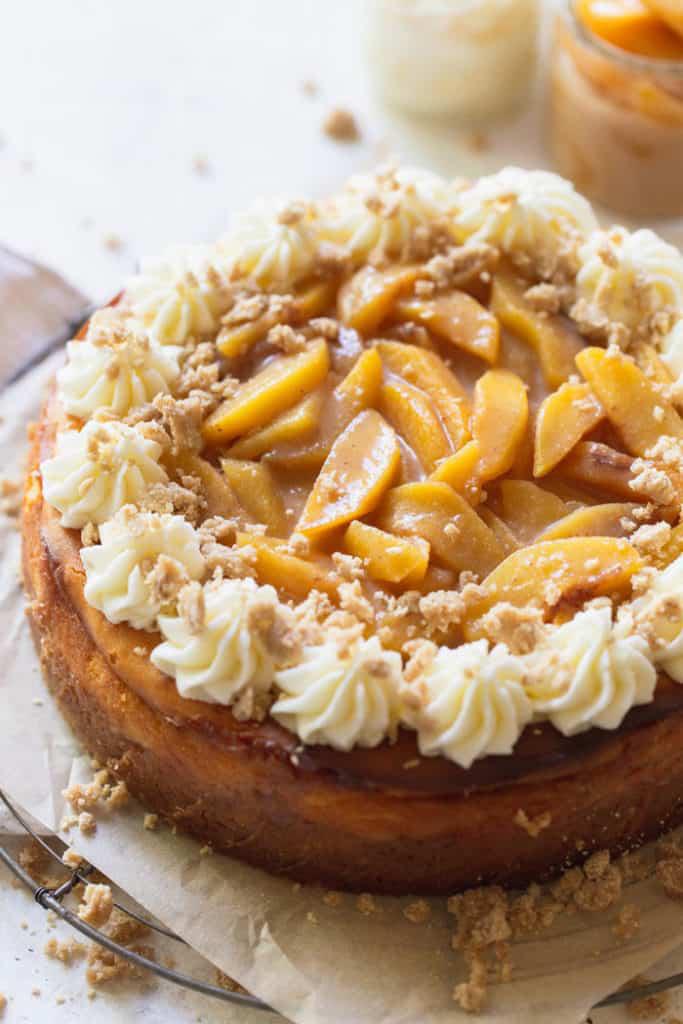 There is one question I get asked more often than any other: what is your favorite dessert? The answer is plain and simple: Peach Cobbler. I mean, what's not to love? Cobbler is smooth and sweet, yet crispy and crumbly. Caramelized peaches melt in the mouth with every bite and a buttery crumble explodes with spice. Top with a hefty scoop of vanilla ice cream and you've got the perfect dessert.
For a long, long time, I have been convinced that this dreamy dessert could not get any better. But today, it has. Adding in a layer of creamy, tangy cheesecake takes this cobbler to the next level. Not only is the textural component outstanding but the flavors meld together in an unimaginably delicious way.
If you're not drooling yet, you will be when you get a whiff of this bad boy in the oven!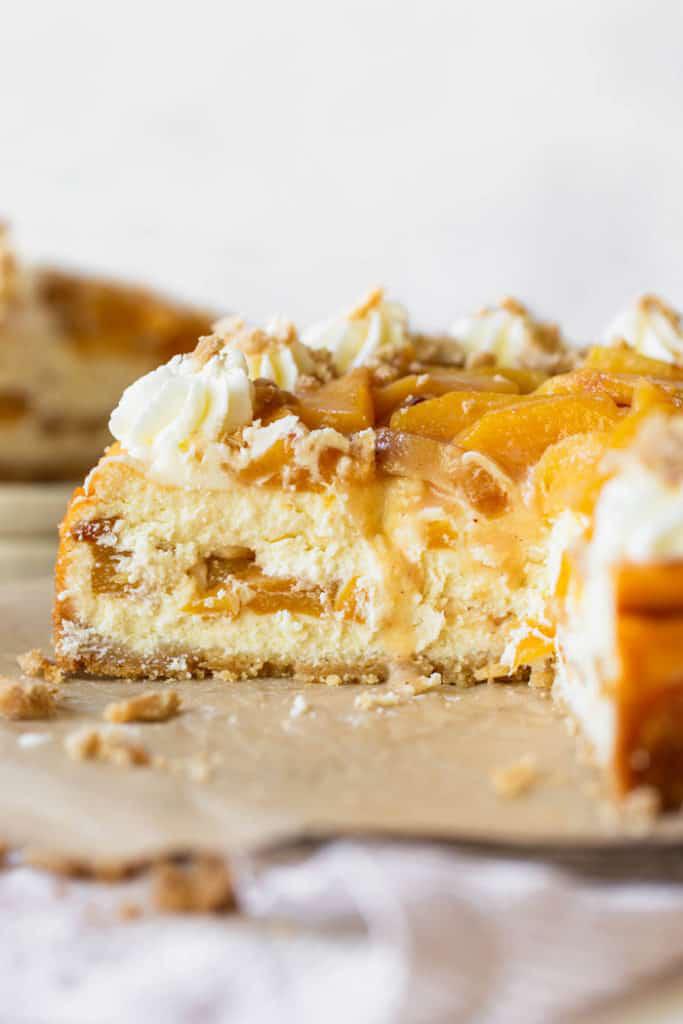 PEACH COBBLER CHEESECAKE
Now, I'm sure that the term "fusion food" is one we're all familiar with. Whenever used, we all think of savory Thai-Japanese fare or innovative Mexican-Korean munchies. I love the idea of two sets of unique flavors coming together to create something new and exciting.
Though it may not be as well known, baking is a large melting pot of history, culture and flavor. Most well-known baking recipes are a result of immigrants making use of newfound ingredients in unfamiliar territory.
Peach Cobbler and Cheesecake is truly a match made in heaven; classic New York Cheesecake meets an Old School Southern Peach Cobbler in this sweet concoction. This dessert is truly "fusion baking" at its finest. Every morsel is buttery, crunchy, sweet, creamy and fruity all at once. It doesn't get much better than that.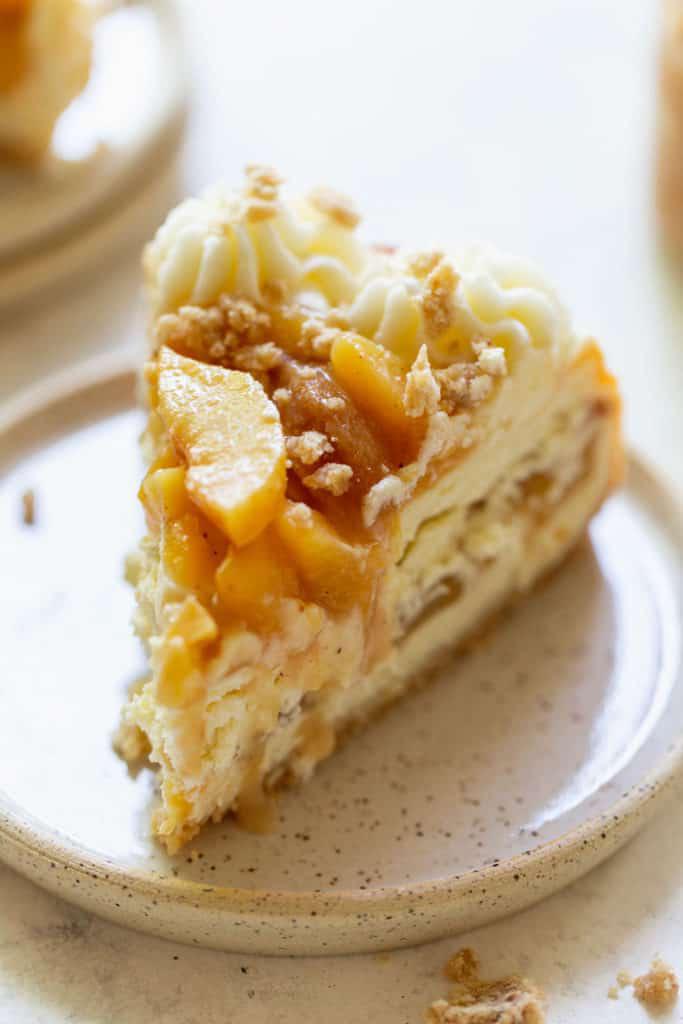 HOW TO MAKE PEACH CHEESECAKE
This recipe calls for quite a few ingredients (and maybe just a little bit of mess) but, there are a few that make for an extra-special treat!
Let's take an in-depth look at what we've got:
PEACHES
Peaches are our shining star in this recipe; they're juicy, sweet and slightly tart. By cooking the slices in a sugary-spiced mixture, we layer in a to-die-for caramel-like flavor.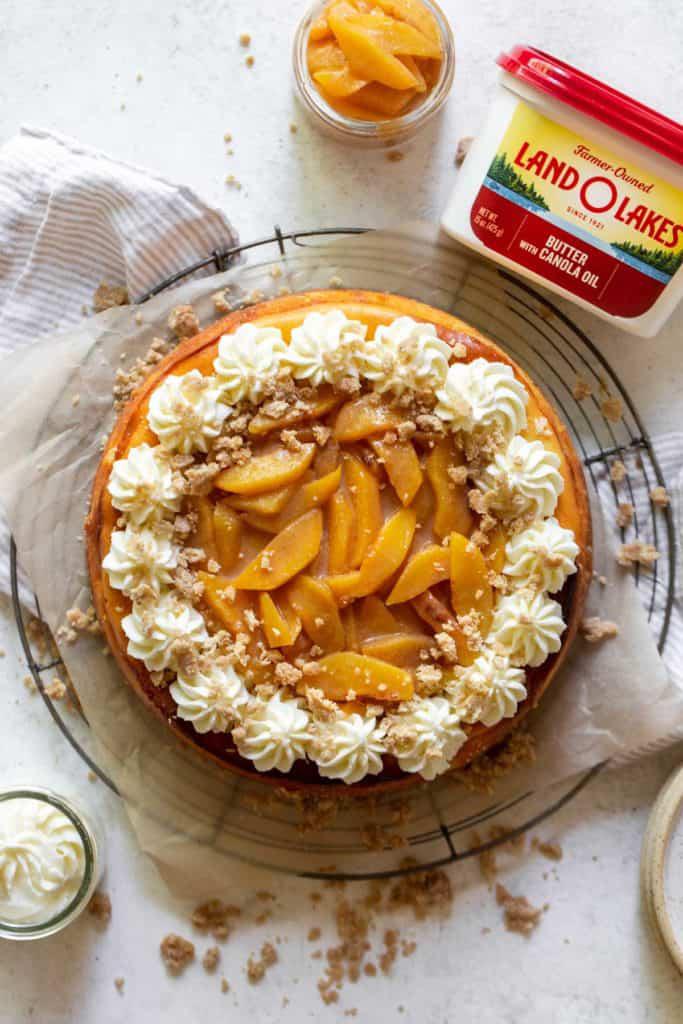 LAND O LAKES® BUTTER WITH CANOLA OIL
Made with only 3 simple ingredients (sweet cream, canola oil and salt), Land O Lakes® Butter with Canola Oil is a great way to incorporate buttery goodness. I can always count on Land O'Lakes to provide quality products and maximum yumminess.
The addition of canola oil helps our crumb mixture to achieve the best crispy texture possible. No other butter product can do that!
SHORTBREAD CRUMBS
A traditional cobbler crumb is made using oats, but this time around we are using shortbread. Using buttery shortbread crumbs allows us to closely mimic the crust of a classic cheesecake.
SOUR CREAM
To achieve rich, thick creaminess and a full-bodied, balanced tartness in our cheesecake layer, we need sour cream. Just a little bit goes a long way.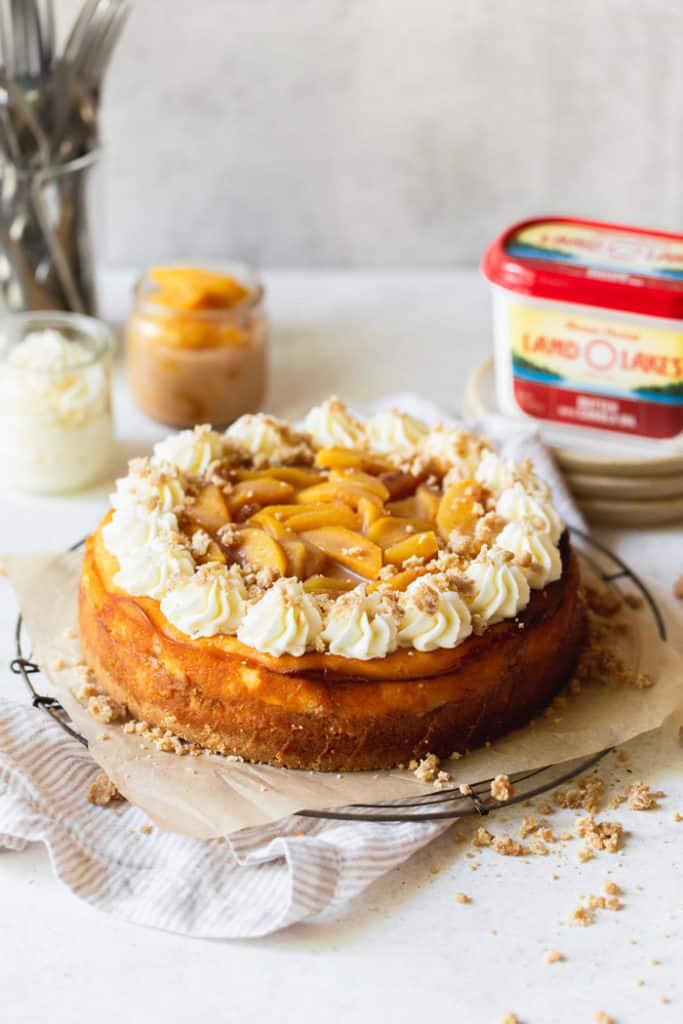 LEFTOVER STORAGE
Most desserts can be stored on the countertop, but not this one. Be sure to place the leftover wedges in an airtight container, then keep it in the fridge.
Ingredients
For the Peaches
6 cups peach slices
1/3 cup salted butter
3/4 cup granulated sugar plus more if needed
1/2 tsp ground nutmeg
1/8 tsp ground cinnamon
2 tsp lemon juice
2 tsp pure vanilla extract
2 tsp all-purpose flour
For the Crumble
1/3 cup brown sugar packed
1 tsp granulated sugar
1/2 tsp ground cinnamon
2/3 cup all-purpose flour
1/4 cup salted butter melted
For the Crust
2 cups shortbread crumbs
3 tbsp granulated sugar
4 1/2 tbsp Land O Lakes® Butter with Canola Oil up to 5 1/2 tbsp
For the Cheesecake Filling
3 cream cheese packages 8 ounce each packages, room temperature
1 cup plus 2 tbsp granulated sugar
1/2 cup heavy cream
3 large eggs room temperature
3/4 cup sour cream room temperature
1 tbsp pure vanilla extract
3 tbsp all purpose flour
Instructions
For the Peaches
Add peaches along with butter to a medium-sized pot over medium heat and allow everything to melt together.
Once butter completely melts, stir in sugar, nutmeg, cinnamon, lemon juice and vanilla and allow peaches to come to a boil.
Once boiling, lower heat to medium-low or low and remove a tablespoon of peach syrup from the pot and place in a small bowl. Whisk flour into small bowl of peach syrup until completely combined, creating a slurry, then stir into the pot of peaches.
Cook an additional 10-15 minutes or until syrup thickens and coats the back of a spoon and peaches are tender, then remove from heat and allow to cool completely. Place in the fridge to speed up the process.
For the Crumble
Add brown sugar, granulated sugar, cinnamon and flour to a small- to medium-sized bowl.
Whisk ingredients together.
Slowly add in melted butter and stir to combine until crumbs develop.
Put in the refrigerator until assembly.
For the Crust
Preheat oven to 350 degrees F (175 degrees C). Liberally spray a 9" or 10" tall springform pan with nonstick baking spray making sure to really get the sides well. Next, line the bottom of the springform pan with parchment paper. Make sure it is completely secure as well.
Whisk together shortbread crumbs, sugar and melted Land O Lakes® Butter with Canola Oil. Press mixture into the bottom of the springform pan and bake for 10 minutes, then let cool.
For the Cheesecake
In the bowl of your stand mixer, beat together cream cheese and sugar until completely smooth. Next, add heavy cream, then add eggs one at a time, mixing until incorporated.
Next, add sour cream, vanilla and flour and mix until smooth.
To Assemble
Pour ⅓ of the cheesecake filling into baked crust.
Then layer half or up to ⅔s of the peaches and sauce over the top of the cheesecake.
Next, add half of the crumble to the top of the peaches.
Pour remaining cheesecake filling over top and use a spatula to spread evenly.
Bake cheesecake for 1 hour and 5 minutes at 350 degrees (the oven should already be preheated), then turn off the oven and allow to cool in the oven for 4 hours.
Remove cheesecake from oven and allow it to come to room temperature for an additional 30 minutes.
To remove the sides of your springform pan, make sure the cheesecake is completely cooled, then take a warm knife to carefully go around the sides of the cheesecake separating it before releasing completely.
Next, spoon remaining peaches on the center of the cheesecake, then garnish with whipped cream and remaining streusel. Store in the refrigerator overnight before serving.