The best Carrot Cake Recipe you will ever try. This homemade carrot cake is bursting with flavor and moisture! But one of my favorite things about this cake is (in my opinion) the best cream cheese frosting on the planet.
Homemade Carrot Cake
Trying to find a real carrot cake recipe is not as easy as you would think. My Mother-in-Law was having a big birthday party last Sunday and her only request was a carrot cake from scratch.
Real carrot cake. With real ingredients. (No box mixes allowed!) After testing out several recipes, I finally found one that everyone loves and that is now a tradition in our home.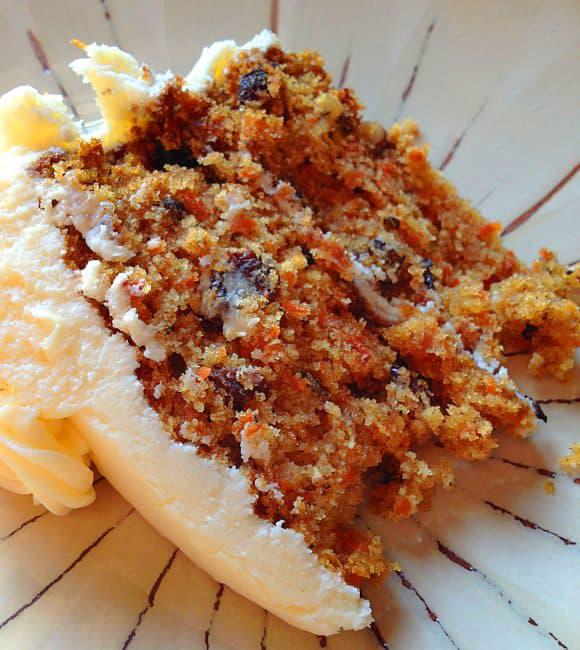 How to Make the Best Carrot Cake
Once you have added the flour to the wet ingredients you want to be very gentle with the batter. I recommend removing the bowl from the stand mixer and mix all dry ingredients in by hand.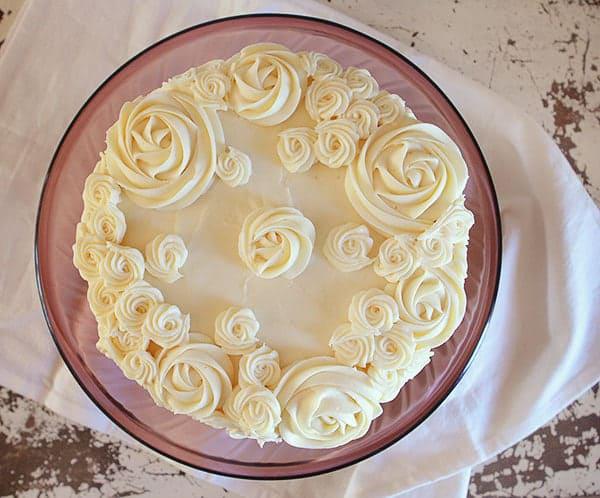 If you do not want to add pineapple, you can add 1/4 more oil and omit the pineapple. You can also make other substitutions or changes like adding sweetened coconut (1/4 cup should do!) or using a little brown sugar.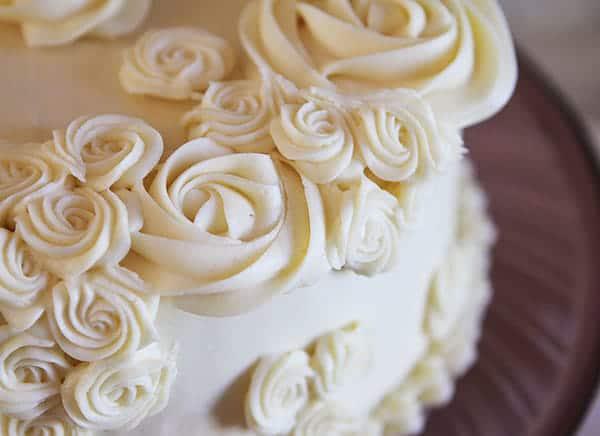 Allow the cakes to cool completely before assembling the cake. I like to use a chilled cake for assembly and a room-temperature frosting. You may need to level your cake prior to assembly. (Get detailed instructions on that here.)
BONUS: One way to make this cake AMAZING (and for the 21+ crowd) is to plump up your raisins in rum or brandy.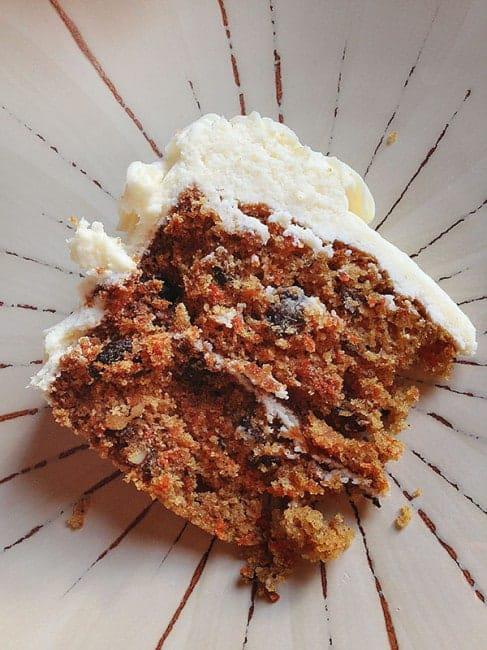 Cream Cheese Frosting
This cream cheese frosting is amazing for a few reasons. First, it's amazingly sweet AND you can pipe with it. If you do not want to pipe out 67 rosettes, you can simply spread it over the cake in glorious swoops. This recipe and a "rustic" design are a match made in heaven!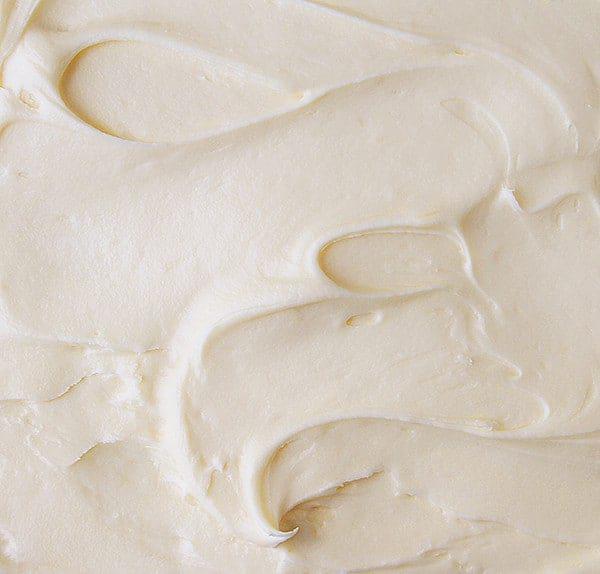 Tips for the Perfect Cream Cheese Frosting:
So the ingredients for this frosting are pretty basic. Butter, cream cheese, vanilla, and confectioners sugar. But it's how you put them together that makes the difference! And it is important that your cream cheese and butter are room temperature. If your cream cheese is chilled it will be lumpy and those lumps are impossible to get out!
CREAM CHEESE FROSTING FOR PIPING: You will want to get all the wet ingredients combined before adding the sugar. The trick is to NOT overbeat the cream cheese. The more you mix the creamier it gets and the harder it is to pipe. I add my sugar 1 cup at a time so that I can gauge the consistency as I go.
CREAM CHEESE FOR FROSTING CAKES: When covering a cake with this cream cheese frosting you can beat for 3-5 minutes additional minutes in your stand mixer. This results in the creamiest cream cheese frosting you will ever have.
Everything about these recipes is perfection. The flavor of this homemade carrot cake recipe is delightful. The texture was exquisite. It's the world's best!
I think I just talked myself into making another one. Hope you enjoy this Homemade Carrot Cake recipe!
INGREDIENTS
CARROT CAKE
2 cups (400g) granulated sugar
1¼ cups (250g) vegetable oil
1 teaspoon pure vanilla extract
3 large eggs, room temperature
2¾ cups (352g) all-purpose flour
2 teaspoons ground cinnamon
¼ teaspoon nutmeg
2 teaspoons baking soda
1½ teaspoons salt
1 cup raisins
1 cup roughly chopped walnuts
2¼ cups finely grated carrots
½ cup pineapple, drained from a can or freshly diced
CREAM CHEESE FROSTING
8 ounces cream cheese, softened
½ cup (1 stick or 113g) salted butter
1 teaspoon vanilla extract
4 cups (512g) confectioners' sugar
INSTRUCTIONS
CARROT CAKE
Heat the oven to 350°F.
Prepare two 8-inch round baking pans. (Can also do three 7-inch round cake pans) Butter pans generously or spray with baking spray.
Beat the sugar, oil, vanilla, and eggs in mixer until it is a light yellow, about 3 minutes.
In a separate bowl sift together flour, cinnamon, nutmeg, baking soda, and salt. (Double sifting is recommended)
With the mixer on low speed, slowly and gently add in the dry ingredients. Mix until JUST combined. (Can also mix by hand!)
Remove bowl from mixer and fold in the raisins, nuts, carrots, and pineapple.
Divide the batter equally between the pans. Bake for 55 to 60 minutes or until a toothpick comes out mostly clean. A few crumbs are what you want for a MOIST cake!
Allow the cakes to cool completely on a wire rack.
CREAM CHEESE FROSTING
Place room temperature butter, cream cheese, and vanilla into mixer and blend for 1-2 minutes on medium until fully incorporated.
Add powder sugar, one cup at a time, until frosting is light and creamy. Whip cream cheese frosting for 3-5 minutes or until light and fluffy.
Cover cake in frosting.