Crockpot Southwest Chicken is a versatile meal made with seasoned chicken breasts, black beans, sweet corn, pico de gallo, and diced tomatoes.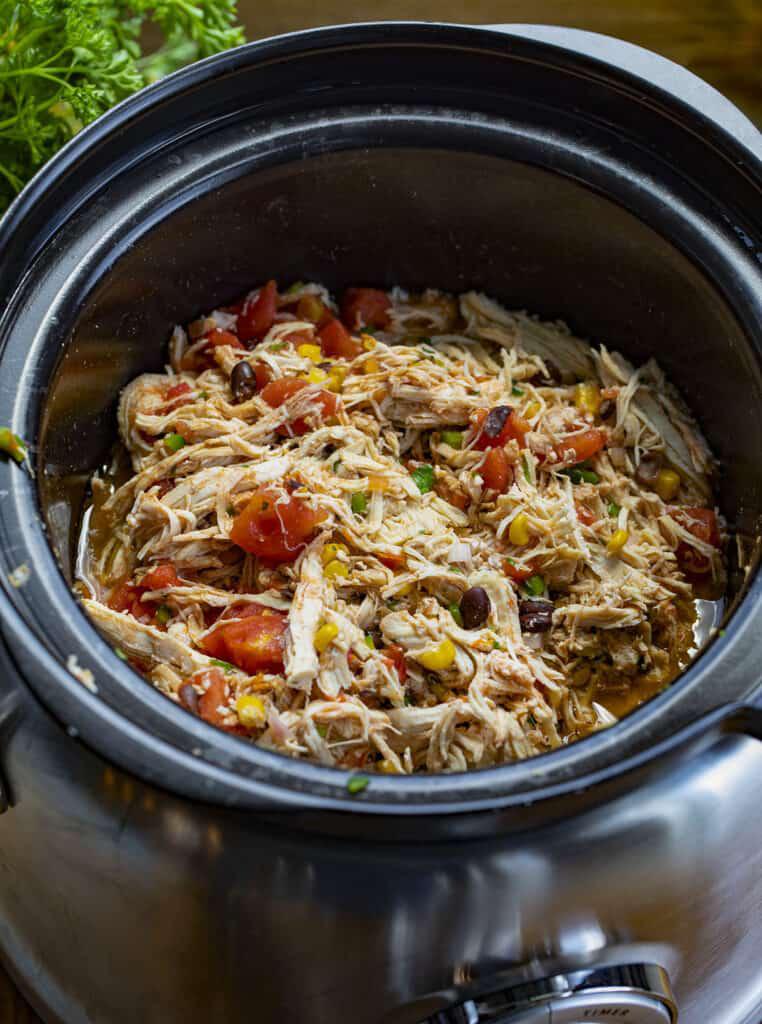 CROCKPOT SOUTHWEST CHICKEN
With summer right around the corner, school is out, kids are at home, and you probably are searching for recipes to keep everyone fed. This Crockpot Southwest Chicken recipe makes a large amount of chicken that can be used in a variety of ways. So, it's like having a different meal each day of the week with one recipe!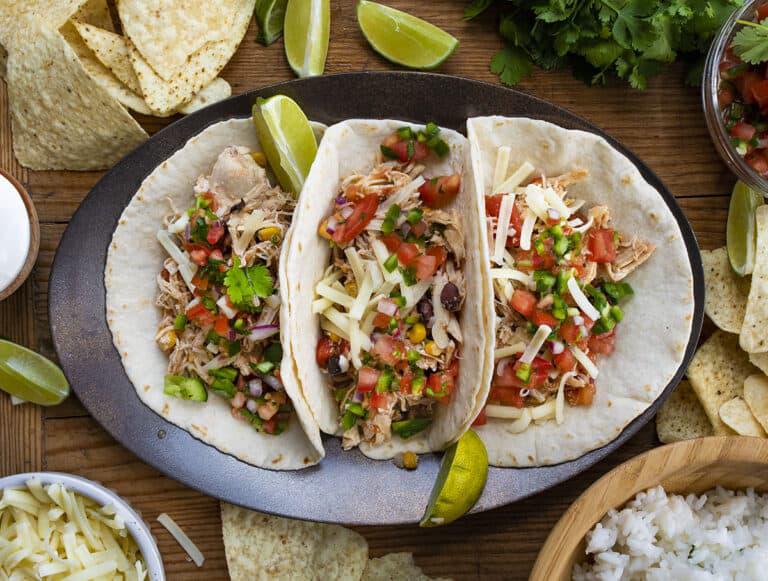 CROCKPOT SOUTHWEST CHICKEN INGREDIENTS
Chicken: I used boneless, skinless chicken breasts. You could also use chicken thighs if you prefer.
Black Beans: Canned black beans need to be drained and rinsed well before eating. When you open the can, you will notice a liquid in there that doesn't look too appetizing. It's simply a combination of salt and water and the starch from the beans. Rinsing the beans actually does more than just remove that murky substance, it lessens the sodium of the beans. I only used a cup of beans (not the entire can) for this recipe. But, feel free to use them all if you love black beans!
Veggies: I used a can of diced tomatoes with green chilis and a can of sweet corn. You can always add vegetables you enjoy (like a jalapeno pepper for some heat)! No need to drain the veggies; just open the cans and pour in the vegetables!
Pico de Gallo: Fresh pico de gallo is cooked in the slow cooker with the chicken as well as used as a garnish. The homemade batch of pico de gallo makes about 2 cups; I used 1 1/2 cups in the slow cooker, reserving the remaining half a cup for garnish. You will probably want to make a double batch to have more for some tortilla chips!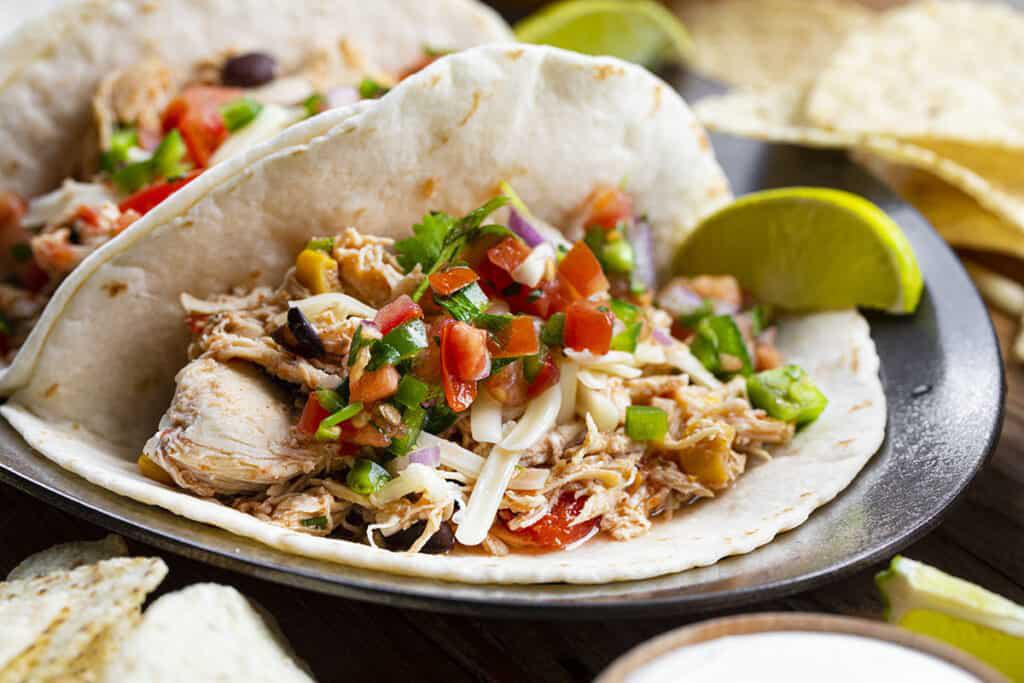 HOW TO MAKE CROCKPOT SOUTHWEST CHICKEN
It really doesn't get much easier than this Crockpot Southwest Chicken. And, the best part is that it can be assembled in so many delicious ways to keep the recipe interesting! I will get to that later. But, first, to make the dish, add the chicken to the bowl of a crockpot. Top with taco seasoning, black beans, corn, 1 1/2 cups of pico de gallo (reserving a half cup for garnish), and diced tomatoes.
Cook on low for 6-8 hours. The chicken is done when it reaches an internal temperature of 165°F. When done, shred the chicken and put it back in the crockpot on warm until ready to serve. Store leftovers in a sealed container, in the refrigerator, for up to four days.
HOW TO SERVE SOUTHWEST CHICKEN
With the variety of ways to serve this chicken, leftovers won't get boring. This dish can be served as-is, right out of the crockpot, but it can also be enjoyed in one of the following ways as well:
Served with white, brown, or cilantro rice
On a tortilla, topped with more pico de gallo and all of your favorite toppings like shredded cheese, sour cream, and cilantro.
In a hard shell taco, again, topped with all your favorite toppings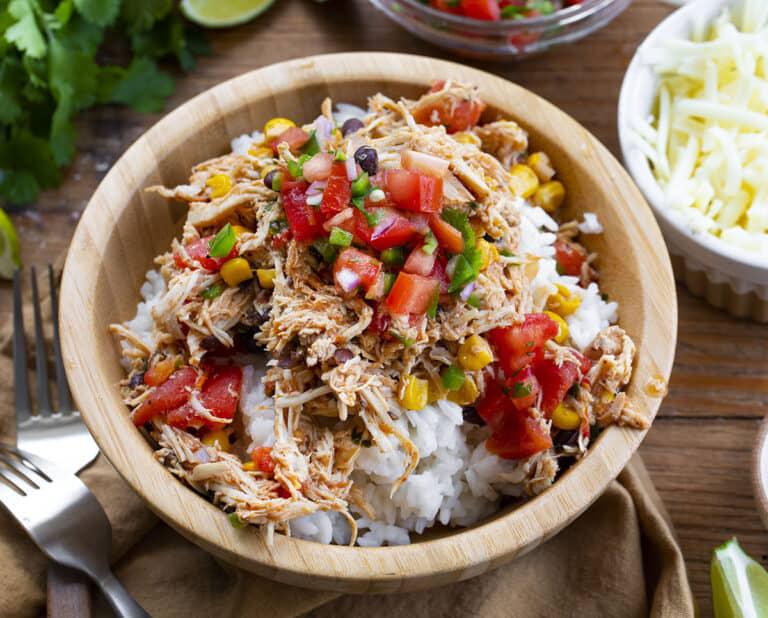 Ingredients
2 pounds boneless, skinless chicken breasts
2 tablespoons taco seasoning
1 cup black beans, drained and rinsed
1 can (15.25 ounces) sweet corn drained
2 cups pico de gallo, divided
1 can (14.5 ounces) diced tomatoes with green chilis
Instructions
Add chicken to the bowl of a crock pot.
Top with taco seasoning, black beans, corn, 1½ cups pico de gallo, and tomatoes.
Slow cook on low for 6-8 hours.
Once done cooking (internal temperature of fully cooked chicken is 165°F), shred the chicken with a fork and serve with reserved pico de gallo.