Want to know all of the secrets to cooking a perfect tomahawk steak? You'll be surprised at how easy it is! Learn how to make the best steak of your life, right in your own home.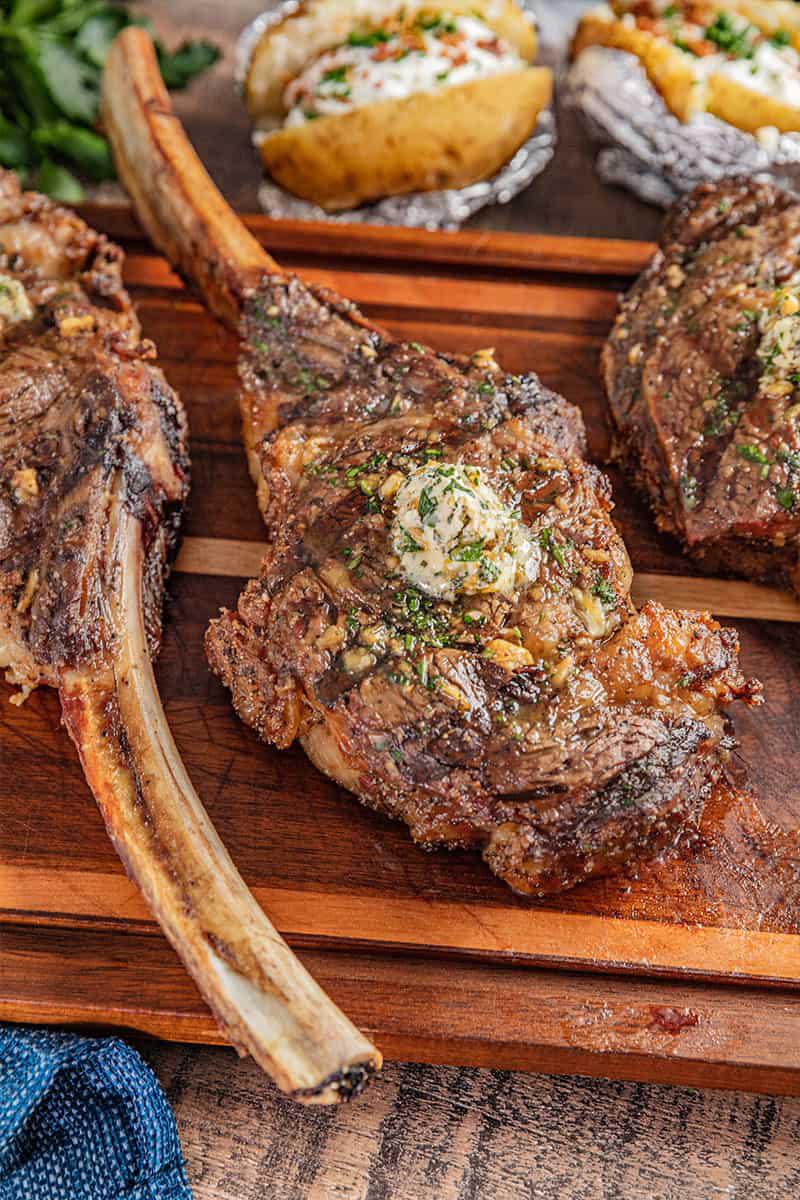 We know it can be intimidating to grill a high quality piece of meat. What if you mess it up? Well, cooking a steak at home is super easy. All you really need is some salt and a meat thermometer to get the perfect steak. Don't you fret though, because we're here to walk you through how to make the perfect Tomahawk steak, and you are going to feel like a pro! Seriously though, with this cooking method you'll feel like you are eating in a 5 star restaurant. And it's so incredibly easy!
WHAT IS THE BEST METHOD TO COOK A TOMAHAWK STEAK?
You have a couple of choices when it comes to cooking tomahawk steaks, and both of them will result in a delicious steak, so it's really just up to you and your own personal cooking preferences. You can cook this entirely on the grill outside, and move the steaks off of the direct heat after searing to finish cooking until they reach temperature. You can also cook them without using a grill at all, and sear them in a cast iron or heavy skillet over high heat before moving them to the oven to finish cooking until they reach temperature.
WHAT IS A TOMAHAWK STEAK? WHERE DO I PURCHASE ONE?
The tomahawk steak is essentially a bone-in ribeye steak. It is taken from the rib section, with the large rib bone still attached. Its appearance resembles that of a tomahawk ax. Having a bone-in ribeye insulates the meat while it cooks, making your meat more moist and tender. Tomahawk steaks can be found in many butcher shops and are becoming more common in higher-end grocery stores. Be sure to ask at the meat counter if you can special order one. They can also be purchased online.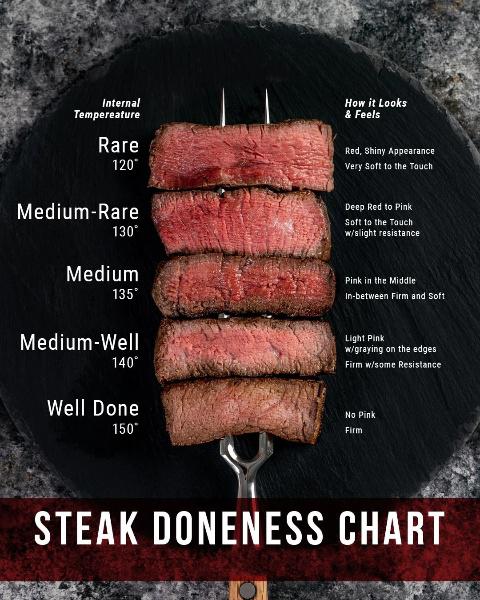 HOW DO I KNOW WHEN THE STEAKS ARE DONE?
In this recipe, you are instructed to cook until 130 degrees, so that after resting time it will reach 135 degrees Fahrenheit to be considered medium-rare. If you prefer a more well done steak, simply remove the meat at 5 degrees Fahrenheit lower than your desired doneness temperature. Use a meat thermometer for best results.
DO I NEED TO LET THE STEAKS REST?
Yes, you absolutely do not want to skip this step. The steak continues to cook during those few minutes of resting. This continuation of cooking is great because it doesn't dry out the steak, as it would by simply leaving it in the oven longer. Cutting into the steak interrupts that last little period of cooking by releasing the heat inside the steak. Trust us, let it rest a few minutes and your tomahawk steak will turn out perfect.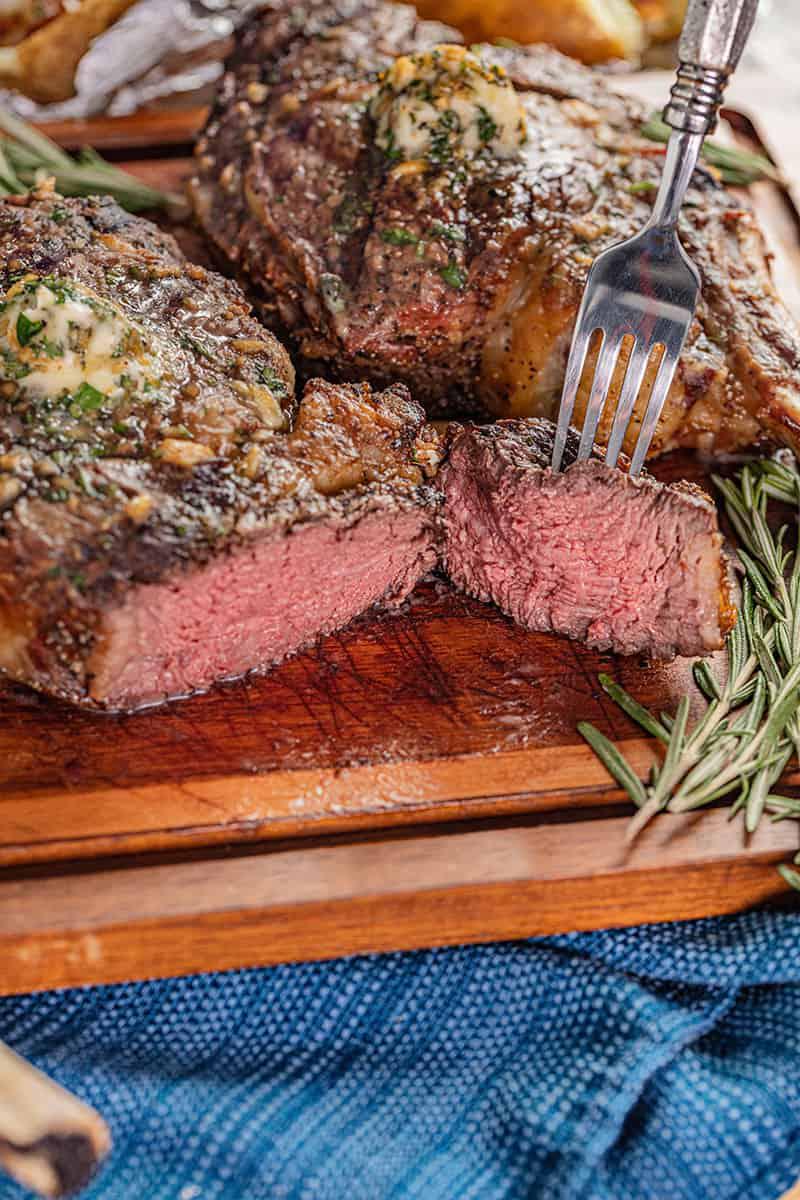 STORAGE AND REHEATING INSTRUCTIONS:
Steak is best eaten fresh. You can store leftovers in an airtight container in the fridge for up to 3 days. You can reheat in a skillet on the stove over medium heat until warmed through, however it will be more well done than when first cooked.
INGREDIENTS
2 Tomahawk steaks
Kosher salt
Pepper
Compound Butter
8 tablespoons salted butter room temperature
2 teaspoon minced garlic
2 teaspoon parsley finely chopped
1 teaspoon rosemary finely chopped
1 teaspoon salt
1 teaspoon black pepper
1 teaspoon Worcestershire sauce
INSTRUCTIONS
Heat an outdoor grill to highest heat. Preheat oven to 375 degrees.
Season steaks generously with salt and pepper. Use approximately 1 teaspoon of salt and pepper per pound of steak. Get the top, bottom, and all the sides. Use a generous amount of salt as this is a thick steak.
Sear the steak for 3 to 4 minutes on each side, letting the flames lick up the sides. You'll know the steak is ready to flip when it releases easily from the grill.
Transfer the steak to a baking sheet . Bake in the preheated oven until the steak reaches an internal temperature of 130 degrees. This will take about 30 minutes, but use a meat thermometer for 100% accuracy.
Let rest 5-10 minutes. Spoon 1-2 tablespoons of compound butter onto the steak. Slice as serve.
Compound Butter
In a bowl, combine butter, garlic, parsley, rosemary, salt, pepper and Worcestershire sauce. Mix until well blended.
NOTES
Rule of thumb when seasoning steaks: 1 teaspoon of kosher salt per pound.
Don't have a grill? No problem! Instead of searing your steak on a grill, you can sear it indoors on your stovetop before placing it in the oven. Use a large heavy skillet, preferably cast iron.
If you want to keep your steak in the grill to finish cooking, you'll need to arrange for it to cook over indirect heat. Keep the lid of the grill closed and adjust the flames to keep the heat indirect and the temperature in the grill at 375 degrees Fahrenheit.