Hash Brown Waffles are a new breakfast favorite in my house! With some shredded potatoes and easy prep, this will be a great start to your day, and a nice hot breakfast to keep you and your kids satisfied until lunchtime. You can give your waffle maker a break from the traditional batter and load it with these scrumptious hash browns! At first sight, these may look like ordinary waffles, but they are far from it! They are crispy on the outside and tender on the inside, just how I like them. They are also a lot less greasy than hash browns you may order at your local diner. (Although, there is a time and a place for some greasy hash browns once in a while!)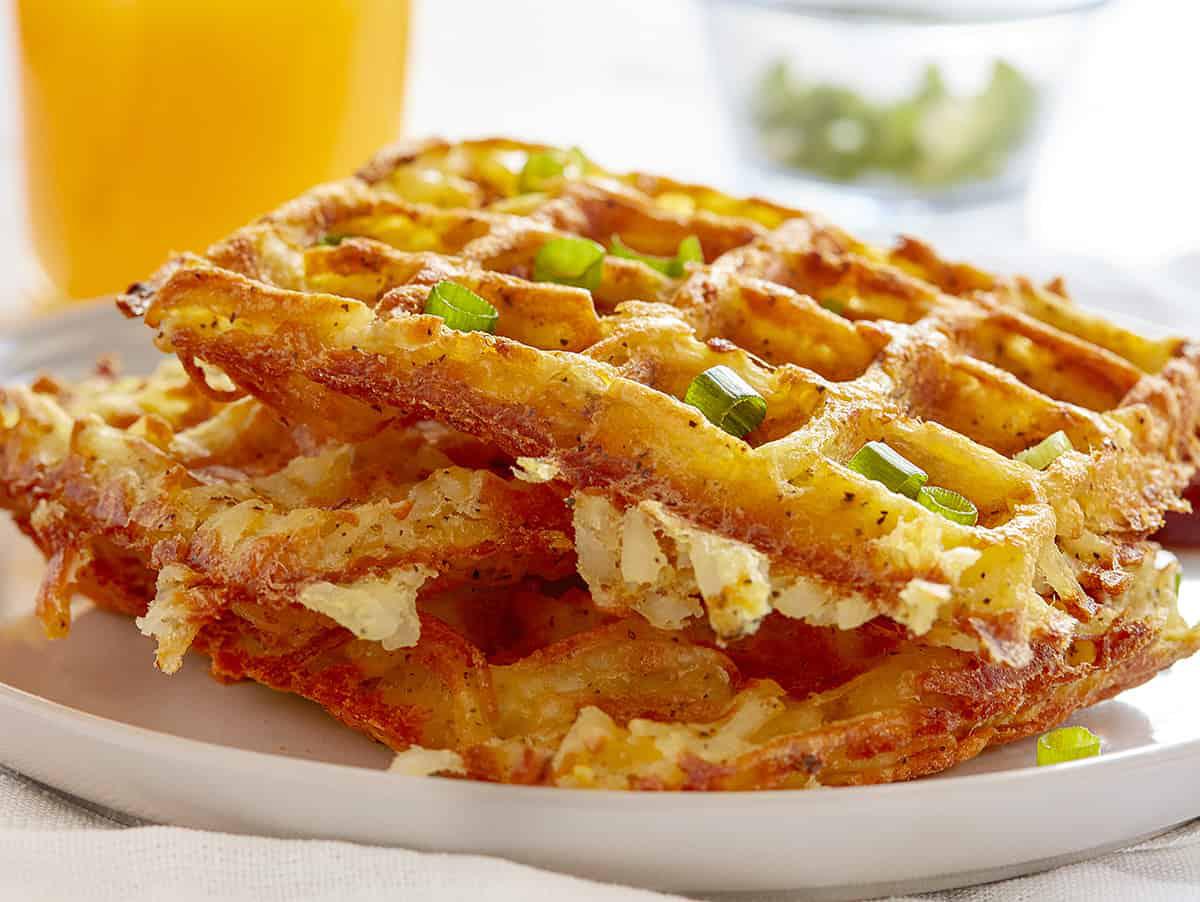 Hash Brown Waffles
Get out your waffle iron and get ready to surprise the breakfast eaters in your house with this new version of waffles, or hashbrowns, whatever way you look at it!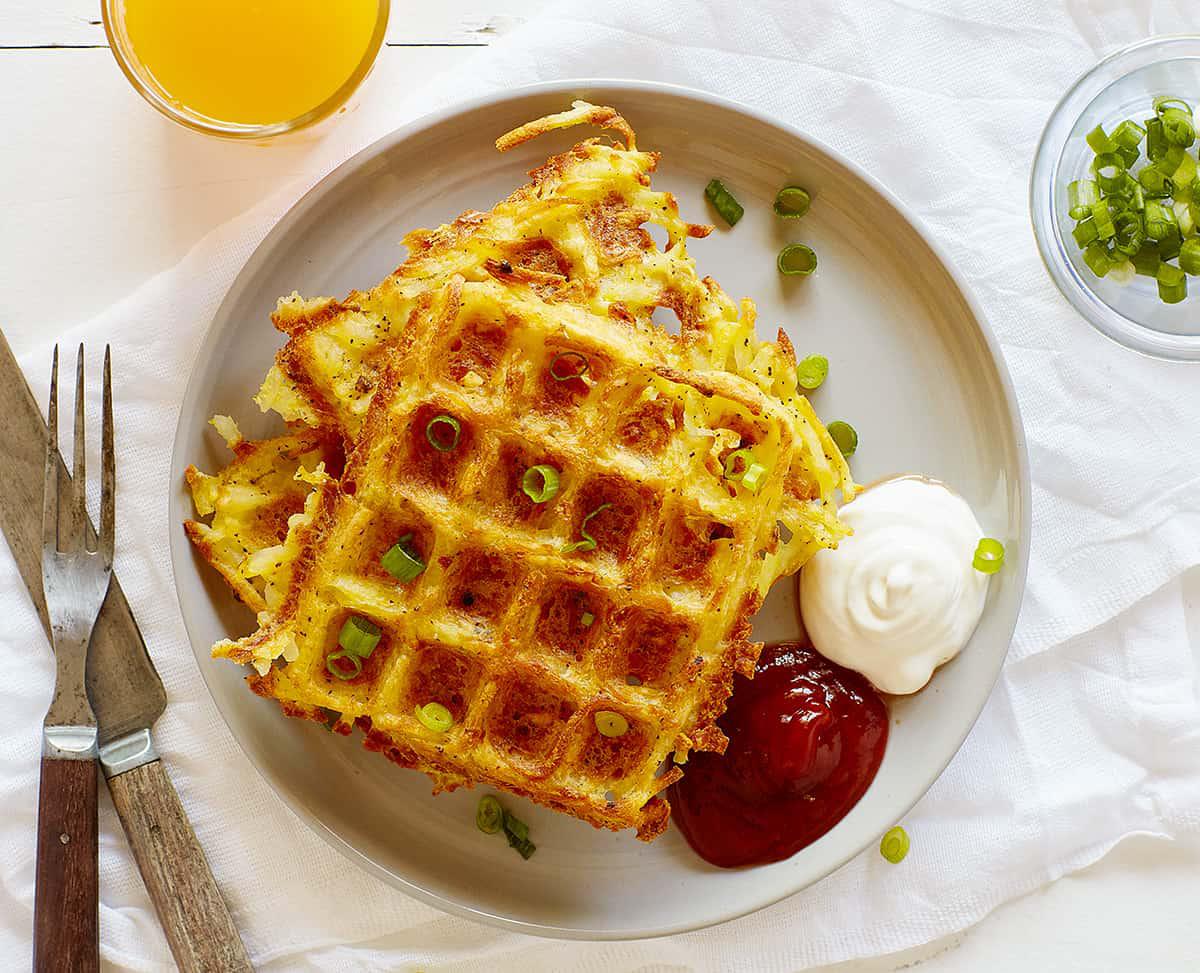 Hash Brown Waffles Recipe
All you will need are a few ingredients and you are good to go! Make sure you have the following on hand:
Shredded Potatoes-I grate the potatoes with the large side of a cheese grater. A couple of things to note about this method: the potatoes will look brown. Rinse them well and they will be good as new. Don't let them sit in water, because potatoes hold moisture. You will want to drain them well or your Hashbrown Waffles will come out soggy.
Eggs-Farm fresh is the best. If you can't get them right off the farm, go for organic.
Vegetable Oil
Garlic
Salt
Pepper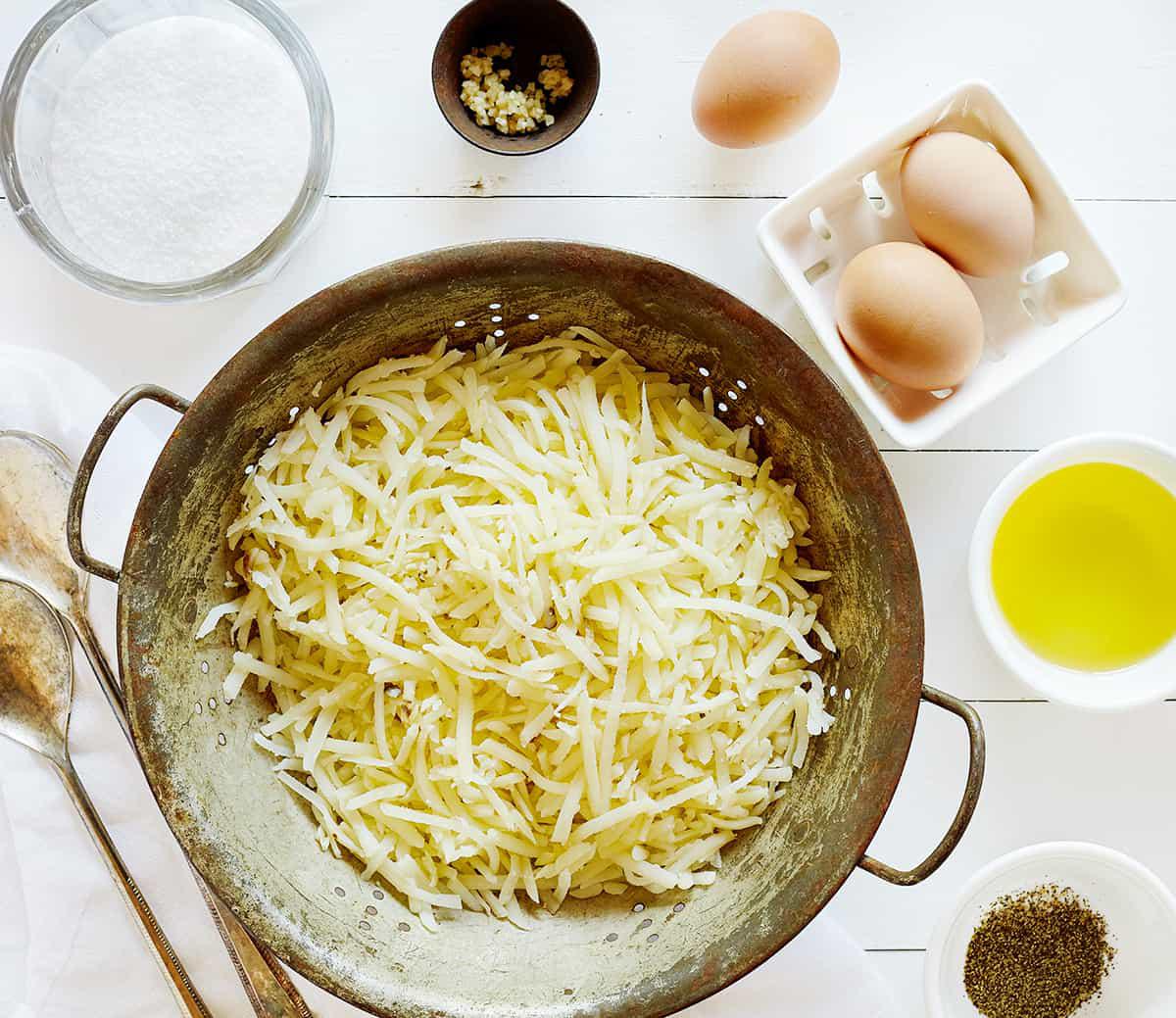 What Type of Potatoes should I Use?
Russet potatoes are the best choice for the crispiest Hash Brown Waffles. Because of the starch in the Russets, you will get more of the crispy on the outside, soft on the inside hash brown. If you choose a more waxy potato, like a Yukon Gold, your Hash Brown Waffles may stick together a little better, but you will not get them as crispy. Save the waxier potatoes for your potato salads.
Can I Use Frozen Shredded Potatoes?
Yes, you may buy shredded potatoes to use, frozen or fresh. I suggest the fresh shredded potatoes if you are not grating your own since there will not be as much moisture in these. If you buy the frozen shredded potatoes, be sure to let them thaw and remove as much of the excess water as possible with a paper towel or clean cloth.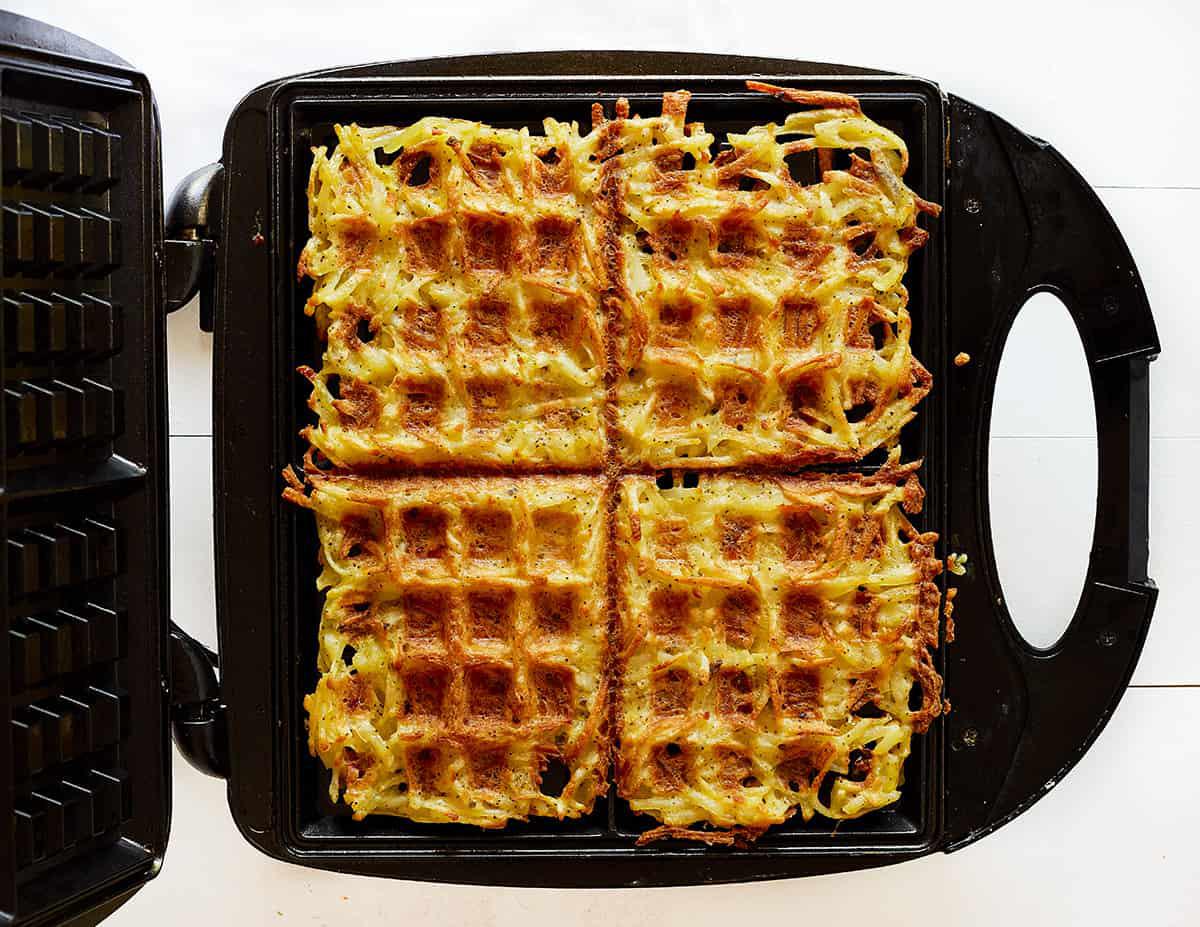 How to Make Hash Brown Waffles
Once you have your potatoes ready and free of extra moisture, you are ready to mix everything together. Have I mentioned to blot any extra moisture from potatoes??? First, grease and preheat the waffle iron. Next, mix the shredded potatoes, eggs, vegetable oil, garlic, salt, and pepper together and spread half the potato mixture onto the waffle iron. After 12-15 minutes you will have your new favorite hash browns, I mean waffles, I mean hash browns…you get the idea! Use the other half of the potato mixture to finish making the Hash Brown Waffles. If there are any leftovers, freeze the waffles and try putting them in the toaster the next morning.
Variations to Hash Brown Waffles
Try adding some diced onions, peppers, or other vegetables to your hash browns. You could even add some ham to make them a bit more filling. Another delicious option would be to add the Hash Brown Waffles to an egg and cheese sandwich. If you are having a breakfast inspired dinner, make these Hash Brown Waffles as a side to go with your bacon and scrambled eggs. If sweeter is more your style, add some syrup or fruit.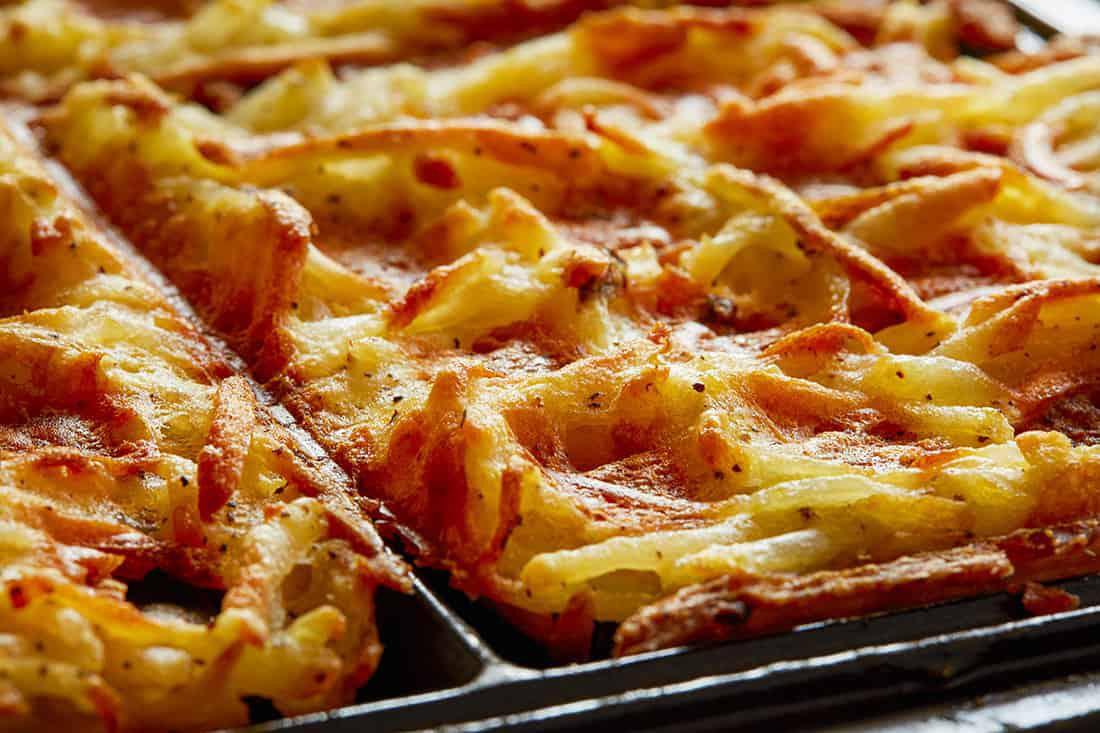 INGREDIENTS
1 lb (454g) shredded potatoes, rinsed and drained of excess water
2 tablespoons vegetable oil
1 clove garlic
1/2 teaspoon salt
1/2 teaspoon pepper
2 eggs
INSTRUCTIONS
In a medium bowl mix together potatoes, oil, garlic, salt, pepper, and eggs.
Heat waffle iron and spread half of the potatoes on the iron, evenly mounded. Close iron, pressing to close completely. Cook 12-15 minutes or until potatoes are golden brown.