Grandma's Sweet and Sour Meatballs are baked to perfection while simmering in an amazing sauce made with pineapple chunks and green pepper. This family-friendly dinner is one you can turn to on busy weeknights. Super simple, super delicious!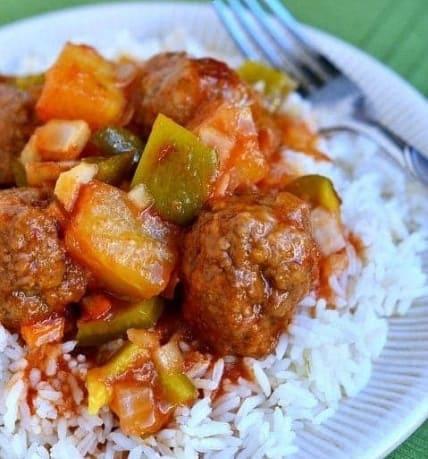 Sweet and Sour Meatballs
I am so excited to be sharing my Grandma's Sweet and Sour Meatballs recipe with you today! This recipe is so easy to pull together and when these meatballs are baking away – oh em gee! It smells SOOO good! This recipe makes tons of meatballs so it's perfect for a crowd. They meatballs are even better the next day so make some extra rice and get ready for an awesome leftovers lunch.
For The Love of Meatballs
We are big time meatballs lovers. I love how versatile the meatballs is. It works with spaghetti, in a sandwich, over rice, or as an appetizer. These easy Sweet and Sour Meatballs fall into the weeknight dinner category or make a perfect Sunday lunch.
I whipped up a batch of these meatballs this past Sunday when my dad and brother came over to watch the 49ers game. This was NOT the recipe that I was going to be sharing today but once I tasted those meatballs I simply had to move them up on the schedule. They're just that good!
What's In Sweet and Sour Meatballs
There are two components to this dish: meatballs and sweet and sour sauce. The meatballs are pretty basic leaving room for that super flavorful sauce:
lean ground beef
bread crumbs
milk
egg
salt and pepper to taste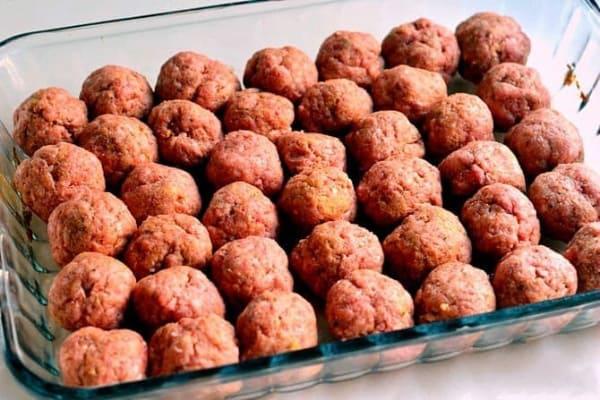 The sauce is pretty much where all the flavor comes in as the meatballs cook in all of the goodness:
green bell pepper
pineapple chunks
chopped onion
brown sugar
ketchup
vinegar
Worcestershire sauce
It all starts with a very basic meatball recipe that you can adjust to your liking. It makes a ton but the recipe could easily be halved. I just counted the meatballs in this picture…40 exactly! And everyone of them exactly the same size…NOT! Oh well, we can't all be perfect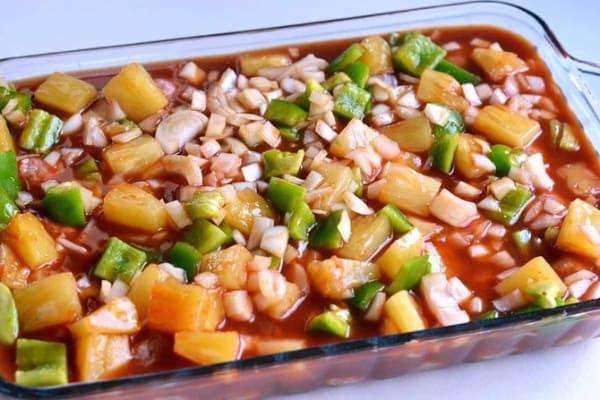 Next you're going to mix up the ingredients for the sauce – all in one bowl! That is one of my favorite features of grandma-type recipes. They don't have time to mess around with a bunch of different dishes. Pour all that goodness over the top…
Throw it in the oven for an hour and voila! Dinner is served! It's really that easy and I know you're going to LOVE the amazing flavors in this dish!
Tips for Making the Best Sweet and Sour Meatballs
Use pineapple chunks in JUICE not syrup. If you get the pineapple with syrup, it will be way too sweet.
I used green bell pepper in this recipe for a pop of color but red, orange, or yellow bell peppers will also work.
If you want to brown the meatballs in olive oil prior to baking, you can. I love this easy method and I suggest you try it at least once as written before altering.
We usually serve the sweet and sour meatballs over white rice but it's also super yummy with fried rice.
Use a cookie scoop. It keeps them all roughly the same size so they cook evenly.
Wet your hands when forming the meatballs. A little water goes a long way in keeping the stickiness at bay.
Ingredients
Meatballs
2 lbs lean ground beef
2 cups plain bread crumbs
1 cup milk
1 egg
salt and pepper to taste
Sauce
1 cup chopped green bell pepper
20 oz pineapple chunks in juice (including the juice)
1 cup chopped onion
2/3 cup brown sugar
1 cup ketchup
1 cup water
4 tbsp vinegar
4 tbsp Worcestershire sauce
Instructions
Preheat oven to 350 degrees.
Meatballs
Mix ingredients together and form into balls.
Arrange in a single layer in a lightly greased 9×13 baking dish.
Sauce
Combine all ingredients and pour over meatballs.
Bake for one hour uncovered.
Serve over rice.