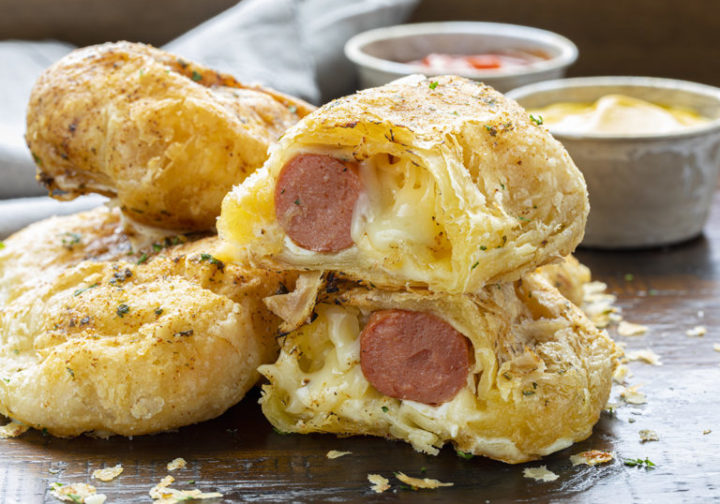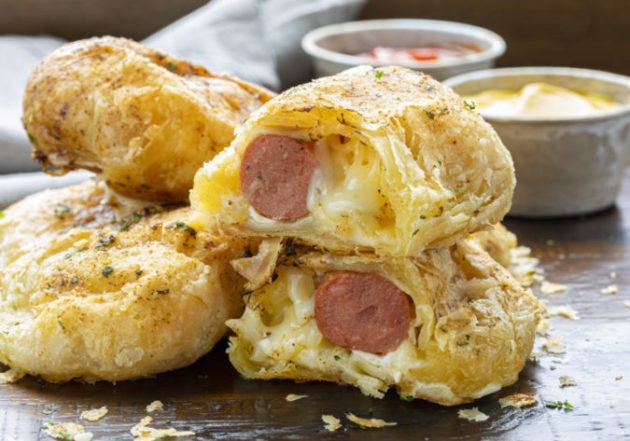 PIGS IN A BLANKET
Pigs in a Blanket are hot dogs or other sausages wrapped in biscuit or croissant dough and baked. Many times, these are served as appetizers, but with this recipe, I used large hot dogs, so each one could be a meal! You could also cut them up into bite-sized pieces to share.
PIGS IN A BLANKET RECIPE
You can find the first written account for a Pigs in a Blanket recipe in Betty Crocker's Cook Book for Boys and Girls, published in 1957. They are easy to make and fun to eat!
Ingredients (full recipe below)
Vegetable oil
Hot dogs
Puff pastry sheets (thawed)
Shredded white cheddar cheese
Egg White
Butter
Garlic salt
Parsley
Kosher salt
HOT DOGS
I went with a heartier, thicker hot dog, just like the kind you get at a ballpark, for this recipe. Before you wrap up the hot dogs in the puff pastries, sear them for 3-4 minutes over medium-high heat. To sear the hot dogs, heat a tablespoon of oil in the skillet and cook the hot dogs on each side, giving them a nice brown color. Now, they are ready to be wrapped inside the puff pastry blankets!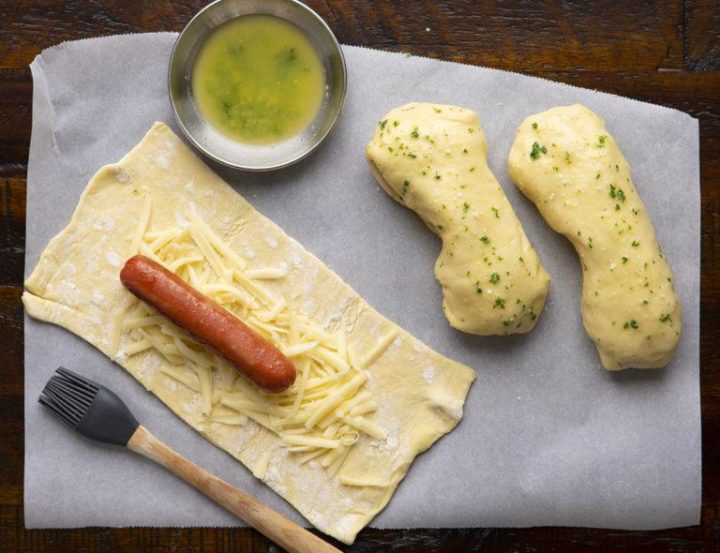 HOW TO MAKE PIGS IN A BLANKET
Making pigs in a blanket is super simple, which is one of the reasons it was featured in a children's cookbook so many years ago. Plus, it's a fun title and fun to eat for everyone from kids to adults!
First, cut both of the puff pastry sheets in half.
Top each of the sheets equally with 1/4 cup shredded cheese and a hot dog.
Wet the edges of each of the puff pastry sheets with water and fold them over to seal in the cheese and hot dog.
Using your beaten egg white and a pastry brush, brush on the egg wash on the outside of the pastry. This is what gives it that beautiful golden and crispy crust. If you don't have a pastry brush, you can use the tip of a rolled-up paper towel or your fingertip to apply the egg wash.
Place the pastries on a parchment-lined baking sheet, seam side down.
Bake for 20 minutes.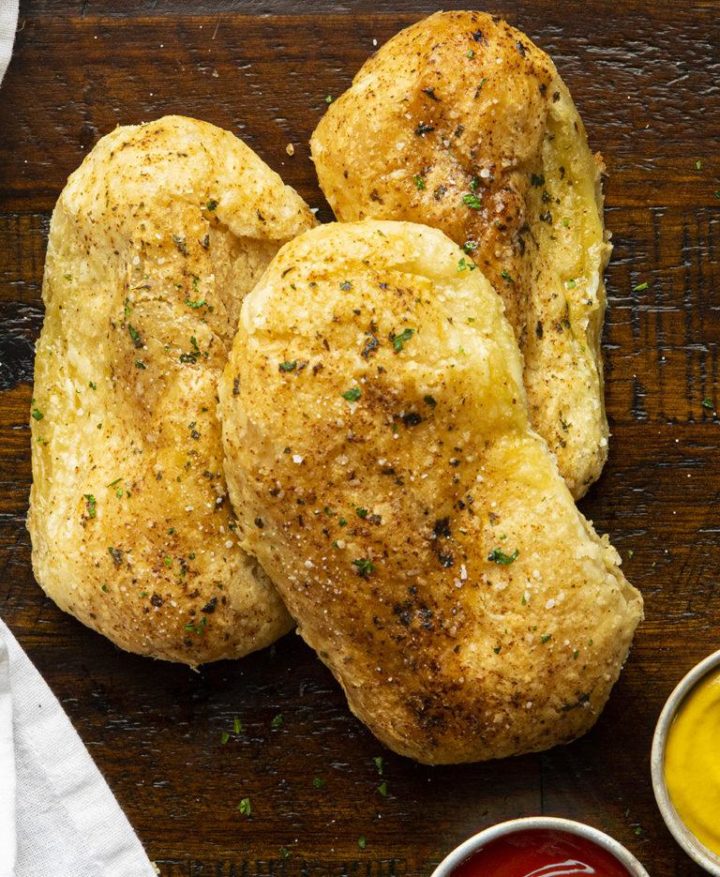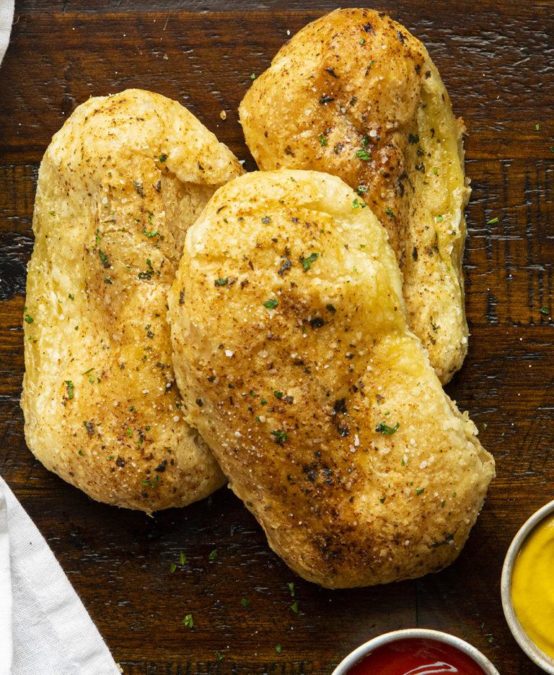 GARLIC BUTTER TOPPING
When the pigs in a blanket are almost done baking, mix together the melted butter, garlic salt, and parsley in a small bowl. After the 20 minute bake time, remove the pastries from the oven and brush each one with the butter mixture, adding salt to taste. Bake for an additional five minutes, or until golden brown. Serve with a side of baked beans and a dipping sauce of your choice.
PIGS IN A BLANKET VARIATIONS
Although this recipe is a jumbo version of the popular appetizer, you could definitely use cocktail-sized sausages and cut the pastry sheets into smaller pieces. You could also replace the hot dogs with any sort of sausage you prefer, like bratwurst, chorizo, or Italian sausage, just to name a few. Another variation would be to try these with different kinds of cheeses, or no cheese at all!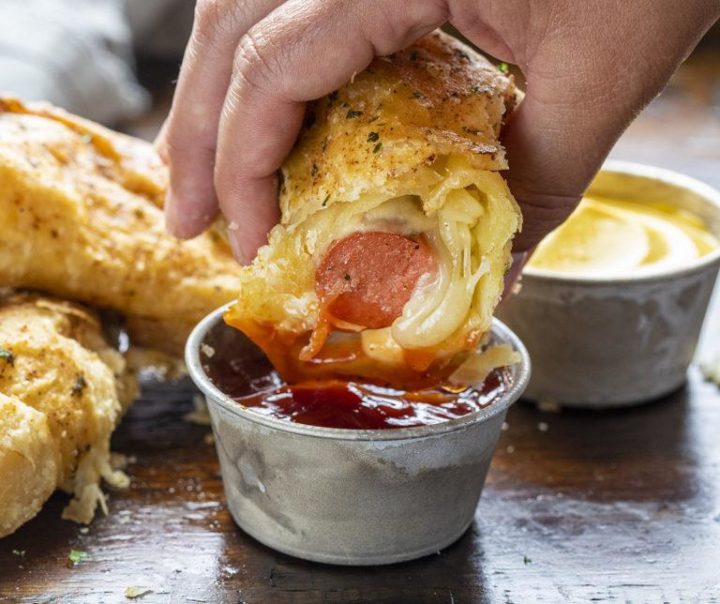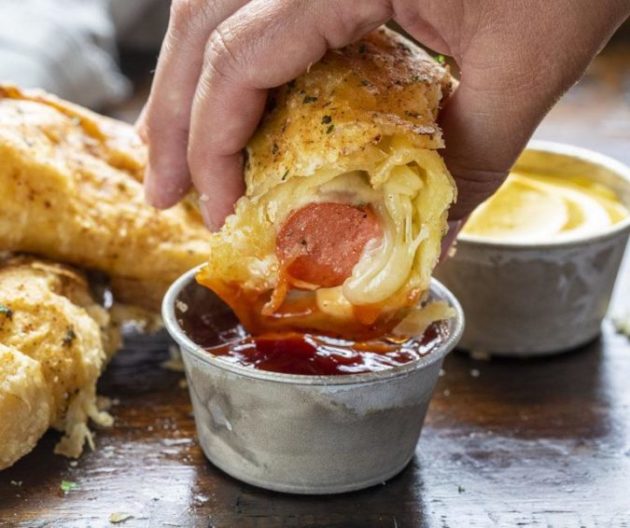 CAN PIGS IN A BLANKET BE MADE IN ADVANCE?
Yes! You will want to fully assemble the pigs in a blanket but stop just before you brush on the egg wash. You can then wrap each individual pastry tightly in clear plastic wrap. Make sure the plastic is tight or you will end up with a dried-out puff pastry. These can be stored in the refrigerator for up to 2 days. When you are ready to finish cooking, remove the plastic wrap, brush with egg wash, and bake. Finish them off with the garlic butter and another quick round of baking and you are ready to go!