The ultimate comfort food… Chicken Noodle Soup! We used homemade egg noodles as a super special way to make this soup over-the-top amazing!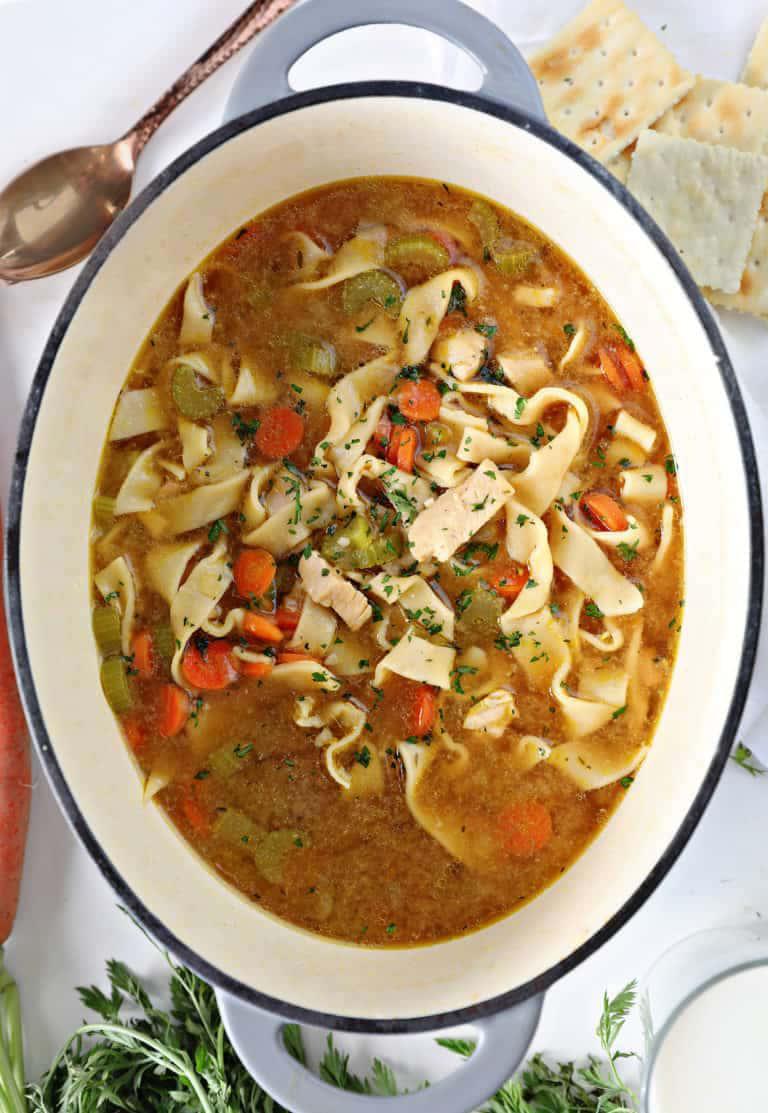 Chicken Noodle Soup
I definitely consider this recipe one of the ultimate comfort foods. As we are a homesteading family, it gives me a chance to incorporate everything from our land and the satisfaction of knowing that everything I am feeding my kids is real good food.
It is a staple around here in the winter months (it often gets below zero here in Minnesota) because not only does it taste amazing but it adds vital (IMO) nutrients to our diet.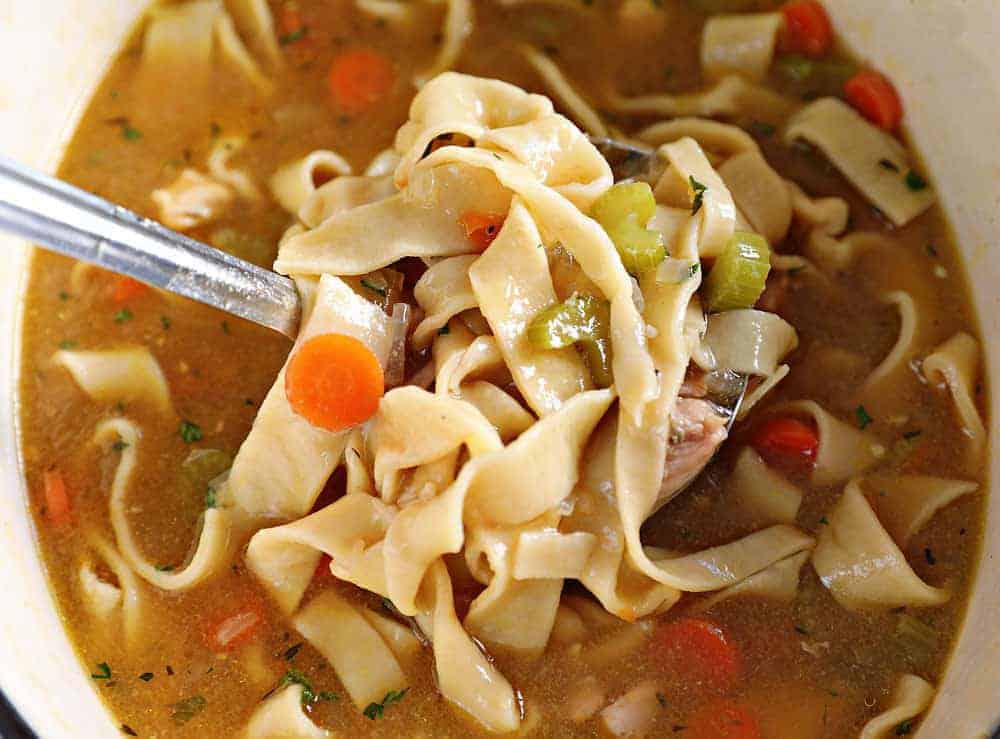 Chicken Noodle Soup Recipe
This recipe is a keeper! Not only is it easy, but you can customize it to fit your tastes. For instance, we loved the added flavor that the dried thyme adds, but some folks prefer their soup without. Some folks prefer to use shaved carrot instead of the round slices. But having a great base recipe to work from is essential.
We have changed it a lot from when my Great-Grandma made it. She would add the entire chicken (skin and all) into a pot and do a slow and low boil. Then add in the mirepoix of celery, onions, and carrots. She didn't ever skim off any fat from the top and honestly, her chicken noodle soup "recipe" was amazing. I put the word recipe in quotations because often times it was her throwing the basic ingredients in a pot and walking away, never measuring anything. She was always creating the best meals!
We have changed things up to suit our families needs and after making it for many years, this recipe is the one we come back to again and again.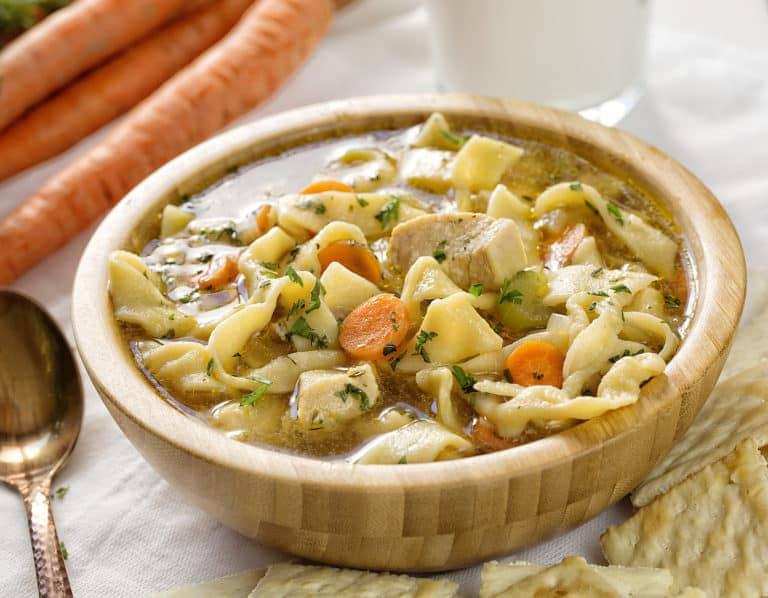 What Noodles Do You Use for Chicken Noodle Soup?
We are obsessed with Homemade Egg Noodles. They come together so quickly and can use used right away in this amazing soup! If you don't want to make the noodles from scratch (even though it only takes about 30 minutes!) I do recommend egg noodles.
If you are making the egg noodles from scratch, I recommend preparing them before you start the soup. I have started the egg noodles after the soup starts simmering but as you only have 20 minutes, you will need to plan on being in the kitchen for the entire duration of this soup recipe. On a cold Sunday afternoon when the kids can be in the kitchen cooking with me, this is the method I use!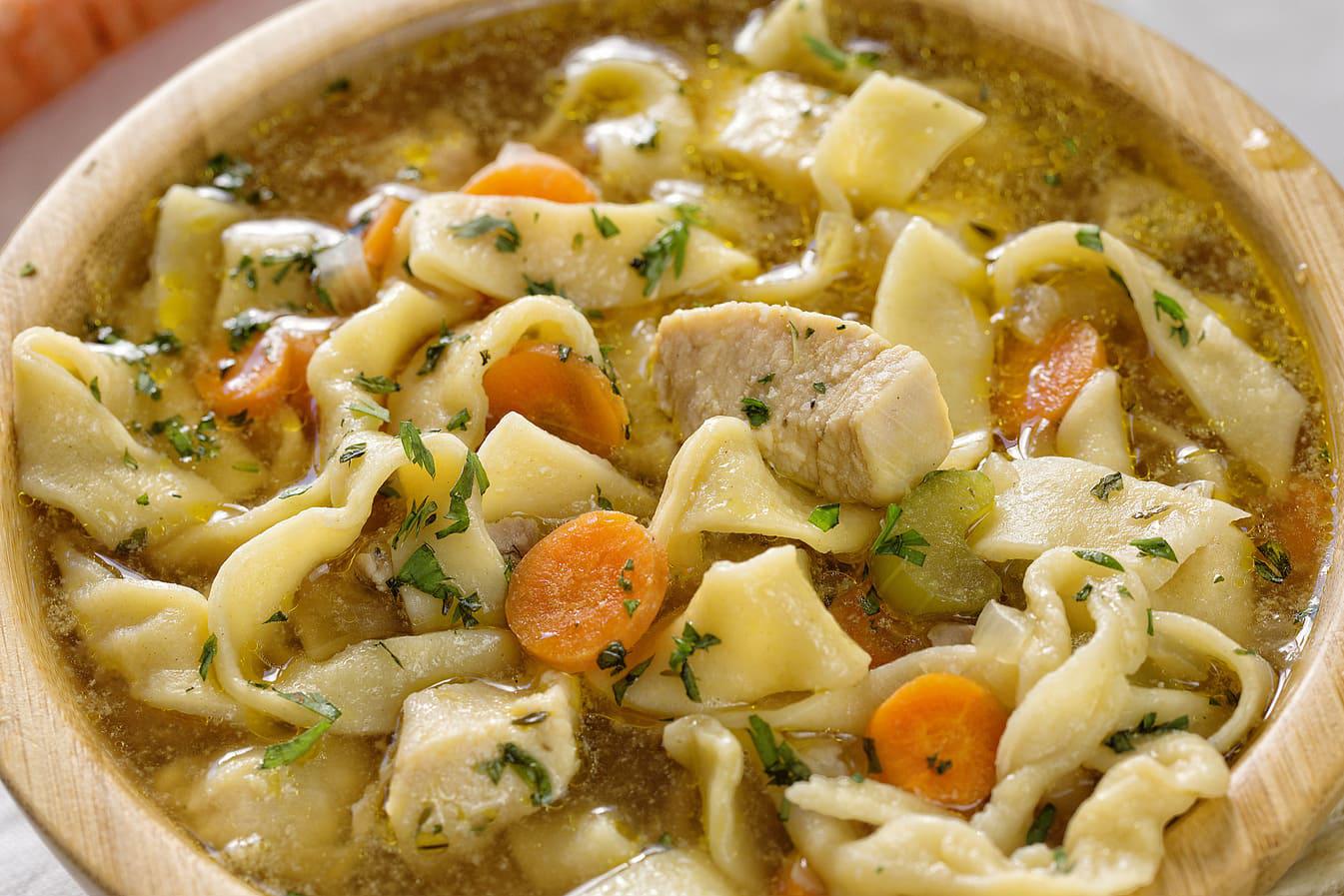 How to Make Chicken Noodle Soup
One thing you may have noticed in the recipe and the video is that I added raw chicken to the pot. Most recipes call for cooked chicken so this was something new to me, but something I definitely wanted to try. Ultimately I ended up compromising and adding the chicken to the dry pot so that the outside could brown slightly, but not cook through entirely. Have no fear, the chicken DOES cook through completely! You are basically boiling the chicken pieces for 20 minutes which is plenty of time for them to come to 165°F as boiling is usually over 212°F.
I used a combination of chicken thighs and breasts, but this is optional. I love the added flavor that chicken thighs add have made this recipe entirely out of thighs, but there is a lot of fat around the top of the pot and it does need to be strained before serving. You can use all breast meat, all thigh meat, or a combination and still have fantastic results.
Chicken Broth vs. Chicken Stock
I used roasted chicken broth in place of chicken stock which is why my broth is so much darker than what some folks are used to. Chicken stock tends to be made more from the bones and some meat. Some folks swear by chicken stock as they love the flavor and texture of the gelatin that can be released by simmering chicken carcass (bones). However, chickens happen to have hollow bones that do not contain a great deal of marrow so cooking them for long periods of time will not produce the same results as beef stock.
Broth is different from stock because it's made by mainly simmering meat and bones with herbs and mirepoix (a mix of onions, carrots, and celery) for less time. So it's faster! It's a bit more subtle-tasting and has more of a rounded out flavor palate so it's a perfect way to amp up the flavor in this soup.
In this recipe specifically, stock and broth can be used interchangeably. Feel free to use whatever you have on hand!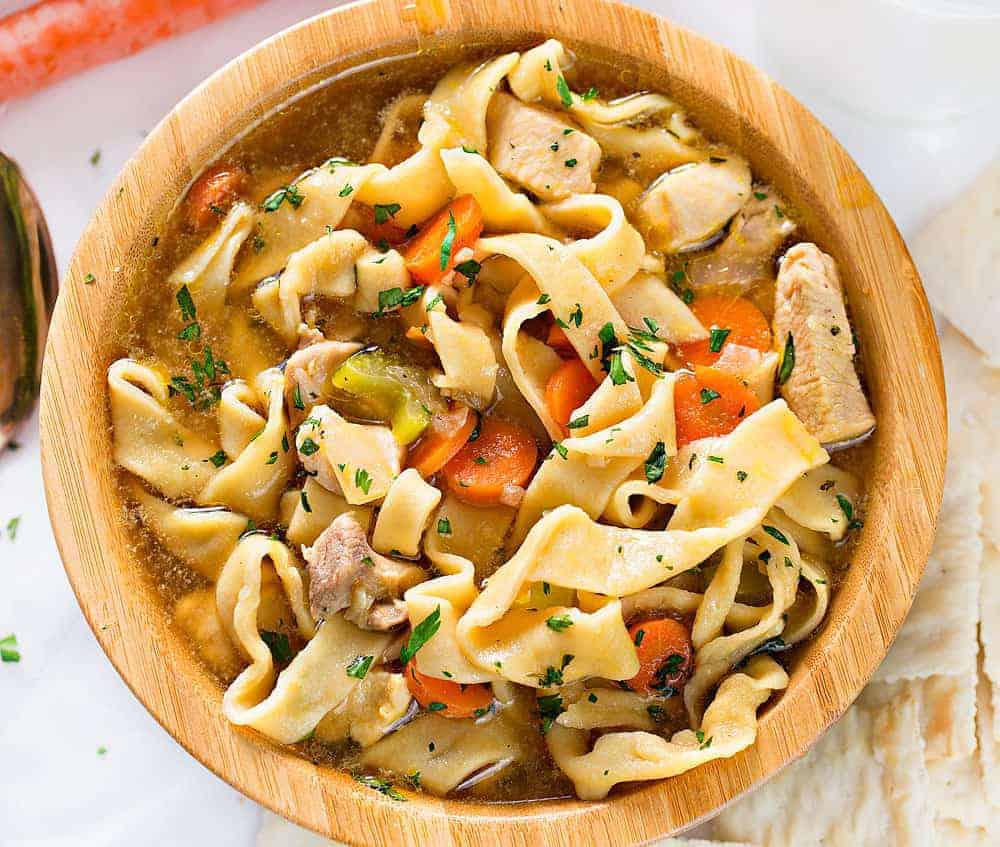 Ingredients
1 tablespoon salted butter
½ cup chopped yellow onion
½ cup chopped celery
1 cup sliced carrots, (about 2 medium carrots)
2 teaspoons chopped garlic
4 (14.5 ounce) cans chicken broth, or use homemade
½ pound chopped raw chicken breast and/or thighs
1½ cups egg noodles
1 teaspoon dried thyme
salt and pepper to taste
Instructions
In a large pot over medium heat, melt butter.
Cook onion, celery, and carrots in butter until just tender, 5 minutes.
Add in thyme and salt and pepper. I start with 1 teaspoon of each and add more salt and pepper as needed.
Add in garlic and cook for about 1 minute.
Make a well in the center of the vegetables and add in the chicken. Toss to brown the outside of the chicken, no need to cook it through. (3-4 minutes total)
Pour in chicken broth, and bring to a boil, then reduce heat and simmer for about 20 minutes before serving.
If you are using my Homemade Egg Noodles, add them in 3 minutes before serving. If using store-bought noodles, add them in 8 minutes before serving.