The amazing flavors of chocolate chip cookie and cheesecake join perfectly in these easy peasy Chocolate Chip Cheesecake Bars!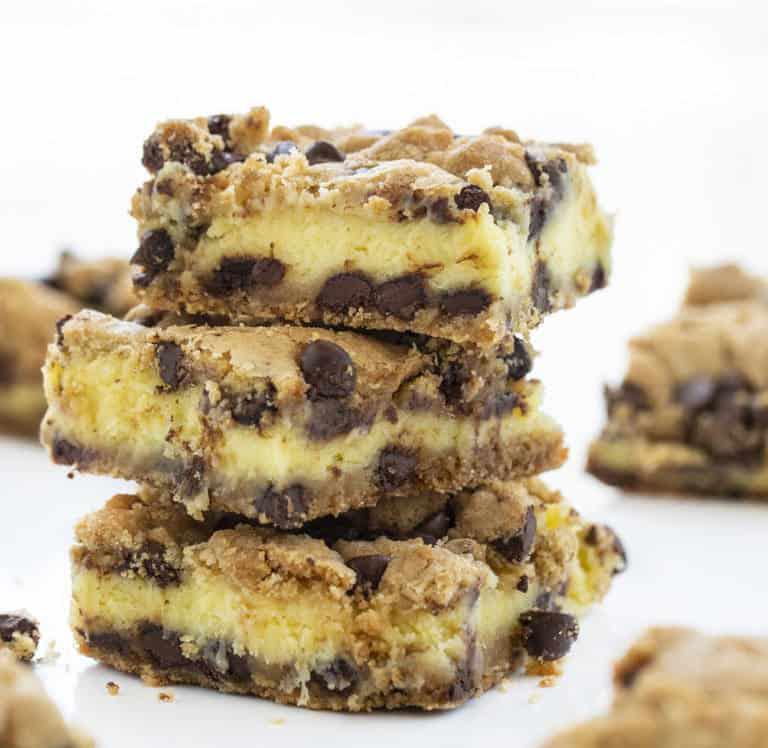 Chocolate Chip Cheesecake Bars Recipe
These bars are a perfect matchup of chocolate chip cookies and cheesecake filling. I have made them more times than I can count and they are OFTEN requested by the kids and friends. We love the thick cream cheese layer, but you can certainly cut the cream cheese in half should you want less.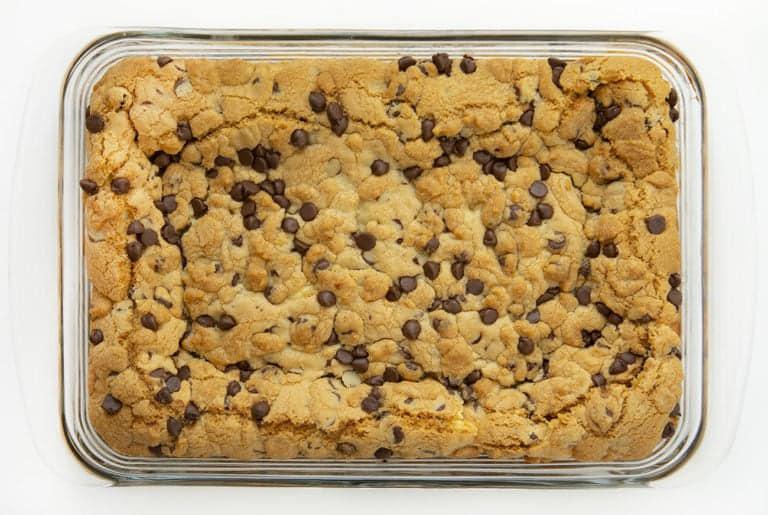 Tips for the Chocolate Chip Cookie Dough
One of the most common baking questions is "does the temperature of my ingredients really matter?" The answer is a resounding "yes"! Paying attention to detail, such as the temperature of ingredients, truly elevates from-scratch baking.
When making a recipe that starts with creaming butter and sugar together, as this recipe does, the ingredients should be at room temperature. This ensures the emulsification of butter and sugar won't break.
To make the cookie dough, first, cream together both sugars and the butter, beating until incorporated. Next, mix in the vanilla and egg. Then, sift together the flour, baking soda, and salt, adding that to the wet ingredients. Finally, fold in the chocolate chips by hand.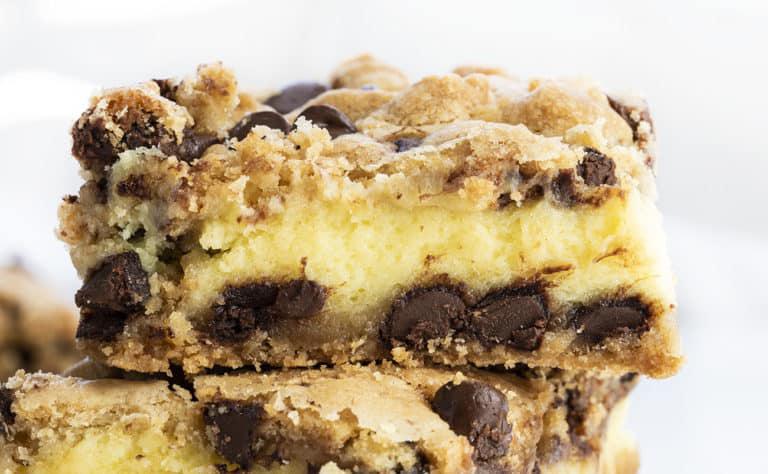 Cream Cheese Filling
Just like with using room temperature butter and sugar, it is also important to make sure the cream cheese is room temperature for this cream cheese filling. If it is not, you could end up with dreaded lumps! In a small bowl, beat the cream cheese, sugar, and egg until smooth.
How to Make Chocolate Chip Cheesecake Bars
Once you have the cookie dough and cream cheese filling ready to go, it's time to assemble the bars and get them baked! Grease a 9×13-inch pan. Take half of your prepared cookie dough and press it into the greased pan. Making sure that your hands are either floured or greased, press the dough down into the pan trying to create an even layer.
Next, evenly spread the cream cheese mixture over the cookie dough. You should be able to spread this out with an offset spatula or butter knife. Finally, grab small amounts of the remaining cookie dough mixture and sprinkle it over top of the cream cheese layer.
Bake the bars for 35-40 minutes. Let them cool for about 30 minutes before chilling them in the refrigerator for two hours before serving.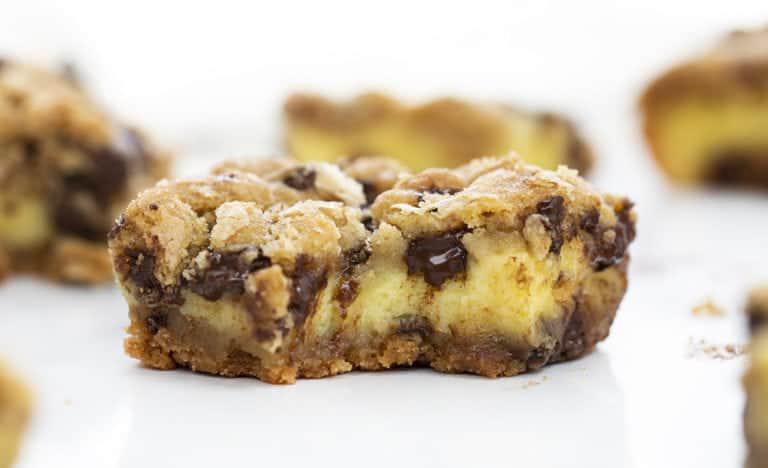 INGREDIENTS
CHOCOLATE CHIP COOKIE
1 cup (200g) granulated sugar
1/2 cup (100g) packed brown sugar
1 cup (2 sticks or 226g) butter, softened
1 teaspoon vanilla
1 large egg, room temperature
2 1/4 cups all-purpose flour
1 teaspoon baking soda
1/2 teaspoon salt
12 ounces (2 cups) semisweet chocolate chips
CHEESECAKE FILLING
2 packages (16 ounces) cream cheese, room temperature
1 cup (200g) granulated sugar
2 large eggs, room temperature
INSTRUCTIONS
Heat oven to 350°F and grease a 9×13-inch baking pan.
In a medium bowl combine the granulated and brown sugar, 2 sticks butter and beat until incorporated.
Add in 1 teaspoon vanilla and egg and mix until combined.
Sift together flour, baking soda, and salt and add to the wet ingredients. Stir chocolate chips in by hand.
CHEESECAKE FILLING
In a small bowl, beat cream cheese, sugar and egg until smooth.
ASSEMBLY
In the prepared pan, break up half of the cookie dough. With floured fingers, press dough evenly in the bottom of the pan to form a crust.
Spread the cream cheese mixture over the dough. Crumble and sprinkle remaining half of dough over the cream cheese mixture.
Bake 35 to 40 minutes or until golden brown and firm to the touch. Cool 30 minutes. Refrigerate at least 2 hours until chilled.