Hamburger Soup is a quick and easy meal loaded with vegetables, lean beef, diced tomatoes and potatoes. It's great made ahead of time, budget friendly, reheats well and freezes perfectly.
We serve this easy Hamburger Soup with a fresh green salad and some crusty bread for the perfect meal!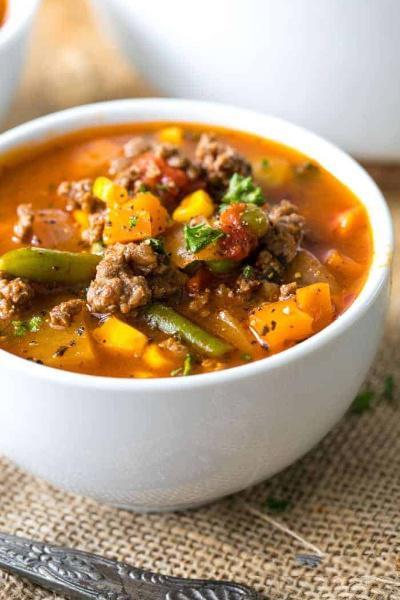 I love a good soup as a weeknight meal. Hearty soups are satisfying & simple and they are loaded with vegetables and healthy ingredients! Soup is the perfect cool weather food or delicious weeknight dinner!
This Hamburger Soup is simple classic comfort food, hearty, healthy and satisfying. Perfect on a cool evening to warm your belly from the inside out.
I have to say that while we've always referred to this as hamburger soup, I know you guys have tons of other names for it! Hamburger soup, vegetable soup, hangover soup, poor man's soup, bachelor's stew… just to name a few.
Regardless of what you call it, you'll definitely want to make it!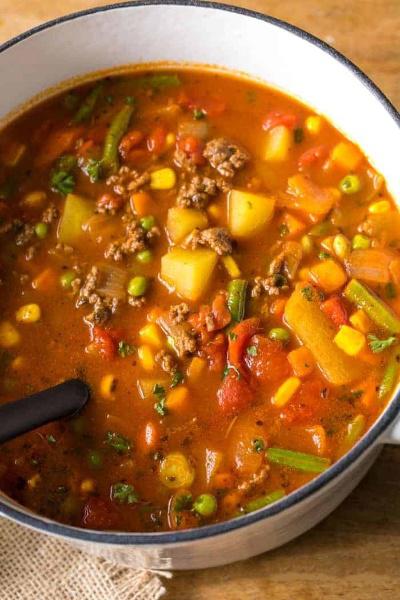 How to Make Hamburger Soup
A rich tomato broth is filled with ground beef, tender potatoes and vegetables. Sometimes the most simple ingredients make the best ever meals.
This hamburger soup is not only delicious, it's easy to make with ingredients you likely have on hand.
I start with a mixture of lean beef, onion and garlic browned and drained. You can use any kind of ground meat in this recipe including ground turkey.
Beef broth is the best broth option to add lots of great flavor; I personally prefer the low sodium variety.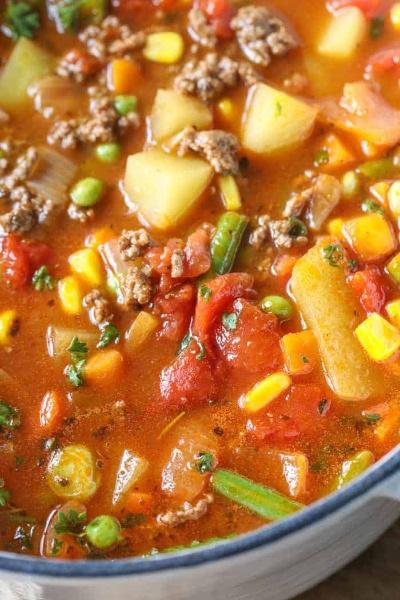 Hamburger Soup with Vegetables
I use a mixture of frozen vegetables to make this super easy (no chopping, no prepping) but it's also a great way to use up any veggies in your fridge. Carrots, celery, peas, beans, zucchini… pretty much anything goes, sometimes we make this even with cabbage!
This version of Hamburger Soup uses potatoes since that's how we always had it growing up. If you don't have potatoes on hand (or just prefer pasta) you can add any type of pasta into this recipe!
I add an extra 1 cup of broth (or water) and let the pasta simmer until tender. Macaroni, shells and rotini are favorites to make this into a delicious and hearty macaroni beef soup!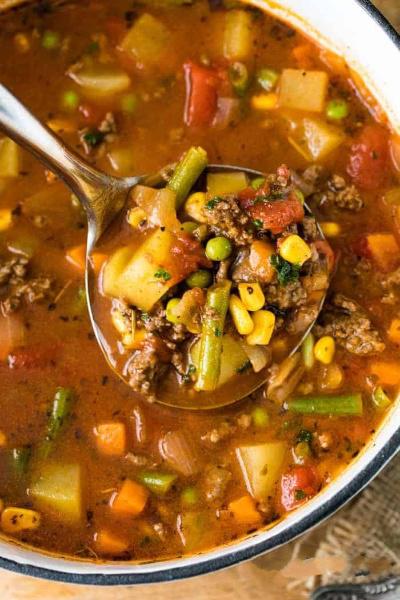 What to Serve with Hamburger Soup
While the soup is simmering, I prepare a quick chopped salad and slice up a loaf of french bread (almost always served with Homemade Garlic Butter) for a complete meal.
If you're lucky enough to have leftovers, this soup is great reheated for lunches all week but even better, it freezes perfectly!
I prop up a freezer bag in my little baggie holder and fill each baggie with one serving.
When I need a quick lunch, I take it out of the freezer the night before or in the morning and microwave for a perfect meal. (And then sometimes add a little sprinkle of cheese before serving).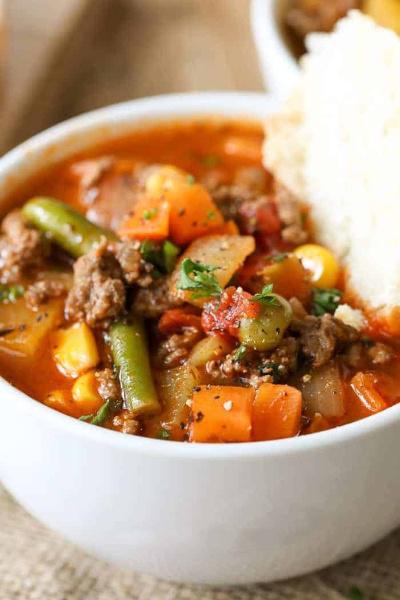 This has been a family favorite forever!
It gets rave reviews from everyone who tries it, it's quick and easy to make, reheats well and is versatile. The perfect soup.
This is also an excellent gifting soup.
If you know anyone that's recently had a baby or surgery, or is just having an extra crazy week with the kids, this is the soup to drop off.
Ingredients
1 pound lean ground beef
1 onion diced
2 cloves garlic minced
2 medium potatoes peeled and diced
3 ½ cups beef broth
28 ounces diced tomatoes with juice
1 can condensed tomato soup
2 teaspoons Worcestershire sauce
1 teaspoon Italian seasoning
1 bay leaf
salt and pepper to taste
3 cups mixed vegetables fresh or frozen
Instructions
Brown onion, ground beef and garlic until no pink remains. Drain any fat.
Add potatoes, broth, tomatoes, tomato soup, Worcestershire sauce, seasoning and bay leaves. Simmer covered 10 minutes.
Stir in vegetables. Simmer 15-20 minutes or until potatoes are tender.