Kick your grillin' up a notch with these amazing Cajun Shrimp and Sausage Kebabs! These Cajun Shrimp Kebabs are layered with seasoned potatoes, fresh sweet corn, spicy sausage, and perfectly grilled shrimp. If you like summer grilling recipes like this one, make sure to check out my Hawaiian Chicken Kebabs and my Surf and Turf Kebabs with Chimichurri Sauce.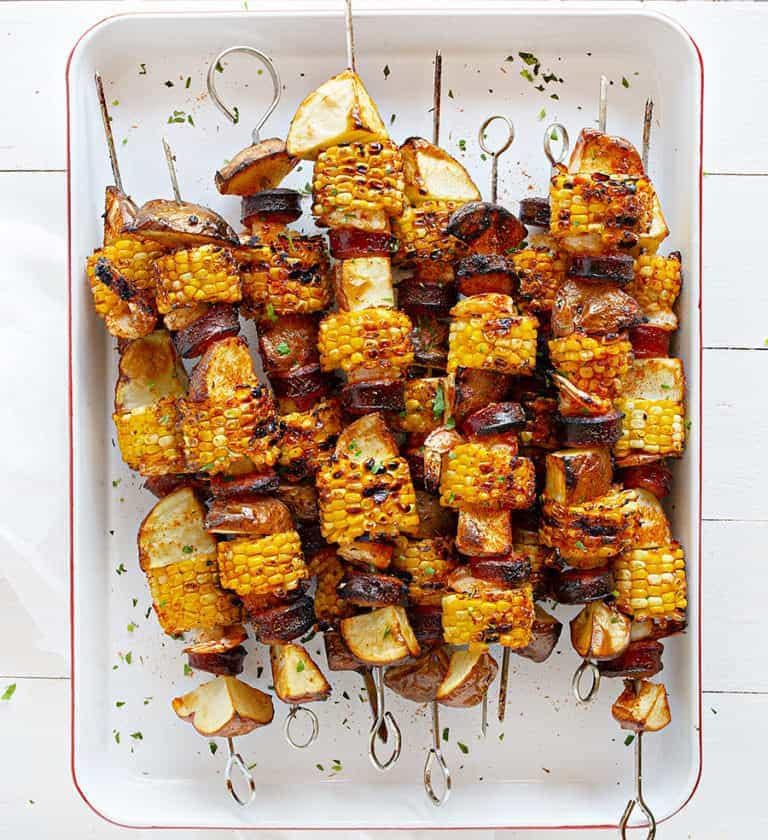 Cajun Shrimp Kebabs
Add a little spice and southern flavor to your skewers this summer by creating these Cajun Shrimp and Sausage Kebabs. With just a few ingredients and little prep, you will have a tasty and fulfilling kebab to satisfy your hunger and taste buds! With Cajun spice giving just enough of a kick, but not overwhelming, even the kids love these kebabs. If you love the flavor of cajun seasoning make sure to check out my, Cajun Chicken with Roasted Garlic Alfredo.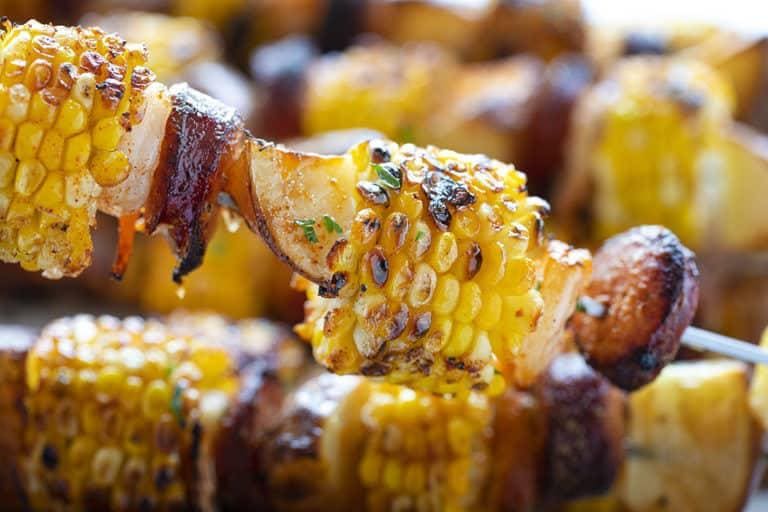 Cajun Shrimp Kebab Recipe
You will only need a few ingredients to complete this flavorful kebab:
Red Potatoes: You may leave the skins on the potatoes, but remember to clean and remove any dark spots before cutting into them into quarters.
Sweet Corn: When purchasing sweet corn, the best way to know if you are getting a good ear of corn is by gently peeling back the husks. Look for any glaring problems like underdeveloped kernels, browning, wilting, or the worst, worms. Ideally, you are looking for plump, bright yellow or bright white kernels. The corn should be tightly wrapped in green husks, with light and sticky silk.
Shrimp: Be sure to purchase deveined, tail removed, and shell off. We used frozen shrimp, but we let it completely thaw before grilling.
Andouille or Smoked Sausage: Andouille sausage is generally associated with Cajun dishes because of its heat and smoke flavor, but don't be afraid to substitute other sausages as well.
Cajun Seasoning: Be sure to check out my recipe to make your own Cajun seasoning.
Wooden skewers: Soaked in water for 30 minutes.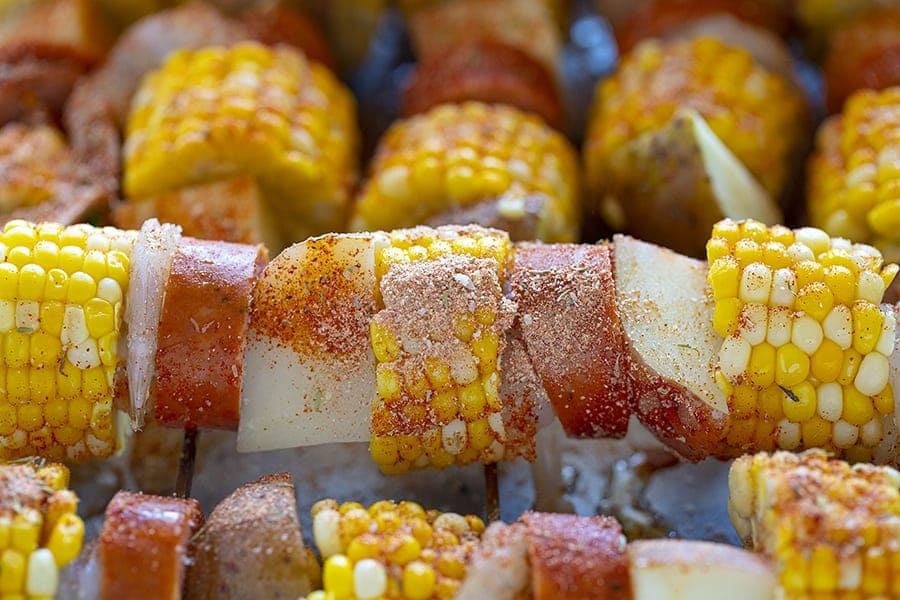 How to Make Cajun Shrimp Kebabs
This recipe is simple, but there are a few key steps that you will need to take in order to get it just right.
The Skewers
There are essentially two primary options available for skewers–wood or metal. If you go with a wood skewer, it is important to let them soak for a minimum of 20 minutes prior to grilling. This allows the water to create a moisture barrier inside of the skewer which prevents it from burning on the grill. No matter which you choose, the next step is the same. Just alternate the ingredients on each skewer leaving about 1 inch of space on each side.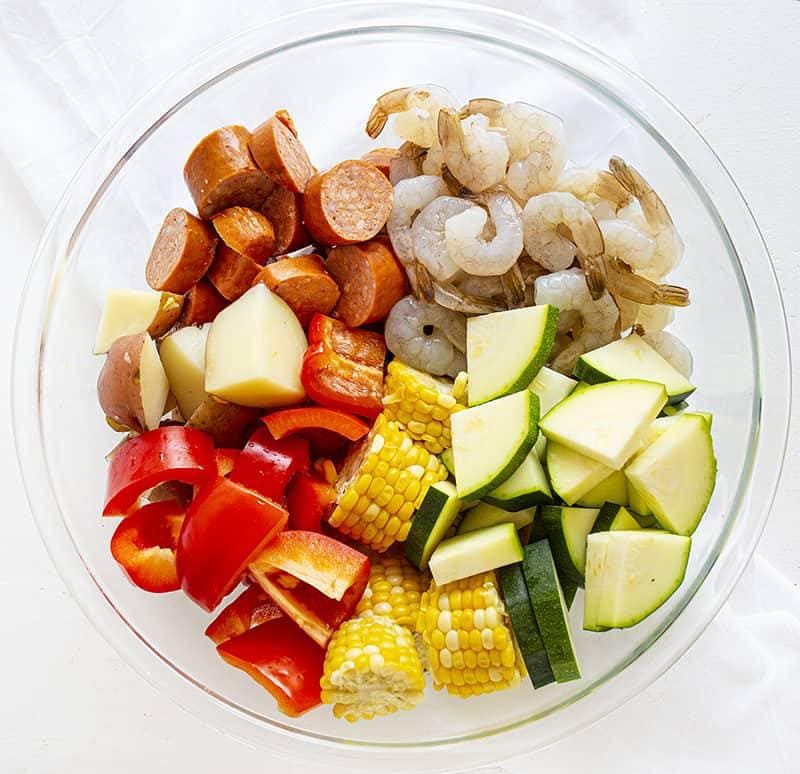 Preparing Potatoes and Corn
You will need:
6 medium red potatoes
5 ears of corn
A bowl of ice water, large enough to immerse potatoes and corn
Bring the water to a boil in a large saucepan. Then, add the quartered potatoes and the rings of corn into the boiling water. Let that cook for about five minutes, and then drain the pan. Drop the corn and potatoes into the ice water to stop the cooking.
Oiling the Grill Grates
Now its time to prepare the grill for the skewers. I recommend oiling the grill grates lightly before cooking.
Be safe about it! Don't spray cooking spray on the grates or pour oil on the grates as this will cause the flame to ignite and could blow back at you. The safest method of oiling a grill grate is to dip a cloth or handful of bunched-up paper towels into cooking oil (like canola). Do not saturate the cloths; they should not be dripping. You want enough oil on it to coat the grill grate, but you don't want it dripping everywhere. With a protected hand (use an oven mitt or glove), lightly brush the hot grill grates with the cloth.
After oiling the grates, preheat the grill to medium as you assemble the kebabs.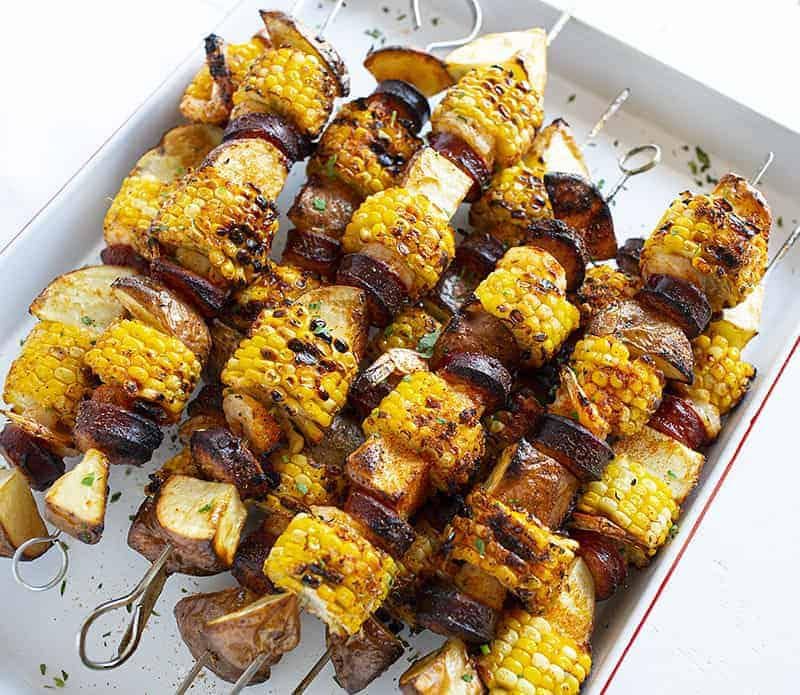 Assembling the Kebabs
Order of ingredients for the cajun shrimp kebabs:
sausage
shrimp
corn
potatoes
Thread each ingredient onto the skewer and repeat until you have about 1 inch of empty space on each end. Set aside on a large sheet pan until all skewers are assembled.
Next, sprinkle the Cajun seasoning evenly over the skewers, and place on the preheated grill. Cook directly over the heat for about 3-5 minutes. Then, use tongs to turn once, cooking another 3-5 minutes.
When done, slide the ingredients off the skewer and enjoy! These would be great paired with an easy dinner roll.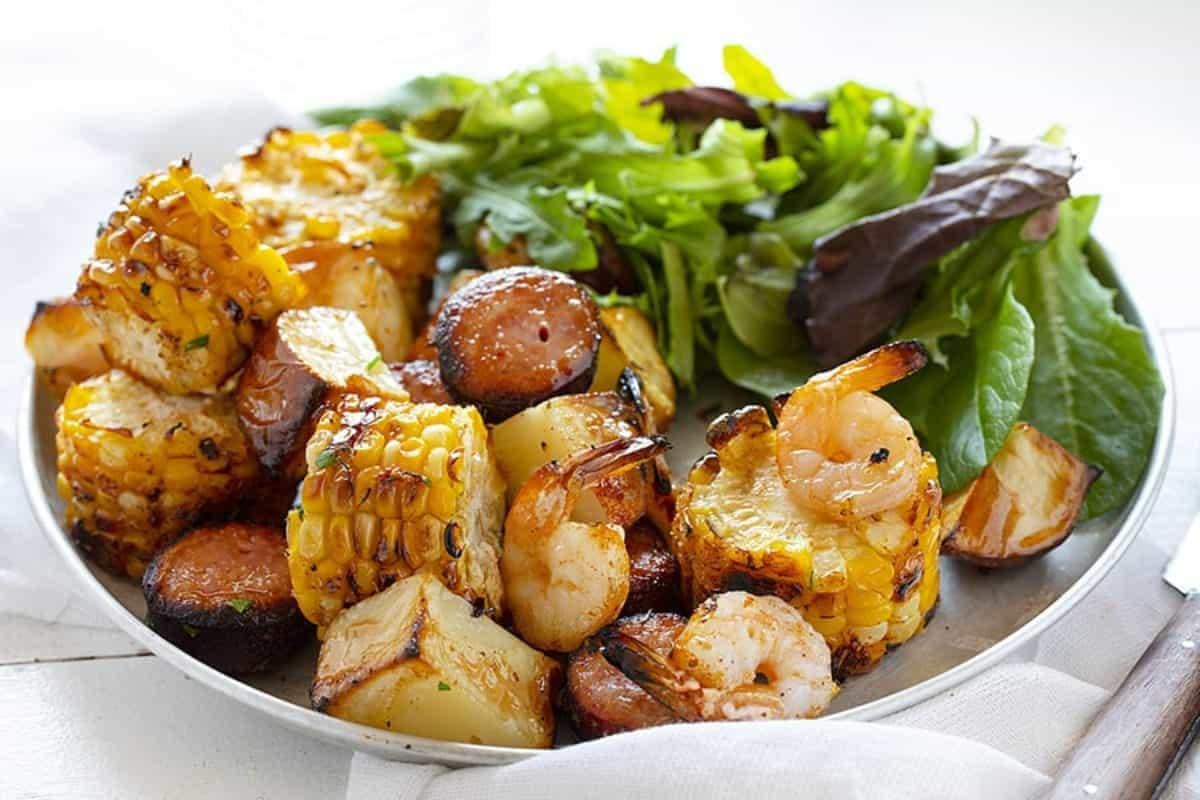 INGREDIENTS
6 medium red potatoes, quartered
bowl of ice water
5 ears corn, husks and silks removed, cut into 1-inch rings
1 pound medium to large shrimp, shell removed
1 pound andouille or smoked sausage, cut into 1-inch sections
3 tablespoons cajun seasoning (link to homemade recipe in the notes below)
12 wooden skewers, if using metal, no need to soak
INSTRUCTIONS
Preheat grill to medium and soak skewers in a 9×13 pan of water for about 30 minutes.
POTATOES
Carefully add the quartered potatoes and corn to a large saucepan of boiling water. Cook for 5 minutes, then drain. Immerse potatoes and corn in ice water to stop cooking.
ASSEMBLY
Starting with the sausage, add the sausage, shrimp, corn, and potatoes to the skewer. Repeat 2 or 3 times depending on the length of your skewer. Set skewer on a large sheet pan. Repeat with remaining ingredients.
Sprinkle the cajun seasoning evenly over all skewers, then flip and do the other side.
Brush the grill grate with oil. Place skewers on the grill directly over the heat.
Cook for about 3-5 minutes and then use tongs to turn once. Cook another 3-5 minutes.
When done, slide the ingredients off the skewer (I use tongs onto a plate and serve hot).