Hawaiian Chicken Kebabs are one of the greatest things to ever happen to a skewer. Juicy and flavorful marinated chicken, complemented by bell peppers, fresh pineapple, and red onions, all grilled to perfection. Each bite is filled with flavor and screams summer!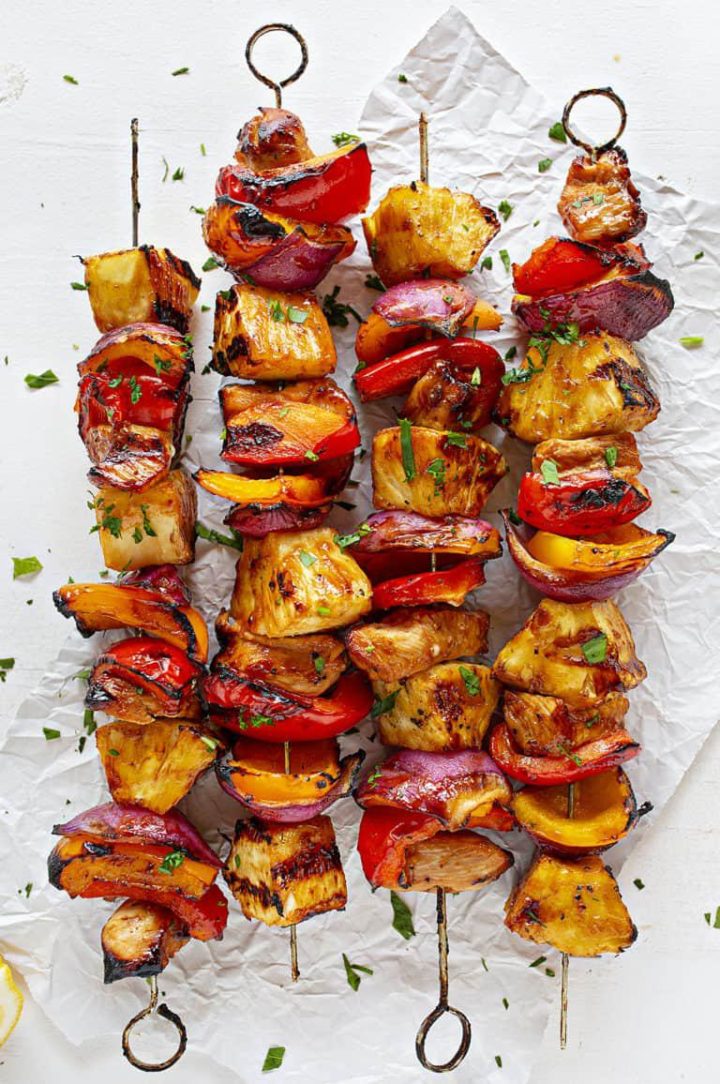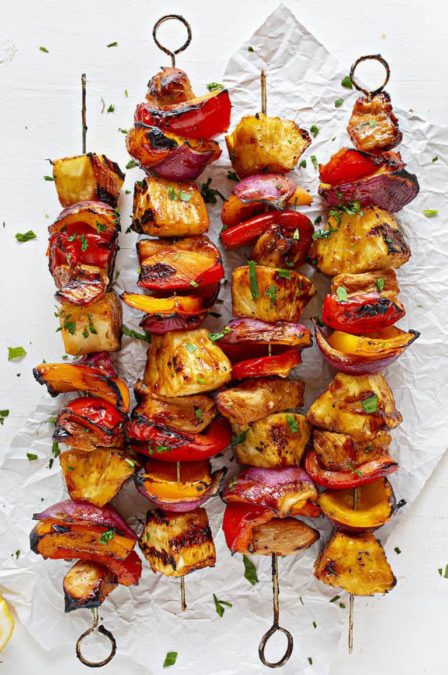 Hawaiian Chicken Kebabs
I have always been a big fan of pineapple. So adding it to a savory dish, for me at least, wasn't much of a stretch. People put pineapple on pizza all of the time! This should work too, right? Right.
The result was clear instantly: it does work and you need to try it as soon as humanly possible. The sweet and savory nature of this dish is complete summer perfection. You will barely get the food off the skewer before it is being devoured.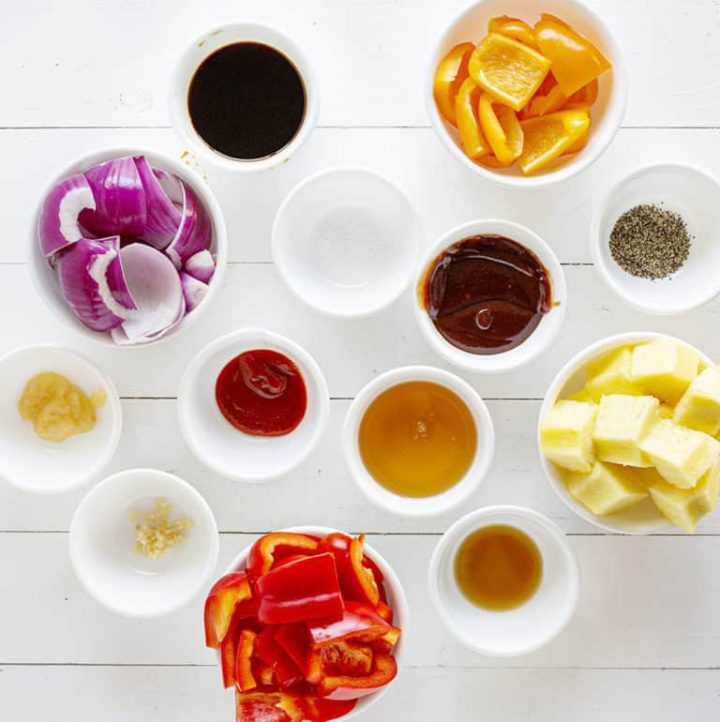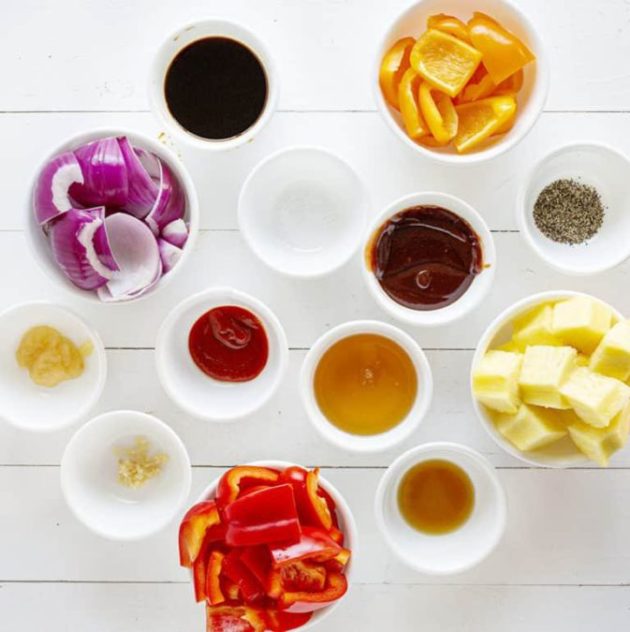 How to Make Hawaiian Chicken Kebabs
There are essentially two parts to making Hawaiian chicken. The marinade and the skewers.
The Marinade
Gather your marinade ingredients and add them all to a medium-sized bowl. For the marinade you will need:
BBQ Sauce
Soy Sauce
Honey
Siracha
Sesame Oil
Fresh Garlic
Fresh Ginger
Kosher Salt
Fresh Cracked Pepper
Mix all ingredients together until the mixture is smooth. Take about 1/2 cup of the mixture out and put it in a separate container. You will use this to baste the skewers later. In the original bowl, add in the cubed chicken and cover with plastic wrap (or use a ziplock bag). Make sure the chicken is completely covered by the marinade and refrigerate for about 20-30 minutes. You can do this overnight too if you want to prepare ahead of time.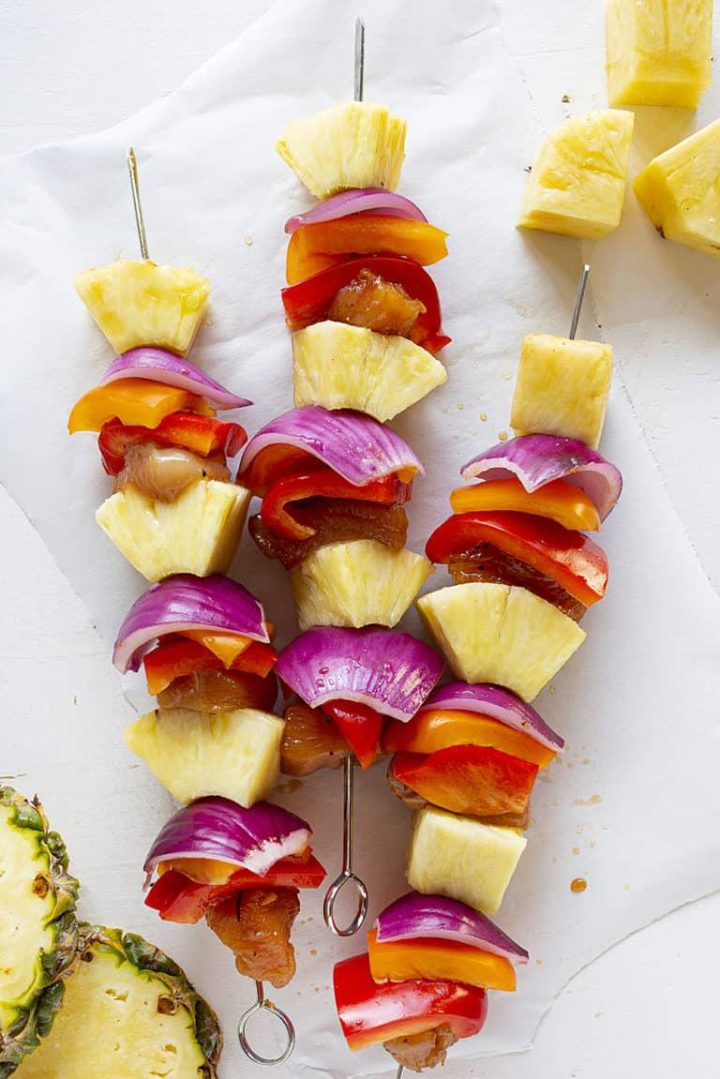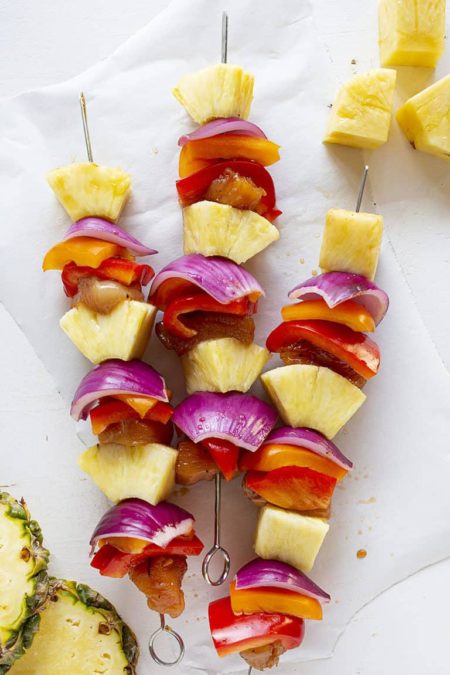 The Skewers
Once the chicken has had time to marinate, you can start to assemble your skewers. There are essentially two primary options available for skewers. Metal or Wood. If you go with a wood skewer it is important to let them soak for a minimum of 20 minutes prior to grilling. This allows the water to create a moisture barrier inside of the skewer which prevents it from burning on the grill. No matter which you choose, the next step is the same. Just alternate the ingredients on each skewer leaving about 1 inch of space on each side.
Chicken
Peppers
Onion
Pineapple
Repeat…
The skewers are now ready to be put on the grill. I recommend oiling the grill grates lightly before cooking.
How to Oil Grill Grates
Just be safe about it. Don't spray cooking spray on the grates or pour oil on the grates. This will cause the flame to ignite and could blow back at you. The safest method of oiling a grill grate is to dip a cloth or handful of bunched-up paper towels into cooking oil (like canola). Do not saturate the clothes, they should not be dripping. You want enough oil on it to coat the grill grate, but you don't want it dripping everywhere. With a protected hand (use an oven mitt or glove), lightly brush the hot grill grates with the cloth.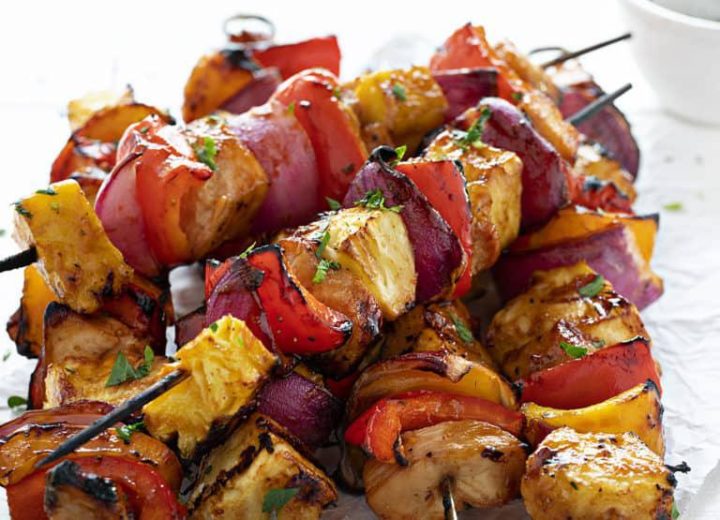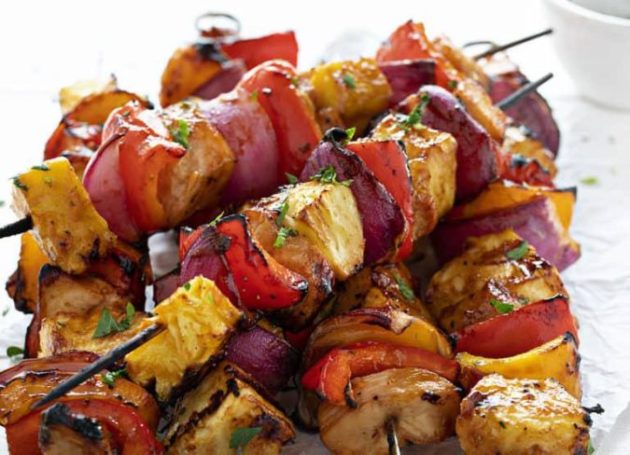 INGREDIENTS
MARINADE
1/2 cup barbecue sauce
1/3 cup soy sauce
1/3 cup honey
1 tablespoon sriracha
2 teaspoon sesame oil
2 cloves garlic, minced
1 tablespoon fresh ginger, minced
1 teaspoon kosher salt
1 teaspoon pepper
KEBABS
2 chicken breasts, cut into 1″ pieces
2 cups cubed pineapple
1 red onion, diced
3 bell peppers, red, orange, and yellow, cubed
Grilling skewers
INSTRUCTIONS
If using wooden skewers, soak them in water for 1 hour before using to prevent burning.
Preheat grill to medium heat (about 425°F).
MARINADE
In a large bowl, whisk together barbecue sauce, soy sauce, honey, sriracha, oil, garlic, ginger, salt, and pepper until completely combined. Remove 1/2 cup of the mixture and place in an airtight container (this will be used for basting later).
Add chicken to the remaining marinade and combine, cover and chill for 30 minutes to 2 hours.
KEBABS
Once marinated, build skewers by alternating chicken, pineapple, peppers, and red onion.
Place skewers on an oiled and preheated grill, and brush with reserved marinade.
Cook 5 minutes and flip, brushing the other side with marinade as well.
Cook 5-10 more minutes, or until the chicken is cooked through.