These give everyone's favorite Chocolate Chip Cookie a little spice. Using Homemade Pumpkin Pie Spice, this cookie will be everybody's favorite fall treat and dessert! You can find recipes for all sorts of varieties of chocolate chip cookies, from a crispier cookie to soft and chewy. I have even seen recipes using ingredients like bacon, avocado, cayenne pepper, and even whiskey in their chocolate chip cookies! Well, I stuck to the pumpkin spice theme (which is EVERYWHERE and in EVERYTHING around here right now) for these cookies as well as my Pumpkin Snickerdoodles, and they were the perfect blend of pumpkin spice and chocolate chips.
Pumpkin Spice Chocolate Chip Cookies
Chocolate chip cookies have been around since their invention in 1938. Ruth Graves Wakefield claims she deliberately came up with the recipe for 'something different than her butterscotch nut cookie with ice cream', thus creating the Toll House Cookie. The name came from the Toll House Inn that Wakefield and her husband bought in 1930. Her cookies really gained popularity when some United States soldiers from Massachusetts went overseas during World War II and shared some of the chocolate chip cookies. Of course, soldiers from all over the U.S. wanted a few of these delicious treats themselves! Thus, the craze began, and it really has never stopped.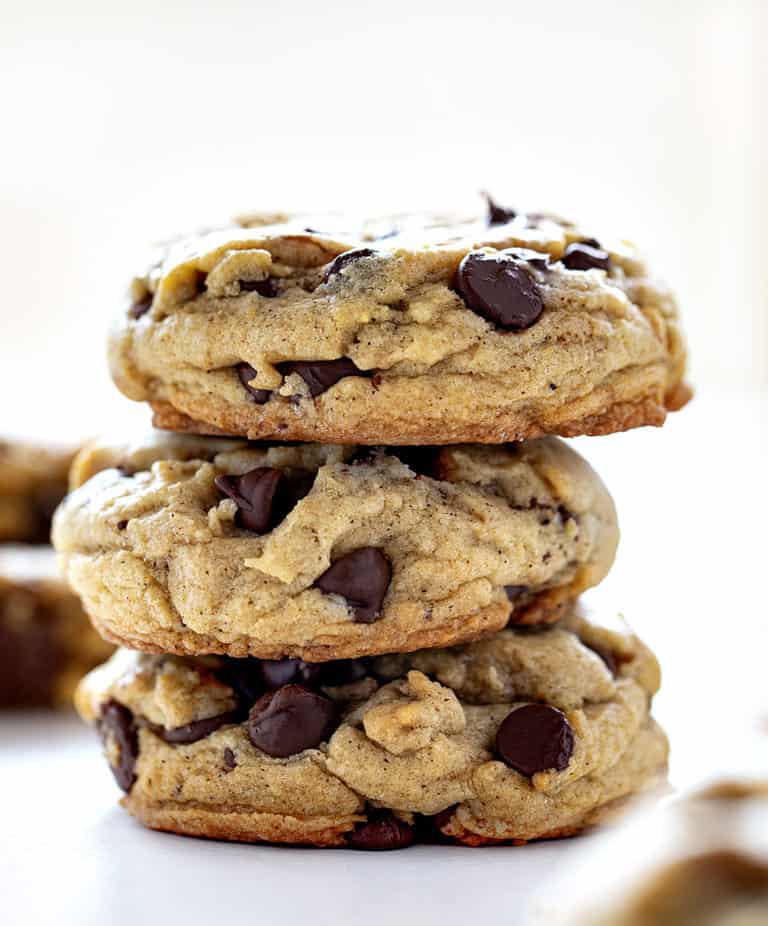 Pumpkin Spice Chocolate Chip Cookies Recipe
The one ingredient that really stands out in the Pumpkin Spice Chocolate Chip Cookies recipe is the pumpkin pie spice. With Pumpkin Spice in the name, it better be noticeable! I used my Homemade Pumpkin Pie Spice in this recipe, and I would encourage you to do the same. If you use the store-bought pumpkin spice, be aware that you may need to use a bit more of the spice than is in this recipe. It doesn't pack quite the punch as the homemade pumpkin pie spice!
You probably have all the spices on hand for the homemade pumpkin pie spice, so check your cupboards! It's simply 4 tablespoons cinnamon, 4 teaspoons ground nutmeg, 1 teaspoon ground ginger, and 1 teaspoon ground cloves. If you make your own, you are set for all the other pumpkin spice recipes that pop up this time of year!
Ingredients
Butter
Granulated Sugar
Brown sugar
Vanilla
Egg
Flour
Baking soda
Salt
Semi-sweet chocolate chips
How to Make Pumpkin Spice Chocolate Chip Cookies
Pumpkin Spice Chocolate Chip Cookies are so good! They have a crispy exterior and a soft, chewy interior, just like I like them! This cookie is big. About 4 inches across! The 3 tablespoon cookie scoop produced the best overall cookie, by far. If you do not have a 3-tablespoon cookie scoop, you can use a tablespoon and just roll 3 total tablespoons into a ball. Do not flatten the dough before you bake the cookies! These will turn out perfectly delicious with the perfect texture. If you do accidentally flatten the dough?, your bake time will be different, so watch the cookies closely.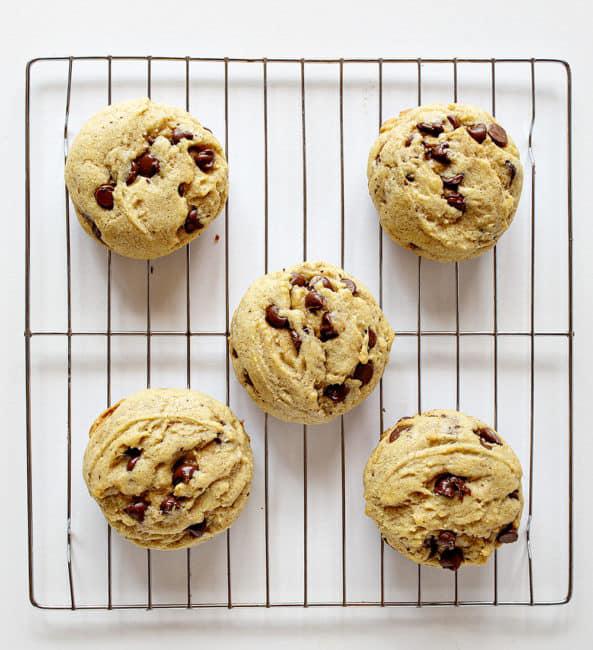 How long do you cook Chocolate Chip Cookies? The cookies bake for 11-13 minutes at 350°F. Remove them when they are light golden brown on the edges.
Can I make bigger/smaller Chocolate Chip Cookies? You can! A giant chocolate chip cookie uses a 1/2 cup of batter per cookie and bakes for 16-20 minutes, but you can size them down to 1-2 tablespoons for smaller cookies. (and keep an eye on them in the oven if you are making minis).
Can I customize my Chocolate Chip Cookies? Absolutely. Swap the chocolate chips for peanut butter chips for a peanut butter flavor. Use all milk chocolate, or all dark chocolate, or even white chocolate chips. Add flaked sea salt to the top. Heck, you can even add some drizzled chocolate to really make these amazing!
Can Chocolate Chip Cookies be gluten-free? I believe they can, but I haven't tested this recipe specifically. If you substitute the flour for 1:1 gluten-free flour, the recipe should work. This will change the texture slightly.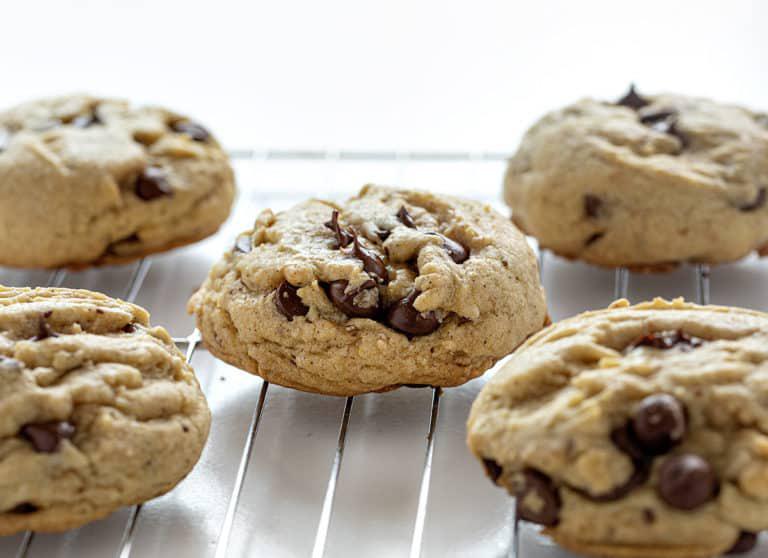 Can I Freeze Pumpkin Spice Chocolate Chip Cookies?
Yes! In fact, you can freeze the baked cookies or cookie dough. To freeze the cookie dough, put the portioned balls of dough on a cookie sheet lined with wax paper. Freeze those for about an hour before transferring them to an airtight container. To bake, simply add more bake time for the frozen dough.
If your cookies have already been baked, make sure you let the cookies cool completely before freezing. Individually wrap each cookie in plastic wrap and store in an airtight container. These will last 1-3 months! I actually like a slightly frozen chocolate chip cookie!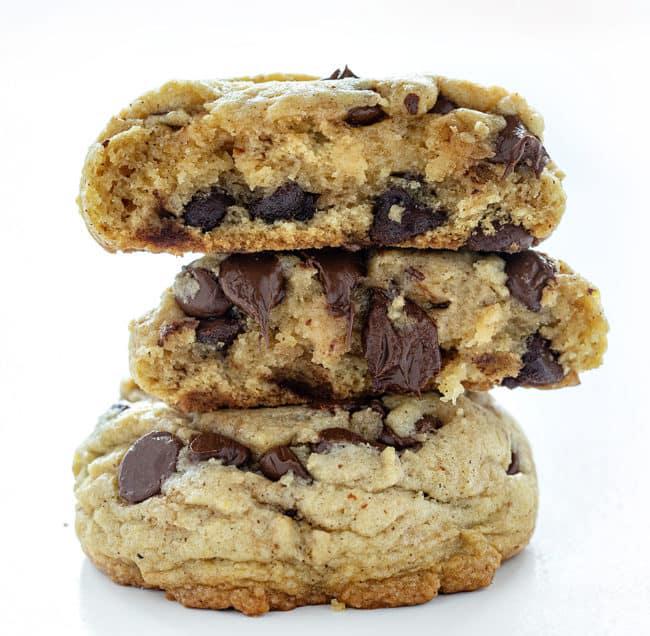 INGREDIENTS
½ cup (114g) butter
½ cup (100g) granulated sugar
¼ cup (50g) brown sugar, packed
2 teaspoons vanilla extract
1 large egg
1¾ cups (219g) all-purpose flour
½ teaspoon baking soda
1½ teaspoon pumpkin pie spice
½ teaspoon kosher salt
1 cup (168g) semisweet chocolate chips
INSTRUCTIONS
Preheat the oven to 350°F.
In a large bowl, add butter. Soften in the microwave for 30 seconds.
Mix in the sugars.
Add the vanilla and egg until incorporated.
Pour in the flour, baking soda, pumpkin pie spice, and salt.
Mix all the ingredients until combined.
Measure in the chocolate chips.
For a large cookie, drop large spoonfuls (3 tablespoons) of dough on your cookie sheet.
Bake for 11-13 minutes, or until cookies are set. They will be puffy and should not appear wet.