In fact, making these crunchy pancakes is easy. You can experiment endlessly with finely and coarsely grated potatoes to get a soft center and a crispy top, and you can also add carrots, pumpkin, zucchini and even cheese.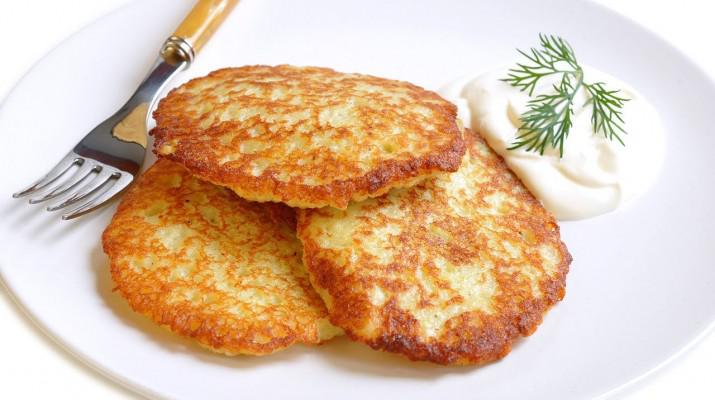 Ham pancakes with cheese, cheese and herbs
Ingredients:
300 g potatoes
1 onion
100 g ham
100 g hard cheese
1 egg
2 tbsp. flour
1/3 tsp salt
1/4 tsp black pepper
dill
cooking oil
Cooking:
Rub onion, ham, raw potatoes and cheese on a coarse grater. Add the egg and chopped dill. Salt, pepper to taste and mix well.
Add the flour and knead until smooth. We spread the mass in a pan with a spoon and fry on both sides until golden brown.
Potato, zucchini and apple pancakes
Ingredients:
2 zucchini
1 apple
1 egg
4 tbsp. semolina
1 tsp seasonings
2 pinches of salt
4 potatoes
cooking oil
Cooking:
We clean the apple, zucchini, potatoes and grate. Add semolina, seasoning, egg and salt. Fry in a small amount of oil on both sides.
Classic potato pancakes
Ingredients:
1 kg of potatoes
2 onions
2 eggs
1 tbsp. flour
salt pepper
2 tbsp. vegetable oil
Cooking:
We clean the potatoes, grate and squeeze the excess juice.
Break eggs into grated potatoes, add finely chopped onions and flour. If 1 tbsp. l flour is not enough, you can add a little more.
Spoon the prepared mixture into a preheated pan, greased with vegetable oil and fry on both sides until golden brown.
Pumpkin pancakes
Ingredients:
2 onions
2 cloves of garlic
2 eggs
4 tbsp. flour
2 tbsp. parsley
cooking oil
salt
ground black pepper
sesame
1 handful of pumpkin seeds
pumpkin
Cooking:
Grate the pulp of a pumpkin. Cut the onion into large pieces and grind it together with garlic or let it pass through a press.
Combine the prepared vegetables and add chopped parsley, eggs, flour, salt and ground black pepper to taste.
Mix well and use a tablespoon to spread the resulting mass in a pan in the form of small pancakes. Fry over medium heat on both sides until golden brown. When serving, sprinkle potato pancakes with pumpkin seeds and sesame seeds.
Draniki with spinach and carrots
Ingredients:
3 potatoes
1/2 cup fresh spinach
1/2 onion
1 small carrot
1/2 tbsp. l cornmeal
1/2 tsp chili peppers
salt
cooking oil
sour cream or yogurt
Cooking:
We rub potatoes and carrots on a coarse grater. Hands wring out the excess liquid.
Cut spinach and onion and add to the mixture of potatoes and carrots. Then add pepper, salt and cornmeal. Mix well.
Put the pancakes in a pan with a spoon and fry on both sides until crisp, then reduce the heat and fry until cooked. Serve with sour cream or yogurt.
Draniki with meat filling
Ingredients:
1 kg of potatoes
4 g semolina
1 egg
1 tsp seasoning for potatoes
200 g minced chicken
1 onion
salt
ground black pepper
Cooking:
Cut half the onion and fry. Spread the minced meat on top, salt to taste. Fry until half cooked.
Grate potatoes. Drain the excess liquid and break the egg into the potato. Add semolina, seasonings and mix.
Wet a palm in water, put a spoonful of potatoes on it, and minced meat on top with a teaspoonful. Cover again with potatoes. Fry on both sides and bring to the ready under the lid.