This Beer Bread recipe is not only simple, but it is also out of this world delicious! Follow my tricks to make an out-of-this-world Beer Bread! I promise it will be the only recipe you will ever need!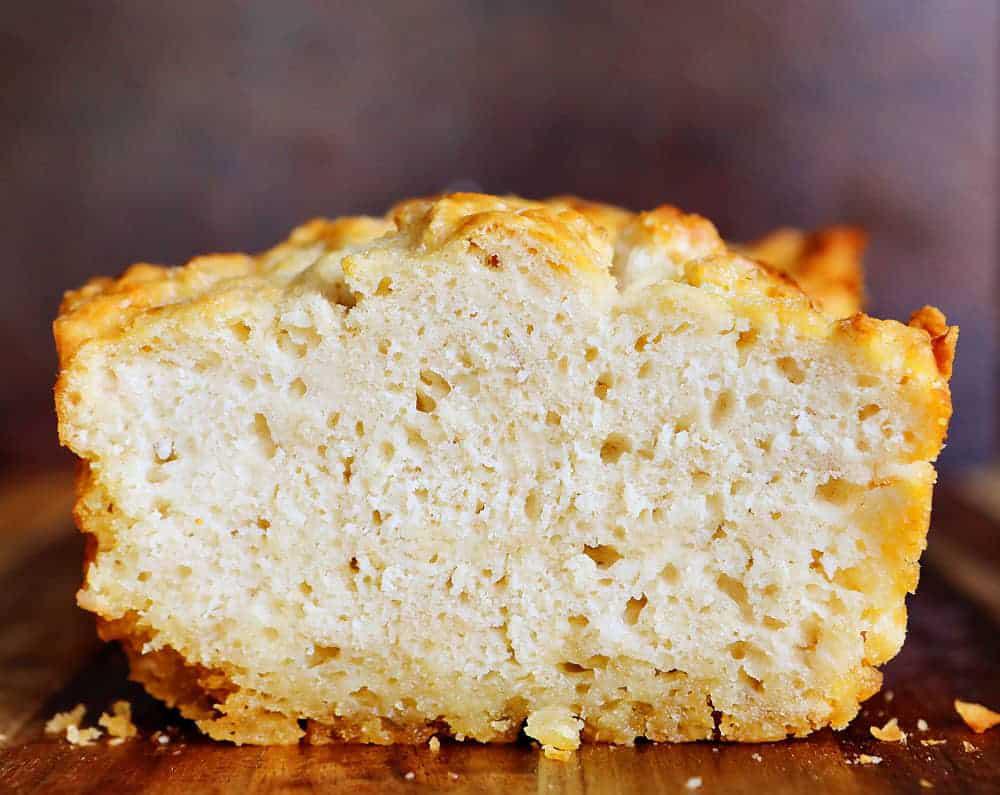 I made no less than 10 different beer bread recipes before coming back to the basics. This recipe is based on one my grandma made in the 1970's using Schmidt's beer. No one ever told me it had beer in it, and I certainly never asked! But I do remember it having the most amazing unique flavor that I never experienced at home. I always thought grandma just had a special magic when it came to baking. (Truth is, I think she does!)
One amazing thing about beer bread is that it can be changed depending on the season. Try a pumpkin, apple, or honey flavored beer for an extra flavor punch. I haven't tried Guinness Beer Bread, but I hear that it is fabulous.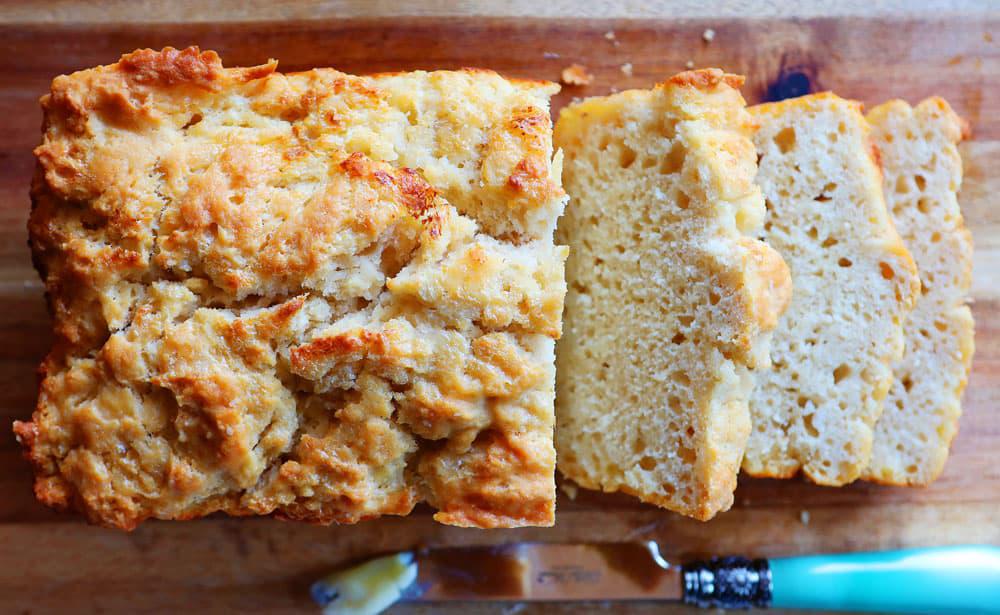 Beer Bread Recipe
When I visited grandma and she generously shared her recipe with me, we talked about why she did it the way she did. She actually used lard instead of butter as it was more economical and readily available. (They didn't have much and always made use of what they had!) She would place the lard on top of the beer bread before placing in the oven. I found that fascinating and asked her why… she said 'because that's how my mom did it'. Fair enough!
I also listed salt as optional in this recipe. We love a saltier bread and even sprinkled some sea salt over the finished product! You can certainly omit the salt if you prefer.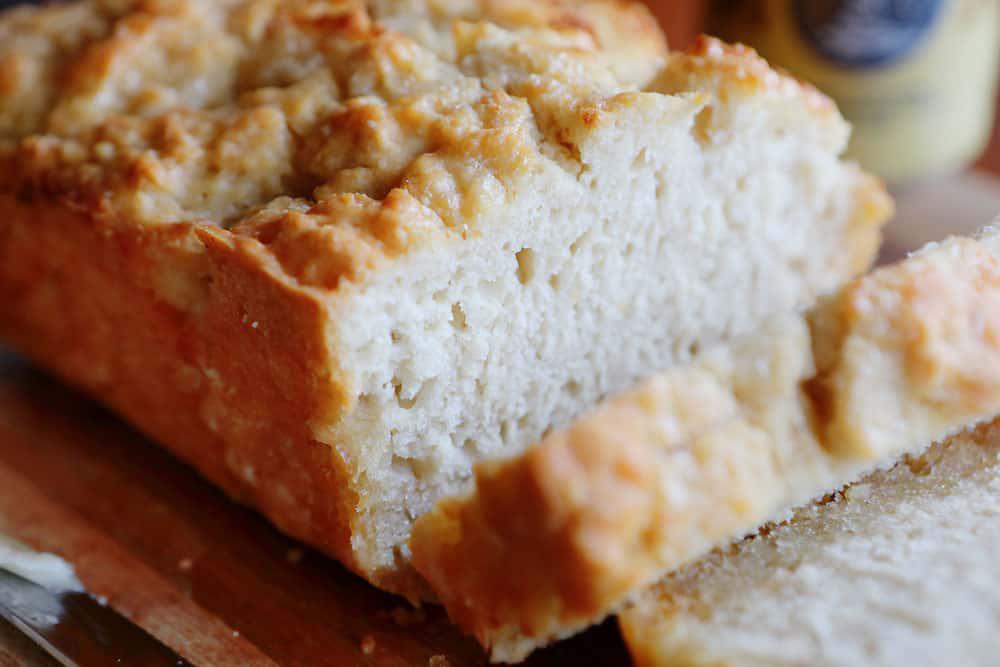 Sugar in Beer Bread
Grandma also didn't add sugar to hers, so I am leaving that out of the recipe. However, it is an important ingredient depending on the beer you use.
I started with an IPA beer and found that no additional sugar was needed. The power of that beer was enough to properly flavor the beer bread. I eventually ended up using a Miller Lite in the recipe (as we like to drink the IPA too and were out!) and didn't think the bread was as flavorful. So I added 2 tablespoons of granulated sugar and LOVED how it turned out. You can add anywhere from 1-4 tablespoons in this beer bread recipe, and it should be done according to your tastes.
If you prefer a sweeter beer bread but don't want to use granulated sugar, you can use honey! About 1/4 cup works best in the recipe I have shared below.
Butter and Beer Bread
Butter matters! After making a zillion beer bread recipes I found that I liked a SALTED butter and that it should be as organic as possible. Dark in color and rich in flavor. If I was going to try and replicate what lard did in grandma's recipe, I needed to make sure that I was using a high-quality butter! One of our favorites was an Amish salted butter that I found at the co-op. I also loved Challenge Butter!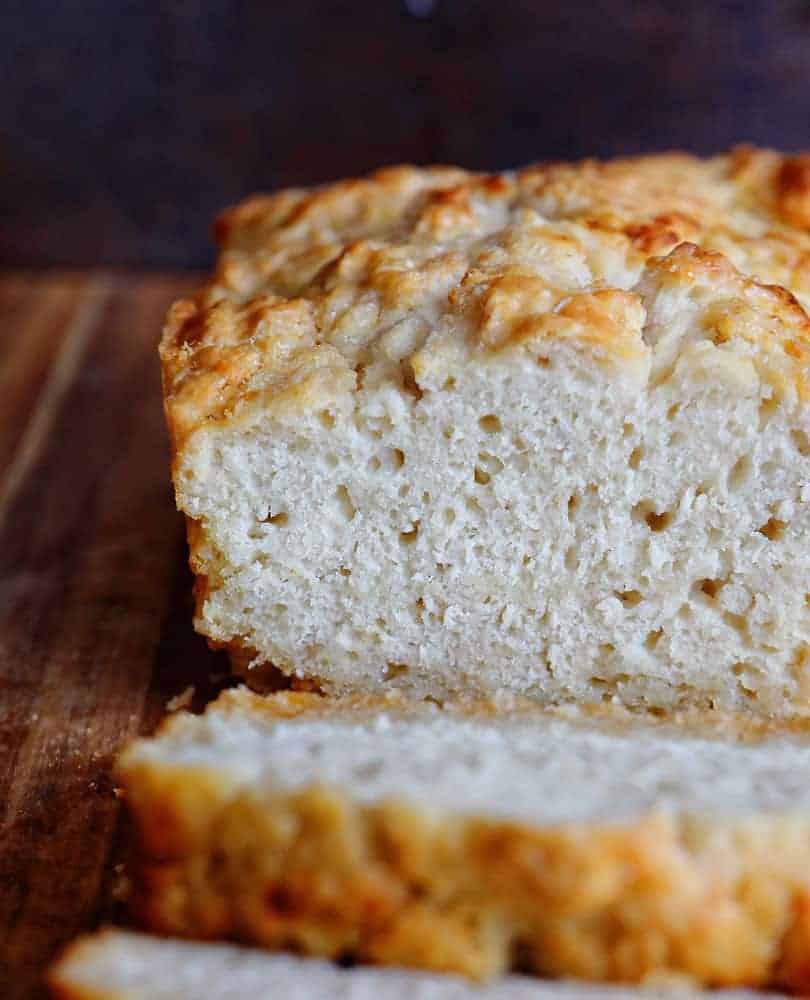 Flavor Options for Beer Bread
As you will see from my base recipe, beer bread is one of those breads that can be easily customized to fit your tastes.
Beer Cheese Bread:
Add 1 to 1 1/4 cups cheddar cheese to the batter. I like to reserve about 1/4 cup to spread over the top of the bread before baking. You can also add 1 teaspoon of garlic powder and dried rosemary to kick it up a notch!
Apple Beer Bread:
Add 1 teaspoon cinnamon, 1 cup of chopped apple, and use an apple-flavored beer. Try adding apple butter for over-the-top amazing flavor!
Chocolate Beer Bread:
Add in 1/2 cup mini chocolate chips (plus more for sprinkling over the top), use 1/4 cup of brown sugar, and a chocolate flavored beer.
The sky is the limit when it comes to making beer bread! What is your favorite flavor?
Here is a video on how I made this Beer Bread. I used Coors for this version.
Ingredients
3 cups (330g) sifted all-purpose flour
1 tablespoon baking powder
2 teaspoons salt optional
1 can (12-ounces) beer room temperature
½ cup (1 stick, 113g) salted OR unsalted butter, cold
Instructions
Preheat the oven to 375°F. Prepare a 9×5 glass loaf pan with butter or pan-release. (If you don't have glass try and use a light colored pan as a dark pan might bake the edges too quickly.)
In a bowl add the flour, baking powder, and salt. (add the sugar here if using)
Whisk dry ingredients together.
Pour in the beer and stir all ingredients until just combined and there are no dry parts. The batter will be thick.
Pour the batter into your prepared loaf pan and smooth out if needed.
Cut the butter into slices (roughly tablespoon size) and place on top of the raw batter evenly.
Bake for 35-45 minutes or until the bread is golden brown on top. There should be about 1/2 inch of melted butter bubbling at the bottom. (I start checking at 35 minutes and my bread is usually done. I have a convection oven.)
Allow to cool on the counter for about 5 minutes or until all of the butter in the bottom of the pan is soaked back up into the bread.