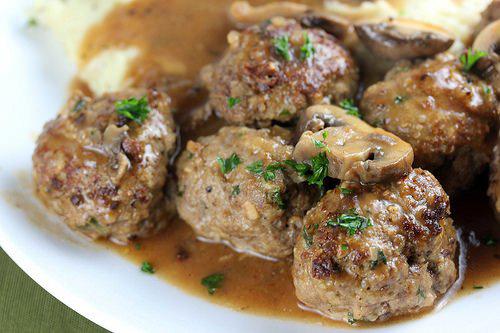 Ingredients
1 lb ground pork
1 large onion chopped
3 tbsp chopped dill
2 eggs
¾ cup breadcrumbs
¼ cup buttermilk
hot sauce to taste
salt and pepper to taste
½ lb brown mushrooms
4 tbsp butter
¼ cup white wine
½ cup heavy cream
2 cups beef broth
3 tbsp all purpose flour
Instructions
Preheat oven to 375 F degrees.
Chop the onion and the dill. In a big bowl, add the ground pork, half the onion and half the dill. Add 2 eggs, the breadcrumbs, hot sauce, salt and pepper and buttermilk. Mix well. Shape into meatballs and fry the meatballs about 3 min per side.
Place the meatballs on a cookie tray and bake for 30 minutes.
In a sauce pan melt the butter. Add the onion and saute. Add the mushrooms and saute for 10 minutes.
Add the flour and stir well then add the beef broth and stir. Add the heavy cream, wine, salt and pepper. Cook for another 10 minutes.
Add the meatballs to the mushroom sauce and dill.
Cook for another 2 minutes, then it's ready to serve.