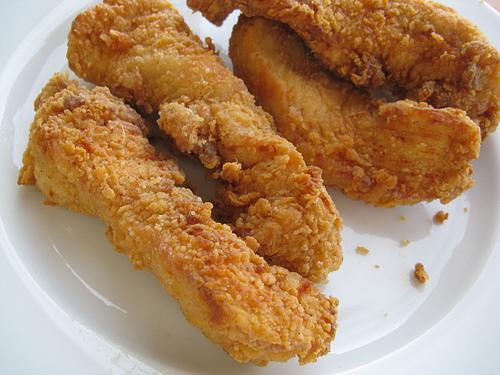 Ingredients :
1.25 lbs. chicken breast tenderloins
1/2 C. buttermilk
1/8 C. dill pickle juice
1 C. all purpose flour
1 tsp. my house seasoning (equal parts garlic powder, onion powder and pepper…combine and store in an airtight container)
1 tsp. smoked paprika
1 tsp. cayenne pepper
1/2 tsp. ground turmeric
2 large eggs
1/4 C. water
2 T. hot sauce
veg. oil for frying
Instructions :
Marinate the chicken tenders in the buttermilk and pickle juice in a bowl or ziploc bag in the fridge for a minimum of 1 hour.
Put the flour and seasonings in a ziploc bag and combine well.
In a large bowl, whisk together the eggs, water and hot sauce.
When you are ready to fry the chicken tenders, heat 1/2″ oil in a 12″ iron skillet to 350 degrees.
Remove the chicken from the fridge and using tongs, transfer the marinated chicken to the bag with the flour, shake to coat.
Use the tongs to transfer the chicken into the bowl with the egg mixture.
Coat each piece in the wash and return it to the baggie. Once they are all in the bag, shake to coat well with the remaining flour.
Working in batches, fry the chicken tenders until golden brown (approx. 8-10 minutes, turning as needed).
Drain on a paper towel lined plate.
ENJOY!