So apparently this is also called a Watergate Salad. I hadn't heard that name until I became a recipe writer and was curious to know more. This recipe has been around for more years than I have been alive and consumed by many!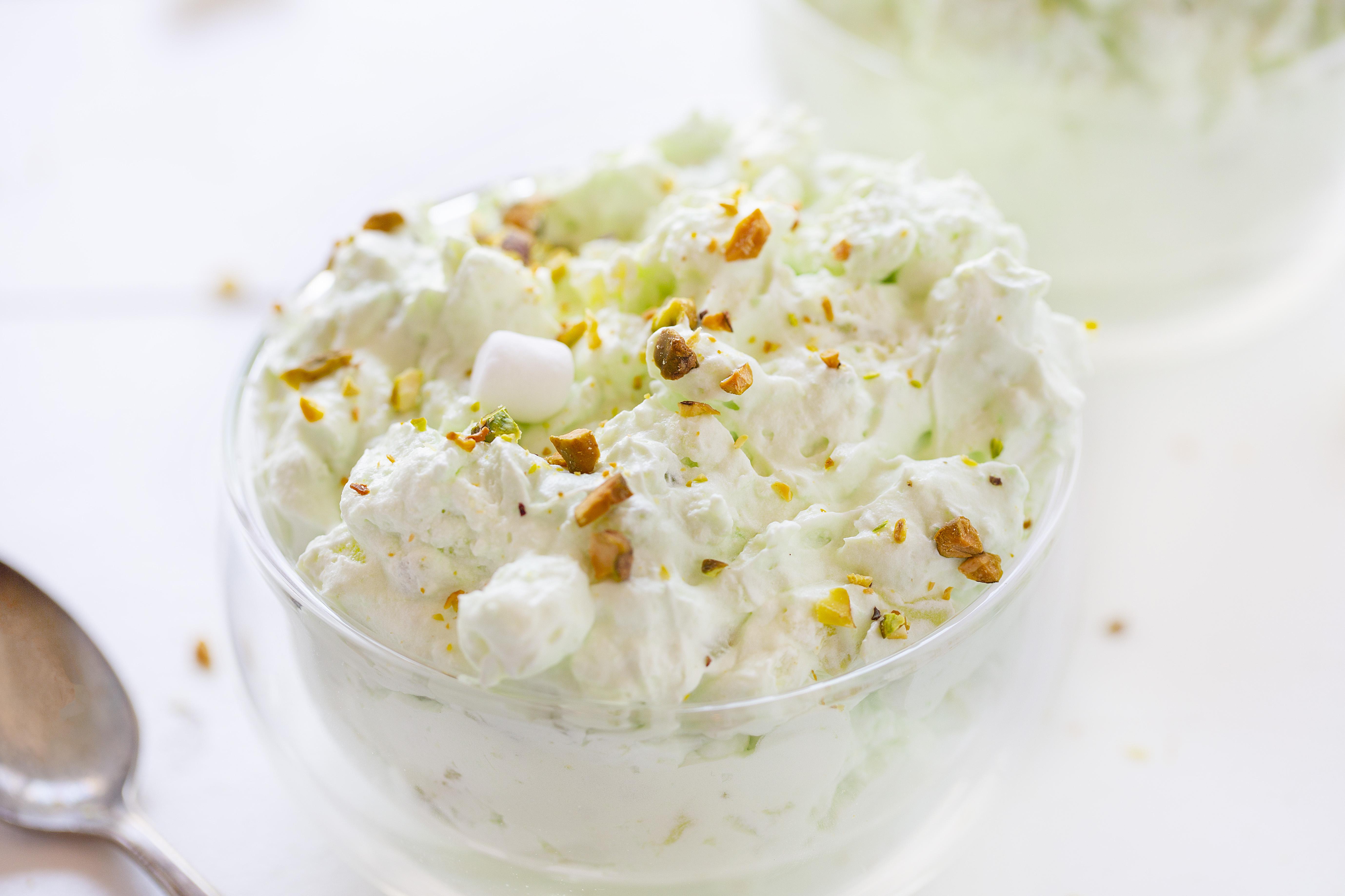 What is a Fluff recipe?
Typically it is an instant pudding base with whipped topping added to create a lighter and "fluffier" texture. This recipe is a pistachio pudding base, whipped topping, and the fruit of choice, pineapple.
There are a few variations like the number of boxes of pudding to use, the garnish (some, like my grandma, always put a cherry on top!), and the ingredients. Some folks add coconut, some add mandarin oranges, some add chopped walnut to the salad, some make homemade whipped topping instead of store-bought. It seems that no matter what variation you choose, this dessert is a crowd pleaser!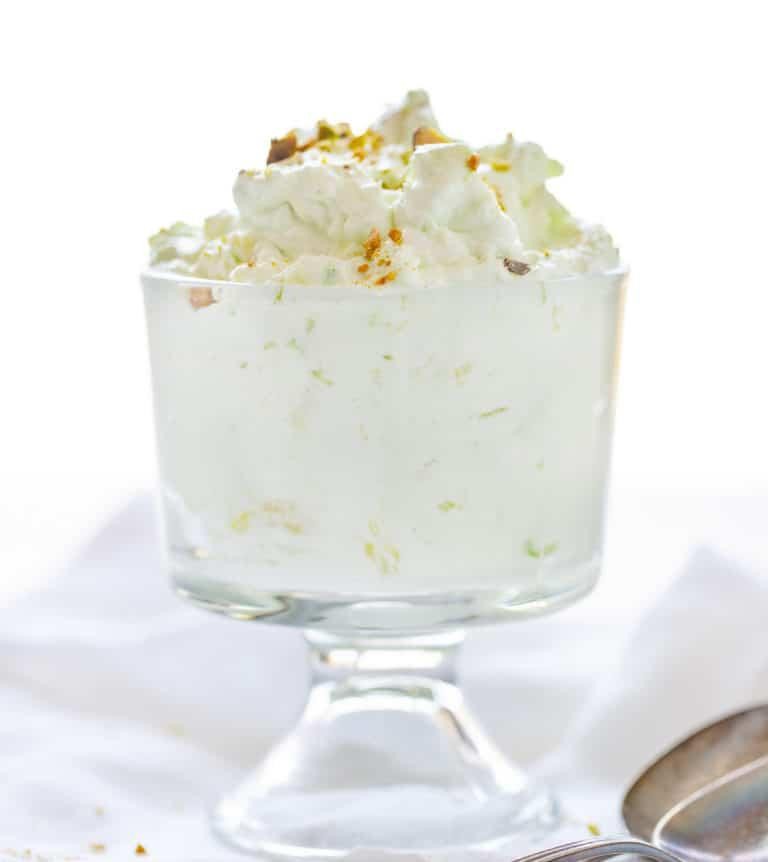 How to Make Pistachio Fluff
When I am preparing dishes for a get together I love having one or two recipes that are easy, can be made ahead, and only require a few simple ingredients.
whipped topping
instant pistachio pudding
mini marshmallows
crushed pineapple
chopped nuts (optional)
Simply add all the ingredients together (except the chopped nuts) and stir. So simple anyone can do it and so yummy no one will care that it only took 5 minutes to make!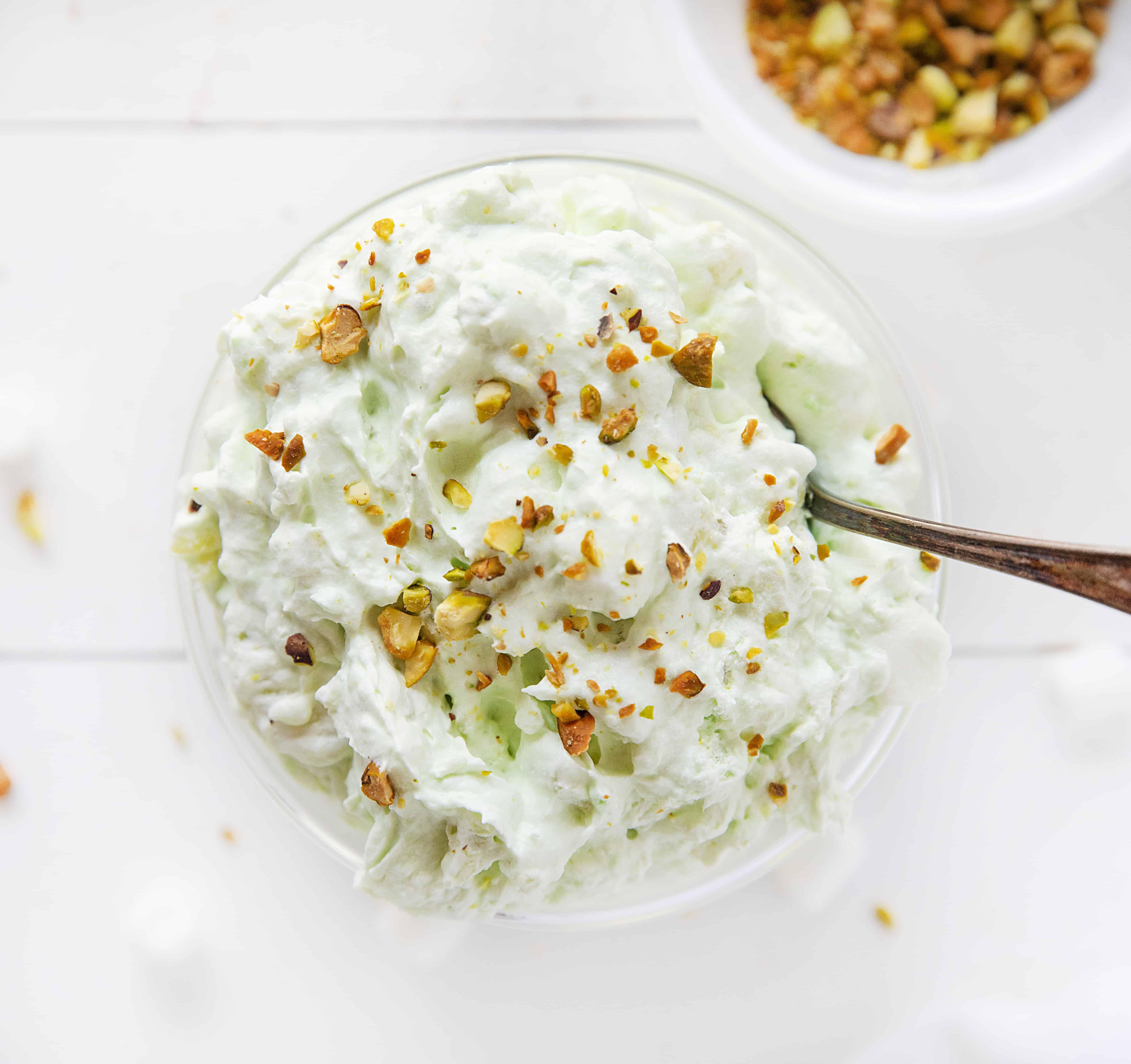 How to Serve Pistachio Fluff
When attending an event I make it in a big bowl and bring a big spoon. (Who doesn't love a giant helping of pistachio fluff?) But when at home I like to serve it in individual bowls.
It is recommended that you serve pistachio fluff cold, but my experiences lead me in a different direction. I can remember many a neighborhood get together where it was served next to jello, potato salad, and cheese balls. It has usually sat out for a bit before we got to dive in which meant my fondest memories are of eating it warm. Not saying this is the way to serve it, just that it is how I remember eating it and therefore how I like it today.
INGREDIENTS
16 ounces whipped topping
1 package (3.4 ounce) instant pistachio pudding mix
2 cups miniature marshmallows
1 can (20 ounce) crushed pineapple, do not drain
1/2 cup chopped pistachios or walnuts
Additional whipped topping (optional and for garnish)
INSTRUCTIONS
In a large bowl combine the whipped topping, pistachio pudding, marshmallows, and pineapple.
Cover the bowl with plastic wrap and chill for at least an hour. (Can be chilled up to 48 hours prior to serving.)
When you are ready to serve, top with additional whipped topping and sprinkle with chopped pistachio. (If you are like my grandma, you add one maraschino cherry on top!)