Crockpot Tortellini Soup is a creamy and tasty soup filled with Italian sausage, vegetables, and cheese tortellini that is hearty enough to be a meal.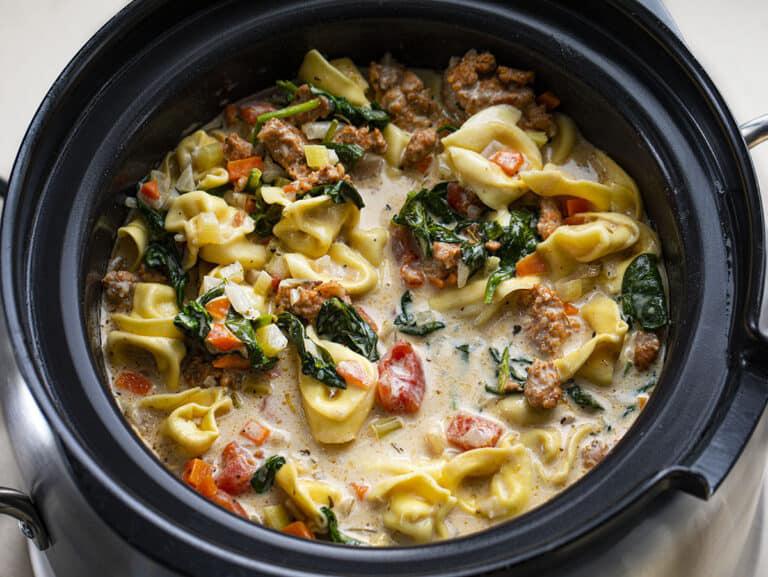 CROCKPOT TORTELLINI SOUP
With all the varieties of tortellini, cheese is still my favorite. This recipe takes tortellini and spices it up a bit with a creamy sauce, added veggies, and Italian sausage. Plus, after browning the sausage, all the work is done by the slow cooker. So, you can walk away, get some things done, and come home to a hearty soup.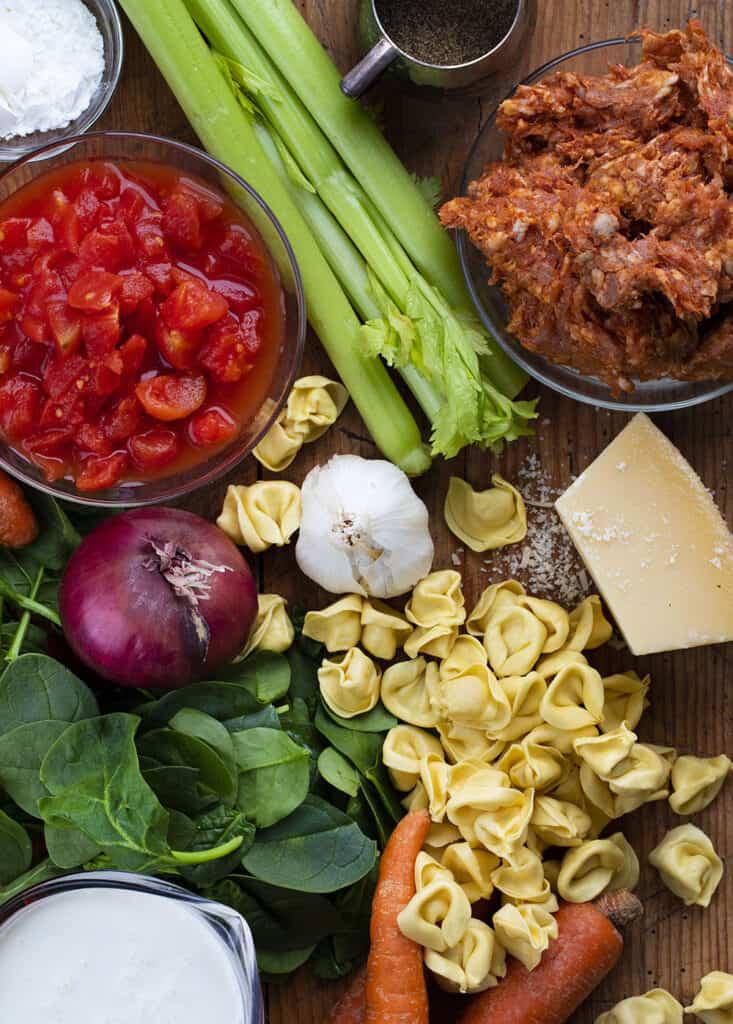 CROCKPOT TORTELLINI SOUP INGREDIENTS
Italian Sausage: I love the flavor of Italian sausage in this soup. But, you could also use ground beef, ground turkey, or even chicken (like rotisserie chicken).
Chicken Stock: Here is how to make your own chicken stock to have on hand when needed.
Cornstarch: The cornstarch and water mixture is a slurry that is added to the soup to thicken it up a bit.
Tortellini: As I mentioned, I love plain old cheese tortellini. But, you could definitely try some other flavors, like spinach and cheese tortellini, mushroom tortellini, or Italian sausage tortellini, just to name a few.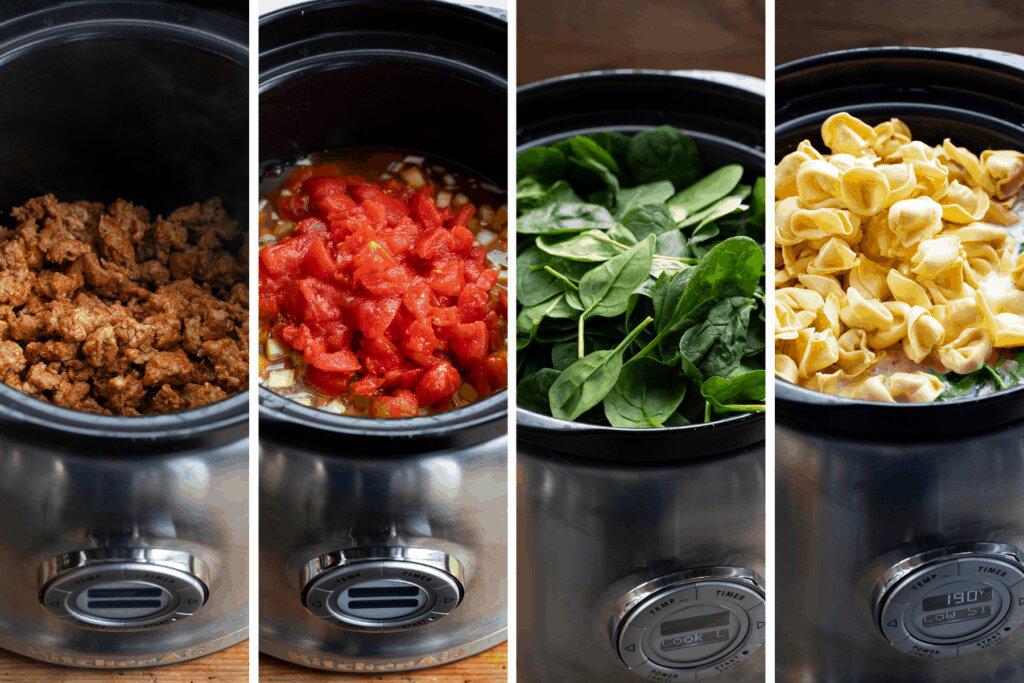 HOW TO MAKE CROCKPOT TORTELLINI SOUP
Yes, this soup is made in a crockpot, but you do need to brown the Italian sausage first (which only takes a few minutes). To brown the sausage, heat up the oil in a large skillet. Add the ground sausage to the hot skillet to cook it for about 5 minutes, and then drain the grease. Once the sausage is browned, the slow cooker will do the rest.
Add the browned sausage to the slow cooker. Top it with the onion, garlic, carrots, celery, tomatoes, chicken stock, heavy cream, Italian seasoning, salt, pepper, and parmesan cheese. In a small bowl, mix together the corn starch and water, adding that to the crockpot as well. Cover and cook on low for 3-4 hours.
After the soup has cooked on low for a few hours, add the spinach and tortellini to the slow cooker and cook an additional 7 or 8 minutes. The tortellini should be cooked through and the spinach will be wilted. Serve warm with a side of homemade breadsticks.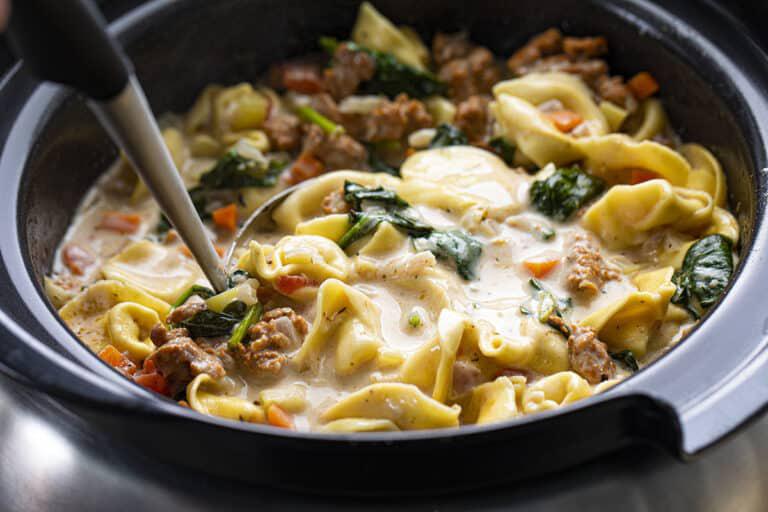 HOW TO SERVE HOMEMADE SOUP
Soups have become more and more popular, and not just during the cooler months. Soup may not seem like the main course, but adding the Italian sausage to this Crockpot Tortellini Soup gives it the protein boost that will help fill up you and your guests. There are some ways you can spruce up your presentation when serving soup as the main meal. Here are a few pointers when serving soups:
Bring out the soup in a fancy pot!
Be creative with your soup bowls. Serve it in a tureen, which you could find at a thrift store or flea market. Don't worry about matching bowls and saucers–the variety of shapes and colors brings some pizazz to your dinner table.
Have appetizers on the table to share. I love my Bacon Stuffed Mushrooms!
Have dessert ready! My Chocolate Chip Caramel Bars are a perfect option for an after-dinner treat.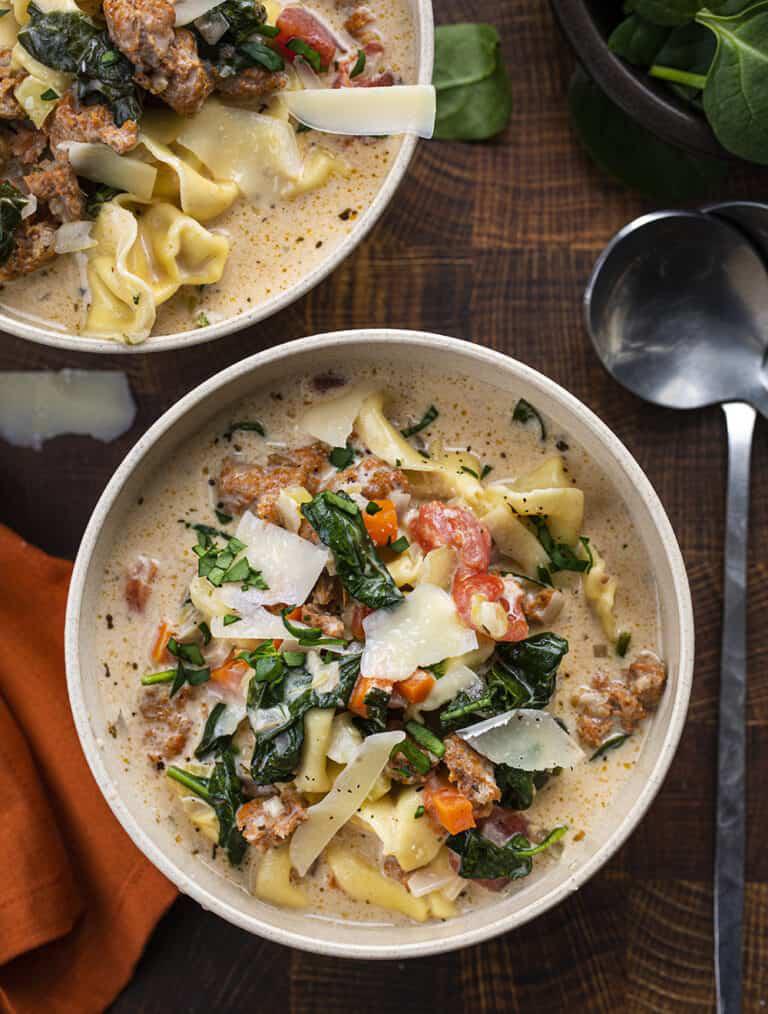 HOW TO FREEZE CROCKPOT TORTELLINI SOUP
This does make a large batch of soup, so if you can't eat it within a couple of days, freeze it for later. To freeze the soup, let it cool down close to room temperature. Use a ladle to transfer the soup into freezer-safe plastic containers, leaving a little room at the top of each container for expansion. Seal the containers well, label them, and store them in the freezer for up to 3 months.
When ready to enjoy, let the soup thaw in the refrigerator for at least 8 hours. Then, heat it up on the stovetop or in the microwave. Yum!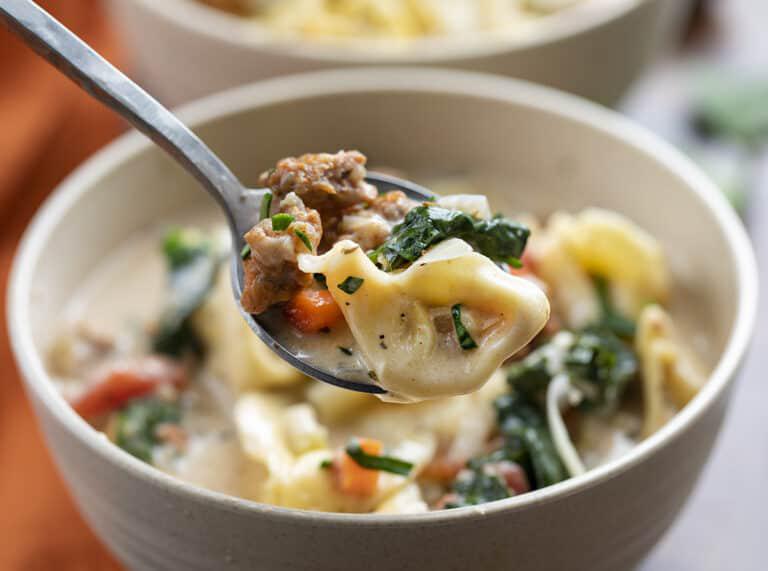 Ingredients
1 tablespoon extra virgin olive oil
1½ pounds ground Italian sausage
1 red onion, chopped (approximately 1½ cups)
3 garlic cloves, minced (approximately 1½ teaspoons)
1 large carrot, diced (approximately 1 cup)
1 cup celery, diced
1 can (14.5 ounces) diced tomatoes, drained
4 cups chicken stock
2 cups heavy cream
2 teaspoons Italian seasoning
1 teaspoon salt
½ teaspoon pepper
½ cup parmesan cheese, shredded
3 tablespoons cornstarch
3 tablespoons water
5 ounces fresh spinach, chopped
1 package (20 ounces) cheese tortellini
Instructions
In a large skillet, over medium heat, add oil.
Once hot, add ground sausage and cook until browned, breaking it up in the pan as you go (about 5 minutes). Drain grease.
Add the sausage to the crockpot and top with onion, garlic, carrots, celery, tomatoes, chicken stock, heavy cream, Italian seasoning, salt, pepper, and parmesan cheese.
In a small bowl, mix together cornstarch and water. Mix into the soup. Cook 3-4 hours on low.
When ready, add the spinach and the tortellini and cook for 7-8 minutes, or until cooked through and the spinach is wilted. Serve immediately.