When I was younger I grew up with peppermint meltaway cookies as one of my favorite cookies. So, naturally, grown-up me needed to see if I could replicate that with another flavor. I love the soft buttery texture of meltaway cookies, so I made my own version using lemon (another favorite of mine!). Since this is a recipe that I hadn't made before, I needed to do some pretty extensive testing. I made batch after batch, testing every factor I could and trying to determine what I could improve.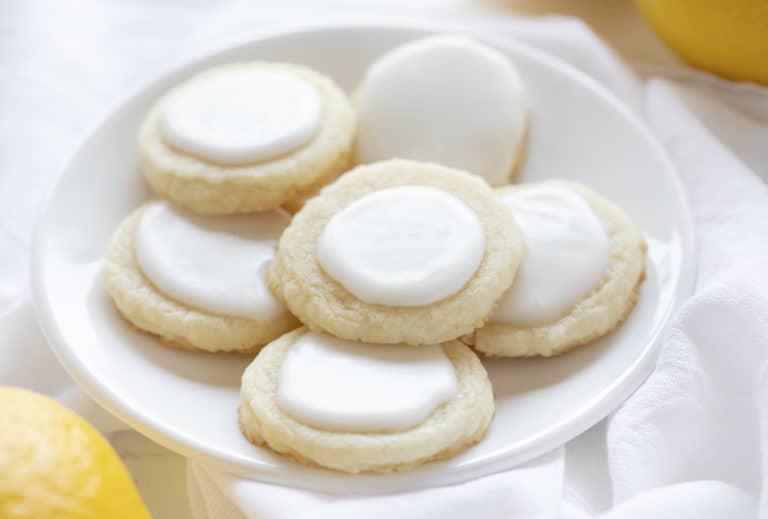 How to Make Lemon Meltaway Cookies
As I always say, every recipe is only as good as your ingredients. So always make sure you are buying quality products when you bake. I broke this recipe down into two sections, The Cookies, and the Glaze.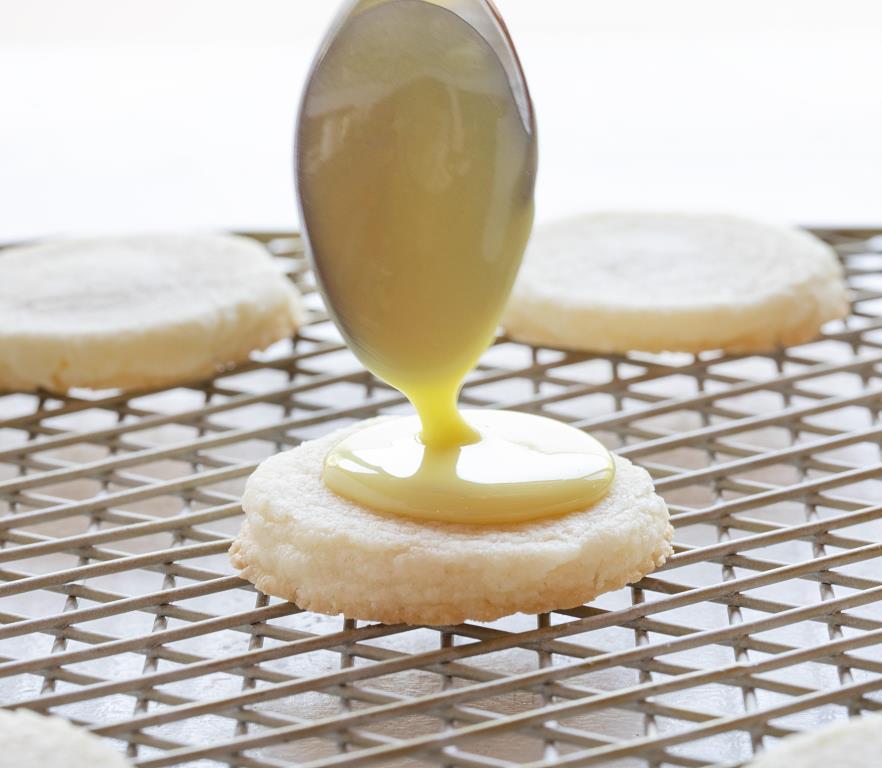 How to Make a Meltaway Cookie
For the cookies you will need:
Room temperature, unsalted butter
Cornstarch
Confectioners Sugar
Lemon Extract
All-Purpose Flour
I use a stand mixer at home, but you can always use a hand mixer as well. In the bowl, add the butter and cornstarch and mix until they are well combined. They should be a light yellow color. Turn off the mixer and add in the confectioner's sugar. Turn the mixer back on low and then add in the lemon extract and mix until it is well combined. Turn off the mixer again and this time, add in the flour. Mix on low until the dough starts to pull away from the sides. I like to use a 1 tablespoon ice cream scoop for the next part because it helps keep everything uniform in size. Simply scoop out and roll into a smooth ball and place on a parchment-lined baking sheet. While these are baking, you can make the glaze.
When the cookies come out of the oven, lightly press down on them with a flat surface (I use the base of a glass). This creates a level surface for the glaze. You will want these to cool completely before you add the glaze.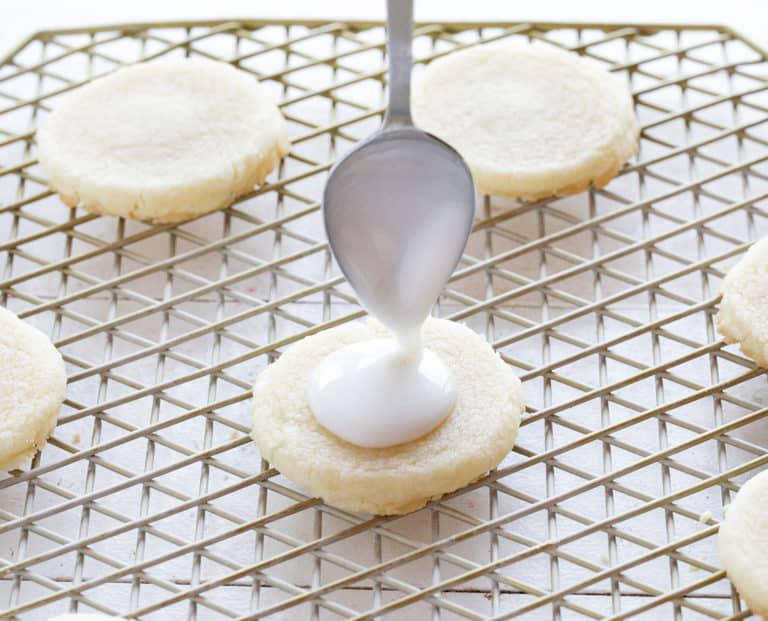 How to Make Lemon Meltaway Glaze
You only need ONE glaze for the recipe. The two versions below are just options… feel free to make all your cookies with white or all your cookies with yellow glaze. I have simply shared two versions of aesthetics.
The glaze for these lemon meltaway cookies took some time to perfect. I wanted it to have a subtle lemon taste and not be too overpowering. For the glaze you will need:
confectioners sugar
whole milk
lemon extract
yellow food coloring (optional)
I made the glaze in two batches, one that was color and one that wasn't. If you want this all with food coloring, you can adjust as necessary. For a mixed batch though, mix together 1 cup of confectioners sugar, 3 teaspoons of milk, 1-2 drops off yellow food coloring, and 1 teaspoon lemon extract (start small with the lemon extract and work your way up for more flavor). Mix together and set aside. In a second bowl, do the exact same thing but do not put in any yellow food coloring.
Make sure the cookies are completely cooled and then drizzle the glaze on. We used a spoon, but you can also use a piping bag to create a fun design! The glaze will harden enough to stack cookies in about 12 hours, 24 hours is best.
If you don't have lemon extract, you can use fresh lemon juice. Here is a simple equivalency:
1 tablespoon fresh lemon juice = 1/2 teaspoon lemon extract
1 teaspoon lemon zest = 1 teaspoon lemon extract
I have NOT tested these cookies with fresh lemon juice and zest, so cannot guarantee the effectiveness.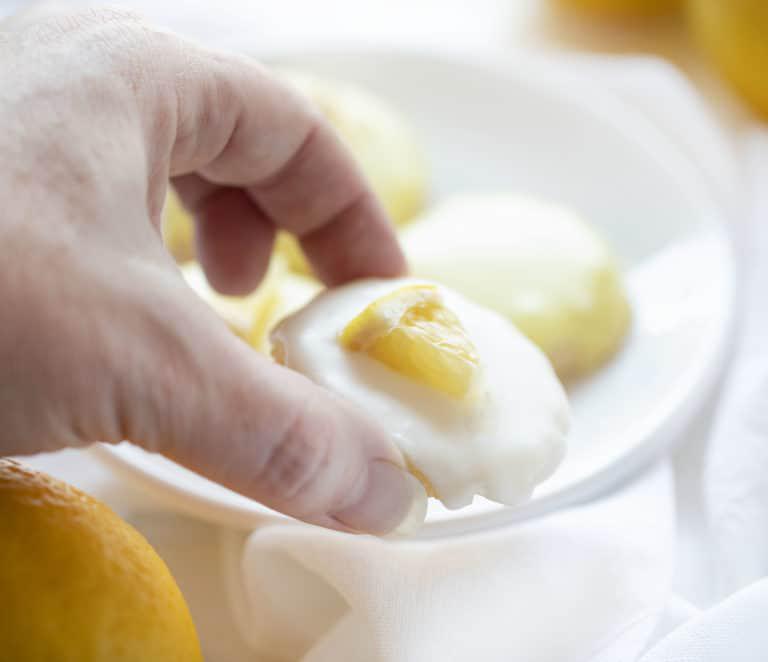 And if you want an extra tart twist, try adding a slice of lemon on top of the glaze about 10 minutes after the glaze has been poured on. If you add it right away, it could slide around as the glaze moves and settles. My kids picked this cookie as it looks most appetizing, but ended up just picking the lemon piece off.
INGREDIENTS
COOKIES
1 cup (2 sticks or 226g) unsalted butter, room temperature
3/4 cup (96g) cornstarch
3/4 cup (96g) confectioners sugar
2 teaspoons lemon extract
1 cup (128g) all-purpose flour
GLAZE
2 cups confectioners sugar, divided
6 -8 teaspoons whole milk, divided
2 teaspoons lemon extract
yellow food color, optional
INSTRUCTIONS
COOKIES
Preheat oven to 350°F.
In the bowl of a stand mixer or using a hand-held mixer, mix the butter and cornstarch until well combined and lighter in color.
Turn mixer off and add in confectioners sugar.
With the mixer on low, and the lemon extract and mix until ingredients are fully incorporated.
Turn mixer off and add flour. With the mixer on low to medium-low, mix until the dough comes together (pulls away from sides of the bowl).
Using a 1 tablespoon cookie scoop, (you can also use a tablespoon measuring spoon) remove about a tablespoon of dough. Place on parchment lined cookie sheet at least 2 inches apart. (for a standard cookie sheet you can fit at least 8 cookies, a larger cookie sheet can hold about 14)
Once the cookie sheet is full, gently roll each between your hands until it is a smooth ball.
Bake 8-10 minutes.
Right out of the oven take a glass with a flat bottom (that is smaller than the cookie) and gently press into the cookie.
Allow cookies to cool for about 5 minutes and then move to a cooling rack. Make sure cookies are completely cool before adding glaze.
GLAZE
In a medium bowl add 1 cup confectioners sugar, 3 teaspoons of milk, and 1 teaspoon lemon extract. It's best to start with 1 teaspoon of the extract and sample as you go. (Some prefer less, some folks prefer more intense flavor.)
Stir until smooth. Place in a piping bag and seal with a rubber band.
In another bowl add 1 cup confections sugar, 3 teaspoons milk, and 1 drop of yellow food color. Stir until smooth.