The Chocolate Cake with Chocolate Ganache, Kahlua Whipped Cream and Oreo is the definition of indulgent baking! Welcome to a jazzed up Mississippi Mud Cake!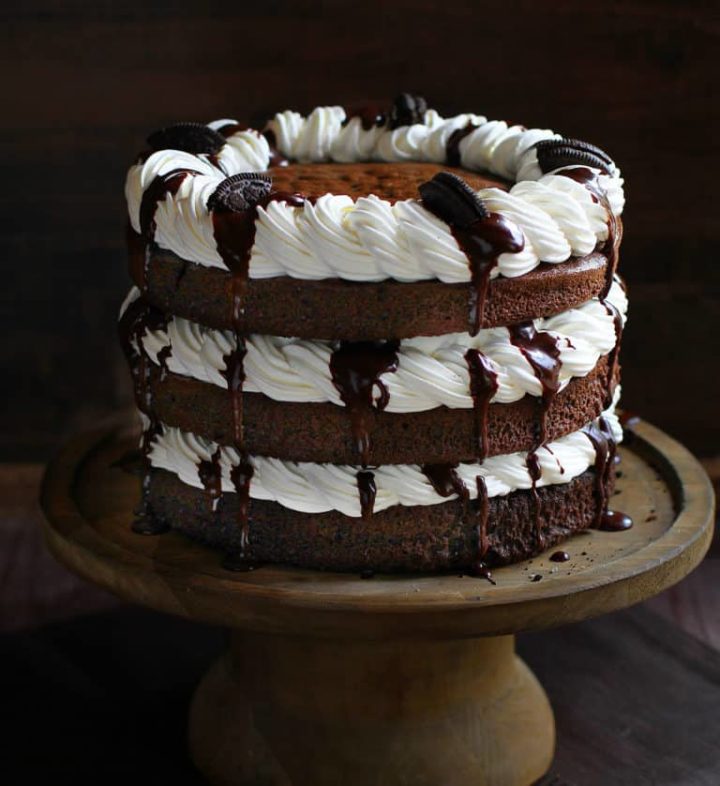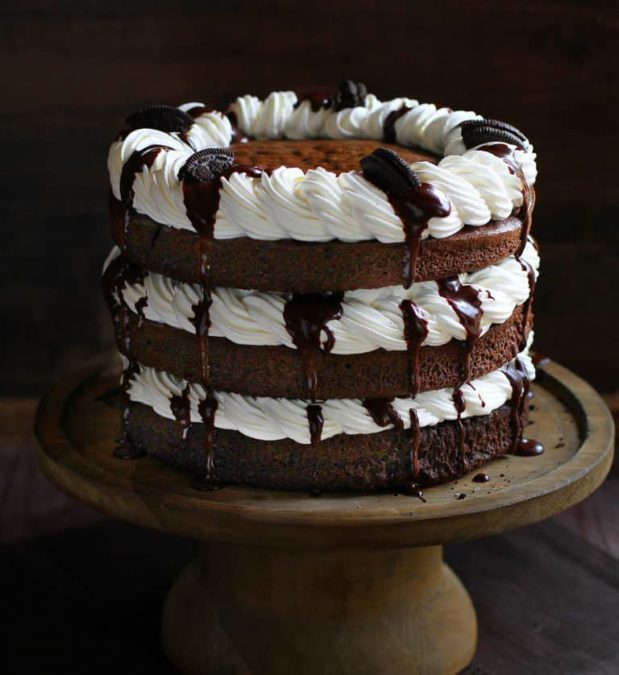 Mississippi Mud Cake
My friend Jocelyn has written a lovely book called Grandbaby Cakes and this cake is one of the masterpieces in it!
Sharing it with you today is pure joy for me as I consider Jocelyn to be like a sister. She is smart, sassy, hilarious, thoughtful, kind, and talented beyond words. If I were a bettin' gal I would put money on FAME in Jocelyn's future… big things I know!
This amazingly creative cake is layers of decadently rich chocolate, alcohol-infused whipped cream, and the best ganache ever. I added some Oreo's because I loved the extra texture they added to each glorious bite.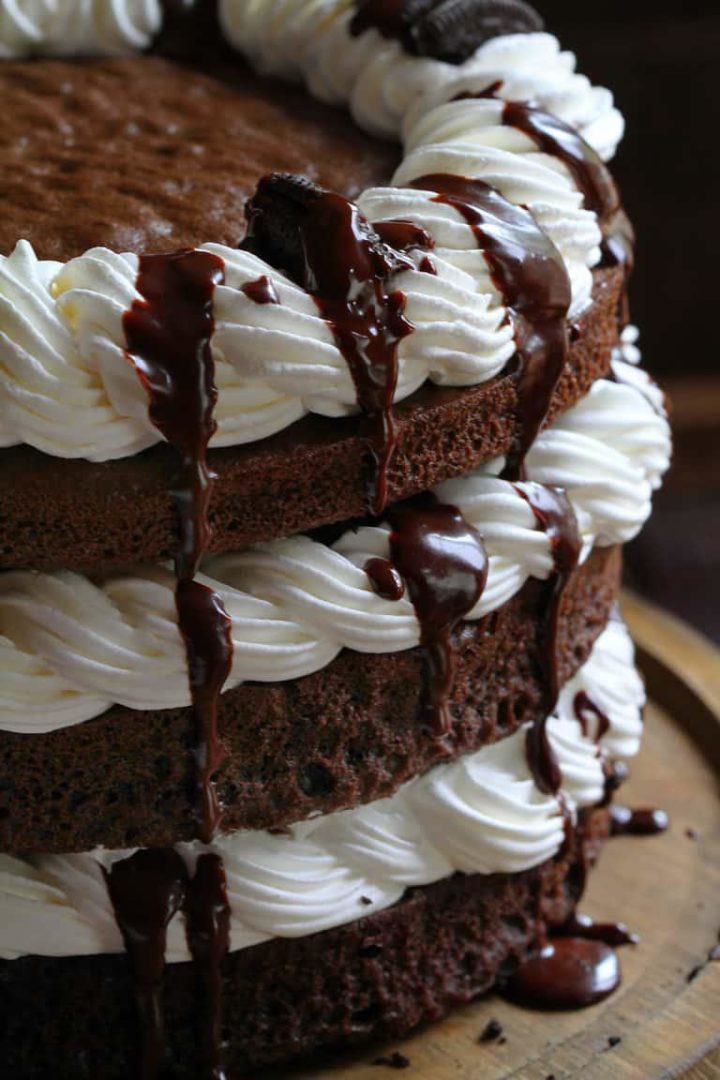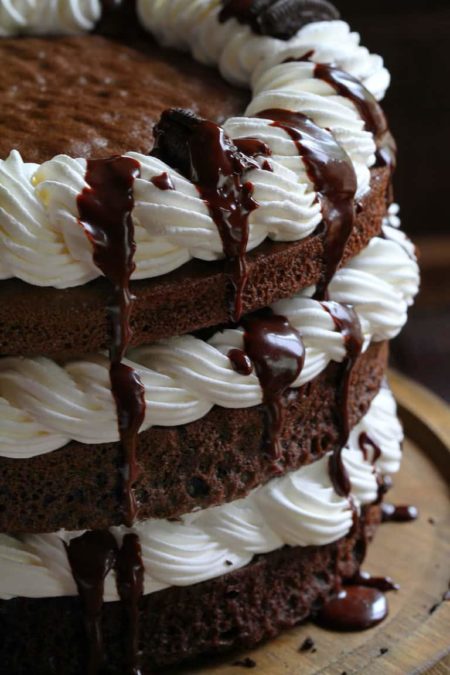 As you can imagine, I just had to add a little twist (ha, see what I did there?) on her wonderfully classic recipe. I added this decorative rope-like design. It was inspired by Miette and her take on the beauty of Naked Cakes as well as inspired by these Elegant White Cupcakes I made last week.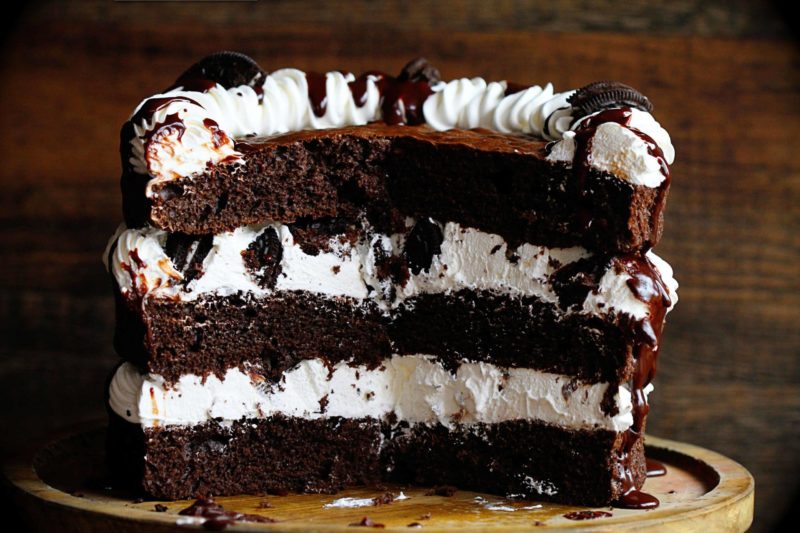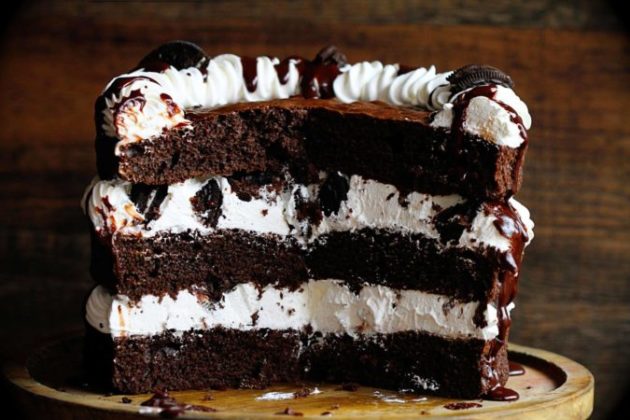 This cake was a blessing to me in more ways that one! Not only was it so good, but I was able to share this delicious cake with my mother-in-law.
My husband has been out of town for a week now (he is bow-hunting and the location they go to has no cell reception so I do not hear from him for a couple of weeks!) and our babysitter went off to college in August. On top of that, I impaled my hand and wasn't able to use it for some time! I have been feeling overwhelmed and exhausted and stressed and did I mention overwhelmed?
Well, on Friday she called and asked if it was ok if she came over and spend the night. Um, yes, yes it would be. Not only was I able to make this glorious cake and photograph it, (without interruption of sweet little ones underfoot) but we were able to have it for dessert! It was a lovely time talking and relaxing and just enjoying each other's company. I am so thankful for my MIL and for Jocelyn's amazing recipe!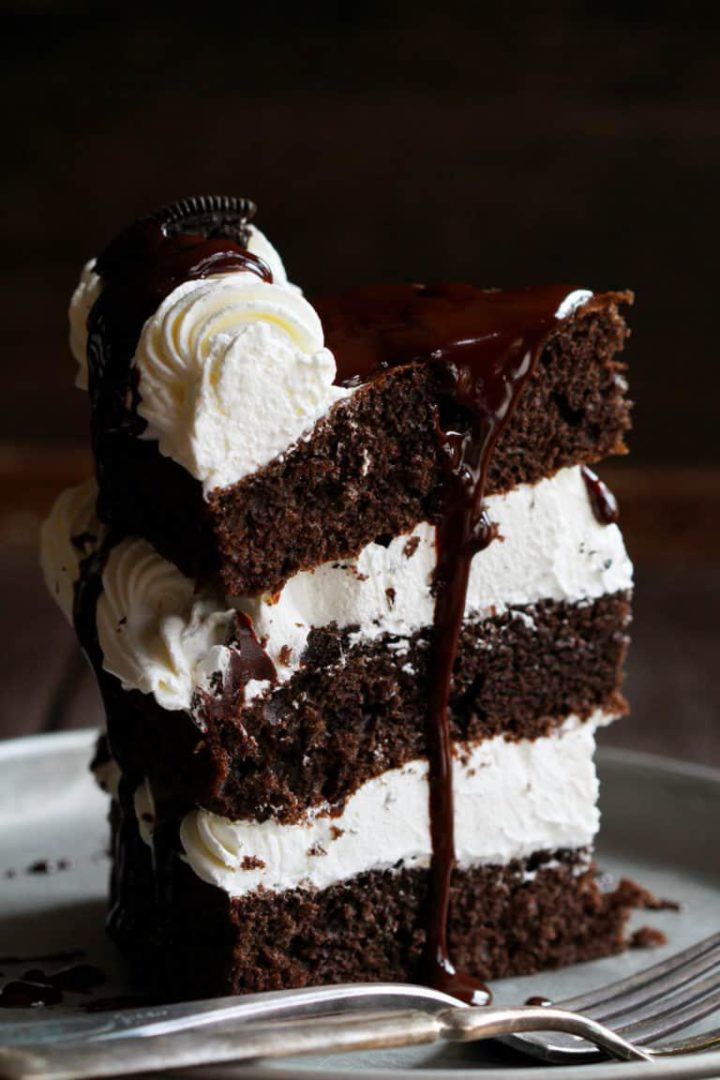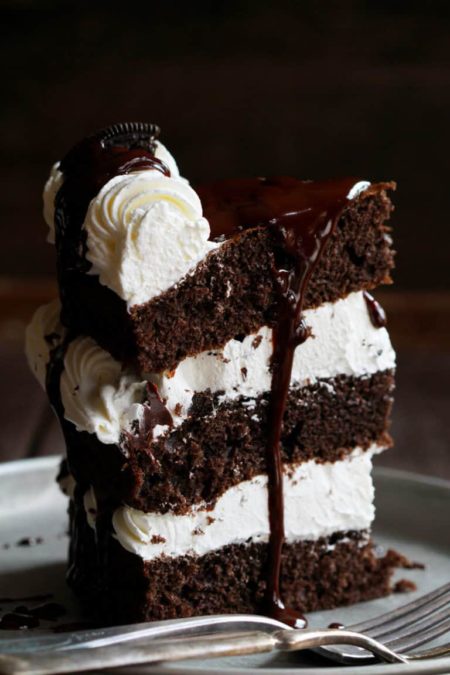 Quick tips on how to build a layer cake when using Whipped Cream:
Use a dowel. Or better yet, use a plastic straw. I talk about that in detail here, but basically, you just insert a straw into the cake to rest the layers on.
Add a bit of meringue powder to your homemade whipped cream. This helps to create a more sturdy whipped cream.
Chill between layers. Try freezing for 15 minutes before adding the next layer of cake on top. If using this method make sure you serve the cake very cold!
INGREDIENTS
CAKE
2 cups granulated sugar
2 large eggs room temperature
1 cup hot water
1/2 cup unsweetened cocoa
1 tsp. instant coffee
1 tsp. salt
2 1/2 cups all-purpose flour sifted
2 tsp. baking soda
1 tsp. baking powder
1 cup vegetable oil
1 cup buttermilk room temperature
1 tbsp. vanilla extract
KAHLUA WHIPPED CREAM
2 cups heavy cream cold
1/2 c confectioner's sugar
2 tbsp. Bailey Irish Cream liqueur
2 tbsp. Kahlua liqueur
1/2 tsp. cornstarch
GANACHE
6 oz (3/4 cup) dark chocolate chips
1/2 cup heavy cream room temperature
GARNISH
1 cup chopped chocolate sandwich cookies (Oreos)
INSTRUCTIONS
CAKE
Preheat oven to 350 degrees F. Prepare three 9-inch round cake pans with non-stick spray and/or parchment.
In the bowl of stand mixer with whisk attachment, add the granulated sugar and eggs and beat on high for 2-3 minutes.
Meanwhile, combine the hot water, cocoa powder, instant coffee, and salt. With mixer on lowest setting, add to sugar mixture.
With mixer still on low slowly add in flour, baking soda, and baking powder. Let mix to incorporate.
Add in oil, buttermillk, and vanilla extract. Scrape down sides and bottom of bowl as needed. Do not overmix.
Evenly pour batter into prepared pans and bake for 22 to 25 minutes, or until an inserted toothpick is removed clean.
Let cakes cool in pans for 10 minutes, then invert onto a wire rack. Let cakes cool to room temperature or place in fridge until ready to assemble.
KAHLUA WHIPPED CREAM
Place a clean stand mixer bowl with whisk attachment in the fridge for 15 minutes.
Remove bowl from fridge and place on mixer. Add cream and whip on high until soft peaks form.
Reduce mixer speed to low and slowly add in the confectioners' sugar, Irish Cream, Kahlua, and cornstarch.
Once everything is incorporated, turn mixer back to high and whip until stiff peaks form. Transfer to fridge until ready to assemble.
GANACHE
In a medium microwave-safe bowl, combine chocolate chips and heavy cream. Microwave on high for 15 seconds at a time, whisking together with a fork after each interval. Once the chocolate has melted into a shiny, smooth sauce (about 45 seconds total) transfer to the fridge to cool for 15 minutes.