Twice Baked Potato Casserole takes all the flavors of a twice-baked potato, from the sour cream mixture to the bacon and cheese, and bakes it all together in one dish.
TWICE BAKED POTATO CASSEROLE
You don't have to tell me twice to eat this casserole. It starts with the perfectly baked potato. Then, the potato is chopped and mixed with a sour cream mixture, plenty of bacon, and lots of cheese! Casseroles, or hot dishes as we call them in the midwest, are great meals to make and are usually baked in one pan.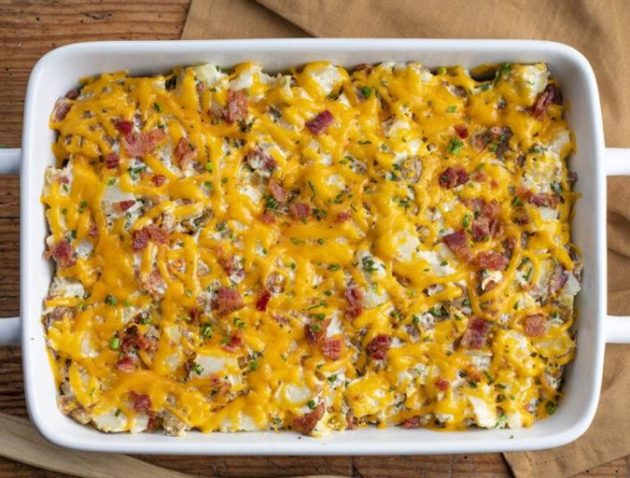 TWICE BAKED POTATO CASSEROLE INGREDIENTS
Potatoes: It's all about the potatoes in this recipe. Most people associate Idaho with the potato, but potatoes were grown as many as 13,000 years ago! They are a great source of Vitamin C, potassium, and fiber. The Russett potato is your best bet when baking potatoes. They are a starchy potato that will bake crispy on the outside and fluffy on the inside.
Cream cheese: When it comes to the cream cheese, you probably already know what I am going to say here–make sure the cream cheese is at room temperature! It does make a difference in the texture. If you forgot to take it out ahead of time, place the cream cheese (still in the foil) in warm water for about 10 minutes.
Bacon: You can cook the bacon a few days in advance. Just lay them flat on a baking sheet and pop them in the oven (cooking times vary but I like to cook mine at 415° F for 18-20 minutes). Once they are cooked through, set them on paper towels to drain. You can crumble them when you are ready to add them to the casserole.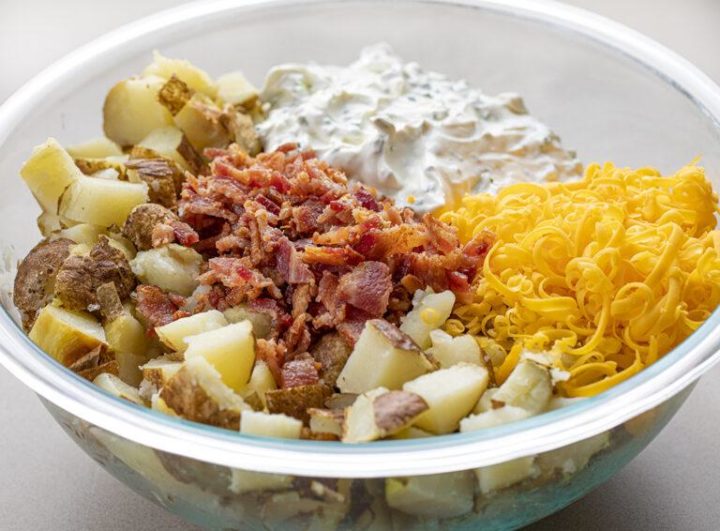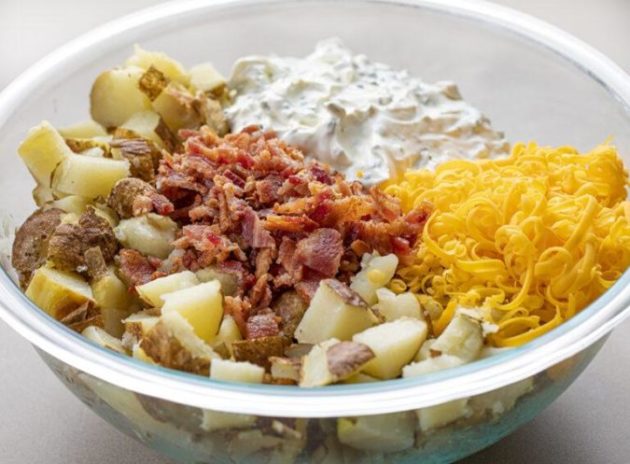 SOUR CREAM MIXTURE
Before we get to the potatoes, prepare the Sour Cream Mixture. This should have time to sit in the refrigerator for a while, so it's good to make this first. Mix all the ingredients together and stir until it is nice and creamy. Store it in the refrigerator while you bake the potatoes.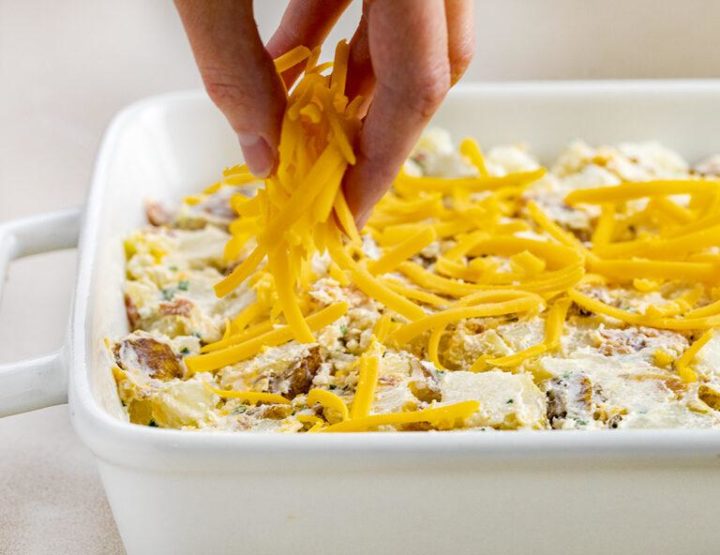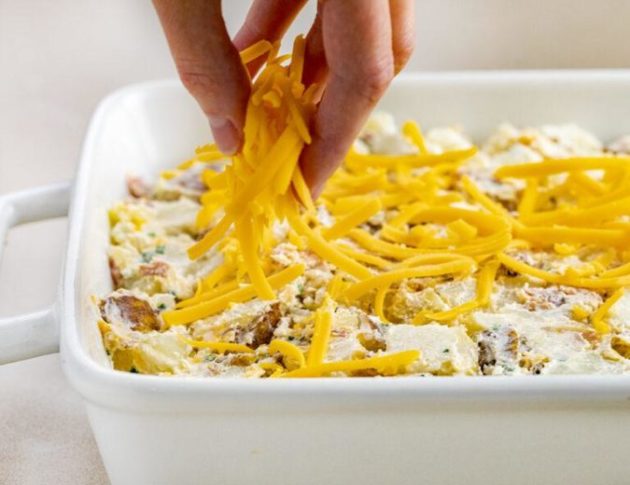 BAKED POTATOES
I know how frustrating it is when you patiently wait for the potatoes to be done, and they turn out hard or crunchy. The first step is to pierce holes into each potato and coat each one with canola oil. Then, sprinkle the salt over each potato. Bake them for about an hour. A fork should easily pierce the baked potato when it's done.
If it is hard, bake the potato for a little longer. Be careful to not overbake, though! If you want to be exact, the temperature of a fully cooked potato is around 210°F. Remove them from the oven, leaving the oven at 400°F, and let them rest until they are cool enough to handle.
Once cool enough, roughly chop them into bite-sized pieces (about 1/2-inch per piece). It's not time to get the dish baked and on the table to enjoy!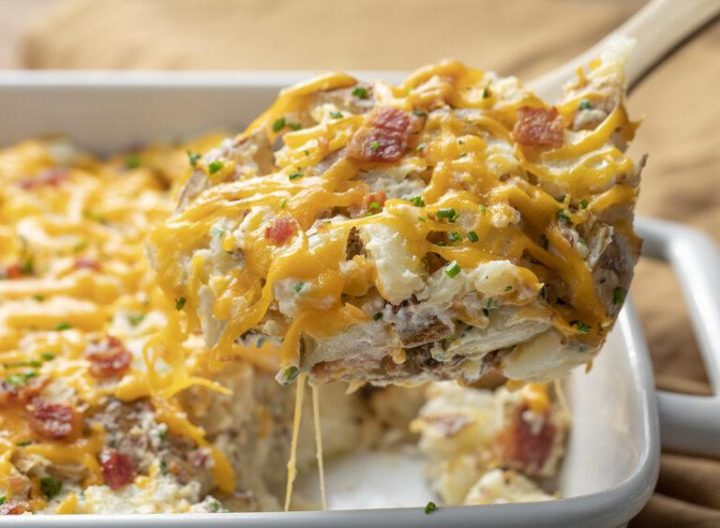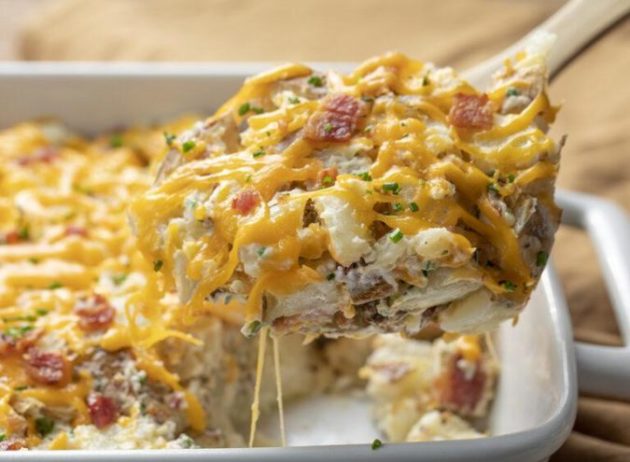 HOW TO MAKE TWICE BAKED POTATO CASSEROLE
With the oven already heated to 400°F, it's easy to put the casserole together and get it baked. Spray a 9×13-inch baking dish with nonstick cooking spray. Set it aside. Place the chopped potatoes in a large bowl and mix with the sour cream mixture, half the shredded cheese, and most of the bacon (reserving some for topping).
Place the potato mixture into the greased baking dish. Top with the remaining shredded cheese and reserved bacon (if you put some aside). Bake, uncovered, for 15-20 minutes, or until the cheese is hot and bubbly. Remove from the oven and serve.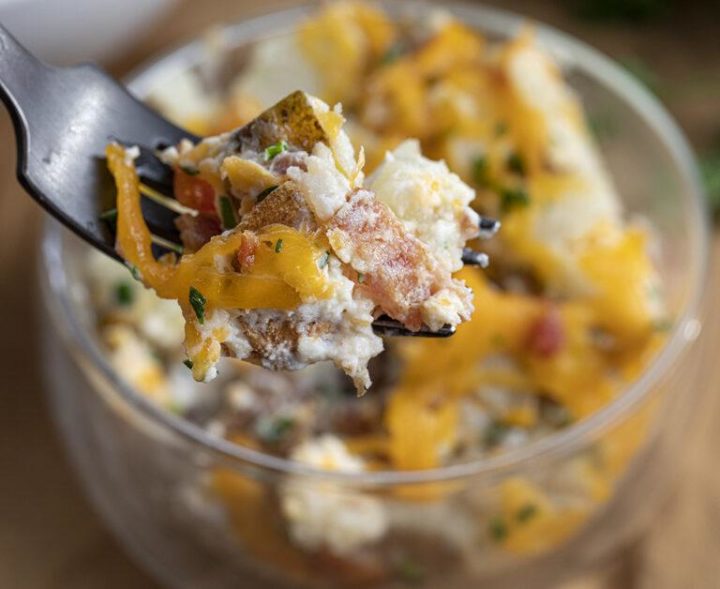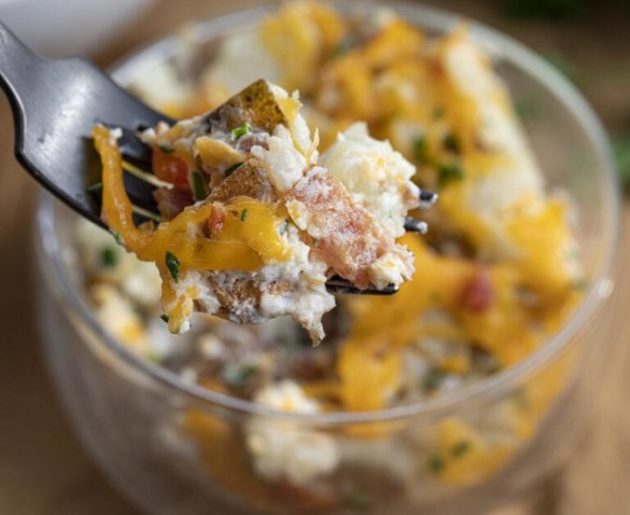 Ingredients
Sour Cream Mixture
6 ounces cream cheese, room temperature
1 cup sour cream
½ cup fresh chives, chopped
1 teaspoon lemon juice
½ teaspoon kosher salt
½ teaspoon garlic powder
½ teaspoon onion powder
¼ cup whole milk
Potatoes
8 baking potatoes, washed
3 tablespoons canola oil
1 tablespoon kosher salt
Topping
8 strips bacon, cooked and crumbled
3 cups cheddar cheese, shredded and divided
chives, for garnish
Instructions
Sour Cream Mixture
Combine all ingredients and mix until smooth and creamy. Chill in the refrigerator while the potatoes cook.
Potatoes
Preheat the oven to 400° F. Wash each potato and pierce a couple of holes on each side with a sharp knife or fork.
Coat each potato with canola oil and salt and bake on a baking sheet for 1 hour. Potatoes should be fork-tender when done.
Remove baked potatoes from the oven and let cool. (Leave the oven at 400°F.) When cool enough to handle, roughly chop the potatoes into 1/2-inch, bite-sized pieces.
Assembly
Spray a 9×13-inch baking dish with nonstick cooking spray. Set aside.
Add potatoes to a large bowl. Mix the potatoes with the sour cream mixture, half the cheese, and the crumbled bacon. (You can reserve some pieces of bacon as a topping if you wish.)
Spread out the potato mixture into the prepared baking dish.
Top with remaining shredded cheese and reserved bacon (if you have some set aside).
Bake, uncovered, 15-20 minutes, or until cheese is hot and bubbly.
Remove from oven. Serve hot. Garnish with chives (optional).