Buttermilk Banana Bread is a certainty in my life… I know I love it and I know I always will! This recipe is special not only because of the sweet, moist and delicate crumb but because it turns out very light in color, something that is not the norm when making banana bread!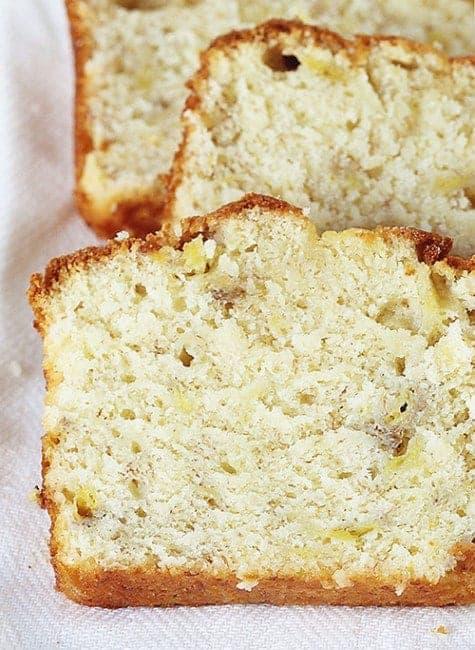 Buttermilk Banana Bread
The perfect banana bread contains one special ingredient, buttermilk! It helps to produce this light, almost white, banana bread that cannot be achieved with a normal recipe. The flavor is spot on, with all the banana goodness you would want, but also a presentation that will leave people with questions. "How did you get it so light?" The answer is simple, buttermilk.
How to Bake the Perfect Buttermilk Banana Bread
I prefer a course mashing of the bananas as I love the small chunks peppered through the loaf. To achieve this simply lightly mash with a fork. If you want a smoother consistency, add the bananas to a food processor.
Make sure your baking powder and baking soda are fresh! This is what helps the loaf to have a beautiful rise and be a lighter crumb practically falling apart in your hands. The buttermilk in this recipe helps to activate the baking soda.
Stick to a tried and true method of adding the wet ingredients to the dry ingredients. Stir until just combined and your banana bread will bake to perfection.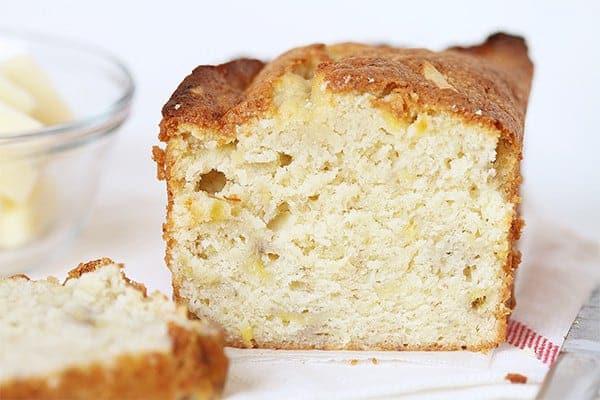 How to Make Perfect Banana Bread
Use ripe banana's. This may seem like a no-brainer, but I can't tell you how many times I have heard from people that their recipe didn't have a strong banana flavor. When asked if their bananas were ripe, the typical response is, "does that make a difference?" Yes, SO MUCH yes. If you need to ripen banana's in a pinch, try placing them on a baking sheet in a 250-degree oven for about 15 minutes.
Room Temperature Dairy. Make sure your buttermilk is not cold. This applies to the butter (and eggs, even though not technically dairy) in this recipe as well. You will find they incorporate much better and the resulting texture is second-to-none.
INGREDIENTS
2 cups all-purpose flour
1 tsp. baking powder
1/8 tsp. baking soda
pinch of salt
1 1/4 cup mashed bananas, 3-4 bananas
1/2 cup (113g or 1 stick) butter, softened
1 1/2 cup (300g) granulated sugar
2 eggs
1/4 cup buttermilk
2 tsp. vanilla
INSTRUCTIONS
Prepare 9×5 loaf pan. (I used two smaller loaf pans.)
Sift together flour, baking powder, baking soda and salt. (Do not skip this step!)
Mash bananas and set aside.
In a stand mixer on medium-high, cream butter and sugar together for about 2 minutes. Add eggs, one at a time with mixer on low speed. Add in buttermilk and vanilla until the batter is just combined.
Slowly pour in the flour mixture. Mix until JUST combined.
Remove bowl from mixer and fold in mashed banana's.
Divide batter into greased and floured bread pans and bake at 350°F for 50-55 minutes or until a toothpick comes out mostly clean.