Ampalaya can be a tricky vegetable to prepare. The gourd is known as a nutritional powerhouse with many health benefits and herbal properties but along with its myriad of vitamins and minerals is a pronounced bitter taste which can be off-putting to most.
To get rid of its natural acridity, it is customary for the cook to salt the vegetable and squeeze off its juices before cooking. This method does improve palatability but with a caveat and that is important nutrients are also dispelled during the process.
Ampalaya con Carne is simply sauteed ampalaya with beef slices, which is one of the popular ways to serve and appreciate the bitter gourd or bitter melon.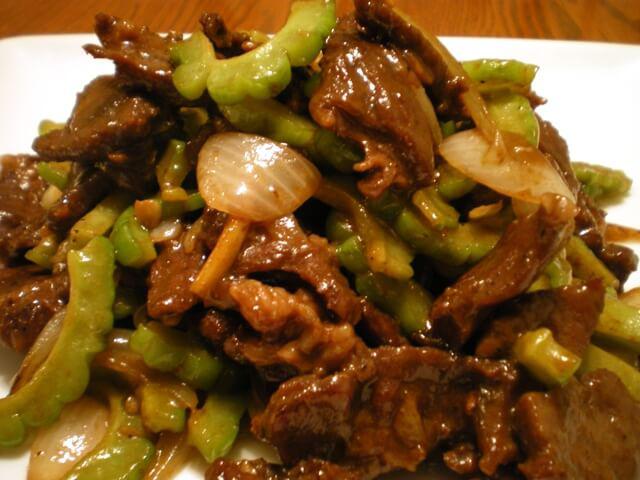 Ingredients
2 cups sliced bitter gourd (ampalaya)
½ kg beef sirloin
1 medium sized onion, sliced
1 tbsp garlic, minced
1 tbsp ginger, julienned
1 tbsp sesame oil
3 tbsp soy sauce
½ cup water
1 tbsp cornstarch mixed in 2 tbsp water
1 tsp ground black pepper
salt to taste
cooking oil
Instructions
Cut and slice beef thinly.
Soak sliced ampalaya in salted water for 5-10 minutes to lessen the bitter taste. Wash, drain, and set aside.
Marinate beef with soy sauce, ground black pepper, cornstarch mixed with water and sesame oil mixture for half an hour or more.
Pan fry the marinated beef until it turns medium dark brown (3 minutes on each side). Set aside.
On a separate pan, sauté the garlic, onion, and ginger for 5 minutes or until onion is translucent.
Add soaked ampalaya and stir fry for 3 minutes. Then add beef and half cupwater, bring to a boil and simmer for another 5 minutes or until beef is tender.
Season with salt and pepper to taste.
Transfer to a serving plate and serve immediately. Enjoy!