This easy American Goulash recipe is full of hearty ingredients that will warm you from the inside out.
Simple ingredients like ground beef (hamburger meat), canned tomatoes, elbow macaroni, and onions are all cooked in one pot for an easy hearty meal.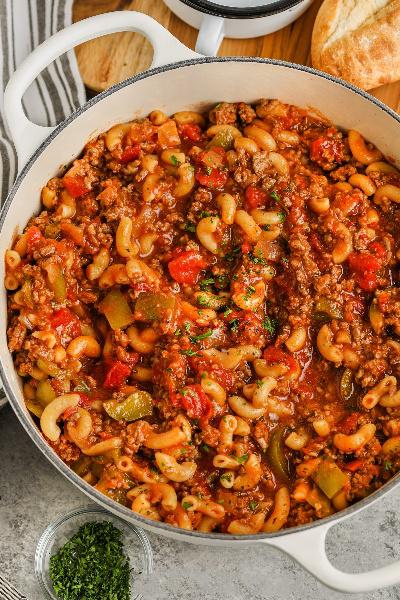 What is Goulash?
American Goulash and Hungarian Goulash are two completely different dishes.
American Goulash is not the same thing as goulash in other parts of the world. Like many dishes that have the same name (like dumplings for example) the ingredients and preparation are different.
The difference between Hungarian and American Goulash:
Hungarian Goulash, a robust beef and onion soup seasoned with Hungarian paprika and sometimes containing potatoes and/or carrots (more often made without vegetables though).
American Goulash is old-fashioned goodness. It's a simple dish consisting of ground beef and elbow macaroni in a tomato-based sauce. It's classic American comfort food that also goes by the name "slumgullion", Hamburger Goulash, or "American chop suey" among many others!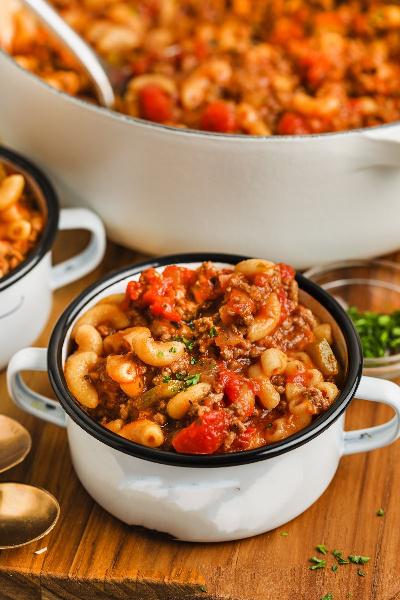 Why We Love This Dish
American goulash uses a few simple inexpensive ingredients, it's a great way to feed a crowd.
It needs only one pot which means less mess and fewer dishes to wash!
It's really easy to make and great for beginners, it's cozy and tastes great!
This recipe can be stretched to feed a bigger crowd by adding extra pasta and sauce.
Double up the batch or freeze leftovers for future meals.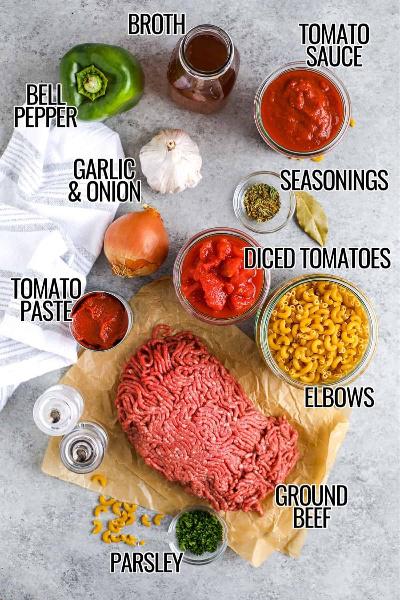 Goulash Ingredients
GROUND BEEF: Ground beef (or hamburger meat) gives this dish its base and adds lots of flavors, Italian sausage can be substituted for the beef for extra flavor.
ELBOW MACARONI: Use whatever pasta is on hand! Elbow, small shells, bowties, or ditalini all work well.
SAUCE: Goulash has a rich zesty tomato sauce! Use your favorite jarred pasta or marinara sauce combined with a can of tomatoes (and juice!). We add water to cook the pasta but you can use beef broth in place.
The sauce is seasoned with tomato paste and Italian seasoning for an extra boost of flavor.
Variations
Add some shredded carrots or red bell peppers for a bit of sweetness in the zesty sauce. Diced celery is great in this recipe too.
Stir in some Worcestershire sauce, a sprinkle of chili flakes.
Stretch out the meal with extra pasta (and water) or a can of drained kidney beans (or your favorite kind of beans).
Top it with cheese if desired.
How to Make Goulash
It's literally as easy as 1,2,3.
Brown beef, onion, & garlic in a large pot or dutch oven.
Add remaining ingredients except for pasta. Cover and simmer 15 minutes to thicken.
Add pasta and simmer until tender.
Serve goulash with Breadsticks, or dinner rolls for dipping and dunking.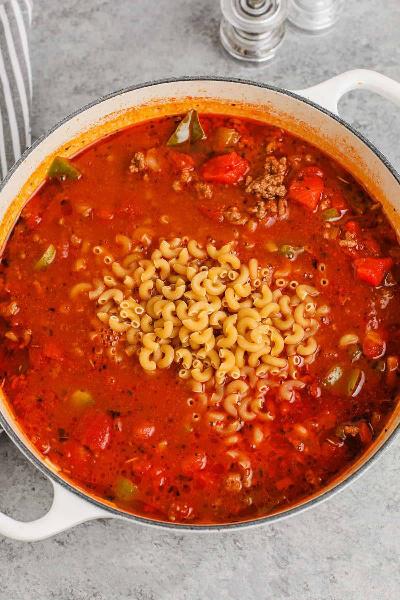 Leftovers?
Keep leftover American goulash in a covered container in the refrigerator for up to 4 days. Reheat on the stove before serving. Freeze chilled portions in zippered bags with the date labeled on the outside for up to 4 weeks. Thaw in the refrigerator before reheating.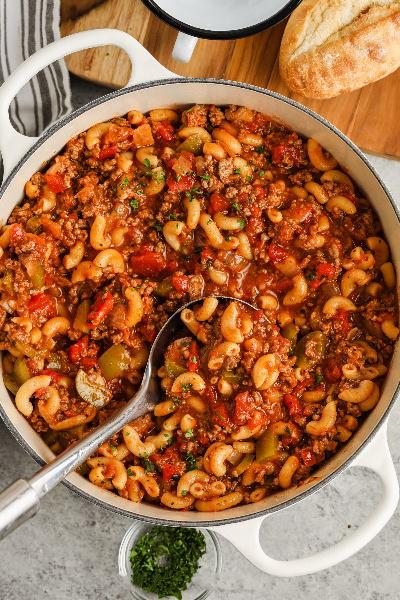 Ingredients
1 pound lean ground beef
1 large onion chopped
2 cloves garlic minced
2 cups marinara or tomato-based pasta sauce approx. ½ of a 26 oz jar
1 ¾ cups beef broth or water or as needed
14.5 ounces canned diced tomatoes with juices
3 tablespoons tomato paste
1 green bell pepper diced, optional
1 ½ teaspoons Italian seasoning
1 bay leaves 2 if they are small
salt & black pepper to taste
1 ¼ cup elbow macaroni noodles uncooked
½ cup cheddar or mozzarella cheese, shredded, optional
Instructions
Cook ground beef, onion and garlic over medium high heat until no pink remains. Drain any fat.
Add water, pasta sauce, diced tomatoes, tomato paste, green peppers (if using), seasonings, & bay leaves. Simmer, covered, for 15 minutes.
Add in the elbow macaroni and continue to simmer, covered, stirring occasionally, until pasta is tender (about 20 minutes).
Remove & discard bay leaves. Top with cheese if using and replace the lid. Let rest about 5 minutes or until cheese is melted.
Recipe Notes
This recipe can easily be doubled to feed a crowd (serving sizes can be adjusted in the print screen).
For heartier appetites, the meal can be stretched with additional pasta (and water/broth), canned beans or chopped vegetables. (diced zucchini, sliced mushrooms, corn, or additional bell peppers). Any ground meat can be substituted for beef.
Start with the amount of broth/water as listed and add extra if needed (depending on pasta shape). The goulash will thicken as it cools and rests. Depending on the size and shape of your pan, you may need to add a little bit more liquid. Keep an eye on the dish as it cooks and add more liquid as needed. The mixture will thicken slightly as it cools.
Leftovers can be stored in an airtight container in the fridge for up to 4 days.