Cole Slaw is a traditional American salad. There are many variations of this dish. Some use lemon juice, some use apples, others celery. But the most important feature of the salad is not in the ingredients, but in its dressing. The dressing makes it taste unusual, as if you were eating both sweet and salty at the same time.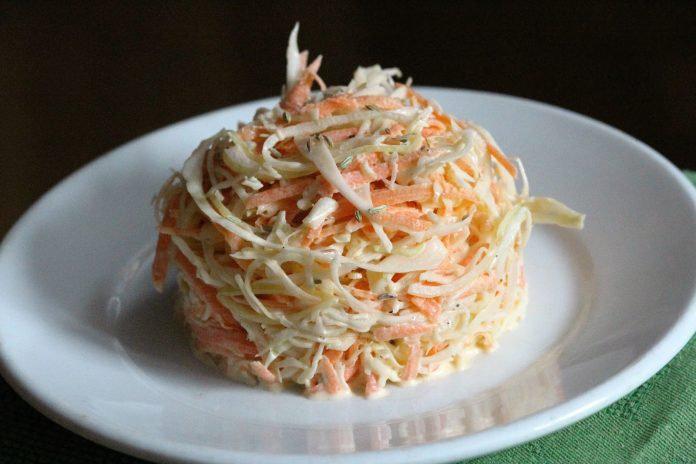 So let's get to cooking. Don't let the simplicity of the ingredients embarrass you.
Ingredients:
White cabbage (half a medium cabbage)
Medium carrots (2 pcs.)
Green onions (small bunch)
Salt (to taste)
For the dressing:
Mayonnaise (4 tbsp.)
Sour cream (15% fat, 2 tbsp.)
Mustard (medium spicy, 1-2 t. l.)
Apple cider vinegar (2 tsp.)
Sugar (1 tsp.)
Ground black pepper (1 tsp.)
Cole Slow Cooking:
Peel carrots. Remove the top coarse leaves from the cabbage. Rinse the green onions. It will be wonderful if you use young cabbage and juicy carrots.
Move on to slicing the produce. Take the cabbage and slice it, grate the carrots on a coarse grater, and finely chop the green onions. The cabbage should give the juice. To do this, you need to salt it a little and crush it with your hands.
Next, mix all the ingredients. Add grated carrot and finely chopped onion to the cabbage. Thoroughly mix everything. It is better to do it with hands.
Mix all the ingredients for the dressing in one bowl – sour cream, mayonnaise, mustard, vinegar, sugar and pepper.
Dress the salad. Add salt. Spread out on a plate and decorate with greens.
Bon appetit.
Here we have a delicious American salad! In addition to the unique taste, the advantage of this dish is also the ease of preparation.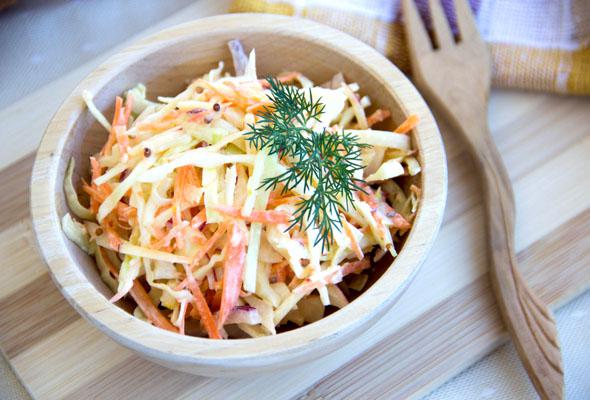 Information for people who stick to the right diet. The salad can be eaten even for dinner. After all, it contains almost no carbohydrates.
You can experiment with the ingredients, adding your favorite product. I tried adding a green apple. Turns out delicious, too!
And let the salad looks pretty simple, but it is very delicious and healthy!