These deep-fried onion rings get extra texture and crispiness from the baking powder in the batter. It's an egg, flour, and baking powder, an excellent combination for delicious onion rings.
You may prefer to use sweet Vidalia onions when making onion rings, but you could use red onions or yellow onions as well. Another secret tips for the best onion rings is soaking the onions in milk or buttermilk before coating them with the batter.
These crispy burger toppers can also add an extra element to already-fantastic burgers. They're also perfect for giving your salads a little crunch.
Onion rings are a very popular snack food that you can find in pretty much any fast food restaurant. While they are pretty easy to make, it can be hard to get them to be perfectly crispy when making them at home. This onion rings recipe will ensure that they come out perfectly crispy and that they will be a hit with everyone!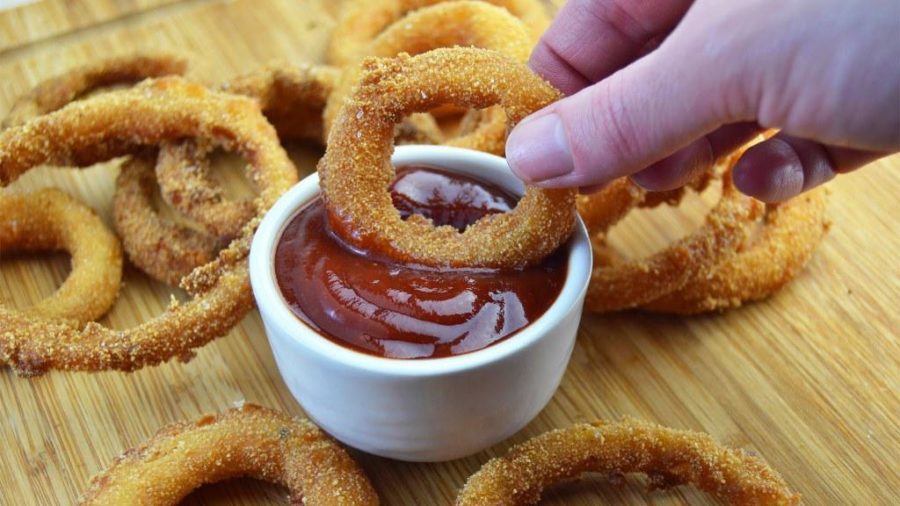 Ingredients
½ cup all-purpose flour
½ teaspoon baking powder
1 teaspoon salt
1 egg, lightly beaten
½ cup water
1 large onion, very thinly sliced
Oil for deep frying
Instructions
In a shallow bowl, make a batter by whisking the first five ingredients.
Separate onion slices into rings. Dip rings into batter.
Heat oil in a frying pan. Deep-fry onion rings in batches for 1 to 1-1/2 minutes on each side or until golden brown. Drain on paper towels.
Serve while hot and enjoy your crunchy fried onion rings!