A very interesting, unusual and delicious Italian dessert. Crispy pastry and delicate ricotta cream with a hint of lemon inside.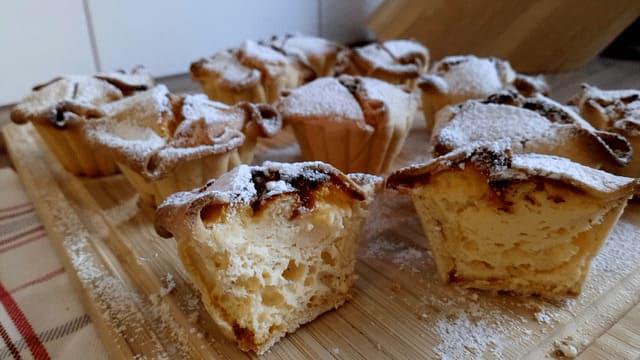 INGREDIENTS
batter:
olive oil – 4 tbsp.
sugar – 4 tbsp.
1 egg
200 gr. flour
pinch of salt
cream:
sugar – 4 tbsp.
3 eggs
ricotta – 250 gr.
lemon
pinch of salt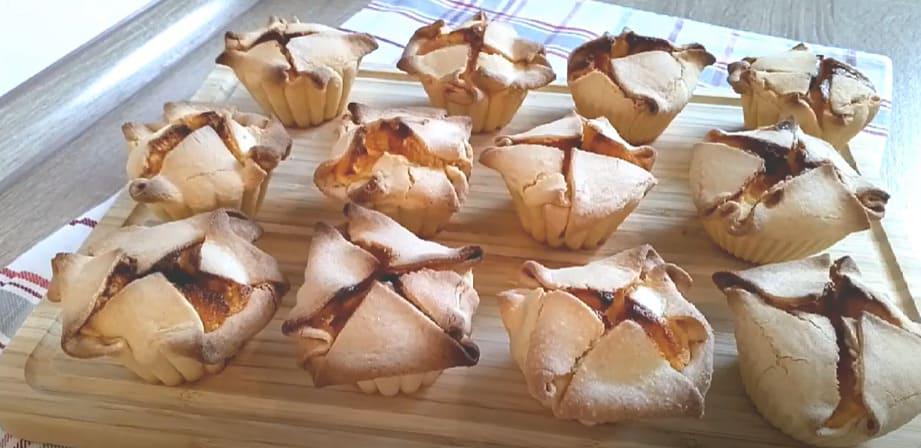 INSTRUCTIONS
1. The first thing to do is to make the dough.
For this you need to mix all the ingredients in a bowl: olive oil, sugar, pinch of salt and mix well until homogeneous.
2. Sift the flour into the resulting mixture and knead a thick dough.
3. place the dough in a bag or wrap it in cling film.
Take it to the fridge for half an hour.
Now we have to make the cream.
For this we separate the egg yolks from the whites.
5. Remove the zest from the lemon.
Only the top yellow part of the peel.
Use a fine grater.
6. Then in a bowl mix egg yolks, lemon zest, sugar and beat with a mixer for five minutes until white.
7. Now add the ricotta and whisk for a couple more minutes until smooth.
8. In the whites add a pinch of salt, a few drops of lemon juice and also whip well until stiff peaks.
9. Now mix everything carefully with a spatula until homogeneous.
Whipped whites and yolks with ricotta.
10. Take the dough out of the fridge.
Sprinkle the work surface with flour.
Roll out the dough thinly, about 1 millimeter thick and cut into squares of ten by ten centimeters.
11. Lay out the squares of dough in muffin forms.
The edges should hang down.
Forms can be used metal or silicone.
12. Put the cream inside, filling the forms completely.
And cover it with the loose corners of the dough.
13. Bake the cakes in an oven heated to one hundred and eighty degrees for twenty minutes.
Then reduce the temperature to one hundred and fifty degrees and bake for another twenty minutes.
14. The dessert should cool a little and take out of the forms.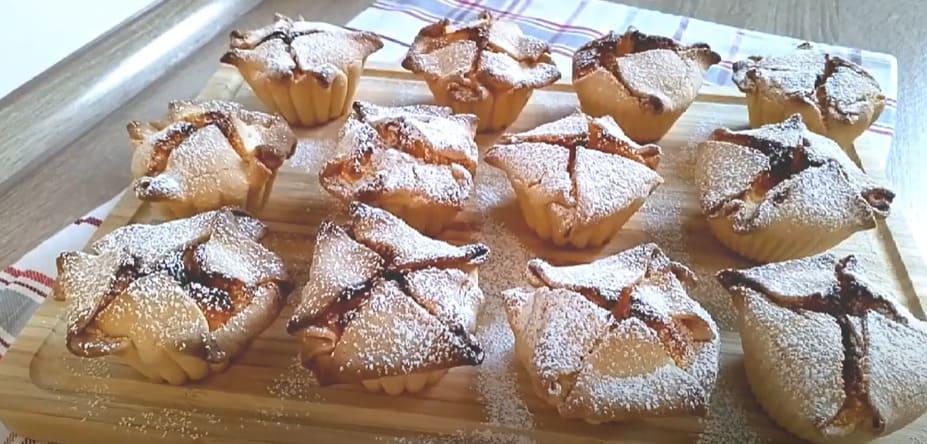 Then sprinkle with powdered sugar and the Italian soffioni cakes are ready.