Monte Cristo Sliders are an appetizer or meal made with King's Hawaiian Rolls layered with meats and cheeses and topped with confectioners' sugar and dipped in raspberry preserves. For the full sandwich, be sure to check out my Monte Cristo Sandwich!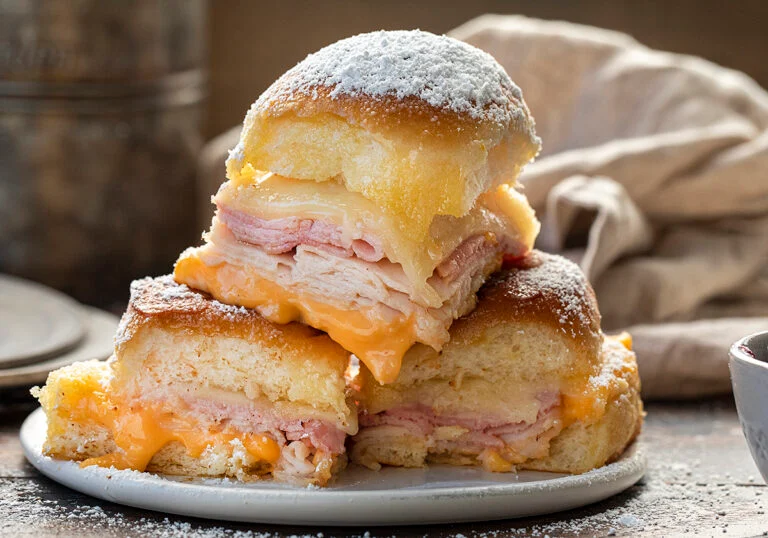 MONTE CRISTO SLIDERS
Sliders are a great appetizer that could also be a meal. I have a few slider recipes, including Kentucky Hot Brown Sliders and Ham and Cheese Sliders, just to name a few. These Monte Cristo Sliders were based on the Monte Cristo sandwich that was made famous by the restaurant, Bennigan's. The sweet and savory sandwich is deep-fried, but these sliders are baked in the oven.
SLIDERS INGREDIENTS
Rolls: In all of my slider recipes, I use King's Hawaiian Rolls. The super soft and slightly sweet rolls bake beautifully and are the perfect complement to all the different flavors of the sliders. I also have a homemade recipe for Hawaiian Rolls you could make and use.
Meats: I layered both turkey deli meat and honey ham deli meat on the sliders. You could also use leftover turkey and ham.
Cheeses: Mild cheddar cheese and Swiss cheese were the kinds of cheese I chose to use; you could substitute your favorite cheeses.
Toppings: To give the sliders the sweetness that the sandwich is known for, confectioners' sugar is sprinkled on top of the sliders after being baked. Then, raspberry preserves are served as a dipping sauce for even more sweetness. Keep in mind that you (and/or your guests) may also love the sliders without any added toppings. It's easy to leave that out if you are just craving a savory bite.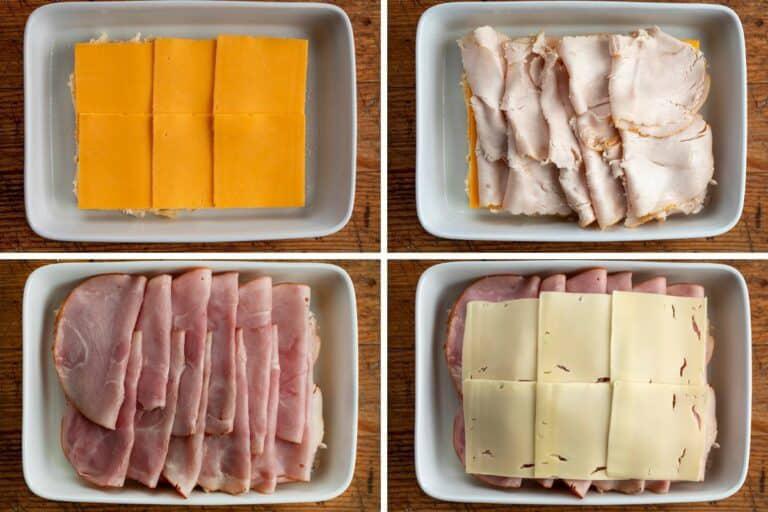 HOW TO MAKE MONTE CRISTO SLIDERS
It's easy to put this appetizer or meal together. To make the sliders, first, layer the bottoms of the rolls in a greased baking dish. Top the buns with 6 slices of cheddar cheese (each slice will cover about two of the rolls), turkey, ham, and slices of Swiss cheese.
Use the tops of the rolls to cover the layers, and brush on the melted butter. Then, cover the sliders with aluminum foil and bake for 20 minutes at 350°F, or until you notice the cheese is hot and bubbly. Take off the foil after 20 minutes and let them bake, uncovered, for another 5 minutes or so. The rolls should be golden brown.
After the sliders are baked, dust the tops of the rolls with confectioners' sugar and serve with raspberry preserves for dipping. Get ready for everybody to grab one (or two or three)!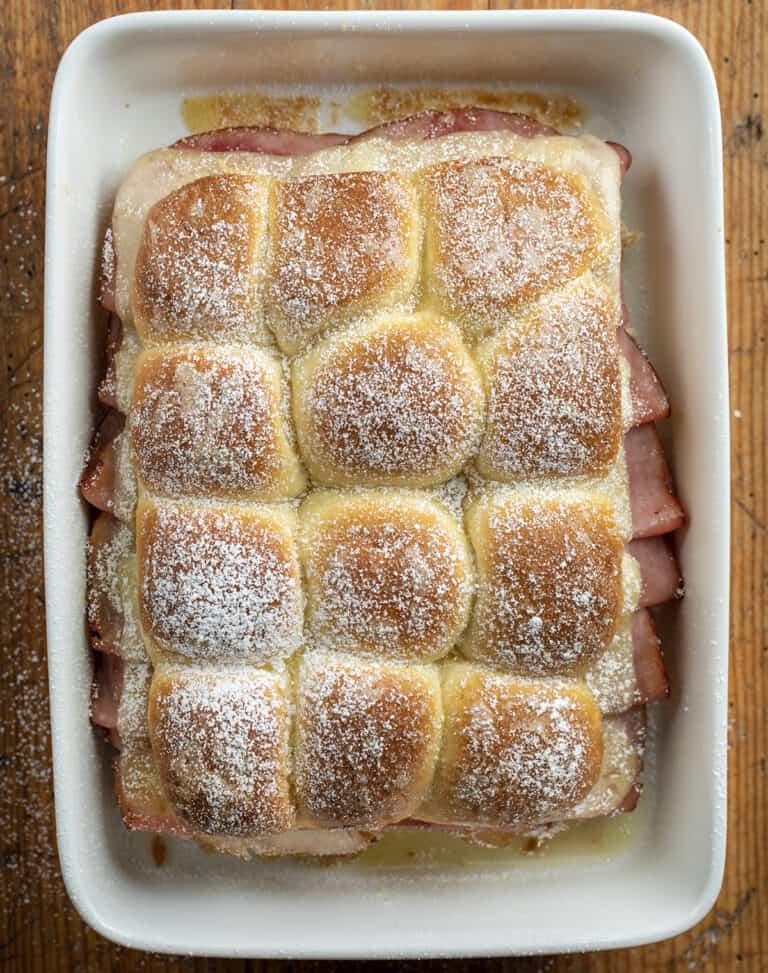 WHAT TO SERVE WITH SLIDERS
If you are serving the sliders as a meal, be sure to include a side dish or two. Mashed potatoes would complement the sliders really well. You could also serve them with homemade french fries, air fryer tater tots, or even potato chips. Add a vegetable like green beans or asparagus to round out the meal.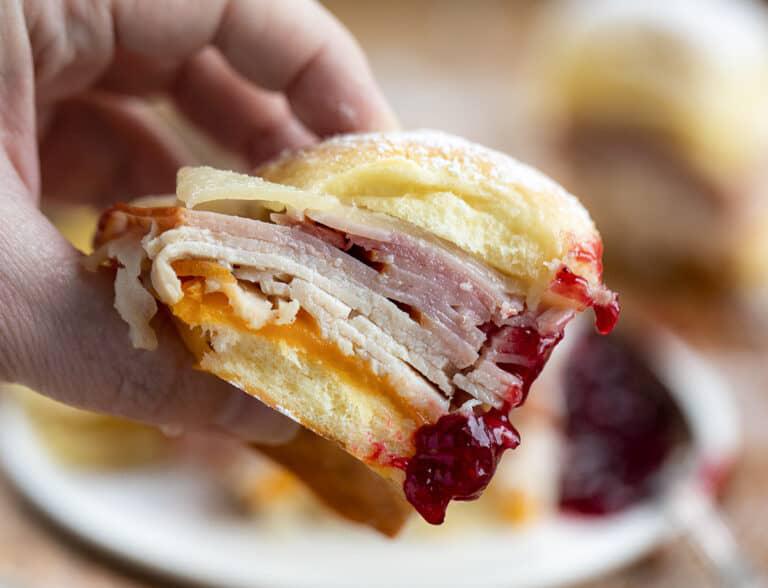 Ingredients
12 King's Hawaiian sweet rolls
6 slices mild cheddar cheese
1 pound roasted turkey deli meat
1 pound honey ham deli meat
6 slices Swiss cheese
Topping
¼ cup (57g) unsalted butter, melted
Dipping Sauce
confectioners' sugar, for topping
red raspberry preserves, for dipping
Instructions
Preheat the oven to 350°F. Spray a 9×13-inch baking dish with nonstick cooking spray.
Split the rolls in half. Place the bottom halves of the rolls in the prepared baking dish.
Top with the slices of cheddar cheese, roasted turkey, honey ham, and finally, Swiss cheese.
Place the top halves of the buns on top.
Brush the tops of the rolls with melted butter.
Cover the dish with aluminum foil and bake for 20 minutes, or until the cheese is hot and bubbly.
Remove foil and bake for an additional 5 minutes (or until the tops of the sliders turn a golden brown).
Remove from oven. Allow the sliders to cool for about 5 minutes.
Dust with confectioners' sugar and serve warm with raspberry preserves for dipping.