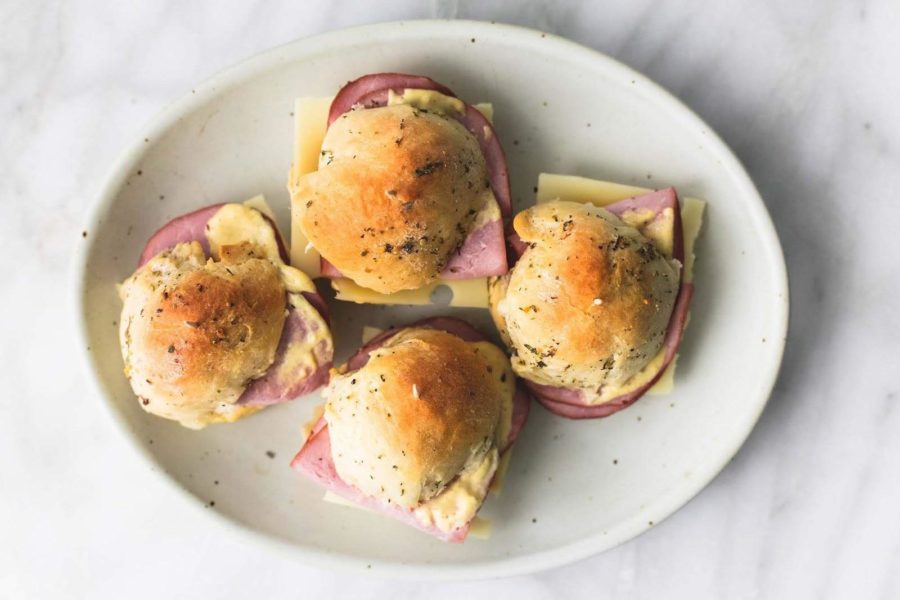 Ingredients :
2-2 1/4 cups all purpose flour
2 tablespoons sugar
1 packet Fleischmann's RapidRise Yeast
1/2 teaspoon salt
1/2 cup milk (whole or 2 percent)
1/4 cup water
5 tablespoons butter divided
1 teaspoon Italian seasoning blend
4 tablespoons mayo
1 tablespoon dijon mustard
10 slices deli ham
5 slices Swiss cheese sliced
Instructions :
Combine 3/4 cup flour, sugar, dry yeast and salt in a large mixer bowl and stir until blended. Combine milk, water and 2 tablespoons butter in a small microwave-safe bowl. Microwave on HIGH in 15 second increments until very warm but not hot to the touch (120° to 130°F. Butter won't melt completely). Add to flour mixture.
Beat 2 minutes at medium speed of electric mixer, scraping bowl occasionally. Add 1/4 cup flour; beat 2 minutes at high speed. Stir in just enough of the remaining flour (1 to 1-1/4 cups) so that the dough will form into a ball.
Knead on lightly floured surface until smooth and elastic and springs back when lightly pressed with 2 fingers, about 6 to 8 minutes. Cut dough into 12 equal pieces; shape into balls using your hands. Place in greased 8-inch round or square pan. Cover with towel; let rise in warm place until doubled in size, about 30 minutes.
Melt remaining 3 tablespoons butter and stir in Italian seasoning. Brush over rolls. Bake in preheated 375ºF oven for 20 minutes or until golden brown. Remove from pan and cut rolls in half.
Stir mayo and dijon mustard together, then spread on the bottom halves of the rolls. top with Swiss cheese, ham, and the top half of the roll, serve.
ENJOY!