There is nothing better than a warm, hearty breakfast, especially as the cooler temperatures are rolling in! Pecan French Toast has the substance to keep you full until your next meal. Plus, it has the sweetness to make it feel like a special treat. Another bonus with this baked french toast is that it doesn't require overnight chilling and is ready to be served right out of the oven! The only prep work you have to do ahead of time is toast the pecans. (And honestly, you could skip that if you wanted to!) I have an easy way to do that below.
Pecan French Toast
I love French Toast! In fact, I have the Best French Toast Recipe that I have shared. But, sometimes I like one dish to share and not have to wait until I have enough pieces of french toast ready for everyone to eat! I don't want to be flipping pieces of the bread in a skillet while everyone else is enjoying their breakfast! When I first made this recipe, I thought I would stick to the traditional pieces of french toast, but I realized I had a better alternative to that–Baked Pecan French Toast. It has all the flavor of the maple syrup and toasted pecans, but easier to serve and enjoy as much as you like!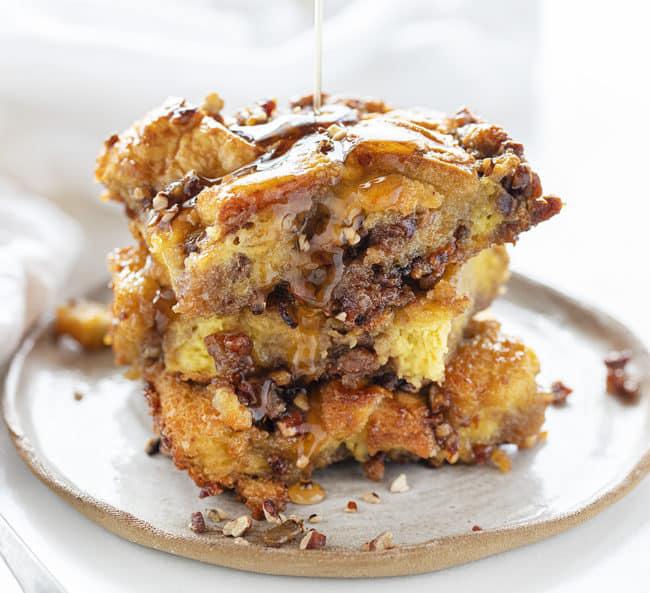 How to Make Pecan French Toast
To make Baked Pecan French Toast, there is no chilling overnight. It is ready to serve in a matter of minutes! The only time you will chill the bread and egg mixture is while you are preparing the pecan mixture. The timing works out great, and after you bake the french toast in the oven, it is ready to be served!
To make the french toast, whisk together the eggs, whipping cream, brown sugar and vanilla until the sugar has dissolved. Set that aside while you cut the bread into cubes. I used French bread, but I have other bread options below. Pour one cup of the egg mixture into the bottom of a 9×13 inch greased baking dish. Add the cubed bread, followed by pouring the rest of the egg mixture over the bread. Cover it and set it in the refrigerator while you prepare the pecan mixture.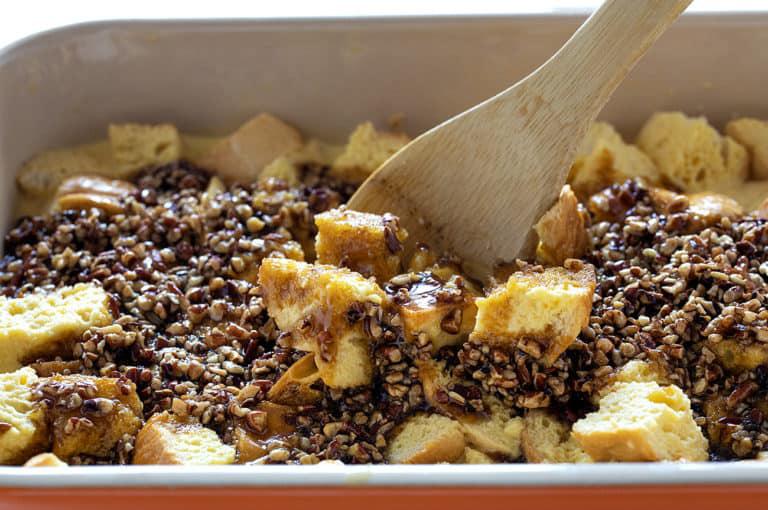 How to Make the Pecan Mixture
While the french toast is chilling in the refrigerator, take out a medium saucepan and melt the butter over medium heat. Add the brown sugar and maple syrup, bringing it to a boil before simmering about a minute. Finally, add the toasted pecans, mix well and pour this over the french toast you had waiting. Mix it all up and bake the dish for about 30 minutes at 350°F (which your oven is already set at if you have toasted the pecans). Serve warm, and for an added sweetness, top your portion with some more maple syrup. Be ready to lick your lips to get all the flavor of this breakfast!
How to Toast Pecans
For this recipe, as well as my Butter Pecan Fudge, I toasted pecans ahead of time. It is really easy, and they are great to snack on, so make a few extra for yourself. They are also great over ice cream, so maybe triple the recipe! Anyway, heat the oven to 350°F and line an 8×8 inch baking pan with two sheets of parchment paper, crisscrossed. Simply bake the pecans for 7-10 minutes and they are ready to go! Just don't eat them all before you use them in this Baked Pecan French Toast Recipe!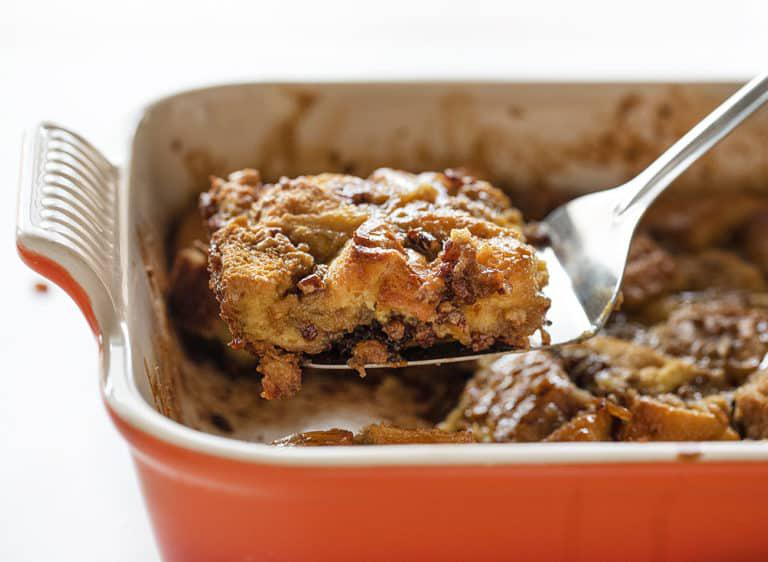 What is the Best Bread for French Toast?
As I stated, I used a loaf of french bread for this Baked Pecan French Toast Recipe. You don't have to choose french bread, but I recommend an unsliced loaf of bread anytime you make french toast. That way, you can cut the pieces to your desired thickness. Also, choose a sturdy bread! You don't want the bread to get mushy while setting in the egg mixture. In addition, pick a bread you enjoy to eat! A few loaves of bread I would use are:
Brioche
Challah
Pullman loaf
How Do You Make French Toast Not Soggy?
This is a great question! It just so happens that THIS recipe will never be soggy because of the size of the dish, the height of the ingredients (if it were mile-high the middle wouldn't be cooked through), and the method. Most baked french toast recipes will require overnight chilling so that the bread can soak up every last bit of the egg and moisture… but this recipe doesn't! The filling just covers all of the bread and it bakes into a perfect casserole that is done from top to bottom.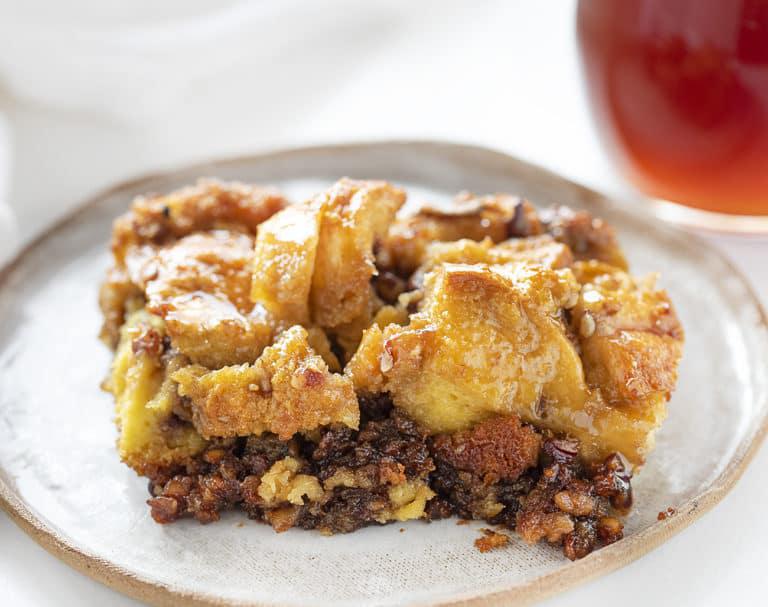 INGREDIENTS
PECAN FRENCH TOAST
6 large eggs, room temperature
1½ cups (180g) heavy whipping cream
1 tablespoon brown sugar
2 teaspoons vanilla extract
1 loaf (12 ounces) French bread, cut into 1-inch cubes
PECAN MIXTURE
1 tablespoon butter
¾ cup (150g) brown sugar, firmly packed
½ cup maple syrup
¾ cup toasted pecans, chopped
TOPPING
INSTRUCTIONS
Preheat oven to 350°F.
PECAN FRENCH TOAST
Grease a 9×13 inch baking dish.
Whisk the eggs, whipping cream, brown sugar, and vanilla extract in a medium bowl until the brown sugar has dissolved.
Pour 1 cup of the egg mixture into the greased baking dish.
Add the cubed bread to the egg mixture in the baking dish.
Pour the remaining egg mixture evenly over the bread.
Cover and refrigerate while you prepare the remaining ingredients.
PECAN MIXTURE
Over medium heat, melt the butter in a saucepan.
Mix in the brown sugar and maple syrup, stirring until smooth.
Bring the syrup mixture to a boil, reduce heat to low, and let simmer for 1 minute, stirring constantly.
Add the toasted pecans to the syrup mixture, and spoon the maple pecan syrup over the chilled french toast and mix it all together.
Bake the casserole for about 30 minutes, or until golden brown.
Top with maple syrup.