This scenario is not hard to imagine because most people have been in at least one of these situations. It is game day, potluck day, Holiday get-togethers, or your 14-year-old boy is having a bunch of his buddies over. You need to feed them something quick that will not only fill them up, but that everyone will love, and that doesn't take an eternity to prepare. Enter Buffalo Chicken Sliders. This recipe pulls together in just a few short minutes but tastes like you spent the day preparing. You can make a double batch with ease and without breaking the bank.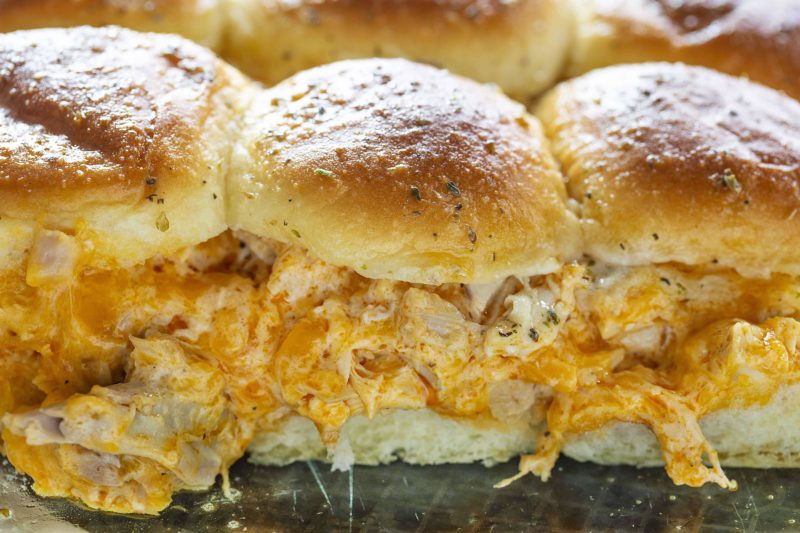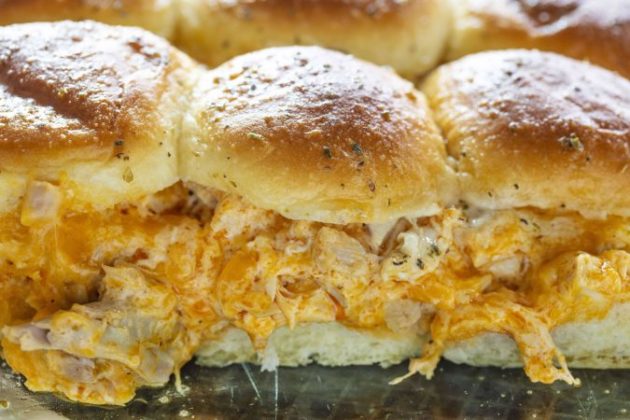 Buffalo Chicken Sliders Recipe
There are a couple of elements in this buffalo chicken slider recipe that really make it special. The seasoned butter, the sweet Hawaiian Rolls, and the Rotisserie Chicken. Combined, these three things make this simple slider recipe into a knock-out.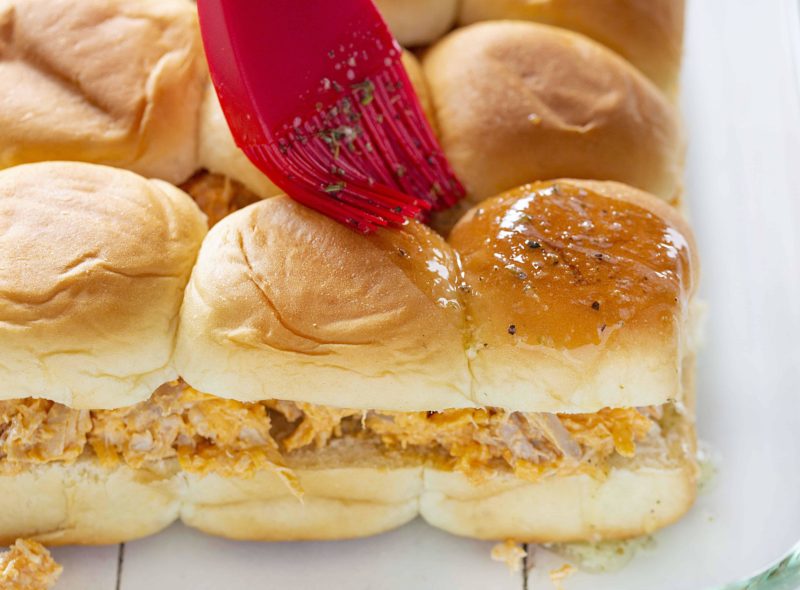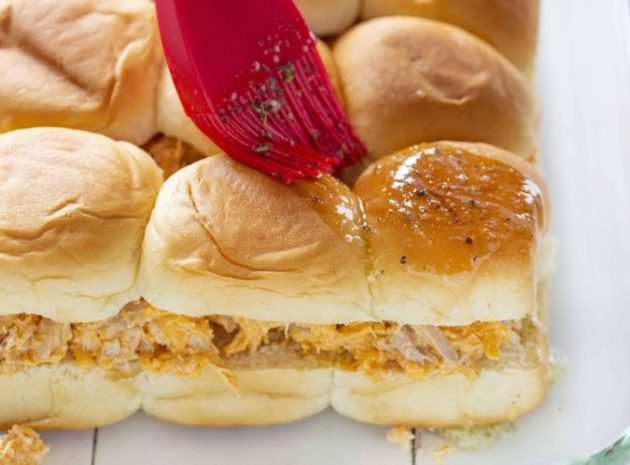 Ingredients for Sliders:
Seasoned Butter
The butter is melted and then seasoned with garlic salt and Italian seasoning before being brushed on the buns. I'll usually have a little left over so I sometimes use this when everything is done just to have one extra layer of the buttery goodness. Seriously, if it were socially acceptable to drink this stuff I would probably try it. It is so good.
Hawaiian Rolls
The first time I discovered Hawaiian bread rolls I immediately started to mentally jot down all of the different ways I could use it and all of the recipes I could add these too. This bread is always perfectly soft and just enough sweet that you could use it as a compliment to both sweet and savory dishes. I even have a homemade Hawaiian Rolls recipe if you want to make your own!
Chicken
Rotisserie Chicken is used in this buffalo chicken slider recipe. I love to use rotisserie chicken whenever I can for a number of reasons. First off, it is already cooked which makes whipping a recipe like this up a total breeze. Secondly, rotisserie chicken is seasoned and then cooked over a long period of time which makes it super juicy and fall off the bone good. For this recipe, we shred the chicken and then add buffalo sauce, ranch dressing, and cheese.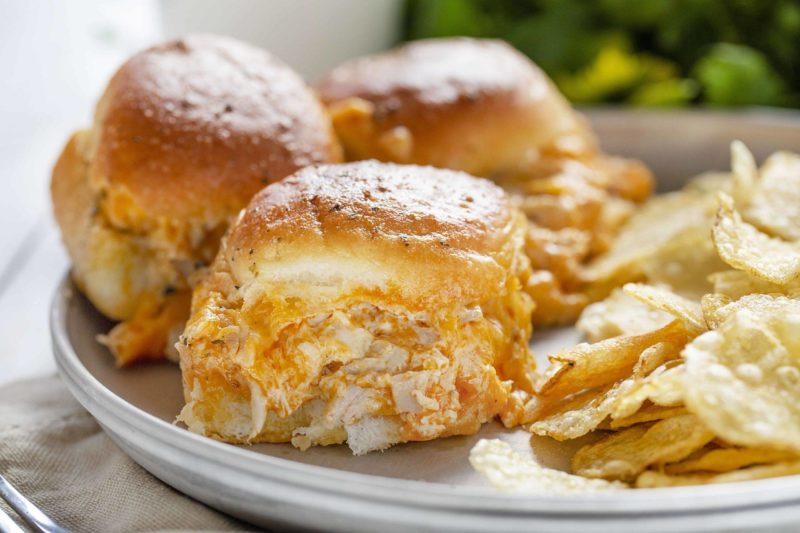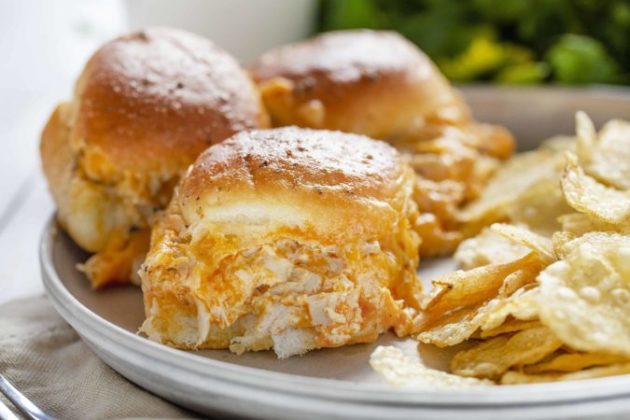 How to Make Buffalo Chicken Sliders
To prepare the sliders, you will cut the whole loaf of bread in half, lengthwise. I usually place my hand lightly, palm down, on the top of the bread loaf and then slide a bread knife through right in the middle. This way, you can remove the top half of the buns at once. Spread on the chicken mixture, making sure to cover all of the bottom portions of the buns. Add the top half back on and then cover it with the melted butter. Save just a little bit of the butter to baste on at the end if you want.
Cover it with tinfoil and then cook for about 15 minutes. Remove the foil, brush on a bit more butter if you want, and then pop it back in (uncovered) for another 5 minutes. Just long enough to give it a good golden brown color. I would slice them up right away and let them cook for a just a few minutes before serving, these get really hot.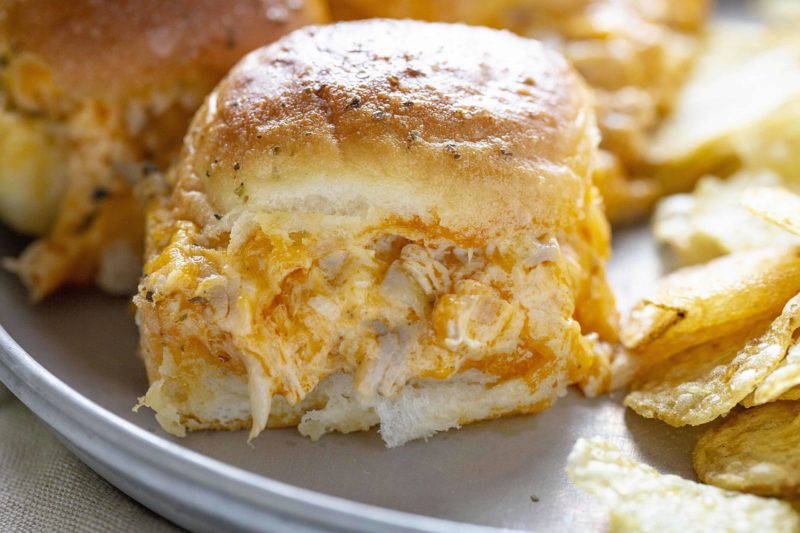 INGREDIENTS
3 cups (325 g) rotisserie chicken, shredded
1 package Kings Hawaiian Rolls, 12 count
1/2 cup (123 g) Ranch Dressing
1/2 cup buffalo sauce
1/4 cup (57 g) butter melted
1/2 teaspoon garlic salt
1/2 teaspoon Italian seasoning
2 cups (226 g) cheddar cheese, shredded
INSTRUCTIONS
Preheat oven to 350° F.
In a small bowl, mix together the melted butter, garlic salt, and Italian seasoning. Set aside.
In a separate medium sized bowl, mix together the chicken, ranch, cheese, and buffalo sauce.
Split your rolls in half, place the bottom half in a prepared 9×13 baking dish.
Spread chicken mixture on bottom half of rolls
Place the top half of the buns on top and brush the top of the rolls with the melted butter mixture.
Cover the dish with tinfoil and bake for 15 minute
Remove foil, and bake for an additional 5 minutes (or until the tops of the sliders turn a golden brown.
Remove from oven, slice and serve!