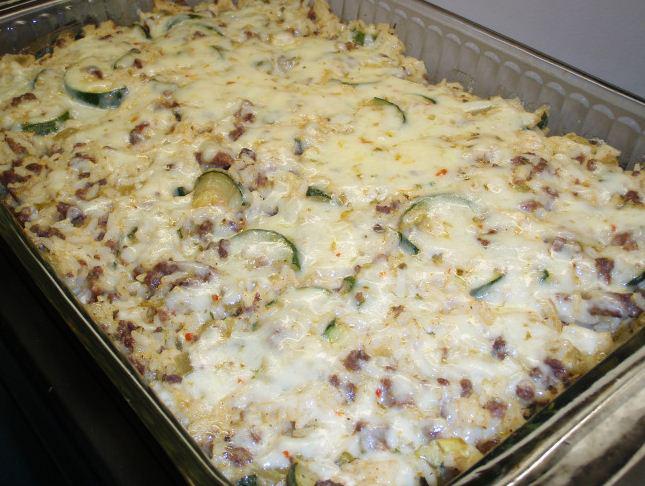 Prep Time: 1 hour
Servings: 6 – 8
Difficulty: Easy
Ingredients
1 lb lean ground beef
2 large zucchini, sliced into half moons
¼ cup green onion, chopped (I used about ⅓ cup)
2 tsp salt
¼ tsp garlic powder
2 tsp chili powder
1 tsp cumin
1 (7 oz) can green chilis, undrained
3 cups cooked white rice (1 cup uncooked rice yields 3 cups cooked)
1 cup light sour cream
2 cups Pepper Jack cheese, shredded and divided
1 large tomato or 6 cherub tomatoes, sliced (I omitted these)
ground black pepper, to taste
Directions
Preheat oven to 350°F.
Sauté ground beef, zucchini, green onion, and spices in extra-large skillet until meat browns and veggies are crisp tender. Drain grease.
Add green chilis, rice, sour cream, and 1 cup Monterey Jack; stir to combine.
Grease a 9″x13″ baking dish with non-stick cooking spray. Pour the meat and rice mixture into the dish. Bake for 20 minutes or until hot and bubbly. (If you are excluding the tomatoes like I did, top the casserole with the remaining cheese before you stick it in the oven and skip the last step.)
Top with remaining Pepper Jack, sliced tomatoes, and pepper to taste. Return to oven until cheese melts and tomatoes are hot – about 5 minutes.
Notes
The green chilis do not make this dish spicy at all; they only add flavor.
Pepper Jack cheese is spicy; however, the heat is very mild in this dish. I think the sour cream balances out the heat. (If it helps, I am a mild to medium heat kind of girl.)
If you don't have an extra-large skillet, cook the meat and veggies in a large skillet then combine with the next set of ingredients in a large bowl.
If you love this recipe please enjoy and share!