Bread Bowl Ham Chowder is the ultimate comfort food. We used leftover Honey Baked Ham to make a fabulous ham and cheese chowder and then poured it into a bread bowl. Seriously fun to eat!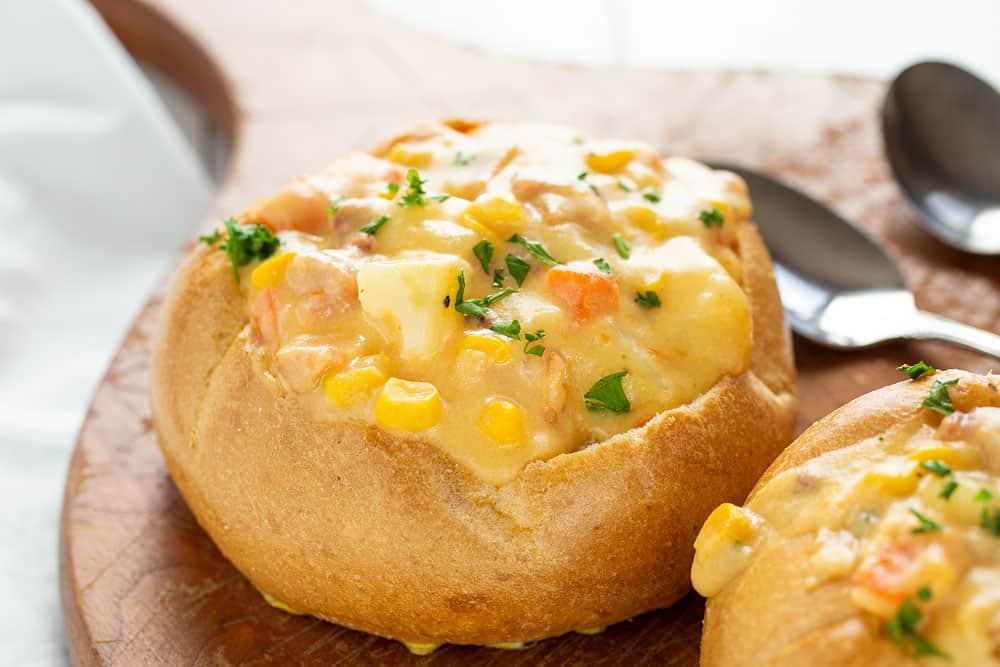 Bread Bowl Ham Chowder
Soup is a favorite in our house. We eat as much of it as we can all year round. In the summer, we grill or smoke ham often and always seem to have fresh veggies around. In the winter I crave hearty soups that leave me feeling warm and full. This soup is definitely one of our favorites! A true chowder is known for its creamy milk base, and this one is definitely creamy!
Add in a bread bowl and I am basically in love. Bread is my love language, of this I am certain. Adding a perfect ham and cheese chowder to a warm bowl of bread is a dream come true!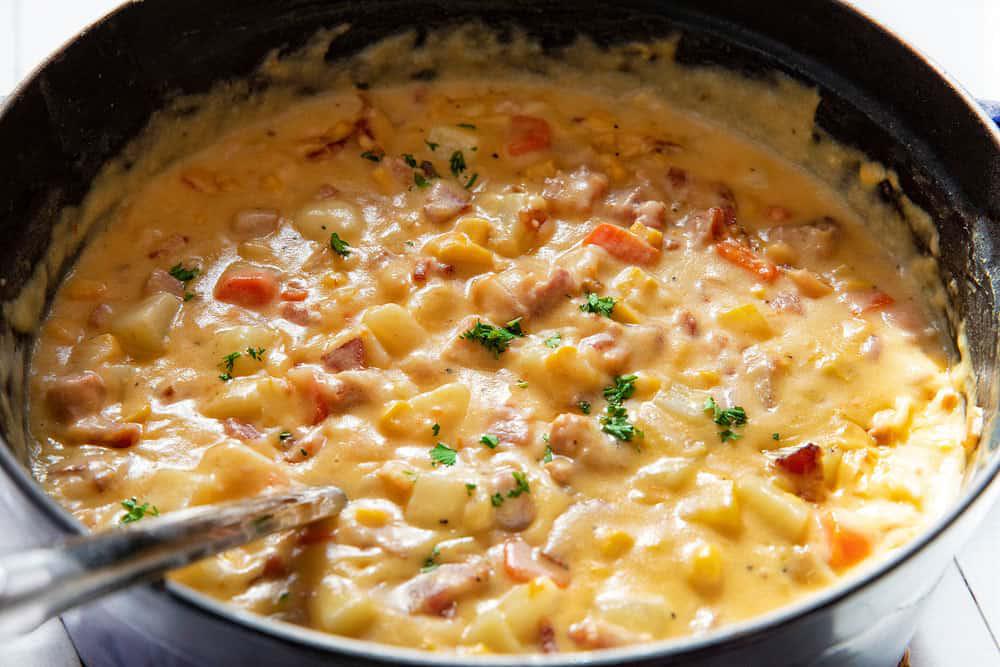 How to Make Ham Chowder
Start with a good potato. I love using Russet potatoes in ham chowder. They are high-starch potatoes with a light, mealy texture. My second favorite is red potatoes with a little of the skin left on. They hold their shape better than other potatoes after cooking, which makes them ideal for soups when you want skin-on chunks of potato.
Next is cooking the bacon. I love this step because not only do you get amazing crispy bacon in your soup, but you get to cook the carrots and onions in bacon renderings. Winning! Add the flour and water to watch as your roux starts to come together.
Add in the potatoes, bouillon, and corn and step aside to let the soup do its thing.
Finally, add in the ham, cheese, and cooked bacon into the soup.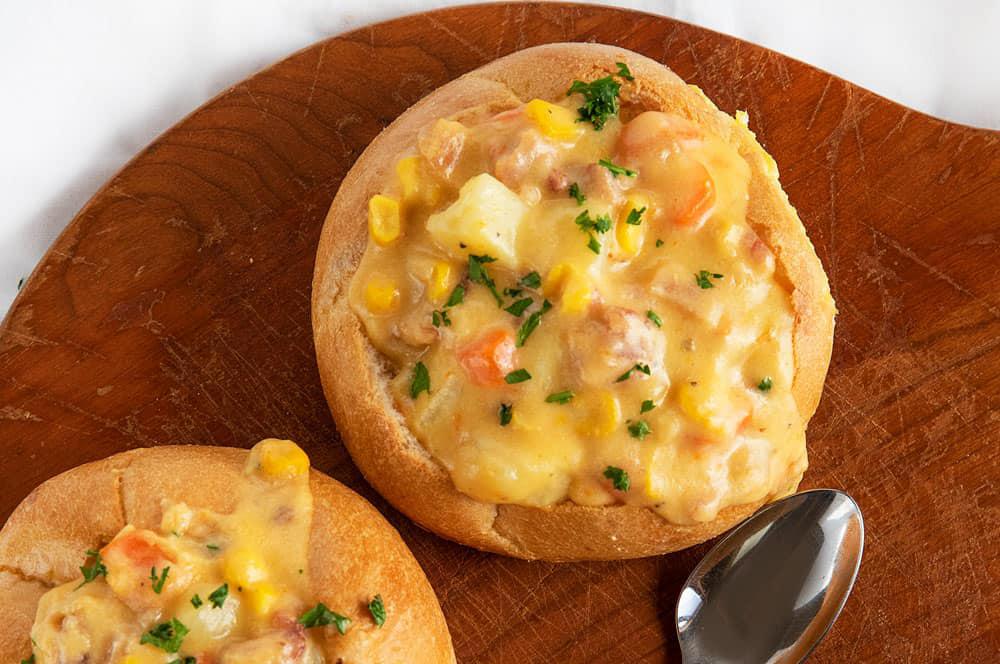 How to Pick a Bread Bowl
I used oversized, un-cut rolls from the bakery. I didn't want a traditional bread bowl as they are large and we wanted individual servings.
When cutting your bread bowl, move in from the edge a bit and use a serrated knife to cut a circle around the top. I try to cut at an angle, with my knife pointing towards the center of the bread so that a V shape will pop out of the bread. You can then use your fingers to remove any additional bread if you would like. (As in, it can be as hollow as you prefer.) We diced up the bread top and toasted it with butter and garlic for a homemade crouton.
Can you Skip the Bread Bowl and Enjoy Ham Chowder?
Some people are limiting gluten and would prefer less bread in their life. I am not friends with those people. Ha, kidding. But yes, you can absolutely skip the bread bowl and just enjoy a bowl of delicious Ham Chowder.
Ingredients
10 bacon strips, diced
1 large onion, chopped
1 cup diced carrots
3 tablespoons all-purpose flour
3 cups whole milk
1-1/2 cups water
2-1/2 cups cubed potatoes
1 can (15.25 ounces) whole kernel corn, drained
2 teaspoons chicken bouillon granules
1/4 teaspoon pepper
3 cups shredded cheddar cheese
2 cups cooked ham, drained
6 small round bread loaves about 8 ounces each, optional
1 egg white, lightly beaten
Instructions
Preheat oven to 375° F.
In a Dutch oven, cook the bacon over medium heat until crisp. Remove to paper towels to drain.
In the same pan, using the bacon drippings, saute the onion and carrots until tender. Blend in the flour and slowly add milk and water.
Bring the mixture to a boil; stirring constantly until thickened.
Add the potatoes, corn, bouillon and pepper. Reduce heat; simmer, uncovered, for 15-20 minutes or until potatoes are tender. Add cheese and ham and bacon; heat until cheese is melted.
For the bread bowl, cut out the center, leaving the bottom of the bread loaf untouched (creating a hollowed out well to serve soup in).
Brush lightly with egg and bake for 5 minutes in preheated oven.
Remove bread bowl from oven and pour soup into the well.
Serve immediately.