This 7 can Chicken Taco Soup is a delicious and flavorful dish filled with the most amazing spices, chicken, corn, and beans. The hardest part about making this 7 can chicken taco soup recipe is opening the cans! With this recipe, dinner is ready in under 30 minutes and clean-up is minimal!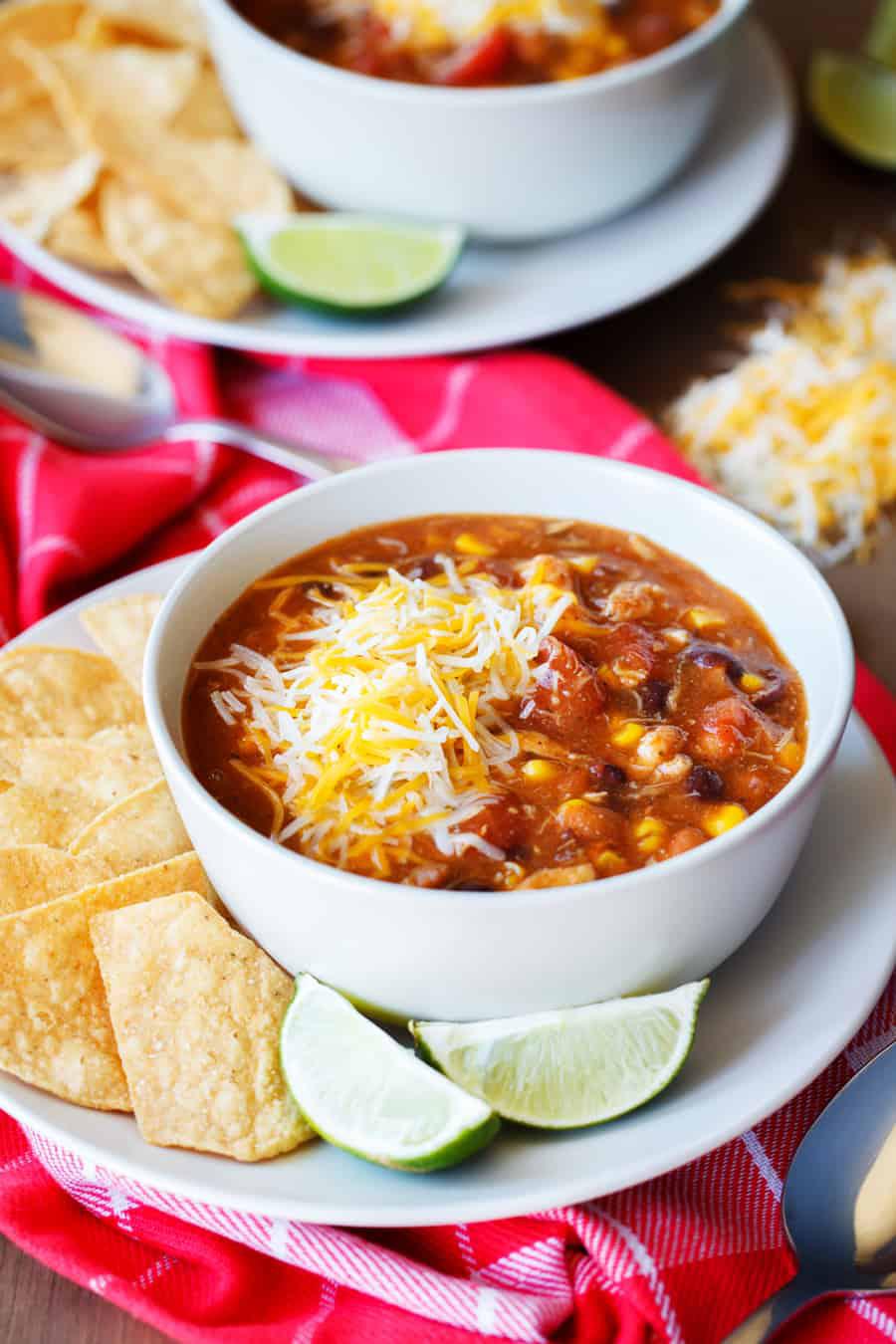 CHICKEN TACO SOUP
One thing I love about this recipe is how easy it is and how easy it is to customize. I don't ever have chicken in a can in my pantry, but I often have leftover chicken, and that works just as amazing! Another great substitution? Rotissary chicken!! (Check out this recipe for slow cooker rotisserie chicken!) We have served this chicken taco soup with sour cream, fresh cilantro, avocado, shredded cheese, diced jalapeno, and diced onion. A little something for everyone! We set up a serving tray and pass the fixings around the table! You could also set this up like an appetizer bar!
CAN YOU USE FRESH INGREDIENTS?
You can also make this more wholesome by using your own canned goods from fresh ingredients. We always have canned tomatoes in our pantry. We typically have over 75 tomato plants each year so we spend quite a bit of time stewing and dicing tomatoes for future use. We also plant our own corn and then fill freezer bags for later. Even if you don't grow your own food I would highly recommend getting sweet corn and tomatoes when they are in season and freezing or canning it for later. It is so worth the time. We like to make a day of it, we set up stations for corn, diced tomatoes, stewed tomatoes, salsa, ketchup, and spaghetti sauce. Everyone has a job! When it comes time to open any of the jars, we all have a sense of ownership and pride. It gives us so much joy!
Another awesome tip… try making my Homemade Taco Seasoning! This would replace all the seasonings in this chicken taco soup recipe. The nice thing about this particular recipe (especially if you like tacos) is that you can make a big batch and store in an airtight container for up to 6 months! Just make sure you give the mixture a good shake before you use it again. The heavier spices like to settle.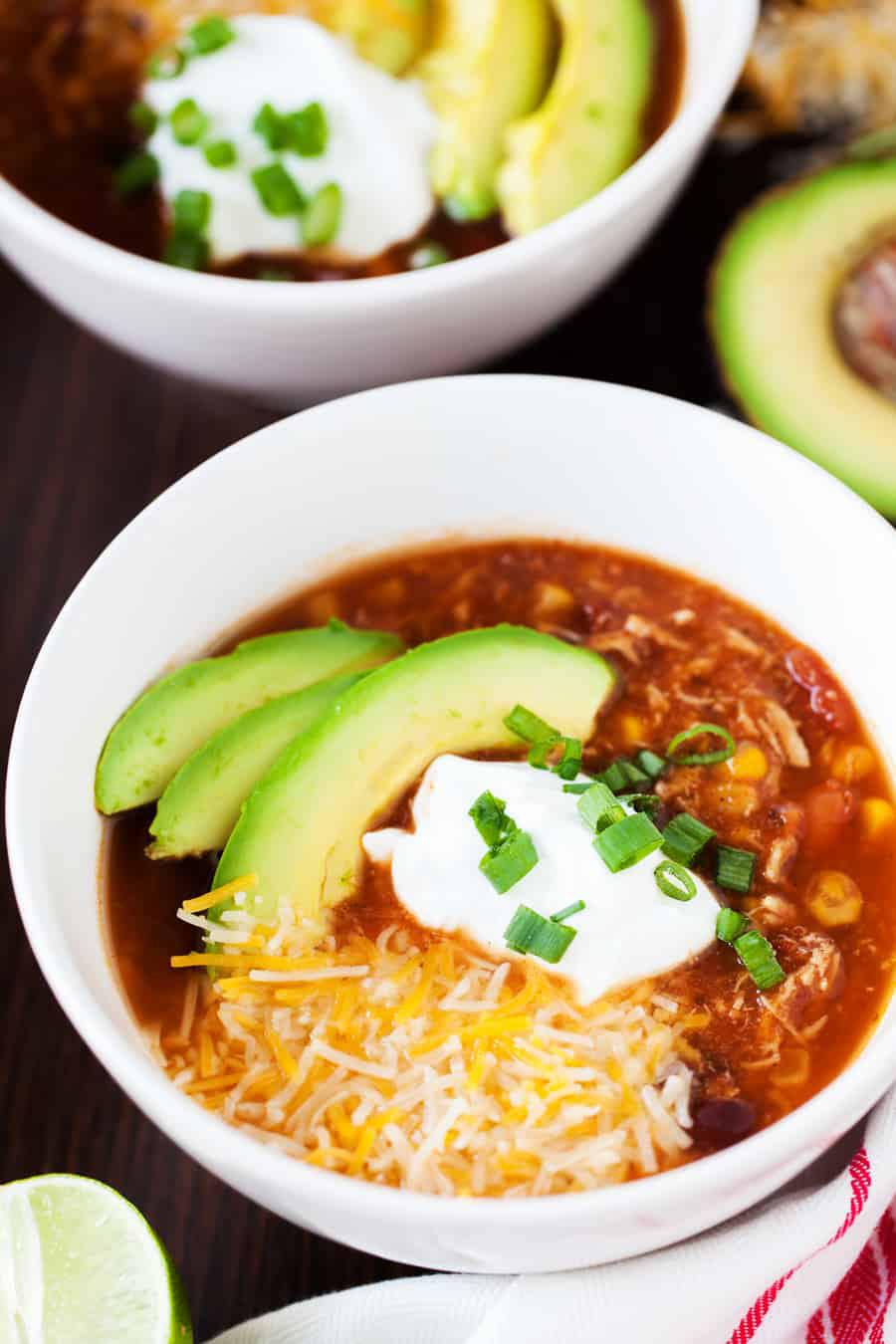 CAN YOU MAKE CROCK POT CHICKEN TACO SOUP?
Yes! For this variation of the recipe, I like to use frozen chicken. Place the frozen chicken breasts in the crockpot and then follow with the remaining ingredients. Cook on low for 6 hours or on high for 8 hours.
CAN I MAKE A VEGETARIAN VERSION OF THIS CHICKEN TACO SOUP?
Yes, just take out the chicken and replace the chicken stock with vegetable stock and this is a meal fit for a vegetarian! Also, we have tried it this way and it was delicious! I don't think you could rightfully call it "Chicken" Taco soup anymore, I would just go with regular old Taco Soup.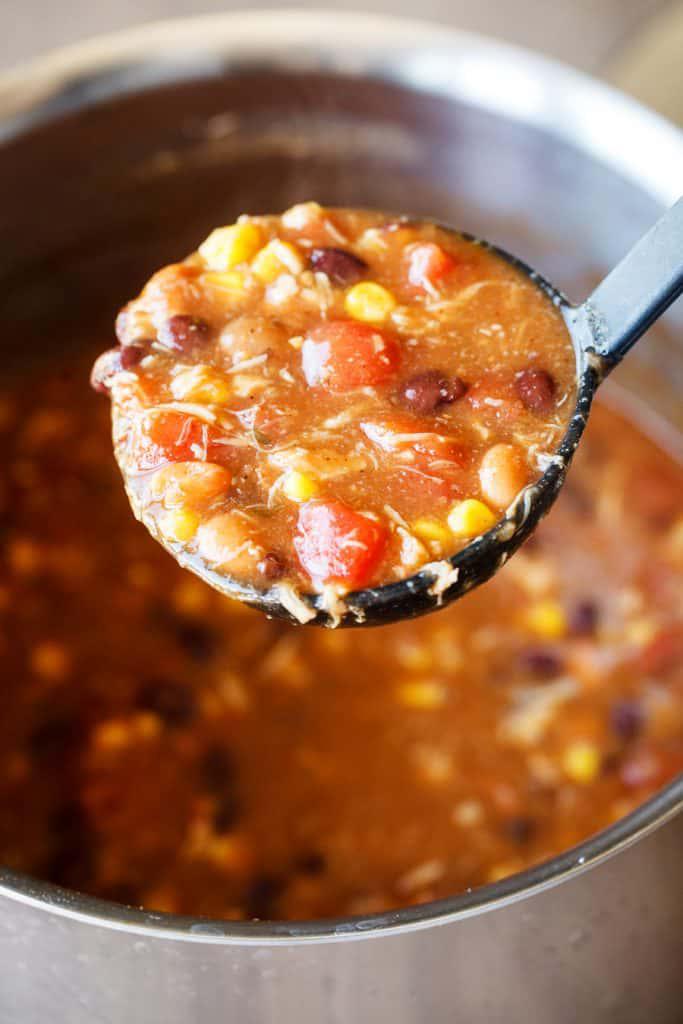 Ingredients
1 can 15 ounces black beans, drained and rinsed
1 can 15 ounces pinto beans, drained and rinsed
1 can 14.5 ounces petite diced tomatoes
1 can 15 ounces sweet corn, drained
1 can 12.5 ounces chicken breast, drained & flaked
1 large can 28 ounces green enchilada sauce
1 can 14 ounces chicken broth
1 packet taco seasoning
1/2 teaspoon cumin
1/2 teaspoon chili powder
1/2 teaspoon garlic powder
Instructions
Combine all the ingredients into a large pot and bring to a boil over medium-high heat.
Lower the heat and let simmer for 20 to 25 minutes. Serve warm with lime wedges, shredded cheese, and tortilla chips.