Nothing can beat the comfort from chocolates. It can make the meal delightful and can give a special taste to snacks.
One of the chocolate recipe you can try is this choco truffles recipe that is so easy to follow and also so worthy to prepare. What's special in this recipe is it is flavored using a fruit cocktail that can give a fruity flavore to balance the sweet taste of chocolate.
All truffles start with a rich chocolate ganache center, flavored or plain. To finish, dip truffles in melted chocolate and sprinkle with sugar decorations or chopped nuts. Or, more simply, just roll the ganache centers in cocoa. Be aware that you're going to get your hands full of chocolate as you make these, but it's SO worth it!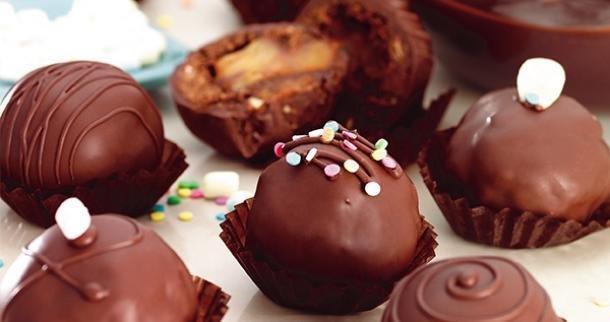 Ingredients
1-⅓ cups Graham Cracker (crushed)
¼ cup Cocoa Powder
¼ cup
Condensed Milk
¼ cup All-Purpose Cream
2 tbsp Butter
2 tbsp Sugar
2 tbsp Roasted Cashew Nuts
150 grams Milk Chocolate Bar (for coating)
¼ cup Butter (for coating)
1 small pack Mini Marshmallow (sprinkles/cereals optional, for coating)
1 can (432 grams) Del Monte Fiesta Fruit Cocktail (well drained)
Instructions
Combine crushed graham crackers and cocoa powder. Mix and toss in DEL MONTE Fiesta Fruit Cocktail until all fruits are well-coated.
Add the condensed milk, cream, butter, sugar, and nuts. Mix well. Form into 1 Tbsp balls. Put in prepared tray and freeze for 15 minutes.
To make the coating: In a double broiler over low flame, melt chocolate with butter.
Using tongs, dip each ball and put in paper cups. Sprinkle with marshmallow, if desired. Chill to set.
Makes 5 servings.