Chili Cheese Corn Dogs are corn dogs that are sliced and filled with homemade chili, cheddar cheese, onion, and jalapeno pepper.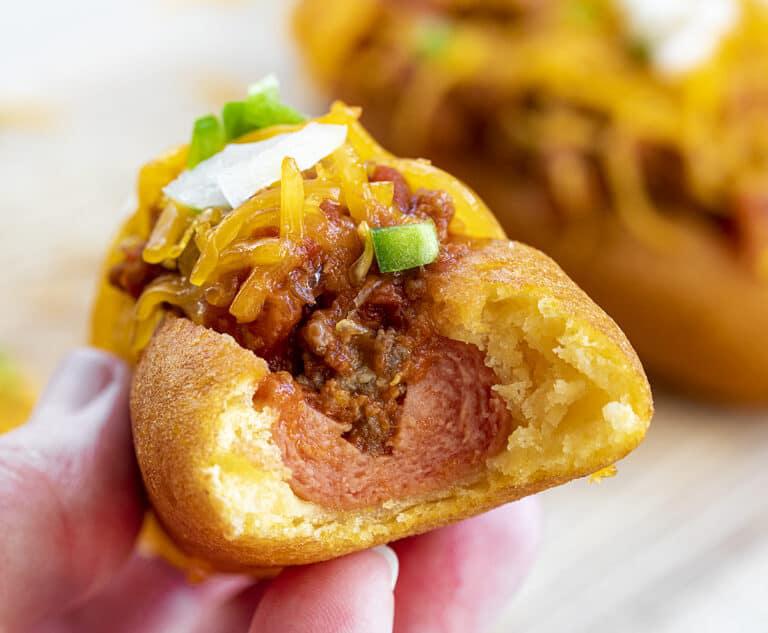 CHILI CHEESE CORN DOG
Since I already have Chili Cheese Fries and Chili Cheese Nachos, it made sense to add this recipe to the list. I found the idea on a Reddit food thread, and then I was just craving one of the dogs! They are an easy lunch, dinner, or appetizer to put together. Start with a package of storebought corn dogs and then add homemade chili, cheese, onion, and jalapeno!
CORN DOG INGREDIENTS
Corn Dogs: Grab some corn dogs from the store and cook them following the package instructions. The bigger, the better!
Chili: If you have the time, make homemade chili to top the corn dog.
Cheese: I prefer sharp cheddar cheese, but I think Monterey Jack cheese would also be delicious. Or, use a combination of your favorite kinds of cheese.
Onion: Onions are important in this recipe. I used a yellow onion, but you could also use a white onion for a little more bite to the flavor.
Jalapeno: Add a little jalapeno pepper to the top for a little extra kick. Of course, you could leave them out if preferred.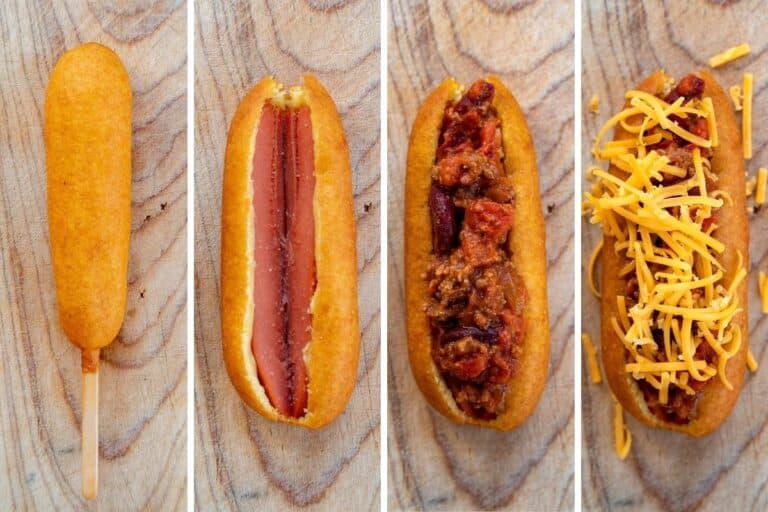 HOW TO MAKE A CHILI CHEESE CORN DOG
This is a quick and delicious lunch or dinner to easily make and put together. And, these would be a perfect addition to your list of Super Bowl menu items! To get started, cook the corn dogs according to package instructions. After they have been cooked, remove the sticks from the corn dogs.
Once the sticks have been removed, slice the corn dogs vertically, making sure to not cut all the way through. Finally, fill the sliced corn dogs with chili, cheese, onion, and jalapeno pepper. Serve immediately.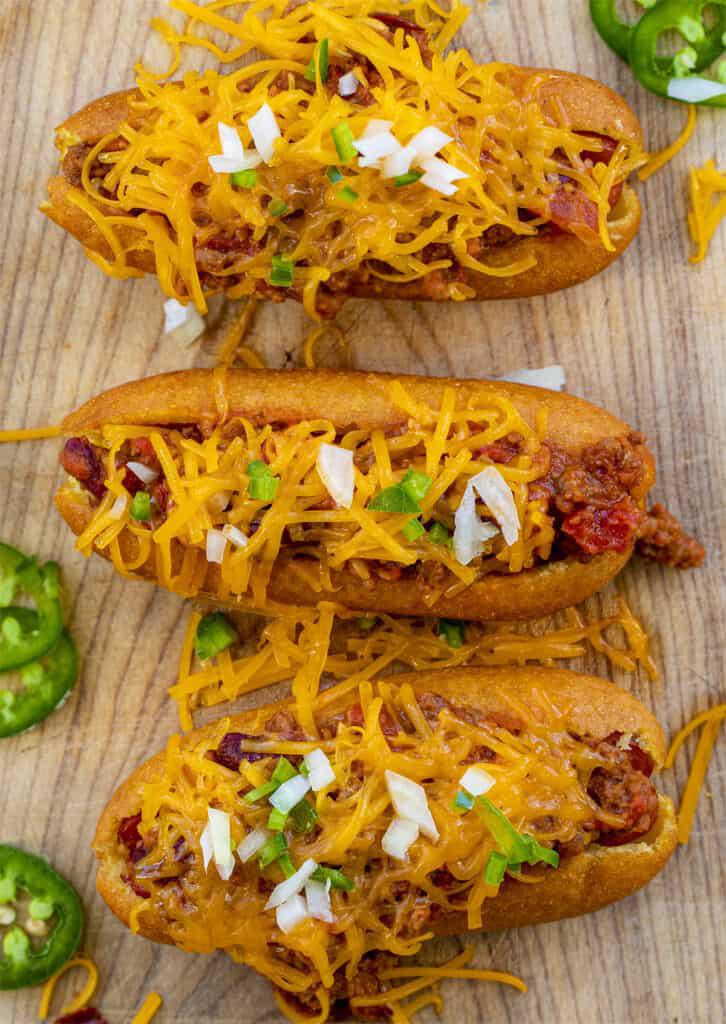 WHAT TO SERVE WITH CHILI CHEESE CORN DOGS
As I stated, these corn dogs could be served as a main course or as an appetizer, depending on the size. If they are being served as the main course, serve them with a side of macaroni and cheese, potato nachos, baked potatoes, potato salad, or cornbread, just to name a few.
Ingredients
8 corn dogs, cooked per package instructions
2 cups cooked chili, divided
1 cup sharp cheddar cheese, finely shredded, divided
1 small onion, finely diced, divided
1 medium jalapeno pepper, seeded and finely diced, divided
Instructions
Carefully remove the wooden stick from the cooked corn dogs.
Slice each corn dog vertically down the center, about halfway through, being careful not to cut through all the way through the bottom.
Into the cut, add chili, cheese, onion, and jalapeno.
Serve warm!