Air Fryer Baked Potatoes are russet potatoes that are coated in oil, seasoned with salt, and baked to fork-tender in an air fryer. Try my Air Fryer Garlic Parmesan French Fries for another delicious way to cook potatoes in an air fryer.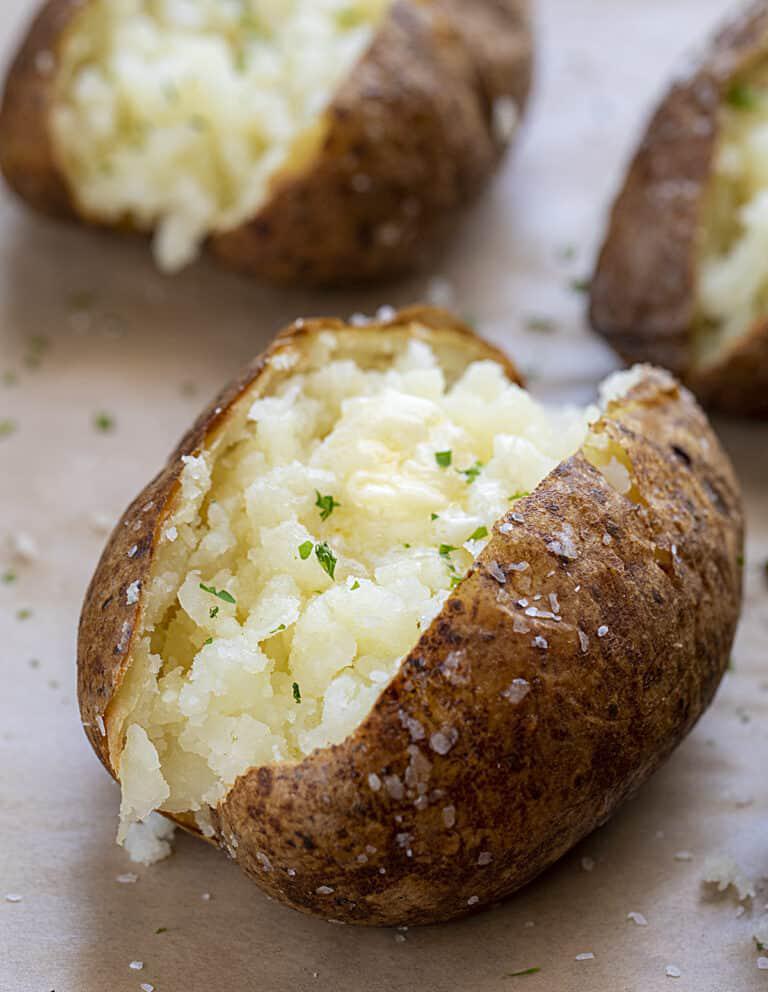 AIR FRYER BAKED POTATOES
Potatoes take quite a bit of time when cooked in the oven. So, to give you the oven space for another recipe like Baked Pork Chops, cook the potatoes in your air fryer! The potatoes are cooked to a fork-tender and are perfect as a side dish with any meal.
BAKED POTATOES INGREDIENTS
Potatoes: I used russet potatoes for this recipe (I like the rough skin and soft interior after being cooked). The cooking time will depend on the type of potato you use and the size of the potatoes. In addition, you may want to cook the potatoes in batches, depending on the size of your air fryer.
Oil: Vegetable or Canola oil work best. You could also coat the potatoes with olive oil. The oil will make the skin nice and crispy.
Salt: Adding kosher salt to the outside of the potatoes will add flavor.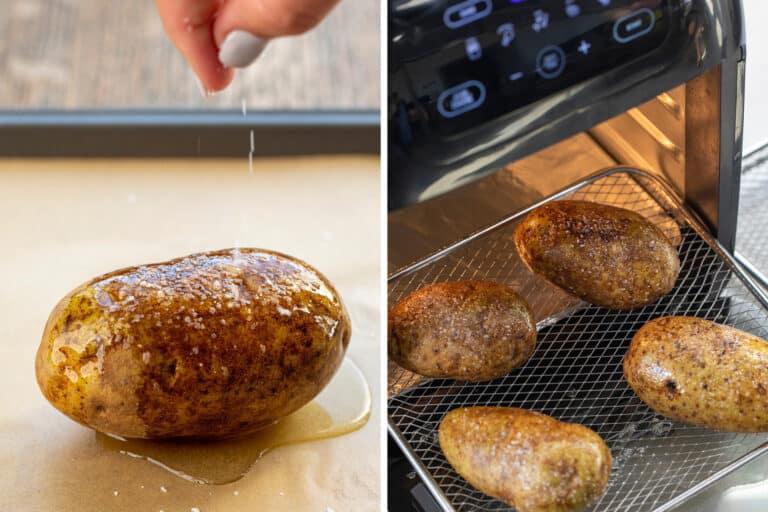 HOW TO MAKE BAKED POTATOES IN AN AIR FRYER
I have many oven-baked potatoes, from roasted potato wedges to twice-baked potatoes, just to name a couple. But, sometimes I would rather use my oven for another dish, so using an air fryer for this recipe just makes sense. Plus, they turn out great!
To bake potatoes in an air fryer, first, scrub and rinse the potatoes. Next, pierce holes into the potato to allow steam to escape while they are being cooked. After poking holes in the skin, coat each potato with oil and sprinkle with salt. Place the prepared potatoes into the basket of your air fryer. This is the Air Fryer I use, and we love it! (affiliate link)
Cook at 400°F for 25 minutes, flip over the potatoes and cook for another 25 minutes, or until the potatoes are brown and fluffy on the inside. Serve with butter or all of your favorite toppings. I love my baked potatoes topped with homemade chili and cheese.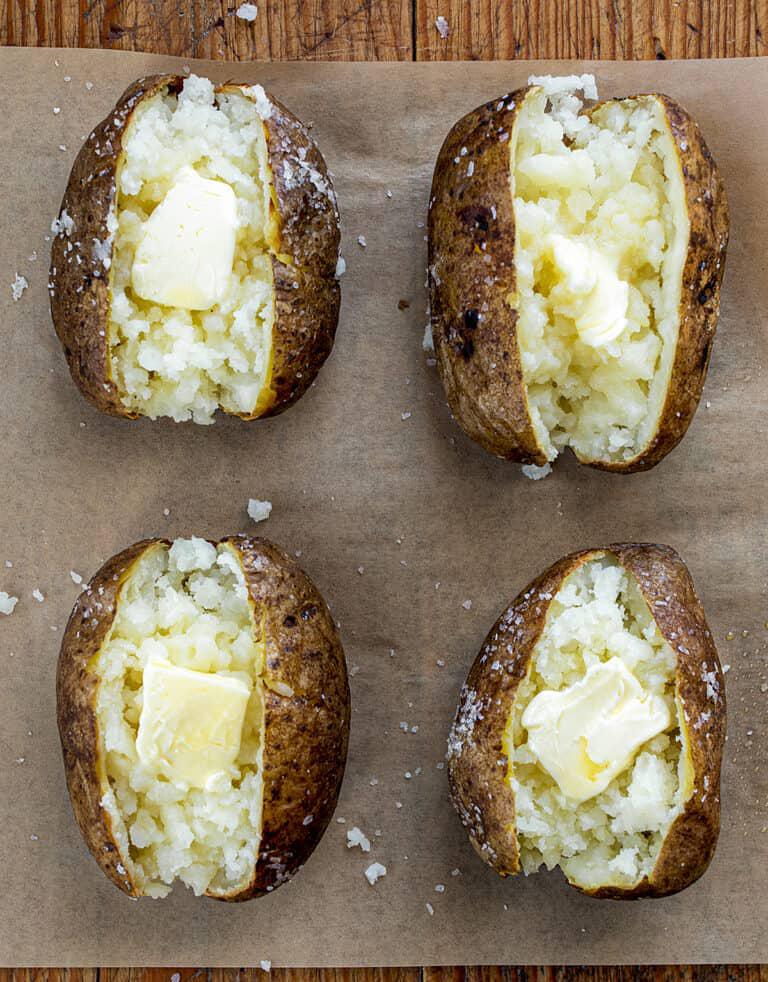 HOW TO MAKE BAKED POTATOES WITHOUT AN AIR FRYER
Traditional baked potatoes are made in an oven and couldn't be easier. (This Air Fryer recipe is for when you want to free up your oven space!)
Follow the directions below up to step 3. Then place on a baking sheet lined with foil or parchment paper and bake for 45-55 minutes at 425°F, or until fork-tender.
Ingredients
6 medium russet potatoes, washed
1 tablespoon canola oil
1 teaspoon kosher salt
Instructions
Set the air fryer to 400°F.
Using a fork, pierce 8-10 holes into the surface of each potato.
Coat each potato in canola oil and sprinkle each with salt. Place the potatoes in the basket of the air fryer. (Depending on the size of the basket, you may need to work in batches).
Cook the potatoes for a total of 50 minutes, flipping halfway through (after 25 minutes) with tongs. (Cooking time will be based on the size of the potatoes.)
Potatoes are done when they are browned and fork-tender.