Slow Cooker Jambalaya is loaded with andouille sausage, chicken, and shrimp that gets cooked low and slow to activate the bold spices. This hearty dinner is an effortless meal that is ready with only 10 minutes of prep!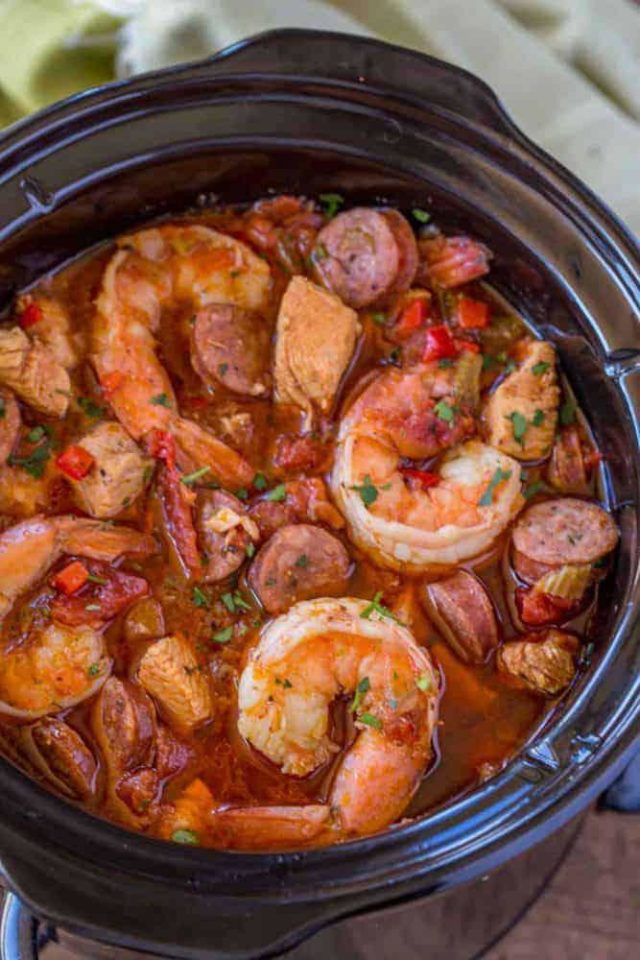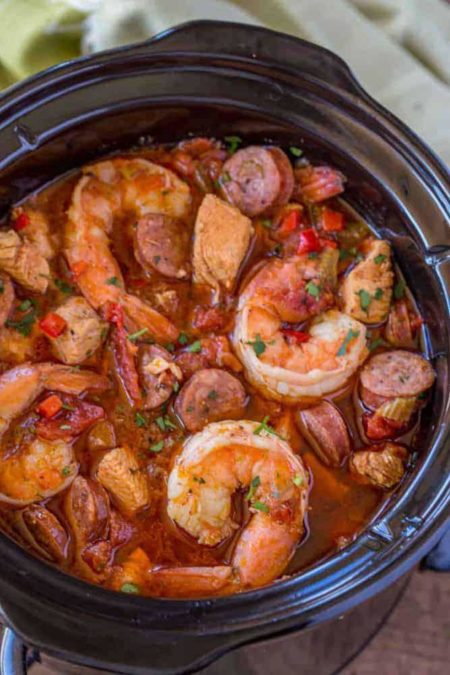 Slow Cooker Jambalaya
Slow Cooker Jambalaya is delicious and filling and comes together with hardly any effort at all. Our family favorite slow cooker recipes are normally Honey Garlic Chicken or Beef Tips, but this jambalaya is so good we've been adding it into the regular rotation with our favorites.
Jambalaya doesn't have to take a lot of work. You can just prep and toss all the ingredients together and let the slow cooker do the work. Or, for an instant flavor boost, brown the sausage with the onions and peppers before adding the ingredients to the slow cooker. Either way the flavors of this dinner will be a huge hit everyone will love!
Ingredients in Slow Cooker Jambalaya:
This short list of classic cajun ingredients come together flawlessly and are perfectly balanced. Tons of spices blend together to create a warm, spicy meal that is hearty and incredibly delicious!
Chicken breasts skinless: Boneless chicken cut into chunks will fit perfectly on your spoon.
Andouille sausage links: Sliced to bite size.
Shrimp: Peeled and de-veined.
Diced tomatoes: Adds to the color and both sweet and salty flavor.
Onion, red bell pepper, celery: The three essential flavors that can be found in almost any cajun dish.
Chicken broth: Liquid to cook the meat.
Dried thyme: Pairs well with the tomato and adds a bit of a minty taste.
Dried oregano: Adds bitter and earthy spice to balance flavors.
Cajun seasoning: Rustic and bold seasoning blend adds a punch of spice.
Cayenne pepper: Even more earthy and spicy flavors.
Let's Cook Jambalaya!
This Jambalaya will be a new family favorite dinner, and it is almost quick and easy to prepare. Simply combine all the ingredients and let your slow cooker work its magic. The hardest part is waiting for it to be ready, because the smell of this cooking is amazing!!
Combine ingredients: First, add all the ingredients except the shrimp into the slow cooker. Then, simply stir to combine.
Cook: Next, set the cooker to low for 7-8 hours (high for 3-4 hours), and in the last 15 minutes add in the shrimp.
Enjoy: Serve over rice and enjoy!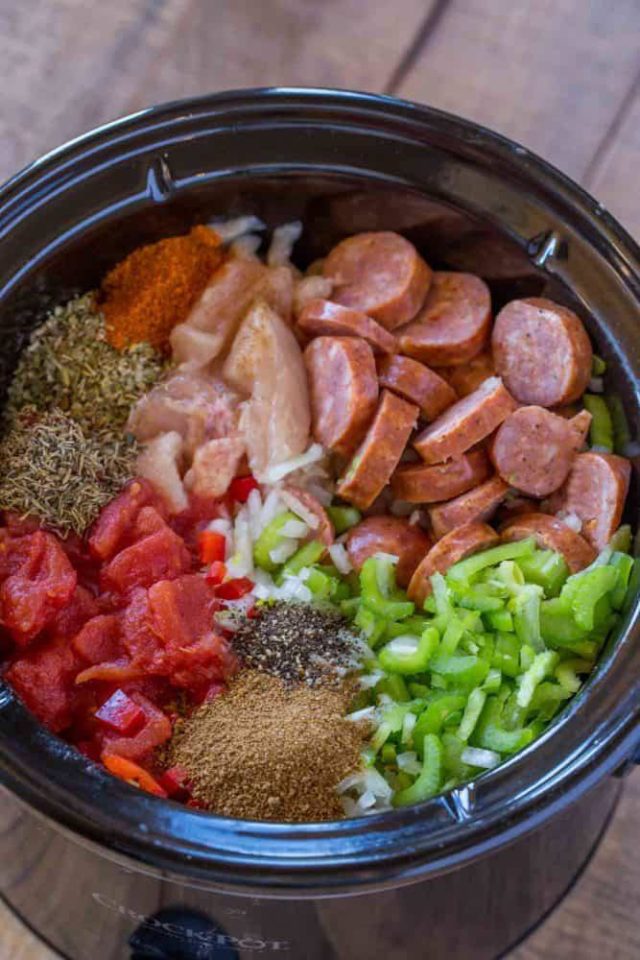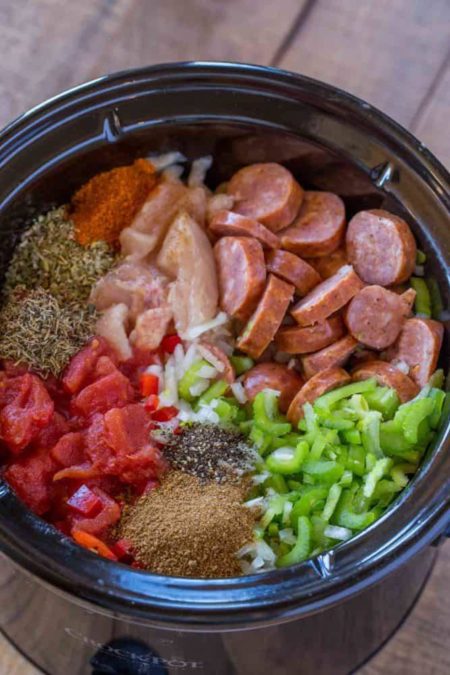 Best Slow Cooker Jambalaya:
The intense flavors of this easy to make Jambalaya are so delicious you will begin to crave them. And the one pot prep makes this a perfect weeknight meal the entire family will enjoy.
What to serve with Slow Cooker Jambalaya? The classic side dish to Jambalaya is steamed rice, but you can also serve it over some black eyed peas for an amazing and easy meal. To top it all off, serve some Homemade Cornbread or baguettes.
What meats are normally in Jambalaya? Most jambalaya recipes contain chicken, andouille sausage and shrimp. However, this dish is versatile and changing up the meat will not interfere with the delicious results. So, try using beef, like a chuck roast, too.
Does Jambalaya store well? Jambalaya will remain good in the refrigerator for about 3 days. For best results, do not freeze. To store, allow it to cool completely, then place it in an airtight container within two hours of cooking.
What is the difference between Jambalaya and Gumbo?
Gumbo normally contains a roux which is cooked to a deeply flavored brown stage and contains more liquids like a stew with vegetables like okra as well as the trinity of bell peppers, celery and onions. Jambalaya is a traditional rice dish made in one pot with more meat than vegetables.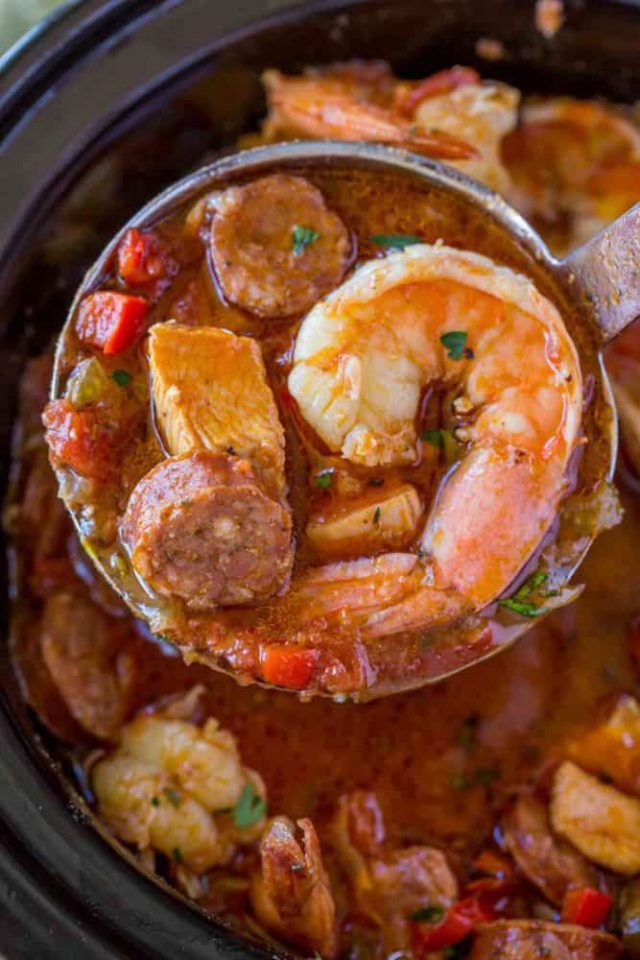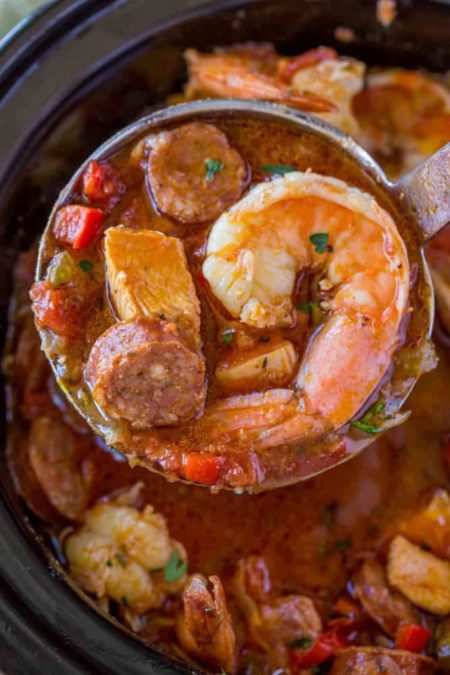 Ingredients
▢2 chicken breasts skinless, boneless, cut into chunks
▢1 pound andouille sausage links sliced
▢1 can diced tomatoes 28 ounces
▢1 large onion chopped
▢1 red bell pepper finely chopped
▢2 stalks celery thinly sliced
▢2 cups chicken broth
▢1/2 teaspoon dried thyme
▢2 teaspoons dried oregano
▢1 tablespoon Cajun seasoning
▢1/2 teaspoon cayenne pepper
▢1 pound shrimp 13-15 count
Instructions
Add all the ingredients except the shrimp into the slow cooker and stir.
Cook on low for 7-8 hours (high for 3-4 hours), in the last 15 minutes add in the shrimp.
Serve over rice.